November 19, 2019
Low Carb Keto Holiday Gift Guide Christmas 2019
Wondering what kind of keto gifts will be popular this 2019 holiday season? Maybe you're following the keto lifestyle and want to give your family some great ideas for Christmas gifts for you. Or maybe you just want to support your loved ones by giving them keto-friendly gifts that support a healthier lifestyle.
Either way, I've got you covered! The 2019 holiday keto gift guide is sure to give you some great gift ideas no matter which group you're in.
Whether you choose to be keto or not, reducing sugar, focusing on whole foods and cooking at home more is always a good idea. That idea makes all of these keto Christmas gifts just as perfect for the non-keto people in your life as well!
Another great holiday idea is the gift of delicious healthy food. You might like giving a pumpkin pie, pecan cheesecake bars, or a beautiful yule log cake.
Disclaimer: Links may contain affiliate links, which means we may get paid a commission at no additional cost to you if you purchase through this page. Read our full disclosure here.
10. Boos Chopping Block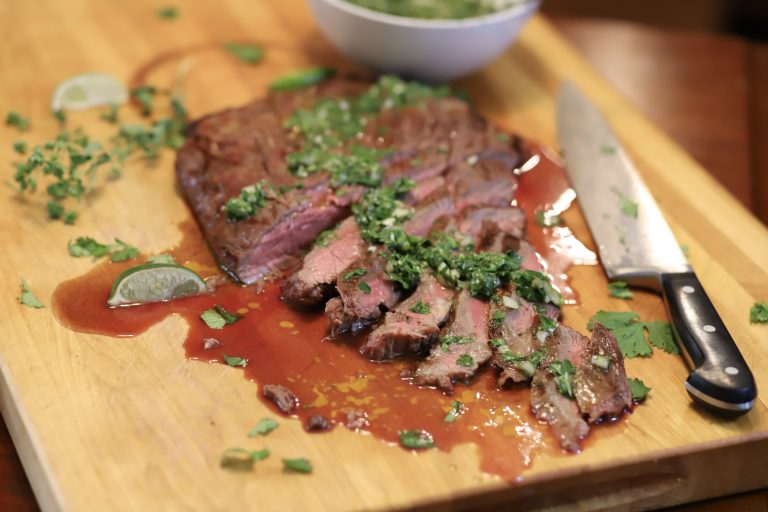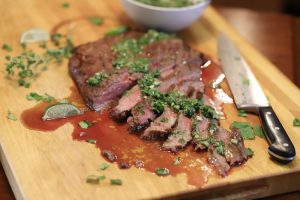 Looking for one of the very best keto Christmas gifts? Look no further than a Boos block. This industrial-strength cutting board is one of the best on the market and will literally last a lifetime. It's perfect for chopping vegetables or slicing your perfectly cooked keto Carne Asada.
I've had mine for about 20 years now and am still totally in love with it. Even if it has a giant burn mark on the back from one of my tiny rental kitchen accidents. I have the 24-inch but there are other sizes to fit any kitchen and budget.
9. Chef's Knife
About the same time I invested in my Boos block, I also invested in some good chef's knives. The right well-balanced, sharp chef's knife makes cooking prep much more enjoyable. I bought a 10-inch J.A. Henckels knife and an 8 inch Wusthof. I love them pretty equally but if price is a consideration, both of these classic brands have less expensive options.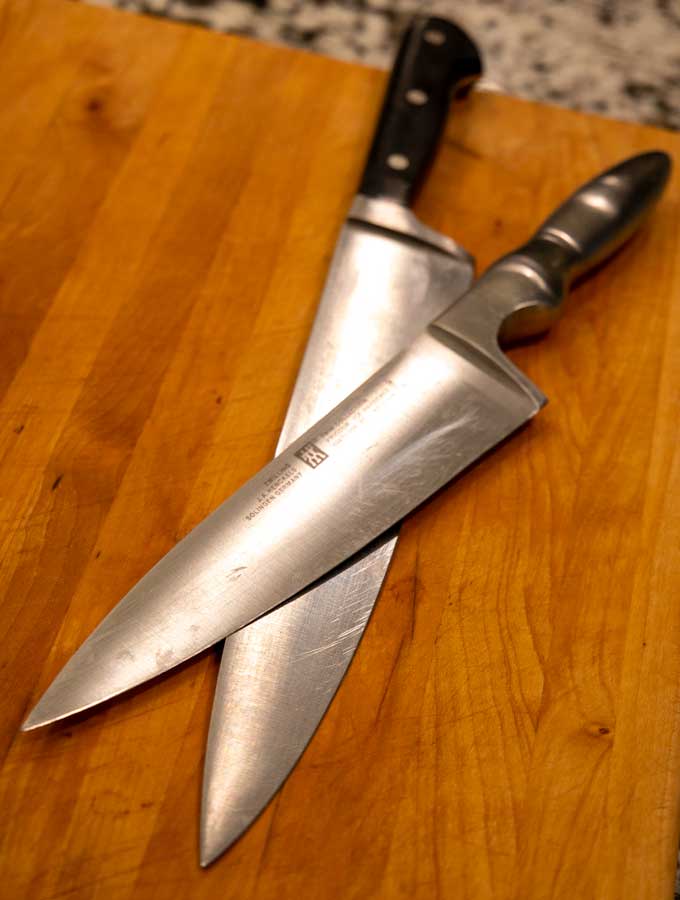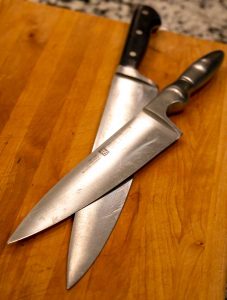 8. Air Fryer
This has definitely been the year of the air fryer! I finally succumbed to internet pressure and bought one. And it's absolutely a great keto gift idea.
I only have two regrets…that I didn't buy one sooner and that I didn't buy an oven style air fryer. The one I have is fine, but the capacity makes it difficult to make larger items or big batches of buffalo wings.
The basket style air fryers start around $60 while the oven style starts at about $200.
7. Instant Pot
I haven't yet succumbed to this trend, but people talk about them all over social media. As the name suggests, it cooks things quickly. Like REALLY quickly. Stew in 10-20 minutes and you can even make sweets in it! If you're old school, it's also known as a pressure cooker. Most are in the $50 to $100 range depending on what size you choose, this one is Amazon's bestseller.
6. Keto Gift Idea: Keto Snacks
This is a popular category! Especially when first starting keto, people wonder with what they will replace their beloved snacks?! The longer you practice a keto lifestyle you'll find you're not as hungry between meals since your blood sugar is no longer all over the place.
However, no matter where you are on your keto journey, it can be useful to have sugar free, keto-friendly options that are easily portable. If you have a keto snack on hand, you're much less likely to go off plan.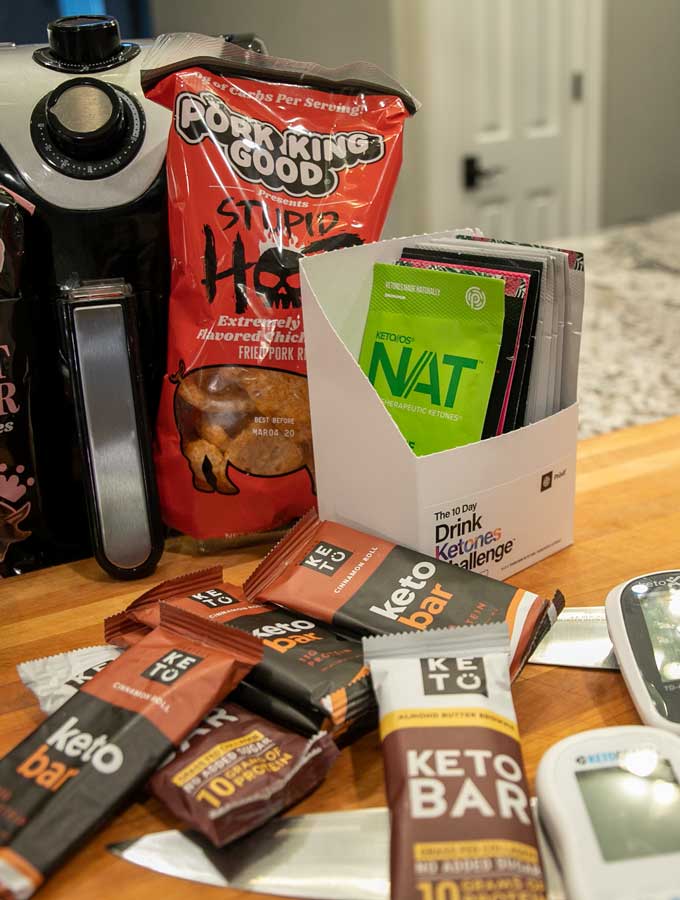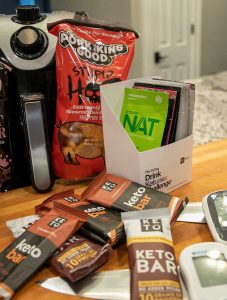 My favorite products for this purpose are Perfect Keto bars and nut butters. Their ingredients are super clean and the new chocolate hazelnut nut butter tastes pretty similar to the sugar-filled (and delicious) Nutella spread.
The bars are perfect when you need to have something in your purse or car for when things get too busy for a real meal. The nut butter is great just on a spoon or right out of the portable, squeezable package.
Bars and nut butters are a great idea for a keto gift since they come in a variety of price ranges and packages. Use HNG15 for 15 percent off. They also have a special cyberweek offer starting 11/29/2019 where you can get up to 50 percent off when you buy five products.
For discounts on all kinds of awesome products, be sure to check out this page.
Salty/Crunchy Keto Snacks
Pork King Good pork rinds are a perfect replacement for all of the crunchy, carby, salty snacks people crave. Their flavors are the best I've tried and I especially love their new stupid hot flavor. If you're not a hothead though, the salted butter and green onion flavors are also delicious. I usually just get the variety pack on Amazon so I can have them all.
The last keto snack gift idea I have for you is the absolutely delicious Fat Fit Go chocolate nut butter from Explorado market. I have to be careful with this one though…it's so good, I easily go through a jar in a week or two. Either have some discipline, get a snack lockbox with a timer (brilliant) or have someone else in the house hide it from you (if you can trust them.) Get 20 percent off at Explorado Market with code HealNourishGrow20.
5. Keto-Friendly Gift Boxes
If you're looking for a more substantial keto Christmas gift, subscription boxes are an awesome idea. My very favorite brand for this idea is Dry Farm Wines. I've been getting their boxes now for a couple of years and absolutely love it.
An entire bottle of Dry Farm Wine has less than a gram of sugar and is tested to be free of the contaminants present in conventional wine.
Go read our full review on Dry Farm Wines. You'll get some education on wine in general and learn all about why they're such a clean brand. You can also get an extra bottle of wine for just a penny by purchasing through this link.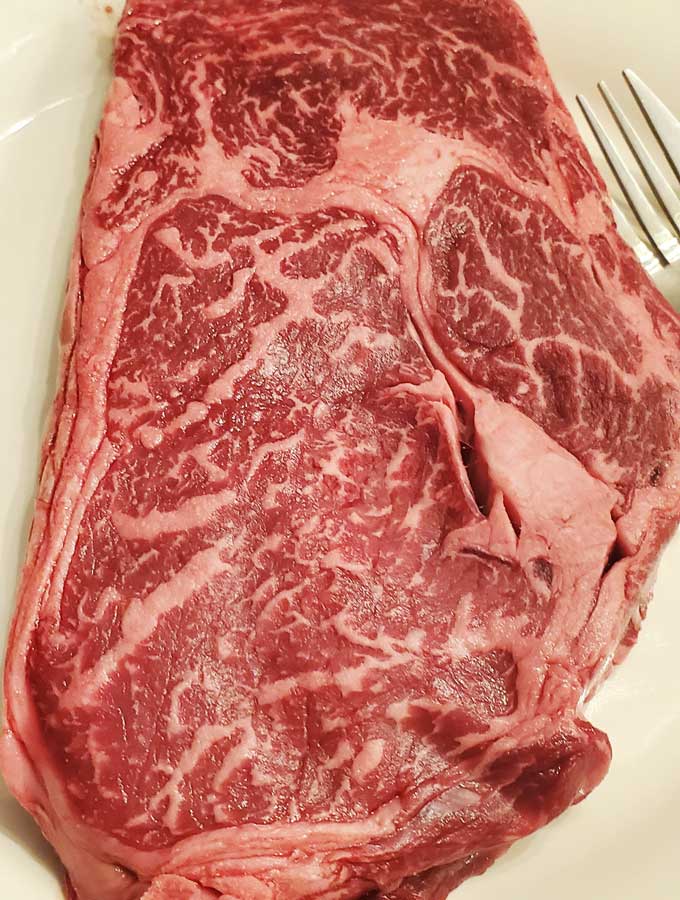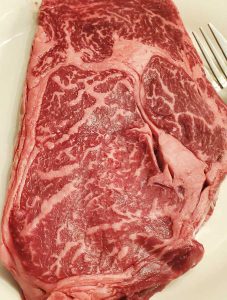 Next on the list for subscription boxes is Crowd Cow. This is a great holiday gift idea whether the person on your list is keto or not! And if you're not sure exactly what your friend wants to eat, they do gift cards too.
Their objective is to go outside of the U.S. commoditized meat system and bring high-quality, healthy craft beef and meats from farms and ranches around the world.
One of their rare specialties is Wagyu and olive Wagyu in particular. If you're looking for a very special keto Christmas gift, this definitely fits the bill! It's not cheap but oh so amazing and you do get $25 off with our link.
If your giftee is more of a seafood person, check out the wild-caught and organic, Vital Box seafood of the month club. They also have one-time boxes and gift cards.
4. Exogenous Ketones
I just finished a major article and a two-month experiment with exogenous ketones. Please read the full article to learn about all of the results, but the conclusion is that I experienced benefits from this supplement while already being on a strict keto diet. If you're not super strict with your carb intake or don't practice keto at all, you might notice even more benefits.
There is a ton of research on exogenous ketones and plenty of health applications including neurological diseases, depression, appetite suppression among others.
Pop over to the article to learn more or click here for the drink ketones challenge 10-day pack at a special introductory price.
3. Keto Gift Idea: Ketone Meter
Like many keto tools and treats, ketone meters aren't necessary But unlike a lot of Christmas gift ideas, they are actually very useful. If you keep your total carbs at 20-30 a day your likely in ketosis. However, if you'd like to learn more about your personal carb tolerance or what specific foods do to your ketone levels, a blood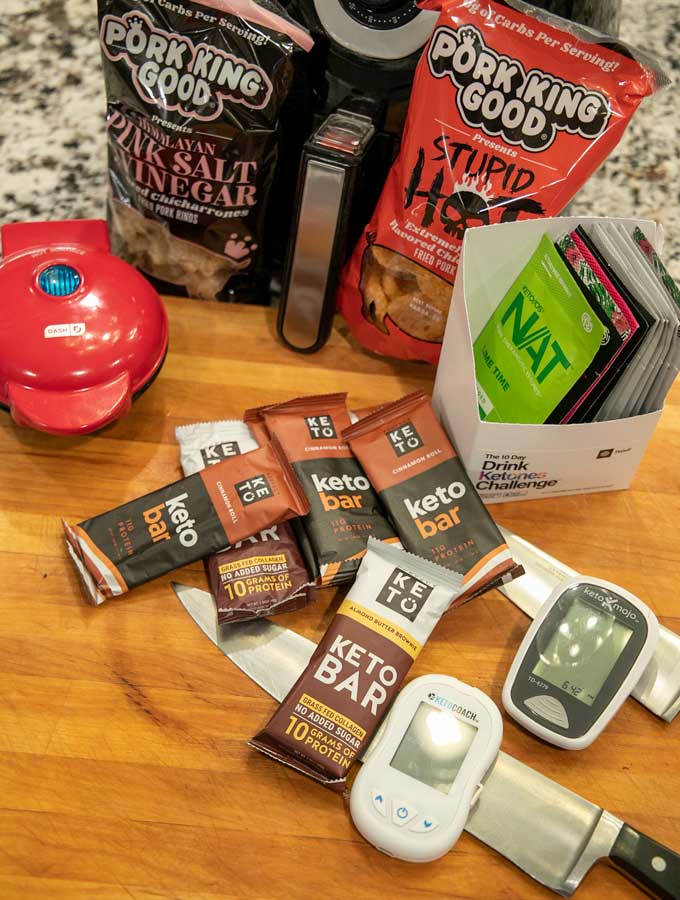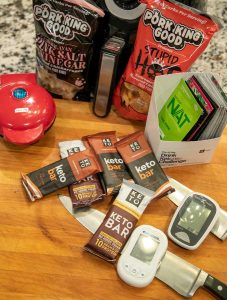 glucose meter is definitely the way to go.
You can also use it along with a glucose meter to test your GKI or therapeutic level of ketones vs glucose. The KetoMojo is a combined ketone and glucose meter while KetoCoach only tests ketones. The KetoMojo link automatically gives you 15 percent off a kit at checkout and use HNG10 at KetoCoach for 10 percent off.
KetoMojo recently released a new meter with integrated Bluetooth for the same price as the older model!
2. Workout Gear
Having great workout gear can be inspiration to workout. If you look good you feel better! Comfortable, nice looking and functional workout gear can help with feeling more confident thus making it more likely to stick to a workout routine.
Our favorite brands are Lululemon, Sweaty Betty and Fabletics. All of these brands carry the most up to date and fashionable workout gear. Fabletics has the most generous range of sizes starting at XXS and up to 3X.
And the #1 Keto Gift Idea???
The Chaffle Iron!
Finally, we have the number one pick for the best keto Christmas gift. This adorable little $10 waffle iron absolutely exploded on Instagram when people got into the chaffle craze. Some of them are listed for $15 but the cute red one is $10.
I made an experiment video right after I got mine that went viral (at least for my tiny channel) probably due to what some considered a bit of a blooper even though I said from the beginning it was an experiment.
The follow up on making the perfect keto chaffle bun was not nearly as popular but more precise.
This is the perfect gift for anyone keto or not if you include this simple recipe with the gift. Plug in the waffle iron to heat. Beat one egg with a dash of salt. Lightly spray waffle iron with favorite spray oil. Add one tablespoon of your favorite shredded cheese to the iron. Add half of the egg mix or just enough to coat the iron (larger eggs make more…that was part of the experiment) and top with another tablespoon of cheese. Close iron and be patient. Crispy waffles take a little longer but the overall time is about 90 seconds or two minutes and 30 seconds for crispy chaffles. This recipe makes two chaffles and uses one egg and four tablespoons of shredded cheese total.
Chaffles are life-changing. You can use them as a bun or eat them like a regular waffle with sugar-free syrup or other toppings. Even though they are made with cheese and no flour, they taste remarkably like a real waffle