October 21, 2020
Pumpkin Pie – Low Carb Keto Recipe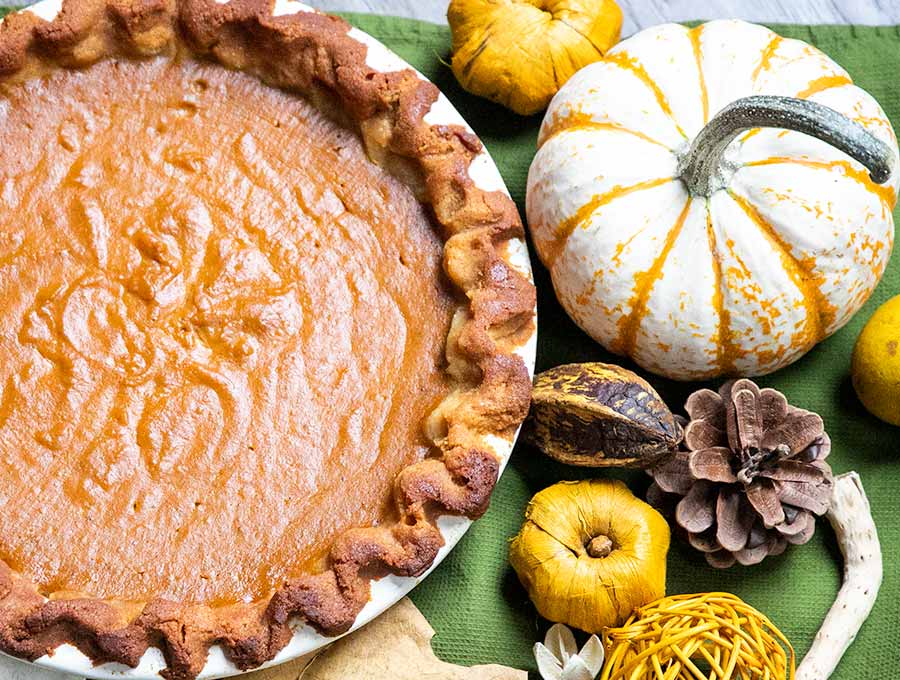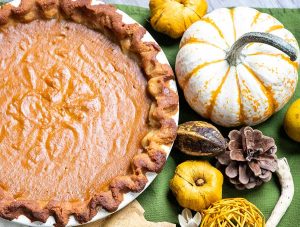 Following the ketogenic diet doesn't mean you have to give up your beloved pumpkin pie for Thanksgiving. This keto pumpkin pie recipe actually tastes pretty close to the real thing, especially the filling. Pumpkin is already keto-friendly with just 12 grams of carbohydrates and three grams of fiber in an entire cup of this fall mainstay.
As always with keto baking, the real trick here is the crust. This is one recipe where I definitely recommend reading this whole article before skipping straight to the recipe for keto pumpkin pie. The crust is critical and there are few tips and suggestions below that will help your pie turn out it's very best.
Traditional wheat pie crust is light and flaky, but also full of carbs. Using an alternative keto flour gives the crust macros that are much more keto-friendly and a texture that's similar to the real thing but not exact. An exact replica of wheat flour doesn't exist in keto baking at this point!
Truth be told, I'm iffy on pumpkin desserts for myself. I know there are a lot of pumpkin spice everything fans out there though! Pumpkin desserts are good, but if I'm eating dessert, you know I love my sugar free chocolate (use code HEALNOURISHGROW for 10 percent off).
This keto pumpkin pie turned out so well though that I might just become a convert! I'm not sure if I like this pie better, or my Keto Pumpkin Spice Rum Cake with Pecan Cream Cheese Glaze. I may need to make both this Thanksgiving and have a little taste test.
Disclaimer: This page contains affiliate links, which means we may get paid a small commission at no additional cost to you if you purchase through this page. You may even save money with some of our special discounts just for the Heal Nourish Grow family. Read our full disclosure here.
Keto Pumpkin Pie Recipe Spices
What really gives the classic flavor to pumpkin pie are the spices. Especially in the amounts you use for pie, spices are very keto-friendly. One of the things I enjoy doing is using my mortar and pestle to grind certain spices fresh. For this recipe, I used whole cloves and ground them myself. If you really want to make things easy though, just substitute a tablespoon of pumpkin pie spice for the individual spices in this keto pumpkin pie recipe.
If you've read my recipes before, you know about my fondness of ceylon cinnamon. I like to use the organic version and you have to be careful to make sure you get the right one. Most "cinnamon" sold in the United States is actually cassia, which is fake cinnamon 1.
Real ceylon cinnamon has a lot of benefits, including blood sugar regulation2 antioxidants and anti-clotting properties. Fake cinnamon made from cassia contains coumarin, a flavoring substance that can be toxic3.
Sugar-Free Pumpkin Pie
The other critical ingredient in making pumpkin pie keto-friendly is the sweetener. I've recently started using allulose in my keto recipes in addition to my old standby Swerve which has erythritol. Allulose has a chemical formula like fructose. However, it has a different structure that prevents your body from processing it in the same way as sugar.
It's absorbed into the blood and passes out of the body without being used. It may actually even take some glucose out of the body with it6, both of which are pretty cool.
There are several animal studies that show allulose actually lowers blood sugar. There is also some research on humans now with results showing the same positive benefit7.
Carbs in Pumpkin Pie
As written, this keto pumpkin pie has around 5 net carbs per serving. However, there are a couple of ways you could reduce that number if it's too high for your goals. The easiest way to reduce the carb count is to simply cut the pie into smaller servings. Especially if you're serving with whipped cream or a keto-friendly ice cream a 12th or 15th of this pie is a great serving size.
You can also reduce the carb count in this pumpkin pie by going crustless. Eliminating the crust gets rid of about half the net carbs and just tastes like a great pumpkin custard!
Keto Pie Crust
One thing I learned while developing this recipe is that it's very easy for the curst to get too brown. I was originally using a combination of keto flours including pecans in the crust. It tasted amazing but the pecans made the cust way too brown so I had to abandon it. Instead, I switched to the same almond flour cust I created for my Keto Strawberry Pie.
How to Prevent Your Keto Pie Crust From Getting Too Brown
Pie crust getting too brown is pretty common in traditional baking too, especially with crusts that you blind bake before filling. I like to blind bake the crust a bit so it doesn't get soggy when you add the filling. However, if you're more concerned about the edges looking too brown and you're ok with a less firm crust, you could skip that step.
I discovered there is a very simple solution to your cust getting too brown, a pie shield! This simple yet brilliant device goes over the edges of your crust so they don't get too brown. It's much more reliable than aluminum foil and this one is even adjustable to different side pie plates. If you'd rather not invest in this inexpensive device, here is a tutorial on how to use aluminum foil instead.
I never really had this problem with traditional wheat crust pies or with pies that don't take as long to bake. If you choose not to use a pie shield you're taking the results into your own hands! Since the pumpkin filling takes 45 to 60 minutes to cook there is a strong chance of brown crust, even with the pie shield in place.
I used a Ray Dun pie plate for this recipe. Pie plates are measured from inside edge to inside edge. This one is almost nine inches and about one and a half to two inches deep.
Other Considerations for Keto Pie Crust
The other option is to use a tart pan. With a tart pan, you'll put the crust in without having the traditional fluted edge. The crust will just come up the sides. I would still use a pie sheld even with this method since the keto pumpkin pie filling isn't likely to go all the way to the top. A tart pan is also \more shallow which would allow the filling to cook more quickly.
I've included instructions for decorating this pie with leaves as well. Leaf shapes are a popular way to decorate the top of pumpkin pie.
One of the things I'd like to try in the future is to use a traditional pie plate but leave off the fluted edges. Then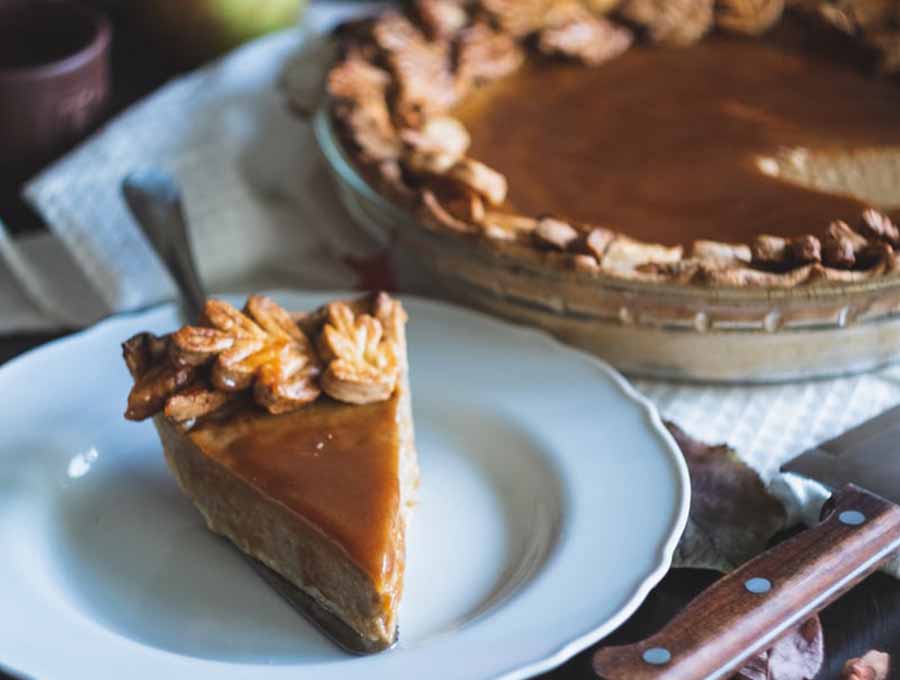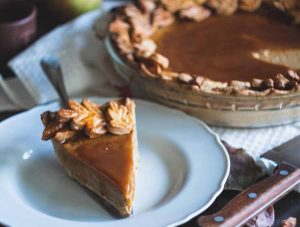 about halfway through baking I'd add the leaf decorations (raw) all around the edges and finish the bake. I think this would result in a lovely crust without having the problem of over-browning. Please let me know if you decide to try that!
One final consideration for crust and this will definitely light up some of my hardcore keto peeps…you might consider using a traditional wheat crust. GASP. I know this is a crazy idea, but hear me out. If you're not sensitive to gluten and you don't mind having a slightly higher carb count, wheat crust always tastes superior to keto crust in my opinion. If you keep the portions small and use the keto filling, you'll end up with pieces with about 14-18 carbs per piece.
While I wouldn't personally choose this, keto is a lifestyle. If you absolutely love pumpkin pie and a light flaky crust, you might choose this option.
How to Prevent Your Keto Pumpkin Pie From Cracking
Pumpkin pie cracking is common whether you're making a keto version or not. The ingredients in a pumpkin pie make it similar to a custard, so you can apply the same rules here. Over baking can cause cracks.
To avoid craking, take your pie out of the oven when the center is slightly jiggly. It will finish setting up as it cools and this will prevent the top from cracking. You could also use a water bath to cook your pie just like you might with keto cheesecake if you're concerned about cracks ruining your finished look.
Even though you want the center to be slightly jiggly, there is the risk of underbaking if you go this route. Experience is your friend here, but when you take the almost finished pie out you should be able to poke a toothpick and have it come out clean about three inches from the center. So you're really looking for just a slight jiggle right in the very center.
Day to day you might not care that much about a crack since it still tastes the same. You can also doctor cracks by some light pressing and brushing the top of the pie with a sugar-free syrup such as Choc Zero maple pecan if desired. If you make the fall shapes with extra dough, you can also use those to disguise any cracks.
If you're looking for Instagram worthy photos or just general perfection for your next tablescape, you may want to take those extra precautions.
Making the Pie
The instructions for this keto pumpkin pie recipe are written for a food processor since that's what I used. However, this recipe is very easy to make by hand. The only special tool you'll need a pastry cutter for working with the butter. This method or adding the butter is like a traditional wheat pie crust. Leaving larger pieces of butter in dough makes it lighter and flakier. The filling is super easy to mix by hand with just a spatula or spoon.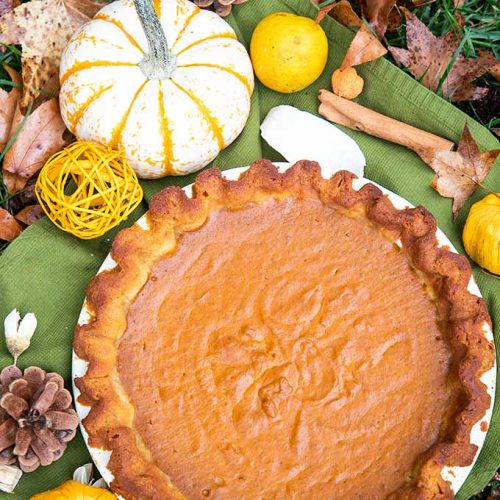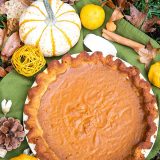 Print
Pumpkin Pie - Low Carb Keto Recipe
A traditional Thanksgiving favorite is made healthier with the use of alternative sweeteners. Individual spices were used here but to make it even more simple use a tablespoon of pumpkin pie spice instead. This keto pumpkin pie recipe will be your new go to for holiday gatherings!
Ingredients
Pumpkin Pie Filling
15

ounces

pumpkin puree

½

cup

heavy whipping cream

2

large

eggs

½

cup

keto friendly brown sugar,

packed, swerve or other

2

egg

yolks

1

teaspoon

ground cinnamon

½

teaspoon

ground ginger

½

teaspoon

ground cloves

¼

teaspoon

ground nutmeg

¼

teaspoon

allspice

¼

teaspoon

salt

1

tablespoon

vanilla
Topping
Whipped Cream

,

for serving (optional)
Instructions
Keto Pie Crust
Add all dry ingredients into food processor and pulse to blend.

Add the rest of the ingredients except butter and pulse until crumbs begin to form.

Add butter and pulse until large crumbs begin to form and dough just starts to come together. Do not overwork the dough.

Place dough covered in the freezer for at least 30 minutes, up to one hour.

Preheat oven to 350 degrees convection or 375 for standard.

Place the dough in between two pieces of parchment paper and roll out until slightly larger than pie plate.

Roll the dough thin enough so that the edges overhang by about an inch.

Fold over the extra dough as evenly as possible to make a thicken pie edge.

Using your fingers, flute the edge of the crust. Alternatively, you can use a fork to press down the edges.

Poke holes in the bottom of the crust with the tip of a knife or fork.

Wrap the edges of your crust in foil or use a pie shield to protect the crust from getting too brown. This is a critical step to prevent over browning.

Place in your preheated oven for about 10-12 minutes or until lightly browned.

Remove and let crust cool while preparing the filling and decorations (if desired).

If you want to make the fall shapes for decoration, make another batch or dough.

Place decorative dough in freezer while making the pie filling.

After at least 30 minutes in the freezer, use cookie cutters or knife to create leaves or other fall shapes.
Keto Pumpkin Pie Filling
Add all ingredients to blender or food processor and mix thoroughly.

Place filling into the crust.
Baking
Place pie plate on a cookie sheet and place into the oven.

Place fall shapes on a cookie sheet and place into the oven.

Bake fall shapes until lightly browned, about 8-10 minutes and remove from the oven.

Remove fall shapes from cookie sheet and let cool.

Bake until pie is mostly firm but center is still slightly jiggly, 45 to 60 minutes depending on your oven.

Remove pie from oven and let cool.

Decorate with fall shapes if desired.

Top each piece with whipped cream if desired and serve.
Equipment
8" pie plate (pie plates are measured from inside edge to inside edge
Notes
Pumpkin puree has a slightly higher carb count, but a fair amount of fiber as well. Cut into 10 pieces this pie has about five net carbs per serving, depending on the exact keto-friendly ingredients you use.
Nutrition
Serving:
10
people
Calories:
251
kcal
Carbohydrates:
9
g
Protein:
8
g
Fat:
21
g
Fiber:
4
g
Did you make this recipe?
Be sure to tag @healnourishgrow on Instagram to be featured in our stories or our newsletter! We love it when you make our recipes and share with your friends.