February 22, 2019
Best Creamy Chocolate Ice Cream – Keto Low Carb Recipe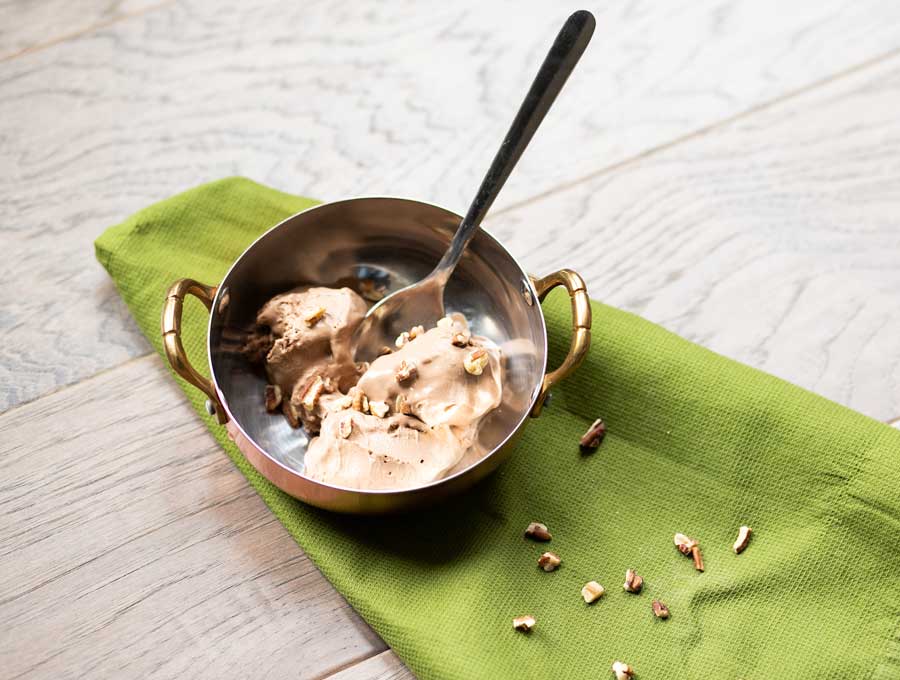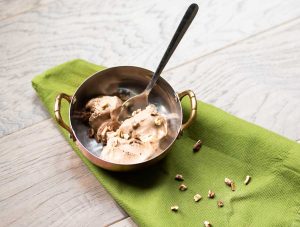 Fortunately for those of us living the low carb lifestyle, keto ice cream is one of the easiest desserts to transform to a much lower carb version. While traditional ice cream is full of sugar, most of the other ingredients are keto friendly.
There are few commercially made keto friendly ice creams on the market but their ingredients aren't great. Most contain a lot of filler and some have artificial sweeteners that aren't ideal.
As for keto ice cream recipes, there are both no churn and ice cream maker versions. However, there is nothing like the consistency of ice cream that has been churned and it doesn't take much of an investment to have an ice cream maker on hand.
If you're like me, desserts are meant to be chocolate! That's why I had to develop a keto chocolate ice cream recipe before any other flavor. Chocolate is always king in my book.
Disclaimer: This article may contain affiliate links, which means we may get paid a commission at no additional cost to you if you purchase through this page. Read our full disclosure here.
Purchasing an Ice Cream Maker
While you can certainly spend a lot of money on an ice cream maker, it's really not necessary. I've seen them multiple times in thrift stores in both manual and electric. Or if you just prefer for Amazon to drop it off at your door, it'll only set you back $43.00. The Cuisinart is simple but effective. I've used it many, many times now and have never had any issues.
To be honest, I probably wouldn't have purchased an ice cream maker myself. We received it as a family Christmas present from my sister in law. However, now that we have it, I most definitely use it and it's been fun. It's very easy to use and the end product tastes amazing. Plus you can control all of the ingredients to get your keto friendly macros just right and add in lots of little treats like chocolate chips, nuts, caramel, etc.
Considerations for Homemade Keto Ice Cream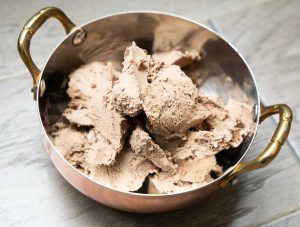 About the only complaint I have about any type of homemade ice cream is that is freezes so darn hard! Not a big deal if you have the patience to let it thaw on the counter for a few minutes, but annoying when you just want some ice cream right this second. The biggest culprit is your residential freezer. If you happen to be lucky enough to have a secondary freezer that doesn't need to be as cold, try that first.
Keto ice cream recipes with their higher fat content fare slightly better.
Over the years I've read a few tips on making homemade ice cream less hard and I've tried all of them. One thing working in keto ice cream's favor is that it tends to be higher fat. Fat doesn't freeze well which is a benefit in this situation. You can also add alcohol to the mix, which again, doesn't freeze as well.
This recipe includes vodka…some of which is cooked off in the custard process and some more that is added just before churning. If you prefer ice cream without alcohol you can substitute almond milk, but that won't help with your ice cream freezing too hard issue.
Xanhan gum is also in this recipe. It's a stabilizer and helps to prevent the formation of ice crystals. Ice crystals are one of the components that make ice cream too hard and make it crunchy and bumpy rather than creamy and smooth. Egg yolks in this recipe also up the fat content to help prevent rock hard ice cream.
How to Freeze Homemade Keto Ice Cream
Here are some other things to try to deal with freezing your homemade ice cream that I haven't read elsewhere.
Consider a special container. This one on Amazon is insulated and claims to keep ice cream more stable. While I didn't receive it in time to test it on this batch, I'm definitely trying it on my next one and will report back. It's got 829 ratings and gets 4.5 stars. Reviewers specifically mention that the ice cream stays firm yet scoopable so I can't wait to see if they're right!
Consider freezing in individual portions so that scooping really hard ice cream becomes a non-issue. You could use a larger silicone mold like this one that makes 2.25 inch square individual portions or use popcicle molds. This method is also useful for anyone that is looking to limit their servings size while focused on weight loss or keeping perfect macros.
You can also use this method without any special equipment. For this last batch I used a shallow tupperware type container. Check your ice cream after an hour or two in the freezer. At some point it will firm enough to hold together but still easy to scoop. Just use your spoon or ice cream scoop to make balls. I left it in the same container then and allowed it fully freeze. The portion sized balls break off fairly easily from each other after frozen solid.
How to Make Homemade Keto Chocolate Ice Cream
Scalding the Cream
Scalding the cream is something that is recommended by most ice cream recipes. However, after more investigation, I've learned it's a myth! Heating alters milk and cream composition, however since it's already been pasteurized which means it's been heated, there is no need to complete this step. It also saves you the potential risk of boiling over the cream…which I've certainly done in the past!
Tempering the Eggs
Wow, yet another traditional step you can skip! Since you're not heating the cream mixture, there is no need to temper the eggs. Traditionally this is done since you're adding eggs to a hot mixture and you don't want them to scramble. So you'll simply just mix everything together.
Cooking the Custard
This you'll still want to do to thicken your mixture. Gently heat bringing the temperature up slowly and cook to approximately 180°F. Do not allow the custard to come to a boil or it may curdle. If custard does curdle, salvage by pouring thru a sieve and strain curdled pieces from the custard.
Alcohol anyone?
Adding alcohol to the mixture to lower the freeze point is also controversial. Some say it reduces ice crystals and helps the ice cream from freezing too hard. However, this also lowers it's melting point. I've tried it both ways and it do think it helps somewhat.
The Very Best Way to Prevent Homemade Ice Cream Being Too Hard?
All this being said, the very best way to prevent your ice cream from being too hard is this: eat it as soon as possible! If you can make a batch to share with your family midday, put it in the freezer for a couple of hours then thoroughly enjoy after dinner that is your best bet. Ice cream served fresh after churning and freezing for a couple of hours has the best consistency it will ever have.
Don't get me wrong, it still tastes amazing a couple of days later as well but that initial texture is just amazing. Let's hope that new container changes this opinion for me!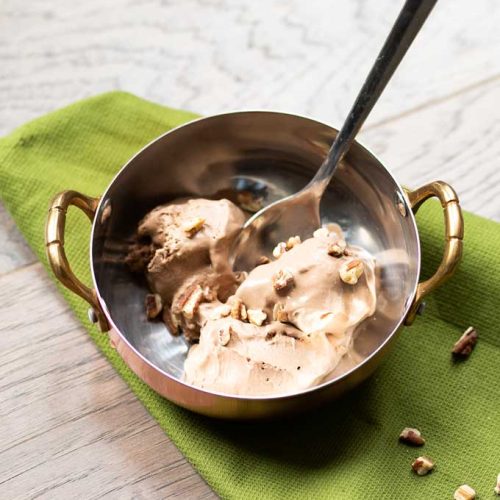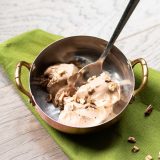 Print
Best Creamy Sugar Free Chocolate Ice Cream - Keto Low Carb Recipe
This creamy, dreamy chocolate ice cream has just 2 net carbs per serving.
Instructions
Add heavy cream, almond milk, melted butter, 1/4 cup of swerve, cacao, xanthan gum and salt to the egg yolks and combine.

Cook the mixture gently over medium heat until slightly thickened, about 5 minutes

Take off heat and stir in vanilla, vodka, the remaining 1/2 cup of swerve and liquid stevia.

Let mixture cool in refrigerator or freezer until about 50 degrees.

Add mixture to an ice cream maker and process until mixture begins to resemble soft serve ice cream, about 40 minutes depending on your machine.

Transfer ice cream to an airtight freezer container.

Freeze ice cream for a couple of hours or until it's the right consistency.

Serve and top with nuts if desired.
Nutrition
Calories:
271
kcal
Carbohydrates:
6
g
Protein:
4
g
Fat:
24
g
Fiber:
2
g
Did you make this recipe?
Be sure to tag @healnourishgrow on Instagram to be featured in our stories or our newsletter! We love it when you make our recipes and share with your friends.