February 7, 2020
Valentine's Day Cheesecake with Chocolate Shavings – Keto Low Carb Recipe
It's time to start thinking about Valentine's Day desserts! What should you have after you enjoy a perfectly cooked steak and a glass of wine with your sweetie? Traditional Valentine's Day desserts are full of sugar and not good for you. But what if you could enjoy a sweet treat like a Valentine's Day cheesecake with no guilt? Fortunately, keto dessert recipes are easy to find now, and this keto cheesecake recipe will make your sweetie extra happy.
If you're staying keto or low carb for the holiday, most of the traditional desserts just won't do. If you don't mind making something though there are plenty of keto dessert recipes like this delicious keto valentine's day cheesecake for two. It really has at least four servings, but that just means two nights of delicious, guilt-free, low carb cheesecake for you and your sweetie!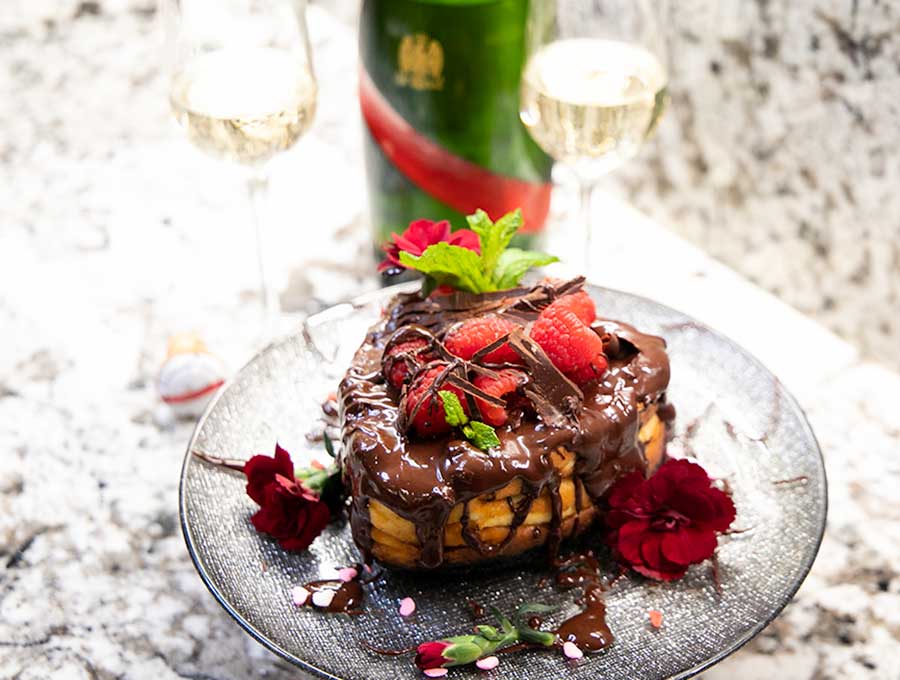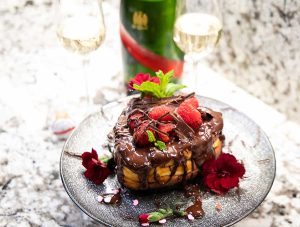 As long as you can do dairy, cheesecake is perfect on keto. It gives a rich mouthfeel and is quite satisfying with just a few bites. Plus when you add sugar-free chocolate and berries it becomes the vision of Valentine's Day dessert.
Disclaimer: This page contains affiliate links, which means we may get paid a small commission at no additional cost to you if you purchase through this page. You may even save money with some of our special discounts just for the Heal Nourish Grow family. Read our full disclosure here.
Keto Desserts With Cream Cheese
If you're looking for keto dessert with cream cheese this recipe fits the bill as well. People love cream cheese and using it for desserts has a long tradition. Especially with the beloved cheesecake. You could also make this a keto dessert perfect for any time of the year by taking away the Valentine theme. Simply make it in round springforms like these or make individual portions in a muffin tin with liners. Another great low carb dessert with cream cheese is our keto chocolate chip cheesecake muffin.
If you're looking for a quick keto dessert recipe this is not quite it. The cheesecake does take some time to cool before you can decorate it, so if you're making this recipe, plan ahead. You'll need some time to let the crust cool as well before you add the cheesecake on top.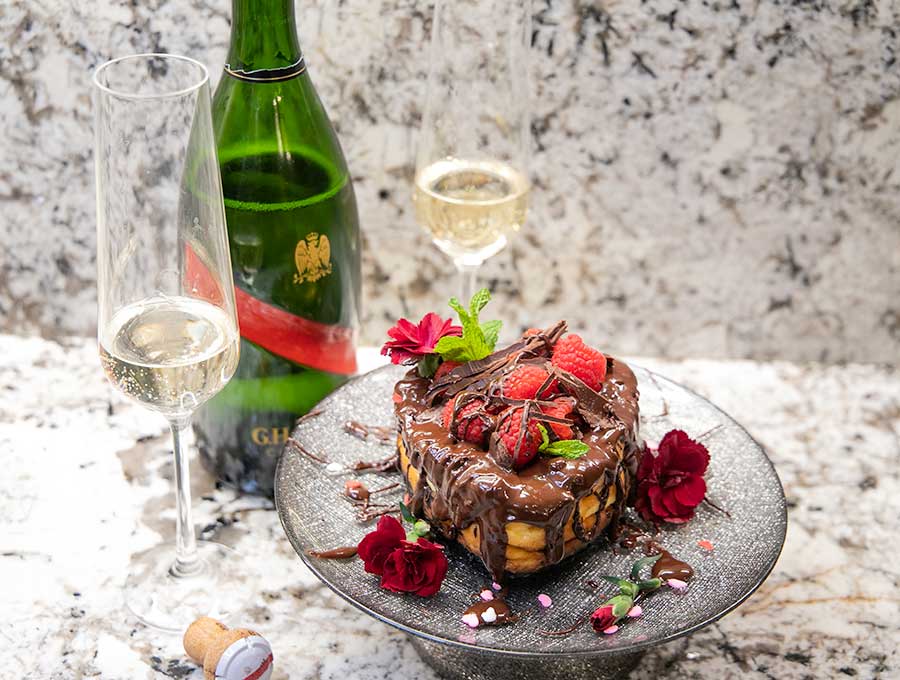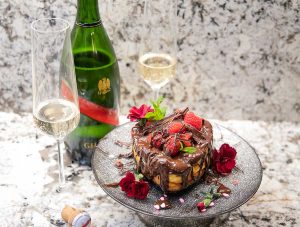 Keto Dessert Recipes: Keto Sweeteners and Substitutions
Keto baking can be easily accomplished by substituting carby flour and real sugar with keto-friendly flours and sweeteners. What sweetener you choose is definitely important since some artificial sweeteners can affect your blood glucose and insulin just as much as real sugar.
I'm writing about that soon but in the meantime know your best choices are allulose (there are even a couple of studies that show this actually pulls glucose out of your body), stevia, monk fruit and erythritol.
Valentine's Day Dessert Recipe: Setting the Mood with Keto Cheesecake
If you're going to make a special keto dessert for Valentine's Day, you can't forget to fully set the mood. Hearts, red, flowers, chocolate and champagne are all traditional Valentine's Day necessities. You can easily incorporate all of those things to set the mood with this keto dessert recipe.
First, you'll need some sugar free chocolate chips. Other brands of sugar-free chocolate make work as well but right now I'm really liking ChocZero, plus you can get 10% off by using HealNourishGrow at checkout. I've been experimenting with foods using a continuous glucose monitor I didn't experience a blood glucose rise with their product. I can't say the same for other brands.
Keto Cheesecake Ingredients
You may also want to consider a dark Dutch cocoa powder. It adds an extra rich flavor to desserts I've really come to love. I also like to add espresso powder to chocolate desserts. It's not called for in this recipe, but you could easily add a teaspoon in place of some of the cocoa powder. I left it out just to economize on the ingredient list, but it's a wonderful addition. It makes your chocolate taste even better and richer, if that's possible!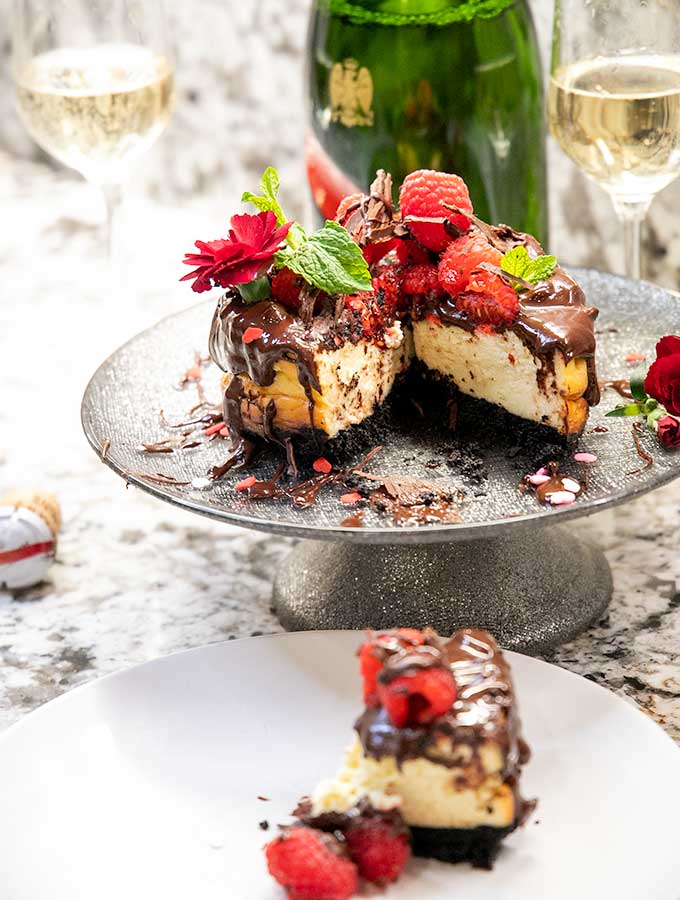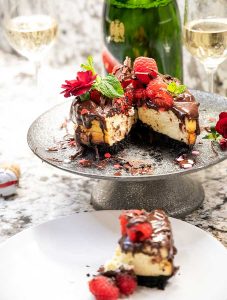 You'll also need a heart-shaped springform pan and maybe some sugar-free decor such as these Valentine's Day theme sprinkles. Flowers can be dual purpose when you use a few as decoration on your keto cheesecake and some in a vase for your sweetie. Champagne is, of course, optional, but a nice touch.
Have you seen our experiment with drinking wine on keto? Check it out to see how it affected my ketones. Choosing the right wine is so important if you choose to drink on keto and want to stay in ketosis.
Continuous Blood Glucose Monitor for Keto
By the way, if you'd like to try a continuous glucose monitor for yourself you can get 20 dollars off your order with Nurtisense using the code HNG20. These great health tools still require a prescription and Nurtisense.io does all the work of getting that for you.
Their software also allows you to record food, exercise and make notes so you can begin to get insight into what foods negatively affect your blood glucose and by proxy, insulin. Insulin control is key to good health and may even help you lose weight.
I'm writing about my experience with this tool and a nutriosense.io review at a later date but for now, know that testing your blood glucose on keto is a great way to see how certain foods affect you.
Read more about the hormonal theory of weight loss versus calories in calories out.
Valentine's Day Dessert Recipe
If keeping your sweetie healthy is a priority, reducing sugar is always a great idea. Even if you never want to go keto or low carb, reducing obvious sources of sugar will help keep your health and weight on track! Fortunately cheesecake is one of the desserts that is easy to make keto and it still tastes amazing. If you don't tell anyone this cheesecake is keto, they'll never know!
If you need more servings, this keto cheesecake recipe is easily double or tripled to feed a crowd.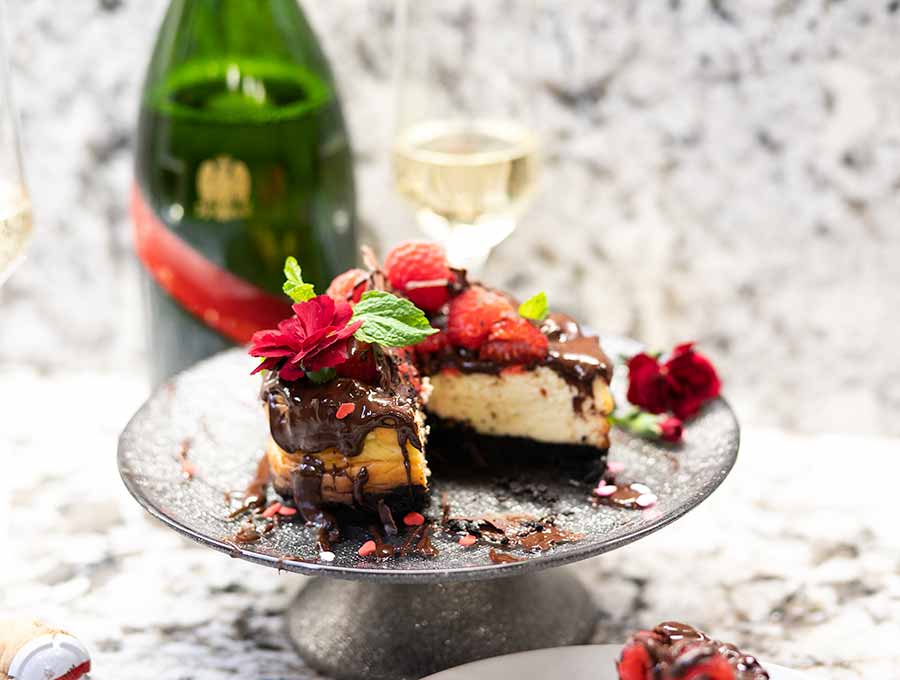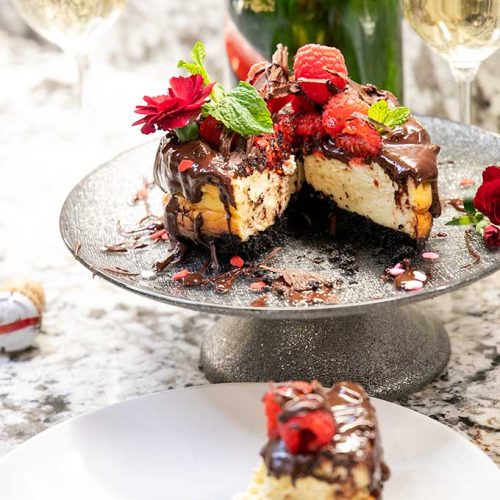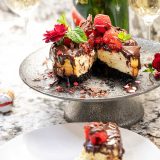 Print
Cheesecake - Low Carb Keto Recipe
Looking for a delicious keto-friendly dessert to delight your sweetie for Valentine's Day? We've got you covered.
Ingredients
Cheesecake
8

ounces

cream cheese

1

large

egg

,

beaten

1 /2

teaspoon

vanilla

⅓

cup

powdered swerve,

taste for sweetness, add if necessary

1

teaspoon

heavy cream

3

drops

stevia extract

1

tablespoon

ricotta cheese

,

optional
Chocolate Drizzle and Shavings
Garnish (optional)
¼

cup

raspberries

mint leaves

sugar-free sprinkles
Instructions
Preheat oven to 325 convection or 350 conventional.

Melt butter in the microwave or on the cooktop.

Add 1 tablespoon powdered swerve, 2 tablespoons of almond flour plus one teaspoon almond flour and 1 tablespoon cocoa powder for cheesecake crust.

Spray pan with coconut oil and place crust mixture in 4-inch springform pan, preferably heart-shaped.

Bake crust for 20 minutes.

Remove crust when done and allow to cool for at least 30 minutes.

In the meantime, blend softened cream cheese, eggs, swerve, vanilla, cream and stevia with an electric mixer until smooth. Add 1 tablespoon of ricotta cheese if desired and blend until combined.

Add cheesecake filling to the springform pan on top of the crust and smooth with a spatula and wet finger. Leave 3/4 inch of space at top of pan. There will be leftover filling that you can bake in separate custard cups.

Place the cheesecake and extra cups in the oven and bake for 40 minutes (less for the extra). Begin testing for doneness with a toothpick. Shake cheesecake gently, remove when there is still some jiggle overall with the edges firmer and the center still moist. The cheesecake will continue to cook after you remove it from the oven. Overcooking makes it firmer and rubbery.

Allow cheesecake to cool for about two hours.

Use a thin knife to go around the edges of the springform to make sure nothing sticks. Remove from the springform pan.
Chocolate Topping
Using a double boiler or microwave on low, melt chocolate chips and coconut oil. Stir until thoroughly until combined and thinner consistency is formed.

Spread topping mixture over cheesecake to completely cover the top and allow chocolate to drizzle down sides of cheesecake.
Decorating (optional)
If desired, spread extra chocolate topping mixture on a cold flat surface. You can put a cookie sheet or pan in the freezer for 15 mins and use the flat side.

Spread chocolate and continue to work the chocolate over cold flat surface until it loses sheen. Place surface with chocolate back in the freezer until a fingerprint barely registers, about 1 minute. Use a flat dough scraper pushing away from you to make chocolate curls and shreds.

Garnish cheesecake with chocolate shavings and curls, raspberries and mint sprigs if desired.

Refrigerate and cover lightly until serving.
Nutrition
Calories:
307
kcal
Carbohydrates:
5
g
Protein:
5
g
Fat:
27
g
Fiber:
3
g
Did you make this recipe?
Be sure to tag @healnourishgrow on Instagram to be featured in our stories or our newsletter! We love it when you make our recipes and share with your friends.