July 1, 2019
Keto Chocolate Chip Muffins With Cheesecake – Low Carb Recipe
Ahhhh chocolate, you've always had my heart. I love making my favorite chocolate treats into a keto friendly version, so this keto chocolate chip muffin was bound to happen sooner or later.
Growing up, we had a pretty strict no sweets policy, which I hated at the time but now serves me well. When I could first drive, one of the things I was excited about was finally being able to buy sweets. I would go to our local United Dairy Famers to get a treat most days before school. One of the first things I chose were decadent, double chocolate chip muffins in a package.
I won't name the brand, but they've since downsized their muffins and offer mini muffins as well. Even so, the now "regular" size chocolate chip muffin has 30 grams of carbs. I shudder to think about the sugar I was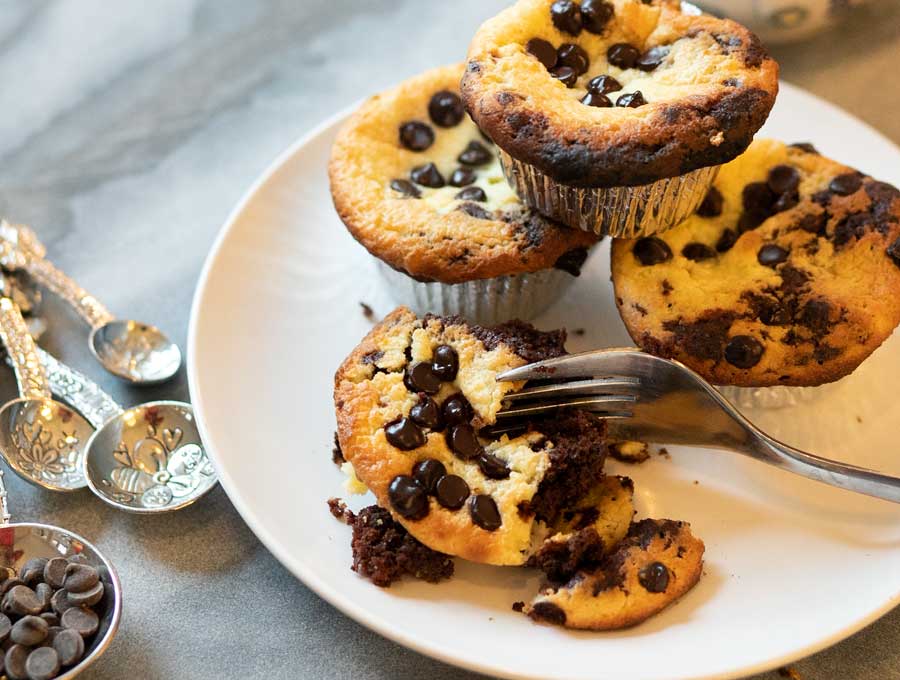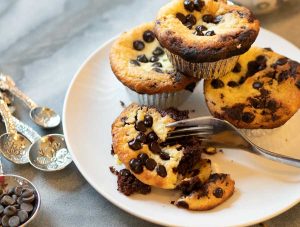 getting in that giant sized muffin! Thank goodness we can make a keto chocolate chip muffin to replace this sugar-filled monstrosity.
Sugar-free treats are still a great idea even if you haven't yet fully committed to a keto way of eating. If you need more convincing that sugar isn't good for you, be sure to check out our Complete Beginner's Guide to the Ketogenic Diet.
Thankfully there are plenty of keto chocolate options that allow you to have a sweet treat without killing your ketones. Keto chocolate chip muffins are a great way to satisfy your chocolate cravings with two types of chocolate. The muffins themselves are chocolate and you add sugar-free chocolate chips as well. They're also gluten-free since they're made with almond flour.
Plus you know what goes really well with chocolate? CHEESECAKE! One of my favorite things about recipe development is whatever combination of flavors sounds like it would satisfy my cravings, I can make it.
How to Make Moist Keto Chocolate Chip Muffins
I prefer to make my keto chocolate chip muffins with almond flour. Coconut flour tends to sit heavy in my stomach and makes me feel quite bloated. However, if coconut flour works for you, feel free to experiment with that substitution. Coconut flour absorbs a lot more liquid than almond flour so it could result in a much drier muffin if you aren't careful.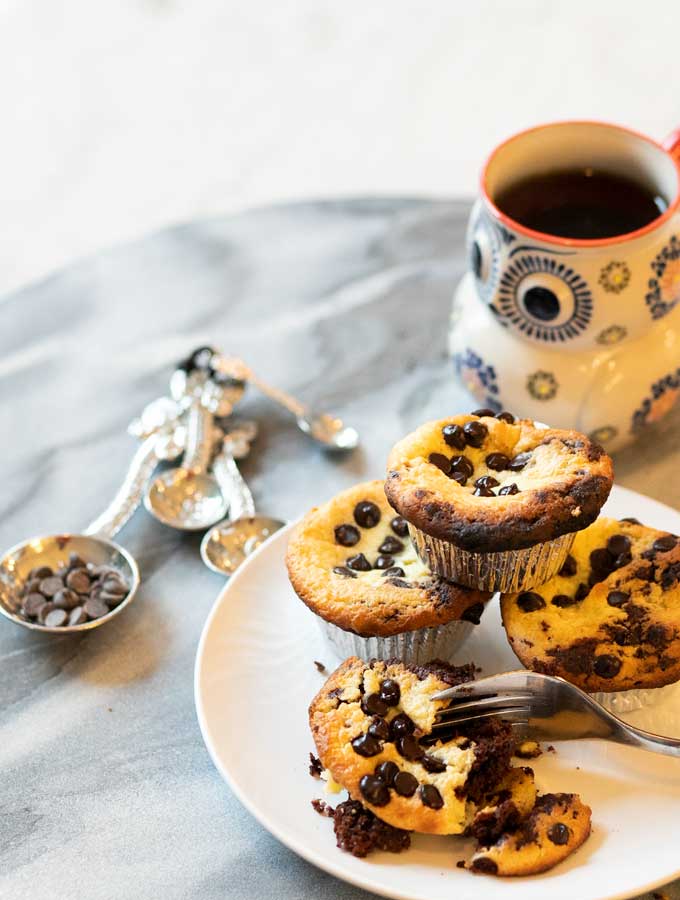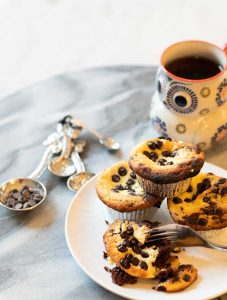 If you're substituting coconut for almond flour, start by adding one tablespoon to the mix at a time and let it rest for a minute or two between each addition. You're looking for a batter consistency that's not too thick. You can check out our keto baking tips here.
The other way to make sure your chocolate chip muffins stay nice and moist is to make sure you don't overcook them. Keto baking is a little trickier than traditional in that regard. Plus with this recipe, you have the cheesecake on top which cooks a little differently than the cake.
You can still use a toothpick in the center to check for doneness, but I've found you still need to err on the side of taking them out a little earlier than you would with traditional wheat flour and sugar baking. Using a convection oven helps as well since the muffins will cook more evenly.
Are Keto Chocolate Chip Muffins Freezer Friendly?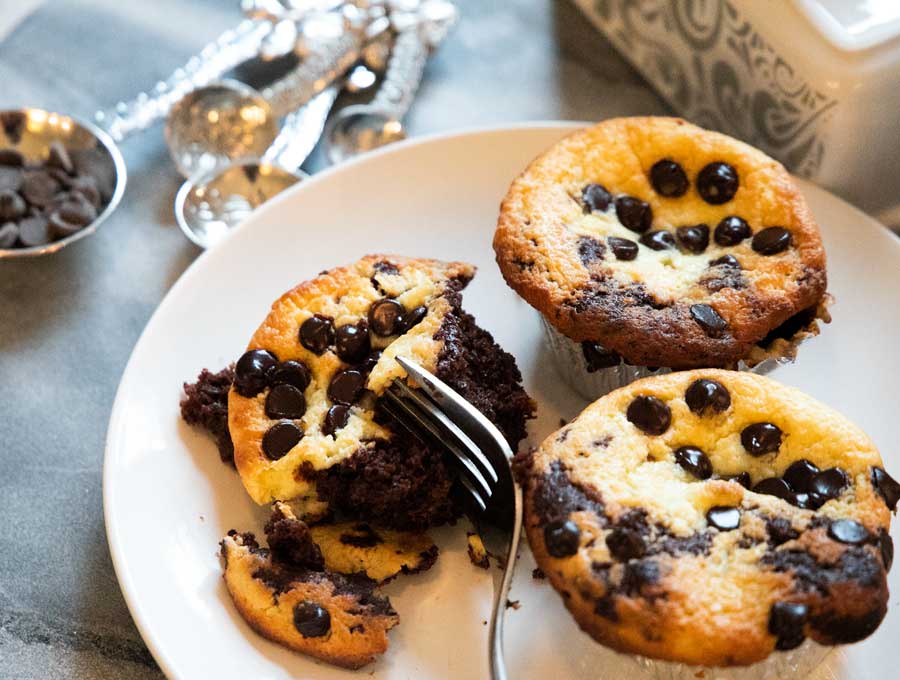 One of the "problems" with making keto baked goods is that we probably shouldn't have keto treats so readily available or that often. Especially if you're still trying to lose weight. Some people still struggle with cravings brought on by even the substitute sweeteners. Limiting treats and sugar substitutes early on in your keto diet can help with cravings and weight loss since the brain still tends to think of them as "sugar" even in the absence of an insulin spike.
Another issue is that fresh baked treats only stay good for so long! Any kind of baked goods whether traditional or keto have a pretty short shelf life. That delicious double chocolate chip cookie you baked and enjoyed today doesn't taste nearly as good a few days later, even when stored in an airtight container.
I deal with this little problem in two different ways. If I'm making cookies for example, I'll portion them all out into cookie size. I bake some to enjoy for the day then freeze the rest. Later when I want a keto dessert, I'll just put a couple of frozen cookies into the oven for freshly baked cookies without the work.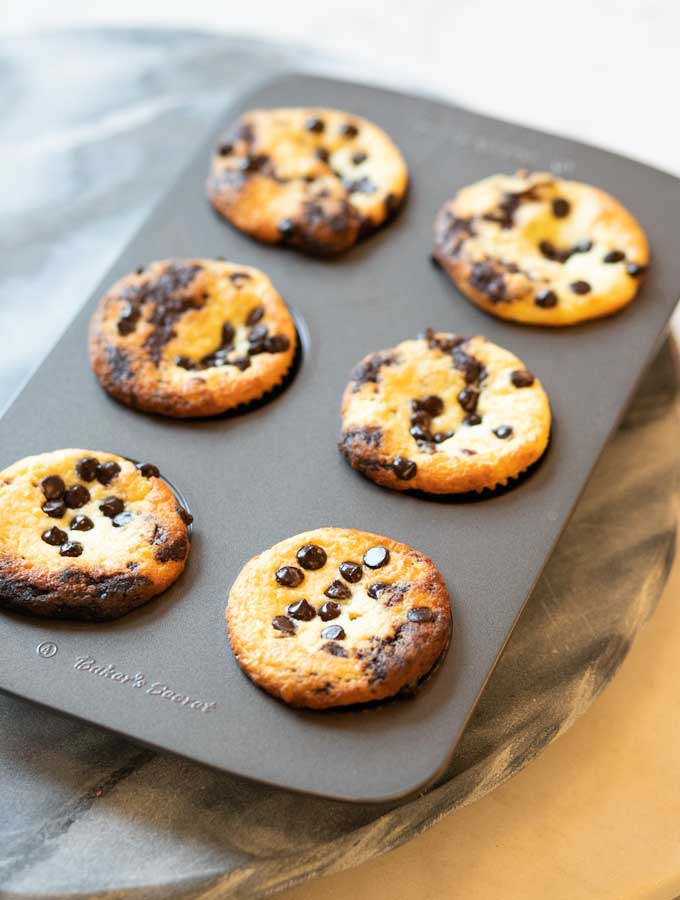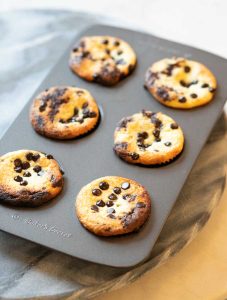 If it's something like muffins, those are harder to freeze and bake later. So I tested just freezing the baked muffin on this recipe. Not only were they delicious later, I almost preferred them frozen. I ended up eating them all straight out of the freezer without allowing them to warm up or be defrosted in the microwave.
Disclaimer: This page contains affiliate links, which means we may get paid a small commission at no additional cost to you if you purchase through this page. You may even save money with some of our special discounts just for the Heal Nourish Grow family. Read our full disclosure here.
The only mistake was not taking off the wrapper before freezing. Definitely remove the wrapper first if you freeze your keto chocolate chip muffins.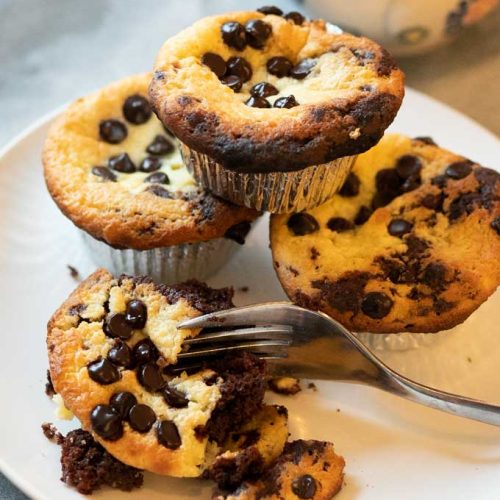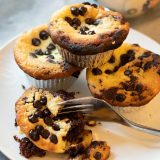 Print
Keto Chocolate Chip Muffins With Cheesecake Topping
Satisfy your cravings for chocolate and cheesecake all in one sweet little package and just 2 net carbs per muffin.
Ingredients
Chocolate Mix
1

large

egg

1

teaspoon

vanilla

⅛

teaspoon

salt

½

cup

butter

,

melted

½

teaspoon

baking soda

⅓

cup

swerve

¼

cup

almond flour

1

tablespoon

heavy cream

1

tablespoon

sugar free chocolate chips
Cheesecake Mix
5

ounces

cream cheese

,

softened

1

large

egg

.3

cup

swerve
Topping
3

teaspoons

sugar free chocolate chips
Instructions
Preheat oven to 350 degrees (convection) or 375 (conventional.)

Prepare muffin tin, adding liners for six muffins.

Add all ingredients for the chocolate mix and combine until smooth.

Add all ingredients for the cheesecake mix and combine until smooth.

Using a quarter cup cookie scoop or tablespoon to measure, add a scant four tablespoons/ scant quarter cup of the chocolate mix to each of the muffin liners.

Shake muffin pan gently to even out the batter.

Using a quarter cup cookie scoop or tablespoon to measure, add a scant four tablespoons/ scant quarter cup of the cheesecake mix to each of the muffin liners.


Shake muffin pan gently to even out the batter.


Add half teaspoon of Lily's or other sugar-free chocolate chips to the top of each muffin.

Bake for 25 minutes or until tops are lightly browned and a toothpick inserted into the center comes out clean.
Nutrition
Calories:
304
kcal
Carbohydrates:
3
g
Protein:
5
g
Fat:
30
g
Fiber:
1
g
Did you make this recipe?
Be sure to tag @healnourishgrow on Instagram to be featured in our stories or our newsletter! We love it when you make our recipes and share with your friends.