November 12, 2018
Keto Pumpkin Spice Rum Cake With Pecan Cream Cheese Glaze – Low Carb Keto Recipe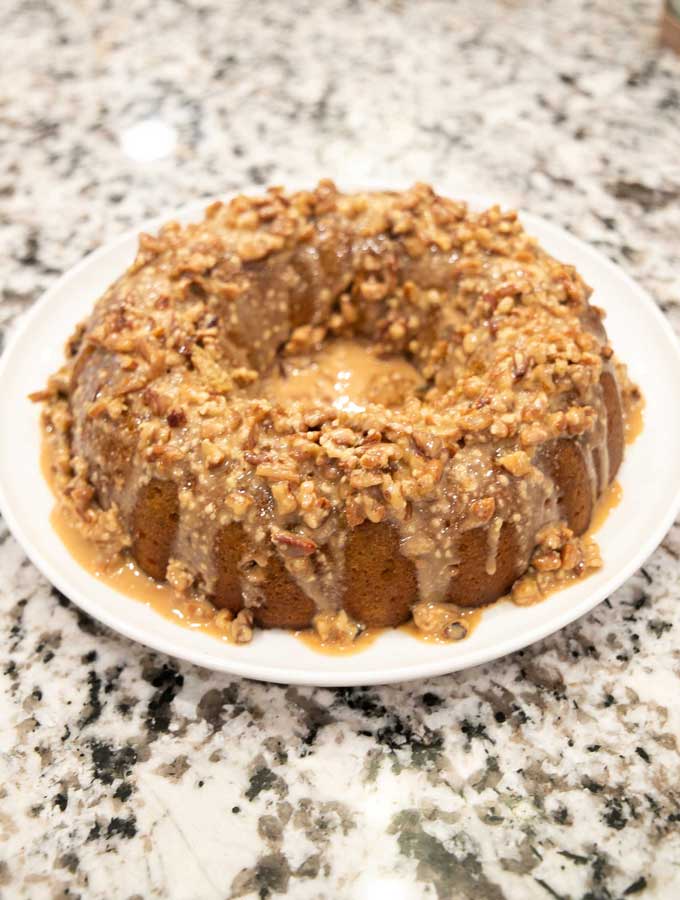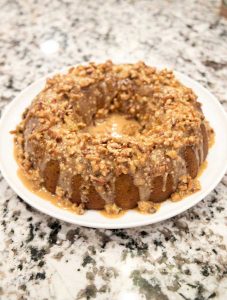 I'm normally an all chocolate all the time dessert kind of woman. But fall is here and it's almost Thanksgiving, so my mind inevitably turns to pumpkin. In addition, I discovered two large bottles of spiced rum leftover from parties while unpacking the bar in our new home. Somehow my psyche put these together and decided to get obsessed with the idea of a boozy, keto pumpkin spice rum cake.
Keto Desserts and Baking
Before I was low carb, I really didn't care if I had sweets or not. Sure, I would occasionally have a bite of something here and there, but I never really craved them much. However, now that I've been keto for quite a while, I find I occasionally want a sweet. And unless I choose to ignore my commitment to eating keto, this requires some baking/cooking/planning on my part.
I have to be honest about my love/hate relationship with keto baking. Keto desserts made from a variety of recipes, both my own and others, are good. But not awesome…not like the "real" thing. Keto flours tend to make things more heavy and dense. Desserts just don't turn out quite the same. If you're committed to staying carb sugar-free though, these types of desserts are useful.
Keto Pumpkin Spice Rum Cake Inspiration
Disclaimer: Links below may contain affiliate links, which means we may get paid a commission at no additional cost to you if you purchase through this page. Read our full disclosure here.
Enter keto pumpkin spice rum cake. I like pumpkin, I don't LOVE it. I've never even had a Pumpkin Spice Latte. I know. Don't tell anyone. But, when I think nostalgically of Thanksgiving, there was always pumpkin pie. And pecan pie, which I do LOVE. Wondering if they could be good together? Well, they are!
This Keto Pumpkin Spice Rum Cake with Pecan Cream Cheese Glaze gives us all of the childhood Thanksgiving dessert flavor memories in one dish, plus rum because we're now adults and I had extra. If you're already thinking ahead to Christmas, be sure to check out our beautiful Buche de Noel.
Pumpkin Cake Spices
The resulting recipe is very moist and has a delicious pumpkin flavor, you can really taste the pumpkin well with the spices setting its flavor off nicely. I especially like the smell and flavor of cardamom and try to use it whenever appropriate. Grind it yourself using a mortar and pestle for ultimate freshness. I did that for the cardamom and the cloves. Be sure to take the white covering off the cardamom first so you use just the seeds.
Benefits of "Real" Ceylon Cinnamon
As for the cinnamon, do yourself a favor and get organic ceylon. There are two types of cinnamon, cassia and ceylon. Unfortunately, in the states, most cinnamon sold is the "fake" variety cassia1.
Real ceylon cinnamon has a lot of benefits, including blood sugar regulation 2 antioxidants and anti-clotting properties. In contrast, fake cassia cinnamon contains coumarin, a flavoring substance that can be toxic3.
Finally, a traditional bundt pan was used for this recipe, but I think the one below would be much more fun and festive for holiday baking. I typically use Swerve brand sugar substitute but feel free to experiment with other erythritol or monkfruit basesd sweeteners. Lankanto sweetener is also good.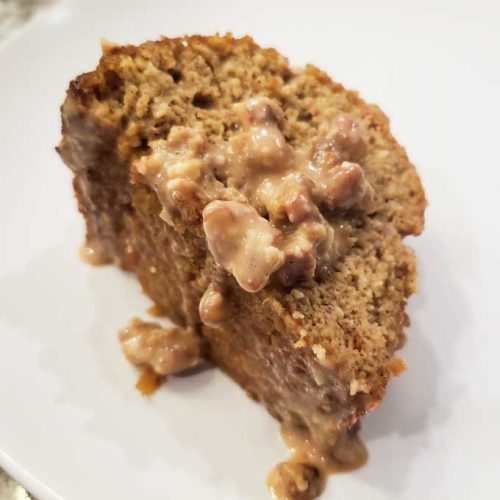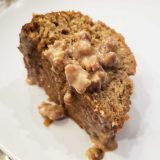 Print
Pumpkin Spice Rum Cake With Pecan Cream Cheese Glaze
This boozy pumpkin spiced rum cake takes your keto holiday to the next level.
Ingredients
Keto Spiced Pumpkin Cake
4

eggs

.25

cup

butter

,

melted

.75

cup

granulated swerve

.5

cup

coconut oil,

melted

.75

cup

spiced rum

1

cup

pumpkin puree

2

cups

almond flour

1

tablespoon

baking powder

1

tablespoon

cinnamon

.5

teaspoon

salt

2

teaspoons

ginger

.5

teaspoon

cloves

,

ground

.5

teaspoon

cardamom

,

ground
Instructions
Preheat oven to 325 degrees convection or 350 conventional.

Mix together eggs, butter, swerve, coconut oil, rum and pumpkin.

In a separate bowl, sift together the rest of the cake ingredients.

Add the flour mixture to the egg mixture and stir until thoroughly combined. The batter will be thick.

Lightly oil a bundt pan with coconut oil.

Spoon the batter evenly into the bundt pan and tap lightly on the counter to evenly distribute.

Bake cake for 45 minutes or until a toothpick inserted into the center comes out clean.

While the cake bakes, prepare the glaze.

Add vanilla, rum, cream cheese, butter, confectioner's swerve and molasses (optional) to a saucepan over low heat and stir until melted and combined.

Stir in pecans and remove from heat.

Allow the cake to rest in the pan for 10 minutes then flip onto a serving platter.

When the cake is almost finished resting, stir the glaze over low heat for a minute.

Add heavy cream to the glaze mixture and mix until thoroughly combined. If it's too thick, add a tablespoon more rum.

Using a long skewer poke holes in the top of the cake.

Add the additional .25 cup of "soaking" rum if desired.

Spoon glaze over cake evenly.
Nutrition
Calories:
288
kcal
Carbohydrates:
6
g
Protein:
5
g
Fat:
23
g
Fiber:
2
g
Did you make this recipe?
Be sure to tag @healnourishgrow on Instagram to be featured in our stories or our newsletter! We love it when you make our recipes and share with your friends.