November 29, 2020
Pecan Pie Cheesecake Bars – Keto Low Carb Recipe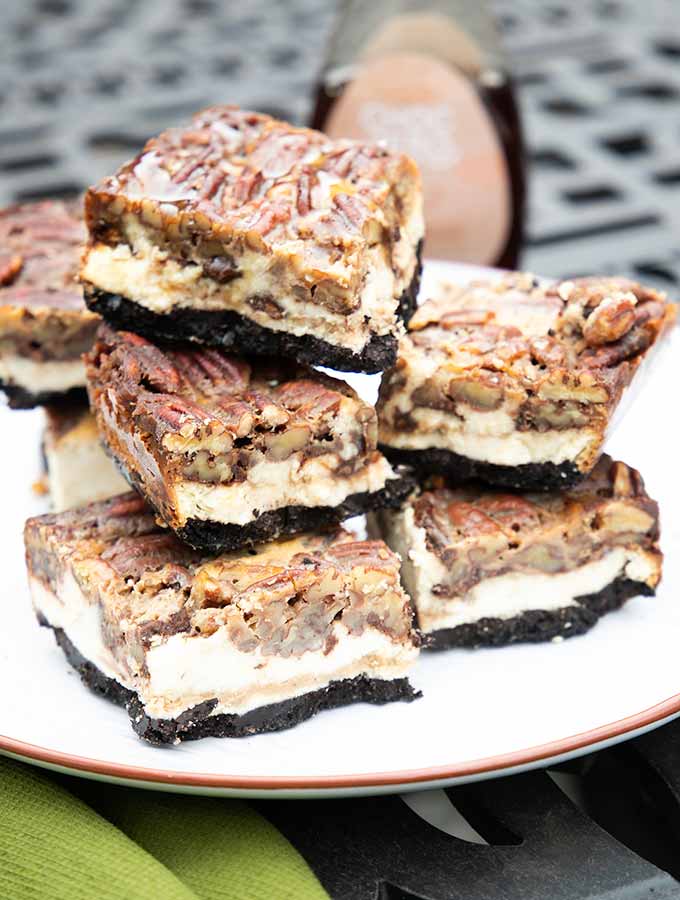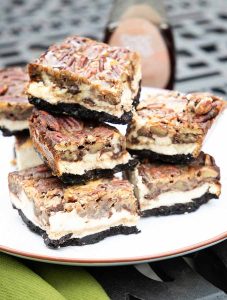 Now that I've been fully committed to the keto lifestyle for years, traditional pies are (mostly) off the menu. Fortunately, you can make keto-friendly sweets and keto desserts that are as good as the real thing. There are a few keto desserts that taste almost exactly like the original. Cheesecake is one of them…it's very easy to make a great keto-friendly cheesecake. Keto pecan pie is another one. Pecans themselves are keto-friendly nuts and the ooey-gooey filling is easy to replicate using the Swerve substitute for brown sugar. For this recipe, I wanted the best of both these dessert worlds. I made them into keto pecan pie cheesecake bars so that they can be used for holiday cookie exchanges as well!
When I was a little girl growing up in Louisiana, my grandparents had a pecan tree in their yard. I was often tasked to pick up the pecans that had fallen on the ground then shell them for my grandma Myrtle. She would then craft these into her famous pecan pie! Only many years later did I find out it wasn't a beloved family recipe but rather, "just the recipe on the back of the karo bottle, ma chere." I always knew I'd make a keto pecan pie at some point.
Even if it wasn't a special family recipe, pecan pie was always one of my favorite desserts and mainstay on our holiday table.
Disclaimer: Links may contain affiliate links, which means we may get paid a commission at no additional cost to you if you purchase through this page. Read our full disclosure here.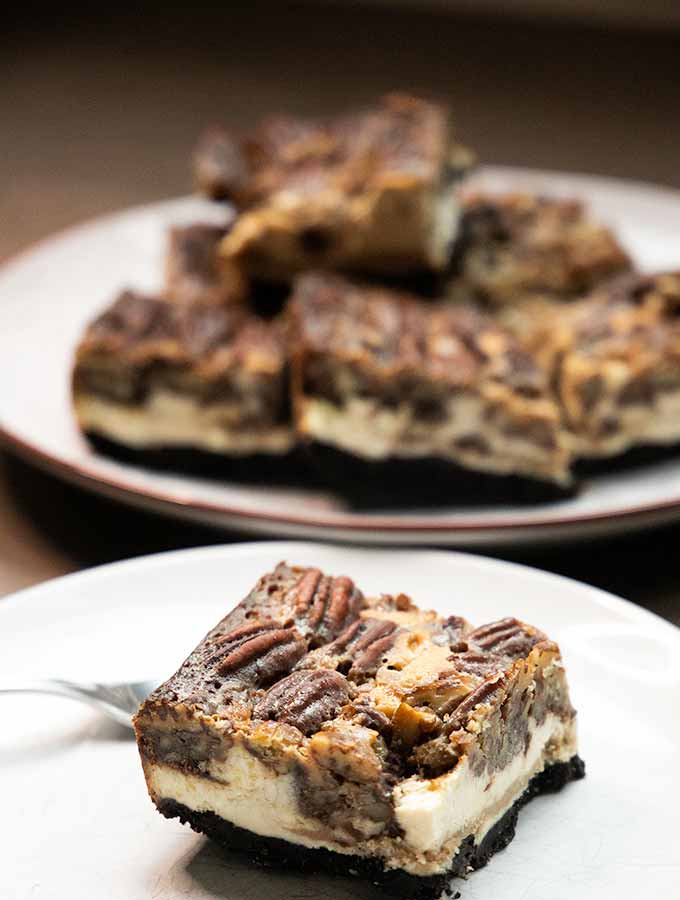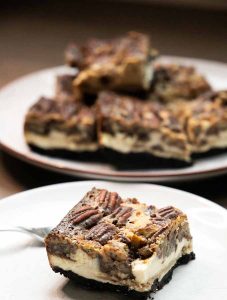 Inspiration for Keto Pecan Pie Cheesecake Bars
After making my keto Pumpkin Pie several times while developing that recipe, I was ready for something different to grace my holiday table. Keto pecan pie would have been awesome.
However, I was asked to participate in an Instagram cookie recipe week right before Thanksgiving. So I decided rather than a traditional holiday cookie recipe or working on my keto pecan pie, I would instead combine two of my favorite desserts to make the ultimate keto dessert bar.
These keto Pecan Pie Cheesecake Bars were a huge hit at Thanksgiving. They combine the best of two of my favorite desserts while also providing some chocolate at the same time. If you know me at all, you know I'm a huge chocolate fan!
About Pecans
Until writing this recipe, I had no idea that there are over 1000 varieties of pecan trees! A hundred grams of pecans has 14 grams of carbs but also 10 grams of fiber. With just 4 net carbs in that large portion, pecans are a natural fit for keto.
Whether or not we should be eating many nuts and seeds is a discussion for another day. They're full of linoleic acid, which may actually signal our bodies to store fat. I plan to write about this in the future but check out the work of Dr. Paul Saladino for more information on this topic.
Important Notes for Making Keto Pecan Pie Cheesecake Bars
The most important thing to note about this recipe is that you must make them the day before you'd like to serve them. The time these bars spend in the freezer is absolutely critical for the pecan pie bars to hold together well.
You can absolutely eat it straight out of the oven, and they're delicious that way BUT they will not be bars in that case. You'll just have a pile of warm, delicious goo on your plate that tastes amazing but looks like a mess.
You also need some extra time on baking day to let the layers cool between steps. Plan on four hours of time from start to placing the bars in the freezer. The more disciplined you are about letting especially the cheesecake layer cool, the more defined your layers will look. Most of the four hours is just waiting on the layers to cool. You can easily do other things while you wait.
I can promise you that your patience will be rewarded! These bars are so decadent that you'll just need a few bites to feel satisfied.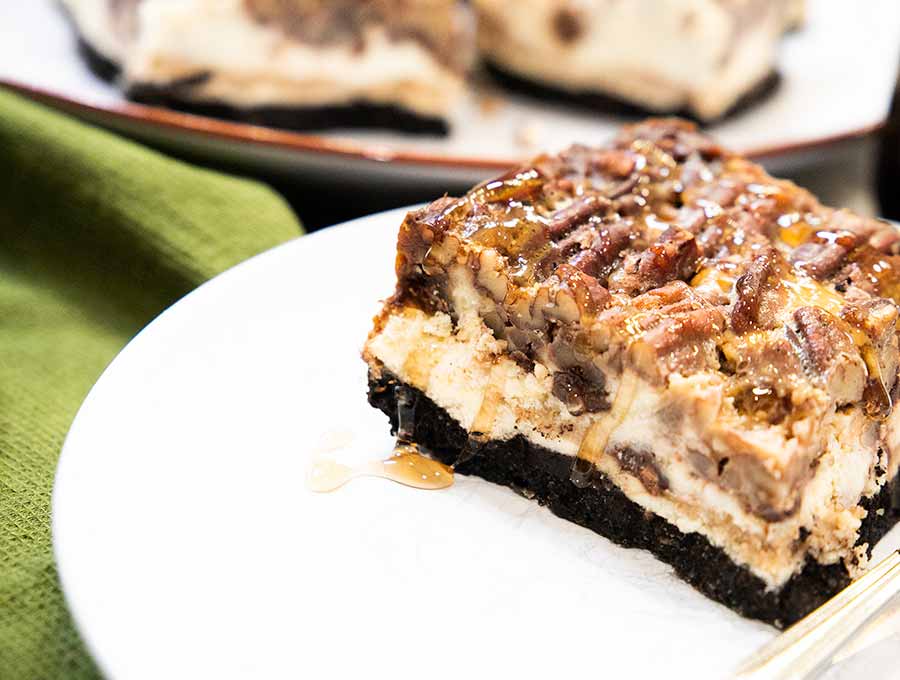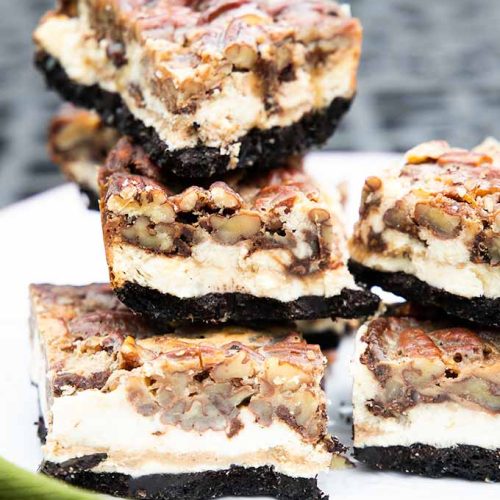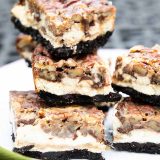 Print
Pecan Pie Cheesecake Bars - Keto Low Carb Recipe
These keto pecan pie cheesecake bars combine three of the very best dessert flavors: chocolate, pecan pie and cheesecake! They're so decadent and delicious that it just takes a few bites to feel satisfied. Only 3 net carbs per serving depending as always on your exact ingredients.
Be sure to make the day before you'd like to serve them, they require overnight in the freezer.
Ingredients
Pecan Pie Topping
½

cup

butter

½

cup

brown swerve

¼

cup

heavy cream

¼

cup

maple pecan syrup

,

choc zero brand or you can substitute 1/4 cup brown swerve and an extra tablespoon of cream

1

teaspoon

salt

½

tablespoon

vanilla

1

large

egg

,

room temperature

½

cup

chocolate chips

,

sugar-free, optional

1

cup

pecan halves,

roughly chopped

1

cup

pecan halves,

as topping
Instructions
Preheat oven to 325 degrees for convection or 350 for conventional.

Take your eggs out and let come to room temperature or place in warm water.

Lightly spray coconut oil in an 8 x 8 pan.

Cut parchment paper to fit pan leaving 2 sides free.

Blend ingredients for crust and using buttered fingers press into bottom of pan. Use a rubber spatchula to smooth if desired.

Bake crust for about 20 minutes or until it starts to firm. Remove and let cool.

In the meantime, make the cheesecake filling.

Add all ingredients into bowl and blend until smooth.

Once the crust has cooled for 30 minutes or more, add cheesecake filling over the crust.

Bake for 20-25 minutes, cheesecake should be mostly set but still jiggles in the middle.

Let the cheesecake cool on the counter for 30 minutes then put in the refrigerator for 30 minutes.

In the meantime, make the carmel pecan filling. In a large saute pan over medium-low heat, melt butter and swerve for about 3 minutes, stirring frequently, until dark golden brown.

When the caramel mixture looks golden, add the syrup, cream, salt and vanilla. Genly simmer, stirring constantly for about 20 minutes, until bubbly, dark golden and thicker.

Remove caramel sauce from heat and let cool for at least an hour in the refrigerator.

The caramel mixture should be cool enough that it won't cook your eggs. Whisk egg and slowly add the caramel sauce 1/2 cup at a time to incorporate without cooking the egg.

If using chocolate chips, spread chips over the cheesecake filling.

Place chopped pecans evenly on top of the cheesecake and pour half of the caramel mixture on top.

Place pecan halves and cover with the rest of the caramel sauce.

Bake for about 45 minutes, until the top is dark brown and the caramel looks set. Pecan topping will jiggle slightly, like jello.

A wooden pick should come out relaviely clean, no cheesecake mix should be visible.

Cool in the pan on the counter for an hour. Then place in the freezer overnight.

Take pan out of the freezer and let sit on the counter for an hour.

Slice into bars and enjoy! Store in the refrigerator for easy access or in the freezer if you'd like to enjoy them at a later date.

The bars are delicious cold right out of the refigerator or let them come to room temp before eating.
Notes
Make sure to note these should be made the day before you'd like to serve them since they require freezing overnight.
Nutrition
Calories:
295
kcal
Carbohydrates:
5
g
Protein:
4
g
Fat:
30
g
Fiber:
2
g
Did you make this recipe?
Be sure to tag @healnourishgrow on Instagram to be featured in our stories or our newsletter! We love it when you make our recipes and share with your friends.