August 29, 2018
Five Pro Tips From An Interior Designer For Perfect Tablescape Design
I'll never turn down an opportunity to put my two favorite skills to use; designing and hosting parties! With a background in interior design, I use all of the design skills I've acquired over the last eight years to make my events shine. Interior design and tablescape design go hand in hand and the crossover is awesome.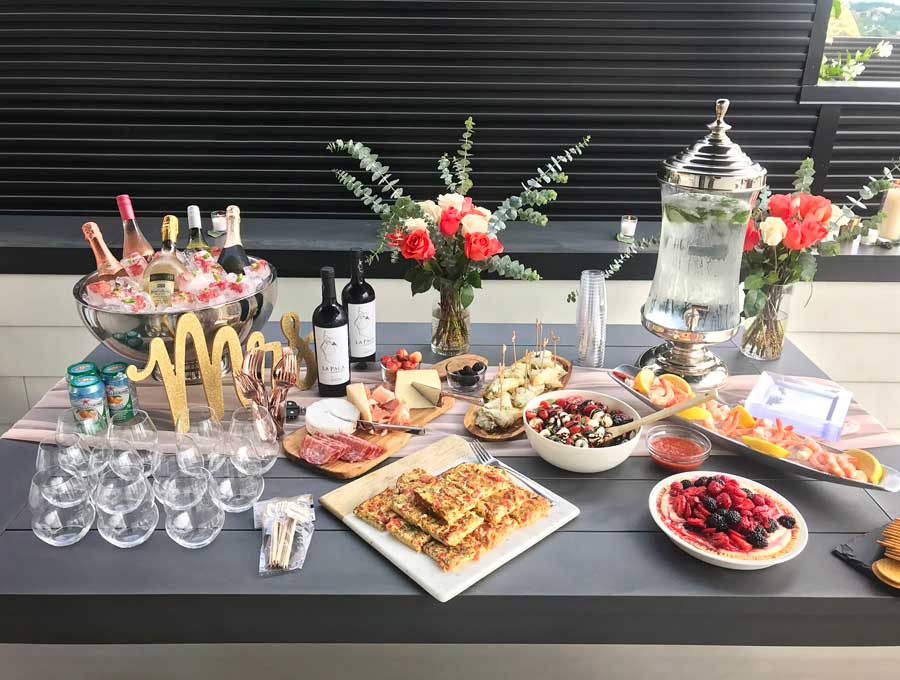 Here are five tips I use for every party I throw. If you start planning a little in advance, they are so easy to execute.
For this 'Bridal Rooftop Soiree', I planned a sunset cocktail party. Hors-d'oeuvres chosen were light and summery but with enough sustenance to fill everyone's tummies. Vino and champagne bubbles were of course, a given!
Tablescape Design Pro Tip One:
Mix & Match your serving dish materials for glorious visual texture.
Disclaimer: Links below may contain affiliate links, which means we may get paid a commission at no additional cost to you if you purchase through this page. Read our full disclosure here.
When my husband and I were selecting gifts for our wedding registry, I intentionally selected serving dishes in varied materials. The saleswomen at the shop all questioned why we didn't opt for matching sets. My husband just shrugged them off with a wave of the hand and a 'don't ask' eye roll. I'm just not a matchy-matchy kind of woman.
Pieces and props should have character and feel like they've been acquired over time rather than purchased all at once. My favorite combination of materials together is wood, white ceramic, marble and metal. The juxtaposition of the natural elements of wood and marble against silver metal give me all the feels. It gives the bones of your tablescape the perfect contrast.
Pro Tip for Tablescape Props: Linseed oil your wood pieces and polish your silver/metal serve ware before each use. It makes the wood grain pop and the sparkle from freshly polished silver adds a luxurious feel.
Tablescape Design Pro Tip Two:
Add visual height to the table.
Having an hors-d'oeuvres table with everything all at one height visually makes the spread appear flat. I like to incorporate varying heights of items on the table to keep the eye moving around. That way, every time you look at it you pick up on some extra detail you didn't see the first time.
For this bridal tablescape, I opted for a raised champagne bucket, over-flowing florals and a tall water dispenser. I kept the taller items toward the back of the table so they didn't impede the view of the food. Instead, it created the perfect backdrop to all of the hors-d'oeuvres.
Pro Tip for Tablescape Props: If you don't own these types of pieces yourself, borrow them from friends. I guarantee between you and your crew, you can find anything that you need without having to purchase anything new!
Tablescape Design Pro Tip Three:
Choose hors-d'oeuvres with plenty of color and texture.
Since we are in the dead of summer here in Cincinnati, the local tomatoes and berries are in their full-blown glory! They make for not only delicious dishes but also add the perfect amount of color to make your tablescape pop. Obviously not every dish can be bright and colorful, but if you mix these in with more neutral colored dishes (spanakopita and quiche), they'll add a much-needed pop of color.
This concept is plucked straight from my everyday design style, a neutral and soothing base with vibrant pops of color in just the right places. Our entire house features white walls (Sherwin Williams – Snowbound), natural white oak floors and black cabinets. I bring color in through artifacts and art that we acquire during our travels.
Pro Tip for Tablescape Props: Select your dishes based on the calendar season and what ingredients are in-season locally. For example, tomatoes and berries are never quite as good here in the winter. For a winter tablescape, you would opt for heartier winter veggies with equal color to achieve the same look and feel, like carrots or red beets.
Tablescape Design Pro Tip Four:
Spend time creating details that will make a lasting impression.
"God is in the details," – Mies Van Der Rohe
This quote is one of my all-time favorites from an iconic architect known as a pioneer of modernist architecture. I've worked to incorporate the idea of special details into every design, project, event, party that I've ever created. The idea behind the quote stands true to this day. The extra time and attention that you spend to create these lasting impressions can make your tablescape and event stand out from the rest.
I wanted to borrow an idea from a friend who made floral ice cubes a few years back. Four days before the party, I began making the floral ice cubes and religiously tended to these beauties every five hours to ensure they were perfect. Starting early also gave me enough time to make sure I had enough of them to go around.
The bride's favorite color is orange, so I chose burnt orange tipped carnations for this event. I only own one large ice cube silicone mold and I didn't want to purchase another at this time. Therefore, I could only make six at a time. If you only have one mold as well, remember to get started in advance!
Accessories to Complete the Tablescape Design
In addition, I purchased 'Love' cocktail picks, 'Celebrate' chalkboard signs, a tulle table runner to add more special touches to the bridal tablescape.
It makes my heart happy to watch guests joyfully photograph all of these details to post them on Instagram. While this is never the intention, it's definitely a bonus to know that others see and appreciate the extra attention to detail.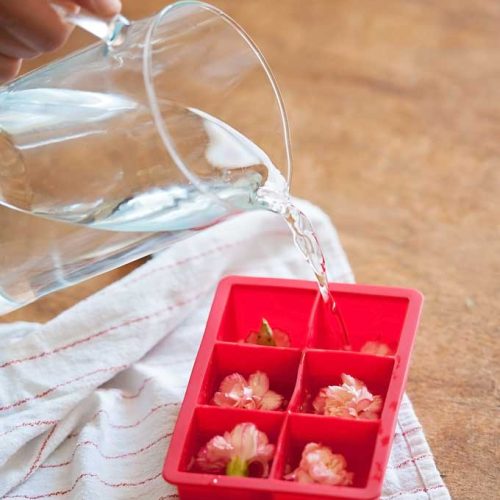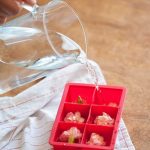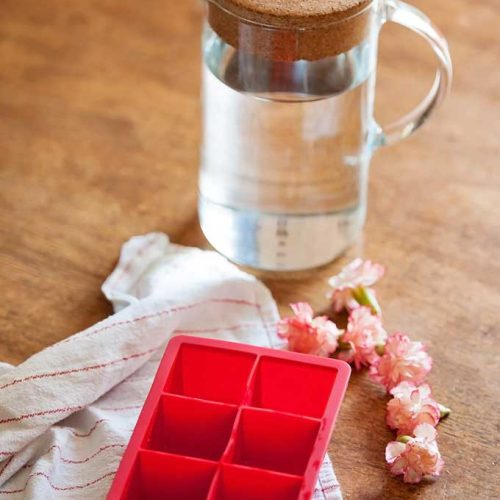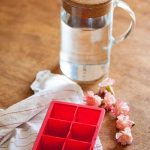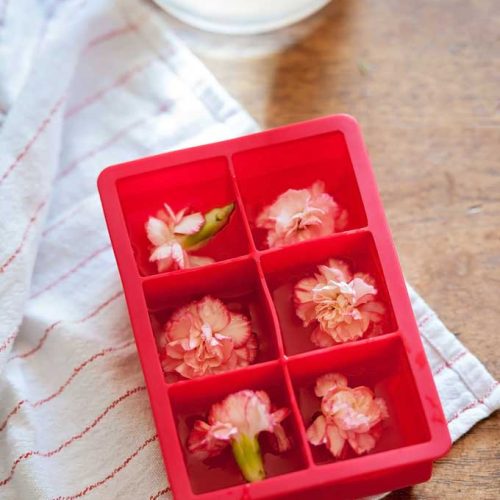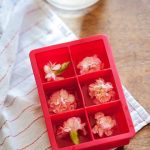 Pro Tip for Tablescape Props: When making floral ice cubes, freeze them in two layers. Place the flowers in first, add water halfway up the mold, freeze for two to three hours then fill to the top of the mold with water. If you fill it all the way at once, the flowers will float to the top and parts of the petals will be sticking above the cubes.
Tablescape Design Pro Tip Five:
Don't forget about other surfaces near your main table.
Having one large surface such as a kitchen island, dining table or bar that you can fully decorate is ideal. If you don't have a great option for this in the existing space, consider borrowing a piece from another room to act as the main focal point. However, you likely have other surfaces in the event space that you should tend to as well.
Guests should feel the whole space has been well thought out, not just the tablescape. Little details should trickle out from the main table design to the overall space for added drama.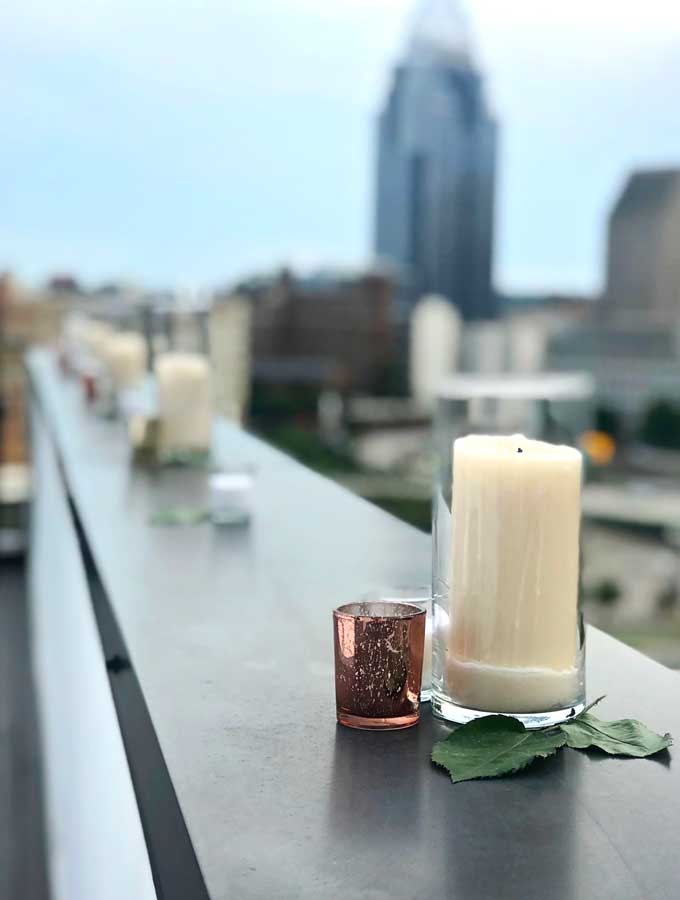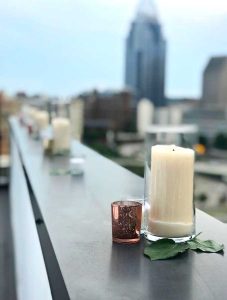 Leaves clipped off the roses used in the floral arrangements were placed under the candles around the perimeter of the rooftop. I also made a few smaller floral displays with one to two roses and eucalyptus stems in each. The bouquets were placed sporadically throughout the space.
Little mini vignettes all over make for some serious visual eye candy!
Pro Tip for Tablescape Props: Use different size and shape votives and candles to add more visual interest. I even added in a few mercury shot glass votives to add a little something extra special to this bridal tablescape.
We'd love to see how you use these tips at your next event and tablescape. Make sure to tag @healnourishgrow on Instagram so we can ooooh and awwww over them!