June 19, 2019
Strawberry Pie – Low Carb Keto Recipe
Strawberry pie is such a fresh summertime treat. Whether or not you occasionally indulge in keto treats, there are occasions where bringing a pie is a tradition. And if you can make it healthier without anyone even noticing the difference, then why not bring one? This keto strawberry pie is perfect for Fourth of July gatherings, summer barbeques and baby showers. It's also great anytime you need a keto dessert. Should you even have fruit on your keto diet? While you're reading this recipe for sugar-free strawberry pie, we'll address that question too.
No time to make pie? Be sure to check out my Keto Strawberry Shortcake recipe! With a bit less prep and cook time, you can be eating a delicious strawberry treat in under 30 minutes.
Way Down Yonder in the Strawberry Patch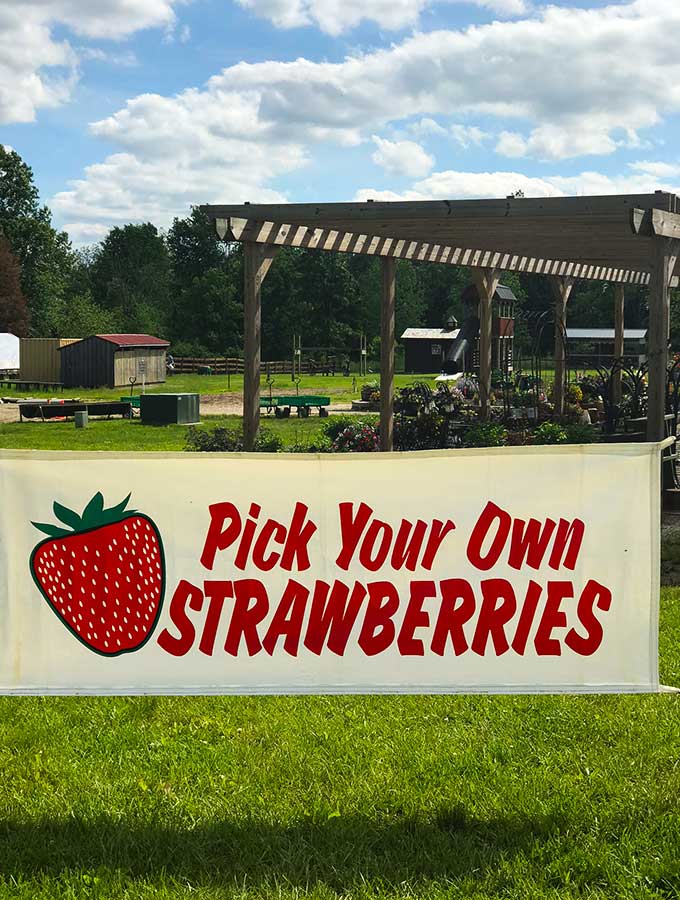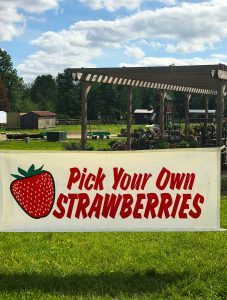 When I was a little girl in Louisiana, I grew up on a 50-acre farm. We had a vegetable garden of over an acre, an orchard with all kinds of fruit trees and my beloved strawberry patch. Whenever I would go out to see if there were any berries ready, it was just as likely that I would eat them all as bring any into the house.
The flavor of strawberries back then was heaven. At least that's what I remember as a five-year-old. My favorite ways to enjoy them were straight out of the patch or sometimes as a treat my mom would make strawberries and cream.
For that dish, you literally just eat strawberries and cream out of a bowl with maybe a little sugar. Or she would sometimes make berry cobbler. Or strawberry pie. But that pie was nowhere near keto friendly! Absolutely full of sugar, but delicious of course.
I had the opportunity this spring to go strawberry picking with a friend. If you happen to be in Cincinnati, check out Blooms sand Berries. You can get on their mailing list and they'll let you know when it's time to pick. They have blueberries as well.
It seemed like it would be so much fun to relive that old memory and the experience did not disappoint. It was quite wet outside, but fortunately, we were prepared with some rainboots. Well, truthfully my friend was…all I could find were washable flip flops. Note to self, buy rain boots.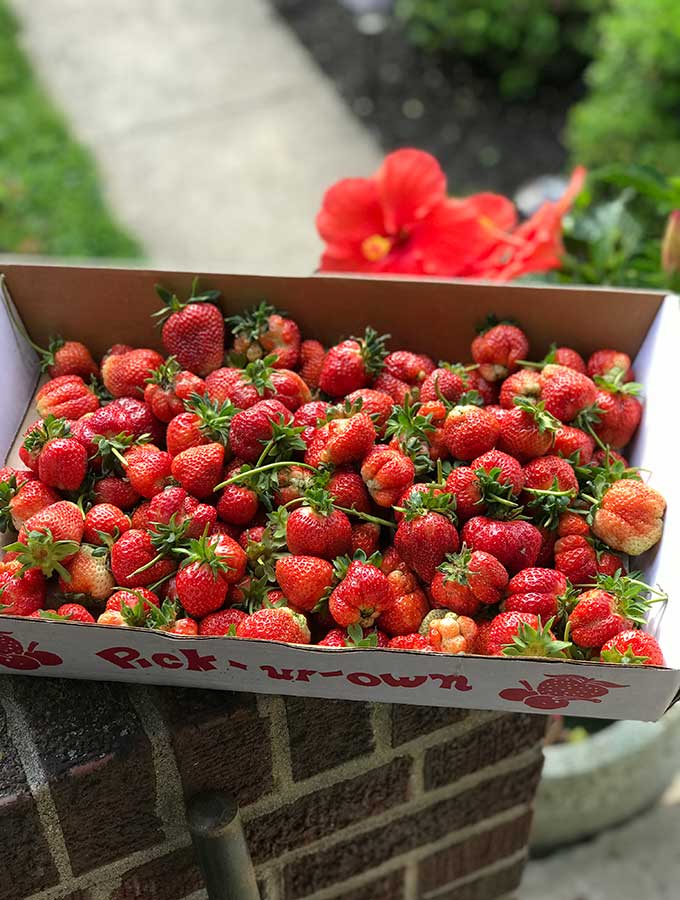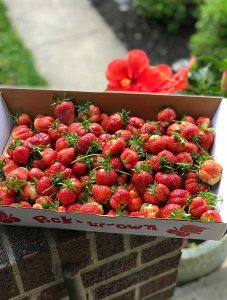 The berries we picked were some of the best I've had in a long time. As soon as we decided to go picking, I already had it in my head that I would be making a sugar-free strawberry pie with the literal fruits of our labor. But should you even have berries on a keto diet? Read on for the answer.
Can You Eat Fruit on Keto?
For people just starting out on the keto diet, one of the first questions they ask is whether they can have fruit on keto. If you want to learn more about other common questions about keto, be sure to check out our Complete Beginners Guide. Following the keto way of eating, fruits are generally off limits due to high amounts of natural sugar.
"But fruit is so healthy!" you say. "It's natural sugar!" you say. Those ideas are what have been pounded into our heads for years by the media and government dietary guidelines. However, there are a few things to consider here when wondering whether you can have fruit on your keto diet.
While it may be true that our hunter/gatherer ancestors occasionally had fruit when they could find it, it looked nothing like our fruit now. Fruit made available for mass consumption has been selectively bred to be extra sweet. Biting into an apple today that has 20 grams of sugar or more is much different than biting into an apple you would have found in the wild 500 years ago.
Our ancestors could only have fruit in season and in a short window. There are plenty of parts of the world where fruit would hardly be seen at all. For example, you may have been able to find strawberries in the midwest for about the month of June. Then they're gone for the season. This doesn't include new varieties of strawberries that have been bred to produce all summer.
Now we have aisles of fruit available to us every single day and in huge quantities. Consider that with all of the fruit being bred to be super sweet, that no modern-day fruit may be truly "good" for you.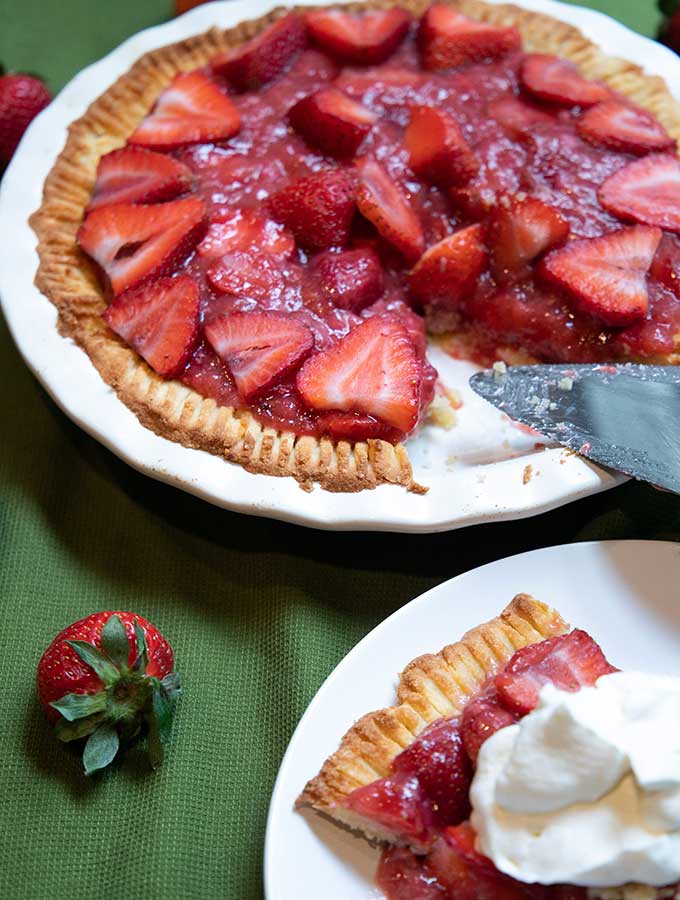 Disclaimer: This page contains affiliate links, which means we may get paid a small commission at no additional cost to you if you purchase through this page. You may even save money with some of our special discounts just for the Heal Nourish Grow family. Read our full disclosure here.
How Your Body Processes Sugar
The kind of sugar found in fruit is fructose. Table sugar or sucrose is a disaccharide which means it's made of two things, 50 percent glucose and 50 percent fructose. Glucose is the most simple sugar molecule, a monosaccharide. It can't be broken down into anything else. Fructose is also a monosaccharide and the sweetest of these three types of sugar. Even though it's the sweetest, it may have the least impact on your blood sugar.1
This sugar-free strawberry pie contains the natural fruit fructose in the strawberries. We get some extra sweetness from the popular keto natural sugar substitute erythritol or other sugar alcohols. A simple explanation of sugar alcohols is that they come from very sweet plant components. However, most of the sugar in them acts like fiber so so isn't absorbed by the body.
Since fructose has the least impact on your blood sugar, you may be thinking that fruit is your best choice for something sweet on the keto diet. Or that an occasional piece of keto strawberry pie should be allowed. As usual, the answer isn't always simple. Your food choices are dependant on your health goals.
Fructose travels into the bloodstream through the small intestine. Glucose is the same, it's available immediately to the body by being absorbed into the bloodstream. However, glucose is what the body uses for energy. So before fructose can be used by the body, it has to be processed into glucose first. This conversion of fructose to glucose is where the problem lies.
Why Sugar in Fruit May Be the Worst Kind
The process of converting fructose to glucose takes place in the liver. Eating more fructose than the liver can process results in triglycerides and cholesterol and storing excess fat. Some of this excess fat is stored in the liver and contribute to fatty liver disease.23
Of course, it's still a debate whether cholesterol is meaningful (check out the Beginners Guide for that discussion). However, the type of cholesterol most agree is "bad" is VLDL. Fructose consumption contributes to a rise in VLDL and fat accumulation around the organs. 45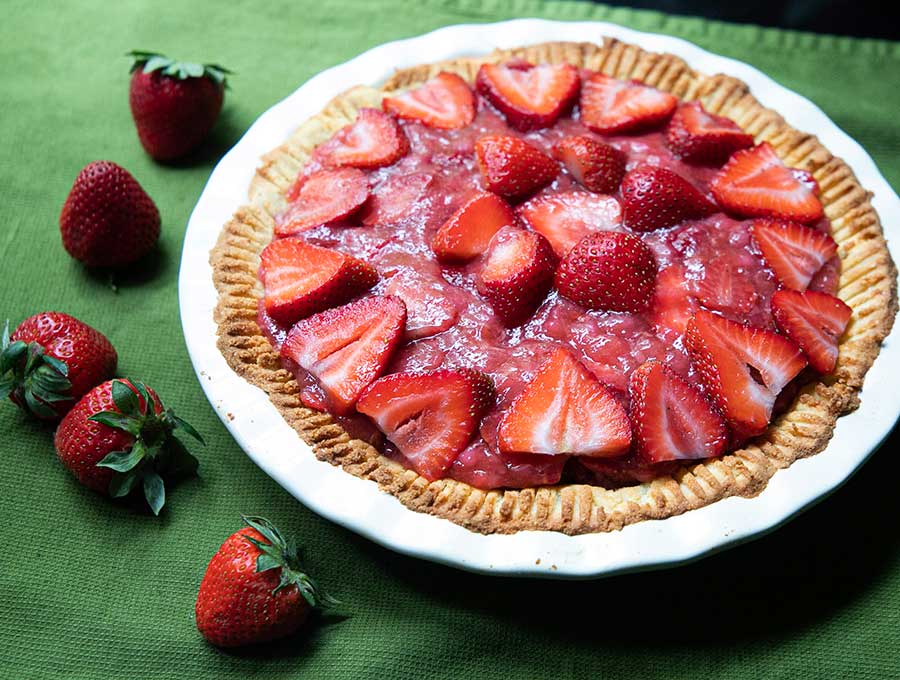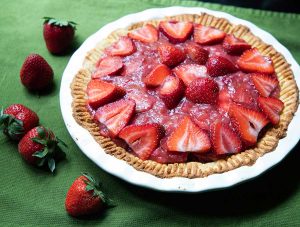 Other issues with fructose is that it doesn't suppress your appetite after eating6 and may cause leptin resistance.78 Leptin is one of the key hunger-regulating hormones. Leptin needs to function well well since it tells the hypothalamus in the brain that you have enough fat stored and don't need to eat.
It's also interesting to take note of this study 9 that shows subsequent feeding of a high-fat diet after a high fructose diet can result in greater weight gain. It's an animal study so it might not be totally relevant to humans but it could make the case for easing into adding more fat to your ketogenic diet if you've come from a high fructose diet in the past.
Can Keto Strawberry Pie Be Part of Your Diet?
So you may wonder why this whole dissertation on fructose for a simple keto strawberry pie recipe! My philosophy on nutrition is the more you know, the easier making good choices becomes. The massive amount of sugar found in the standard American diet is definitely not good for you. If you choose a keto way of eating, you've already been convinced of that reality.
However, this knowledge should be balanced with how we grew up, our culture, the way our tastebuds were formed, the sustainability of any way of eating and so on. Sugar-free strawberry pie could absolutely be part of your keto diet depending on your goals. Using a blood sugar and/or ketone monitor can be useful in deciding whether certain foods fit your goals while following keto. I use the Keto Mojo and you can get it for 15 percent off.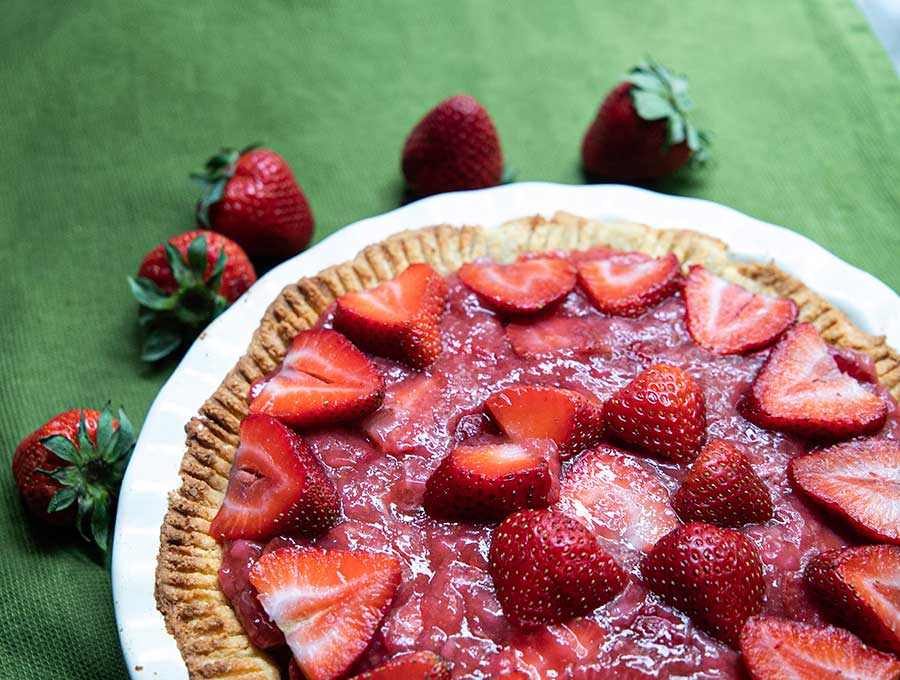 Knowing all of this information about sugar and fructose, you may make an informed decision to occasionally indulge in fruit and/or a keto friendly treat. Or not. For example, if you have fatty liver disease, your best choice may be to avoid fructose completely to allow your liver to heal. The ketogenic diet can reverse fatty liver.10
Yes strawberries have fructose, but they also have vitamins and antioxidants and are one of the lowest sugar fruits you can consume. Plus, if you're following a ketogenic way of eating 99 percent of the time and are generally healthy, choosing to have a bit of fruit once in a while shouldn't interfere with your long term health and goals.
Whether or not you choose to have fruit as part of your keto diet is a personal decision.
Keto Strawberry Pie Nutrition
This keto strawberry pie has about 192 calories and seven net carbs per serving when baked in a nine-inch pie plate. With erythritol as a sweetener, this sugar-free strawberry pie can fit into your keto diet.
This pie would be a perfect addition to your Fourth of July gathering! Add some blueberries and whipped cream and you have the perfect red, white, and blue patriotic pie.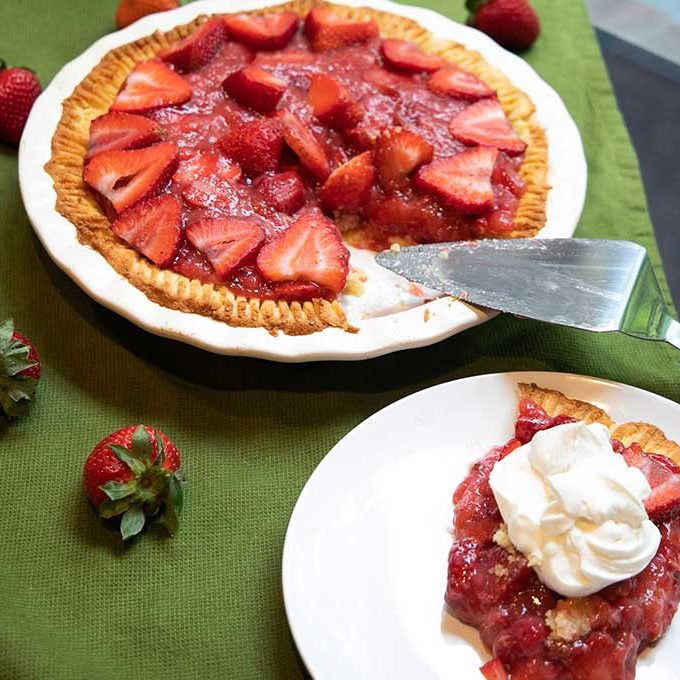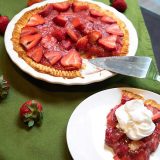 Print
Strawberry Pie - Keto Low Carb Recipe
This keto strawberry pie is a light and delicious dessert treat. Serve by itself or add keto ice cream or whipped cream.
Use a 9 inch pie plate for this recipe.
Ingredients
Strawberry Pie Filling
5 ½

cups

strawberries

,

sliced, extra strawberries for topping and garnish

1 ¼

cups

water

2

teaspoons

xanthan gum

½

cup

swerve

¼

teaspoon

salt
Instructions
Keto Pie Crust Instructions
Add all dry ingredients into food processor and pulse to blend.

Add the rest of the ingredients except butter and pulse until crumbs begin to form.

Add butter and pulse until large crumbs begin to form and dough just starts to come together. Do not overwork the dough.

Form dough into a ball and place in the freezer for at least 30 minutes.

Preheat convection oven to 325 degrees or 350 degrees for conventional.

Roll out dough between parchment paper, lumps of butter will still be visible. Keto pie crust is more fragile than traditional crust, so be sure to work quickly.

Place dough into a 9 inch pie plate. Flute edges if desired or use fork to make indentions of the edge of the crust.

Bake crust for 15 minutes or until edges are golden brown.

Allow crust to cool for about 15 minutes.
Strawberry Pie Filling Instructions
Slice strawberries lengthwise.

Boil 3/4 cup water in a saucepan large enough to hold 4 cups of strawberries. There will be 1 1/2 cups of strawberries left out of this mixture for topping the pie.

Remove 1/4 cup of hot water from the pan and whisk in 2 teaspoons of xanthan gum until dissolved.

Add strawberries, xanthan gum mixture and swerve back to the saucepan.

Stir mixture constantly over medium heat until combined and add the remaining 1/2 cup of water.

Continue stirring until liquid is reduced and mixture is thickened, about 7-10 minutes.

Remove from heat and allow mixture to cool.
Assembling the Strawberry Pie
Once the crust and strawberry mixture have come to room temperature, add the filling to the crust and smooth.

Arrange the remaining fresh strawberries on the top of the pie to create a design.

Chill pie in the refrigerator for about an hour or until filling is set.

Serve with whipped cream if desired.
Nutrition
Calories:
192
kcal
Carbohydrates:
12
g
Protein:
6
g
Fat:
15
g
Fiber:
5
g
Did you make this recipe?
Be sure to tag @healnourishgrow on Instagram to be featured in our stories or our newsletter! We love it when you make our recipes and share with your friends.