May 9, 2022
Keto Strawberry Shortcake, Nut Free, Gluten Free – Low Carb Recipe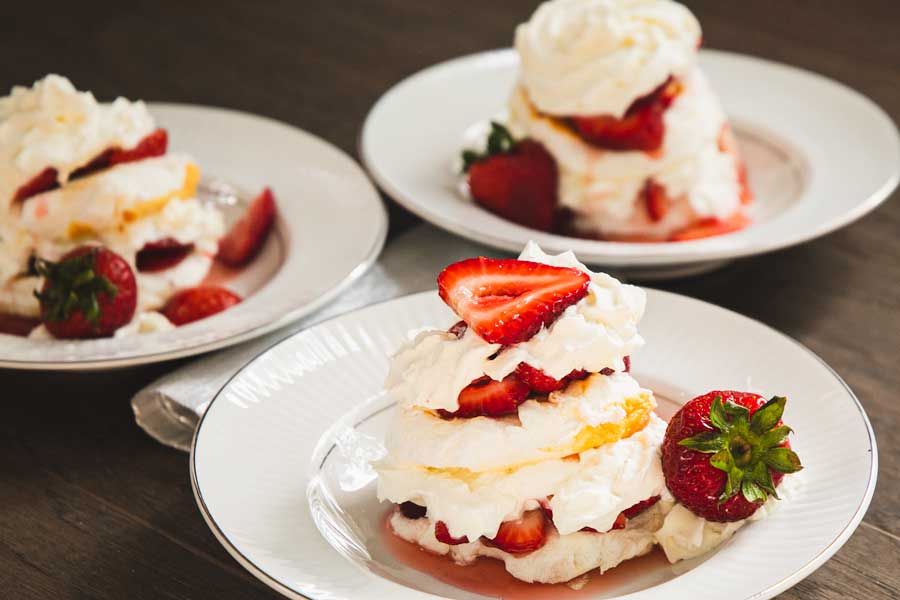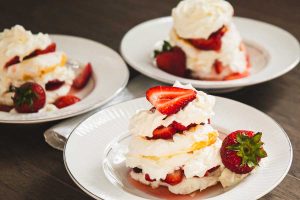 Making individual keto strawberry shortcakes is ridiculously easy! When strawberries started to come into season this year, their ruby red color was a siren song. I couldn't wait to have some since I no longer eat fruit very often. While I love my keto strawberry pie, when I bought my first container of strawberries of the season, I was looking for something a little quicker. Angel "Cake" Strawberry Shortcake to the rescue.
Fortunately, I had white cake flavor on hand. Sugar free flavor extracts are so great to for keto baking! So, I decided to figure out a way to make one of my favorite childhood desserts, strawberry shortcake. My mom always bought the little angel food cake cups from the grocery. Obviously those don't work for a keto strawberry shortcake. Once of my favorite substitutions for a light cake is to use egg whites. The cake extract and some allulose makes the flavor so close to the original, you won't even miss the carbs.
Angel Cake Strawberry Shortcake
Angel cake strawberry shortcake is very traditional and easy. You can find individual sized angel food cakes at almost any grocery store that are perfect for strawberry shortcake. But what if you want to make keto strawberry shortcake? Making angel cake strawberry shortcake with a store bought cake will likely give you too many carbs to stay in ketosis.
Other Keto Desserts
If you're looking for other yummy keto friendly desserts, be sure to check out my Keto Cheesecake and Keto Chocolate Chip Muffins.
This keto strawberry shortcake recipe is not only sugar free, but it's also nut free and gluten free too! I some circles, it could even be considered animal based or carnivore adjacent/carnivoreish.
If that's a rabbit hole you'd like to go down, be sure to read the Carnivore Code by Paul Saladino. Plus, you can read more about the types of carnivore here. Even if you never decide to give carnivore a try it definitely gives a new perspective on nutrition and makes some good arguments backed by research.
If you check out his work since then, you'll find he now includes fruit in his animal based diet. Leave the sweeteners out of this, and you have a perfectly good carnivore recipe…at least if you subscribe to that paradigm!
Keto Strawberry Shortcakes
I just love when strawberries come back in season. I choose to keep fruit to a minimum in my keto diet. However, you can certainly make room for berries and still stay in ketosis. When I was a little girl, my parents didn't allow too many desserts. But, we did have a very prolific strawberry patch. When they started to ripen it was my job to pick them and bring them in the house. Of course, the best ones always landed in my mouth on the way.
My love of strawberries has stuck with me over the years. I've noticed though, they don't taste nearly as good nowadays when I get them at the grocery store. The closest I've had to what use to grow in our southern strawberry patch was at a local pick your own spot in Cincinnati. This angel cake strawberry shortcake with a bit of sweetener makes them taste a little more like the old days!
Disclaimer: Links may contain affiliate links, which means we may get paid a commission at no additional cost to you if you purchase through this page. Read our full disclosure here.
Making Angel Food for Keto Strawberry Shortcake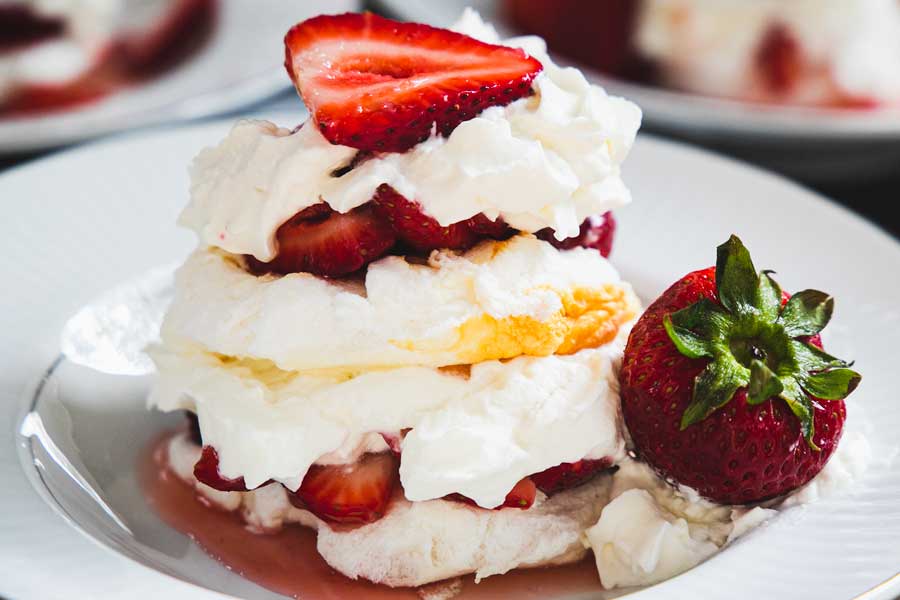 This individual portion keto strawberry shortcake recipe actually tastes even better to me than real cake. The white cake flavoring does a great job to make light and fluffy egg whites taste and smell like real cake. Since the cake part is pretty much the most important part of keto strawberry shortcake, I wanted to make sure to get that part right. While keto bread substitutes never taste quite the same, this zero carb angel food cake substitute does a good job matching the the flavor and light texture of angel food cake. Once you build your keto strawberry shortcakes with all of the ingredients listed here, you won't even notice that you're not eating real cake!
I like to use a silicone bun mold to make the keto shortcake. The one I have is perforated which works fine, but a solid mold would be better.
Cream Of Tartar Egg Whites
If you've ever wondered if adding cream of tartar to egg whites helps, the short answer is that it does. You can easily get stiff peaked egg whites, but it's more difficult to get them to stay that way. Adding cream of tartar to your egg whites not only helps them get to stiff peaks faster and with more volume, they're also sturdier. The acid interacts with the egg white foam and keeps them moist and more elastic. This allows you to more easily fold in ingredients without breaking all the bubbles that give egg white foam its magic fluffiness.
Bon Appetit does a nice job
.
How to Make the Cake for Sugar Free, Keto Strawberry Shortcakes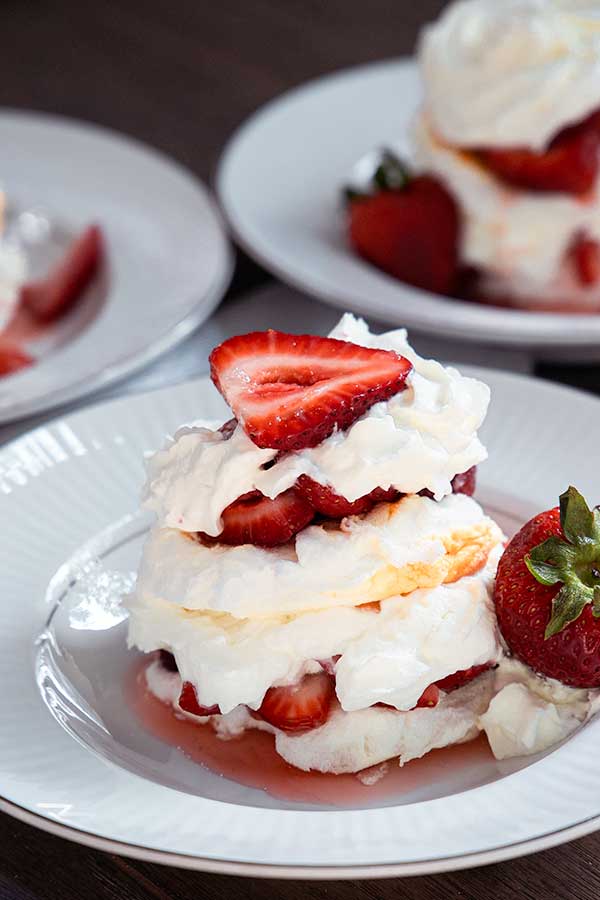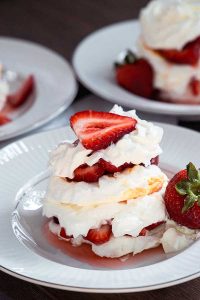 Making the cake for the keto strawberry shortcake takes up the most time in this recipe. Still it's pretty quick and easy, despite needing a few tools. The mixer is key here, it's so much easier to beat egg whites to stiff peaks with a stand mixer or hand mixer. You can also accomplish this task with an old fashioned whisk, but it takes a lot longer. A copper mixing bowl is very handy when whipping egg whites by hand. It will produce a chemical reaction with an iron that reacts with the egg white protein. This creates a more stable foam.
Once you have stiff egg whites, all that's needed is to gently fold in the remaining ingredients or a few more seconds with the mixer and bake before assembling your low carb strawberry shortcakes.
Keto Strawberry Shortcake Toppings
I never even knew I needed a whipped cream dispenser, but now that I have one, I'm obsessed! You just need the canister and some chargers, and you're all set! Making whipped cream this way is so easy and doesn't require getting out the big mixer. Since you may already have this out for the keto angel food cake though, it's not a big deal to just rinse it out and make the whipped cream while the keto shortcakes bake.
If you invest in a canister, just remember you need to shake it each time before using.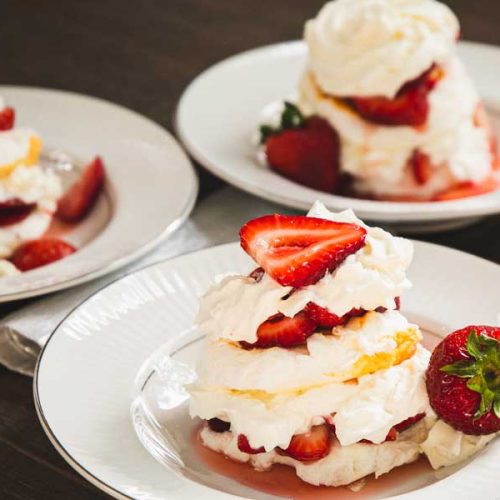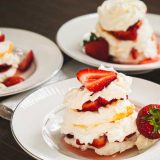 Print
Keto Strawberry Shortcake
The angel food "cake" in this recipe uses just egg whites, sweetener and white cake flavor to produce the base for these delicious keto strawberry shortcakes. They're so light, fluffy and delicious you won't even miss the carbs!
Ingredients
For the Strawberries
16

ounces

strawberries

,

sliced

2

tablespoons

allulose
For the Cakes
1

cup

egg whites

1

teaspoon

cream of tartar

2

tablespoons

allulose,

extra fine or confection style

1

teaspoon

vanilla extract

1

tablespoons

white cake flavor,

sugar free, like bakto
Whipped Cream and Toppings
Instructions
Preheat the oven to 325 degrees.

In a medium mixing bowl, stir 2 tablespoons of allulose into the sliced strawberries to coat evenly. Set aside to allow juices to form.

In another medium mixing bowl appropriate for a stand or hand mixer, pour the egg whites and cream of tartar, stirring to combine.

Beat the egg whites to soft peaks. Start adding allulose a teaspoon at a time and continue to beat to until stiff peaks form.

Add in the vanilla and cake extract and blend for another 5 seconds to combine.

Place the egg mixture into bun molds sprayed with coconut oil or in large round mounds on a baking sheet to create the keto angel food cake.

Bake the cakes for about 15 minutes or until lightly browned.

Allow cake to sit in the mold or on the sheet for about 5 minutes.

Remove cakes and set aside.

In a separate bowl, pour in the heavy whipping cream and beat to desired consistently adding stevia towards the end to taste. Alternatively, use your whipped cream canister.

Assemble the cakes by placing one on the bottom, adding about 1/4 cup of the strawberry mixture and top with whipped cream. Add another cake, more strawberries and more whipped cream to the top.

Top with chocolate shavings, chocolate syrup and garnish with mint, if desired.
Equipment
Notes
All of the carbs in this recipe are from the strawberries and the zero calories sweetener. Allulose actually takes glucose out of the body with it as it's metabolized making it my favorite choice for a zero calorie sweetener that doesn't impact insulin or blood glucose. Each serving is about 8 net carbs.
Nutrition
Calories:
169
kcal
Carbohydrates:
10
g
Protein:
8
g
Fat:
11
g
Fiber:
2
g
Did you make this recipe?
Be sure to tag @healnourishgrow on Instagram to be featured in our stories or our newsletter! We love it when you make our recipes and share with your friends.