This keto tortilla recipe is also great for the carnivore diet. It features only three, carnivore-friendly, keto-friendly ingredients: egg white powder, water and gelatin. Obviously with these ingredients, they're also keto, grain-free and flourless. Butter powder is optional but makes these grain free tortillas extra rich and tasty. The best part is the tortillas are both keto friendly and carnivore with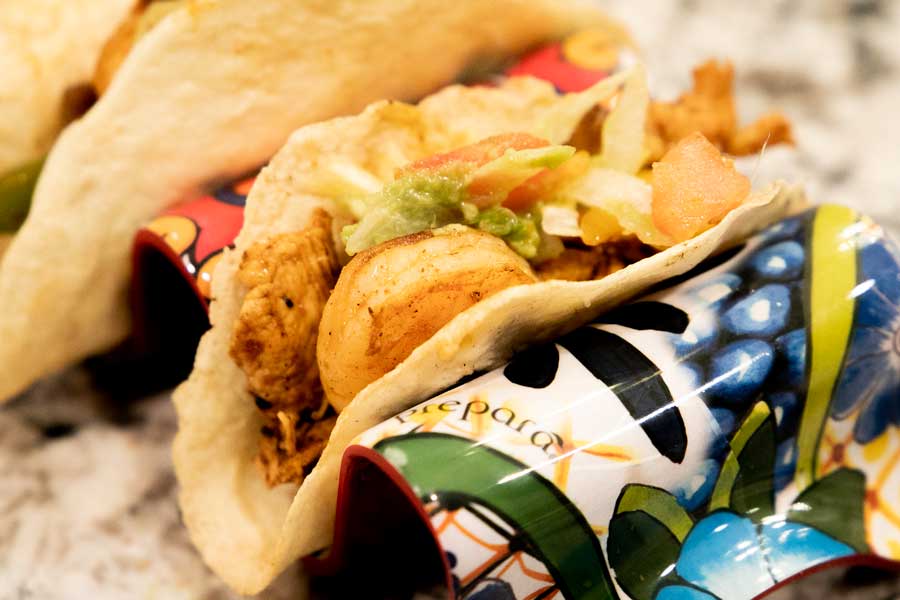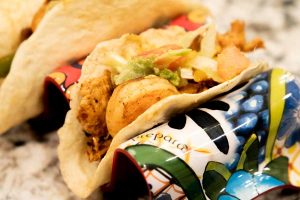 near zero carbs! These keto tortillas are super easy to make and hold together without breaking, tearing or cracking. You can make keto or carnivore tacos and quesadillas with them just as you would with traditional tortillas. If you're going full carnivore with these tortillas, just make sure to keep your fillings to meat and cheese. If you're going for keto tacos, you can pretty much use all of the traditional taco toppings.
Use the form below to download five quick and easy carnivore diet recipes. These recipes are truly carnivore friendly and feature only animal products and spices.
And if you're looking for more Mexican inspired keto recipes, be sure to check out our Carne Asada, Keto Mexican Pozole and Keto Margarita.
Love of Keto Tacos
Is there anything better than a delicious taco?!? My previous coworkers would agree with me. Anytime we traveled together, Mexican food and specifically tacos, were always on the menu. Since I've been living the low carb life, I mostly just eat taco salads, which are still delicious, but it's nice to be able to have a wrap once in a while.
This simple recipe allows you to make keto tortillas that use just a few simple ingredients and taste like egglife tortilla wraps. I like these better than other options for a couple of reasons. First, they are a great way to get extra protein in your meal. This keto tortilla recipe uses only animal products which to me, is better than using almond or other alternative flours. I choose to limit low carb flours as much as I can. Almonds have a lot of oxalates and coconut flour doesn't agree with me very well. Because we're only using animal products here, this is also a carnivore tortilla recipe.
Any time you can use a side item rather than just meat to add high quality protein in your diet is a win. It certainly makes the diet seem more varied and the different texture can make it easier to eat than just pure meat for some.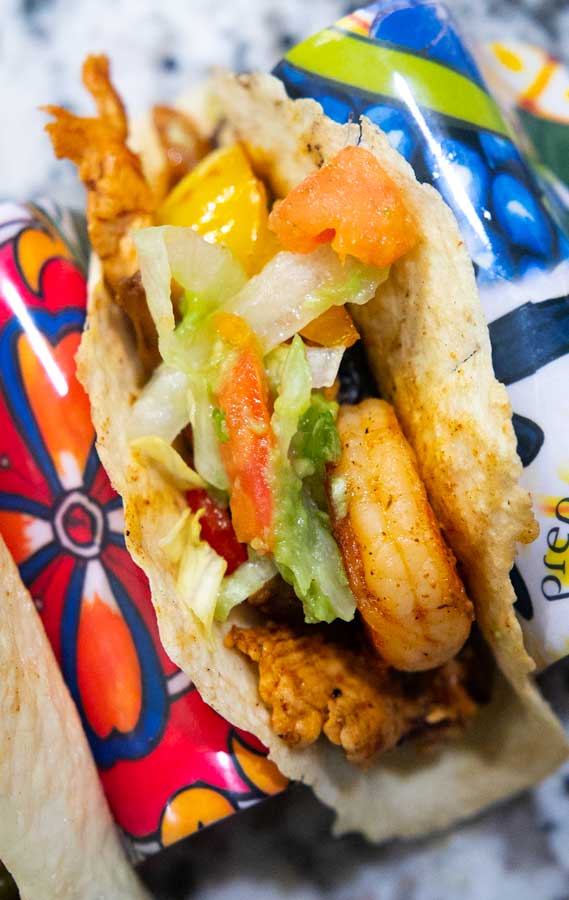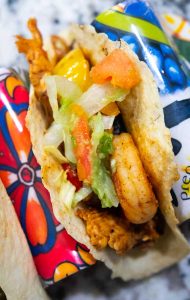 How quickly you can make this low carb tortilla (really it's zero carb!) recipe is crazy. It's really amazing how well egg whites stand in for wheat flour and the gelatin makes the keto tortillas super pliable and strong. I tried a couple of other variations with arrowroot and cream of tartar, but these were definitely the best and the gelatin keeps them carnivore. However, if you're sticking to "carnivoreish" or if you're keto, you may enjoy adding some flavors to your tortillas. Caraway seed, red pepper flakes, sesame seed or spinach are just a few ideas.
How to Use This Keto Tortilla Recipe
Want some traditional shaped taco shells? You can use the carnivore tortillas in taco stand mold or taco bowl mold to shape these for other variations. Just use your favorite oil to fry or put them in the air fryer or oven. They're also a perfect egglife wrap dupe. I actually like the taste of these way better and they have even fewer ingredients, although egglife wraps are actually very clean.
I get a lot of people coming to the site looking for carnivore recipes. This carnivore diet trend is definitely getting more popular and it's something I've experimented with several times myself. Generally, I would say I've been eating "carnivoreish" for over a year now. I absolutely prioritize protein and on some days that's all I have because I find it difficult to get in the new recommendations of around one gram of protein per pound of ideal body weight or per pound of lean mass. Be sure to check out my updated macro calculator to get your numbers for a higher protein version of keto.
Disclaimer: Links may contain affiliate links, which means we may get paid a commission at no additional cost to you if you purchase through this page. Read our full disclosure here.
Ingredients for the Carnivore Tortilla
The way this recipe is written, you need just a couple of specialty ingredients. I like to have these on hand since they're great for other low carb bread recipes as well. First you'll need egg white powder. The most economical one I've found is from Bulk Supplements, but any one you like will do. It's also great to have on hand for adding extra protein to shakes. The other item is gelatin, you can find plain, unflavored gelatin next to the jello but since I prefer grass-fed and to keep a greater quantity on hand for baking, I use this one. I also use butter powder, but I've made them without it and they still work fine, they just have a slightly richer flavor with the butter powder.
Keto Bread

Keto bread is a challenge, and keto tortillas fall into that category since they're traditionally made with wheat or corn flour. When you use keto flours, they really just doesn't have the same texture as wheat based bread. There is a King Arthur flour I've tried that's "keto" but it does contain wheat, so for those of us avoiding grains, that's out too, which is one of the reasons I love this carnivore tortilla recipe.
One of my other favorite bread substitutes for keto and carnivore diets besides this keto tortilla is the chaffle. It's super easy to make and in its most basic form, only needs two ingredients. However, the chaffle really only works for sandwiches as a bun or eaten as a sweet waffle. That problem is what made me want to create something that could be used more as a wrap. I love a good sandwich, but sometimes you just want some bread that's more like a tortilla.
Egg Life Wraps
I first got the idea to create this recipe after finally trying egglife wraps. Turns out, this low carb tortilla recipe is a pretty good copycat recipe for the egglife version. They use very simple ingredients, but they're not always easy to find. Once I saw the ingredients, I knew I'd be able to make something similar at home. It took a little bit of trial and error, but they're really pretty simple to make. The most critical part of making these carnivore keto tortillas might be the spreading on the griddle.
How to Cook Keto Tortillas
You'll need a nonstick skillet or griddle for this low carb tortilla recipe. The consistency of the batter will beon the thick side and depending on how you measure your ingredients, you may need to add a little more. I've found the best way is to start with just 1/2 cup of water then add the final 1/4 cup or more to make sure you don't get it too thin. The goal is to make these as thin as possible but you still want them to hold together well when you add your keto taco fillings.
Keto Noodles
You can also use this keto tortilla recipe to make keto noodles! Instead of cooking the mixture into a round shape, make a large rectangle. Then you'll just roll up your carnivore tortilla sheet and cut into strips with a sharp knife to use as noodles.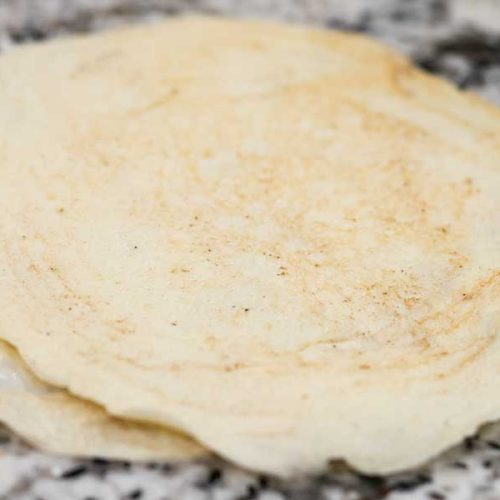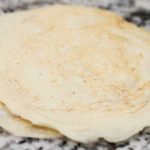 Print Recipe
Zero Carb Keto Carnivore Tortilla
Grain-free, no flour, no nuts, just 2 simple ingredients with water!
Ingredients
Instructions
Preheat a non stick skillet over medium high heat or use a griddle.

In a medium bowl, sprinkle the gelatin over 1/2 cup of water and allow it to sit for 15 seconds then whisk until smooth.

Add in the last 1/4 cup of water a little at a time until you reach a thick batter consistency. Depending on the texture of your ingredients and how you measured them, you may need slightly more or less water.

Sprinkle in the egg whites and whisk until thoroughly mixed, it will be thick.

Melt a quarter of the butter then pour the batter onto the skillet. Working quickly, use a spatula to spread the mixture into a very thin, round shape.

Cook until the edges of the tortilla just start to curl then flip.

Cook for an additional 30 seconds on the second side or until lightly brown.

Repeat for remainder of the batter.
Video
Notes
This recipe makes about four 8" round tortillas or 8 street taco size tortillas.
Nutrition
Serving:
1
g
|
Calories:
85
kcal
|
Carbohydrates:
1
g
|
Protein:
13
g
|
Fat:
3
g
|
Saturated Fat:
2
g
|
Polyunsaturated Fat:
1
g
|
Monounsaturated Fat:
1
g
|
Trans Fat:
1
g
|
Cholesterol:
8
mg
|
Sodium:
32
mg
|
Potassium:
1
mg
|
Sugar:
1
g
|
Vitamin A:
87
IU
|
Calcium:
4
mg
|
Iron:
1
mg