I love flank steak and have been making it with roughly this marinade for years. This keto carne asada version has less carbs than in the past but is just as delicious. To make this keto flank steak marinade, the orange juice is reduced but not the flavor. If you really want to make completely sure your keto carne asada has as few carbs as possible you can leave out the orange juice. However, the acid helps tenderize and the meat really doesn't absorb the juice.
Keto carne asada is great by itself, served over a nice spinach salad or especially fantastic with our Chimichurri Sauce recipe!
Is It Carne Asada or Is It Marinated Flank Steak?
What is the difference between carne asada and simply marinated flank steak? I kind of always thought of them as the same because this was an extremely popular dish when I lived in Texas. Of course, you can use any marinade on flank steak but I'm very partial to the carne asada flavor!
Carne asada uses a Mexican flavor profile. However, flank or skirt steak could be marinated in any style. So technically all carne asada is marinated flank (or skirt) steak, but not all marinated flank steak is carne asada. Fortunately making keto carne asada hardly requires any modifications.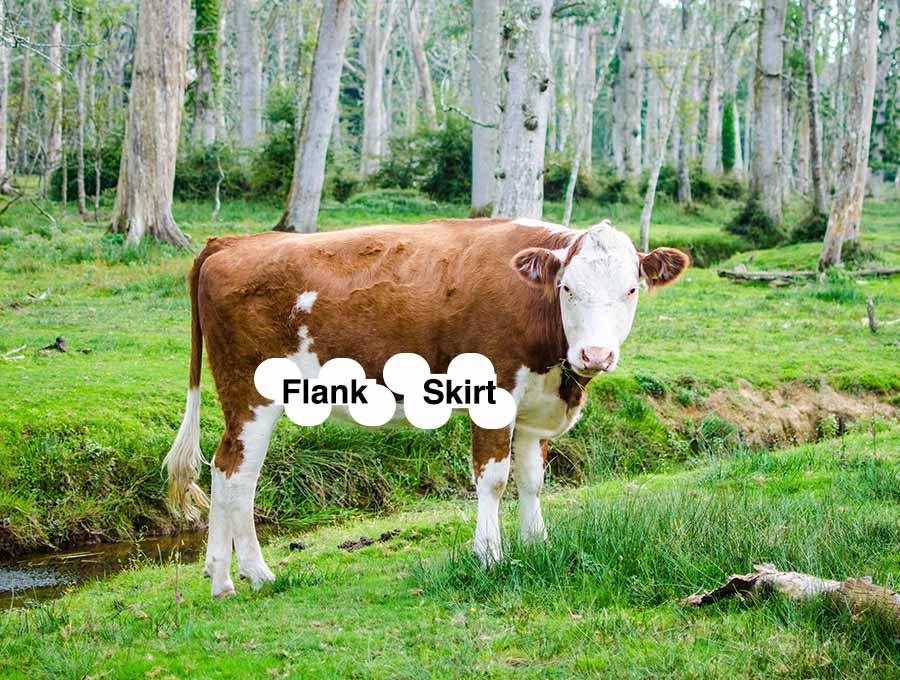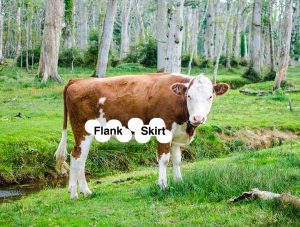 Skirt steak is the traditional meat for fajitas. It comes from the diaphragm of a cow which is a very strong muscle! It's a pretty fatty cut of meat, which makes it particularly keto friendly. The flank steak comes from the part of the cow behind the skirt and closer to the hind legs. It's very lean so it definitely requires marinating and proper slicing (against the grain) to be tender.
Both skirt and flank steaks are tough cuts of meat and require a marinade to make them more tender. They've gotten a lot more popular over the years and aren't quite as inexpensive as they use to be.

Either cut of meat is great for this keto carne asada recipe. I prefer using flanks steak for its texture.
Disclaimer: Some links on this page contain affiliate links, which means we may get paid a commission at no additional cost to you if you purchase through our site. Read our full disclosure here.
How To Tenderize Your Keto Flank Steak
Since we're not using as much acid from juice in this recipe, use a manual tenderizer as well. A hammer style meat tenderizer or fork will work, but this meat tenderizer tool from Amazon is a great find. It pokes hole in the meat which also allows the marinade and flavors to more fully penetrate.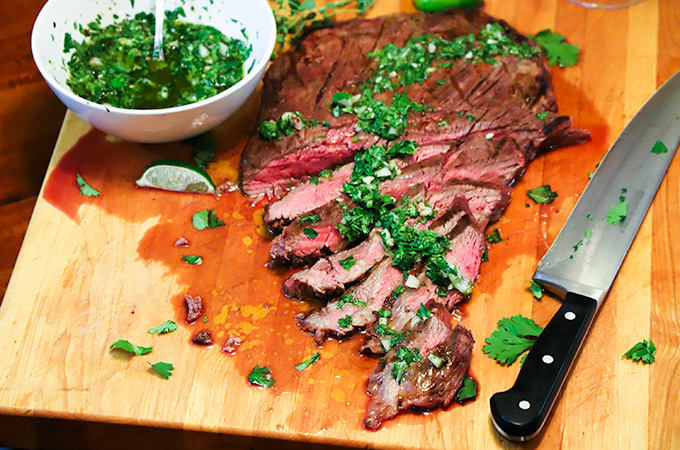 Very little sugar is absorbed by the meat even though there is a bit of juice in the marinade so it's still a totally keto flank steak.
A pro tip for this keto carne asada is to marinate the meat and make the chimichurri the night before so all the flavors have a chance to fully develop. This will also help make it more tender. If you're in a hurry and forget to marinade the steak the day before, try to get in at least four hours of marinade time before cooking.
How To Cook Your Keto Carne Asada
Grilling your keto flank steak is the best. You could also sear the outside on the cooktop then finish off the steak in the oven. Keeping the internal temperature to no more than medium (155 degrees) helps keep it tender.
I usually take mine off the grill at 120 degrees and allow it to rest for 10 minutes before slicing. After years of cooking this dish I've learned my lesson. Even with a medium rare or medium internal temperature, it will continue cooking to nearly well done after you remove it from the heat.
It's far better to err to cooking it more rare, you can always cook the slices a bit more later if needed.
The last time I cooked this I used nearly a two pound flank steak. One end of a flank steak is typically thicker than the other. If you really prefer one temperature of meat throughout, cut it into two pieces resulting in a thicker piece and a thinner piece.
However, if your group likes varying temperatures, it works out well to leave it intact.
If you go this route, cook the thicker side to 120 degrees then remove. This will usually give you pieces through the whole steak that are from medium rare to medium well.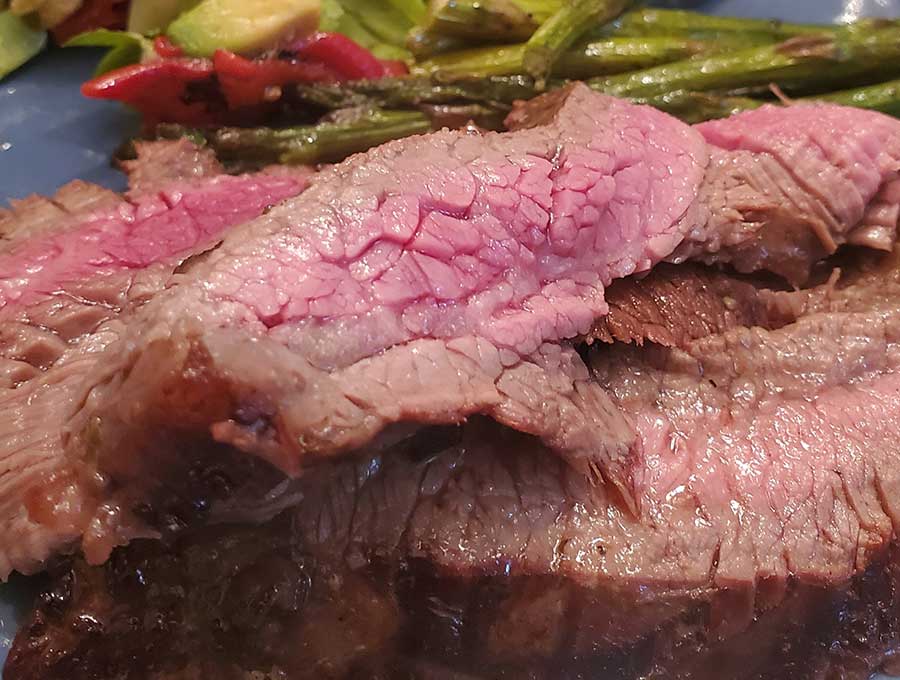 How to Ensure You Don't Overcook Your Keto Carne Asada
Some people can judge how done the steak is by feel only. I am not one of these people and prefer not to leave the cooking temperature to chance! I've had the NutriChef Smart Bluetooth thermometer for a while and it's been a life (or should I say meat) saver.
This is a great kitchen/grill tool for a few reasons. It can take up to six probes, allowing you to cook different sizes and types of meat easily at once. The device Bluetooth connects to your phone. It also allows you to set a temperature alert or time. No more walking away to grab something and ending up with overdone meat.
It also has probes that are safe for the smoker. This is a huge plus since I like to make sure my smoker stays as close to 225 degrees as possible. You can use it in the oven as well.
Resting the meat allows the juices to absorb back into the steak keeping it tender. The steak also continues to cook for several degrees while it's resting. This is why you should take it off the grill when it's at least 10 degrees away from your desired temperature.
Keto Flank Steak Sides
There are several options here. The keto chimichurri sauce is a must! This dish also goes well with our simple bacon brussels sprouts or a simple kale walnut salad.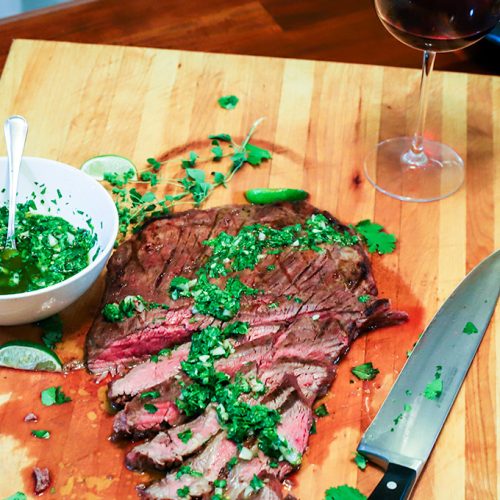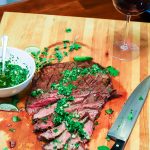 Marinated Flank Steak
This marinade is similar to a classic Carne Asada but with a lot less sugar.
Print
Ingredients
1.5

pounds

flank steak

1

large

white onion

cut in large pieces

1

large

lime

zest and juice

1/2

cup

extra virgin olive oil

1/2

cup

Worcestershire sauce

1

cup

fresh cilantro

torn

4

cloves

garlic

or to taste

1/2

medium

orange

zest and juice

1

large

jalapeno

sliced

1/2

teaspoon

sea salt

or to taste

1/2

teaspoon

black pepper

or to taste
Instructions
Rinse and dry flank steak.

Use a fork to poke holes all over the steak in both sides.

Add the rest of the ingredients to a large ziplock bag.

Place steak in ziplock mixture, remove air and seal.

Use hands to gently massage ziplock to distribute the marinade evenly over steak.

Marinate steak least 6 hours or overnight.

Cook steak, preferably on a grill, at 350-400 until the desired internal temperature is reached. We like 145 degrees for just under medium. Alternatively, you can sear on the cooktop and finish to the desired internal temperature in a 350-degree oven.

Remove steak from grill and allow to rest for 10-15 minutes.

Slice meat against the grain and serve immediately topped with the chimichurri sauce and lime as garnish if desired.
Recipe Video
Nutrition Facts
Marinated Flank Steak
Amount Per Serving
Calories 346
Calories from Fat 207
% Daily Value*
Fat 23g35%
Cholesterol 68mg23%
Sodium 481mg21%
Potassium 628mg18%
Carbohydrates 7g2%
Protein 24g48%
Vitamin A 200IU4%
Vitamin C 6.4mg8%
Calcium 59mg6%
Iron 3.2mg18%
* Percent Daily Values are based on a 2000 calorie diet.