February 10, 2021
Chicken Taco Salad – Low Carb Keto Recipe: Live Cook Along Mondays 2/8/2021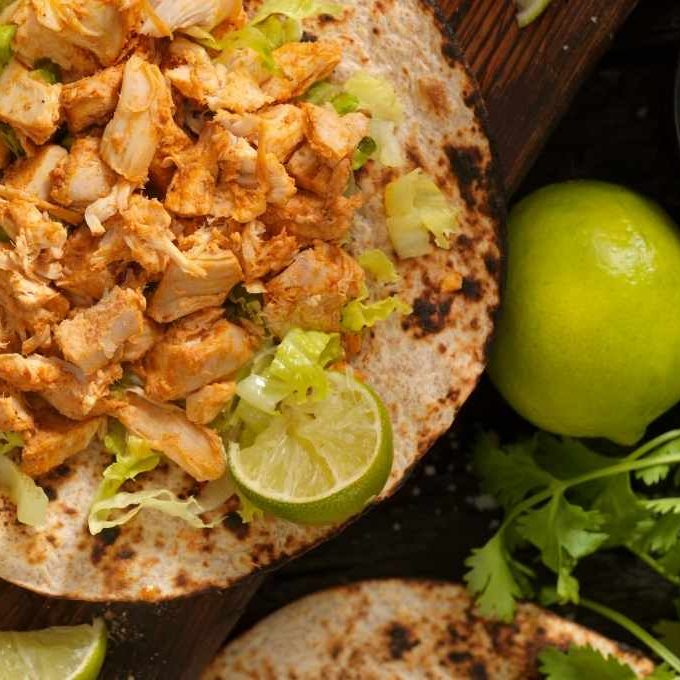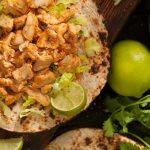 If you're looking for keto Mexican recipes, you're in the right place! Keto taco salad is one of the easiest Mexican dishes to make low carb. Most versions don't add rice or beans, two ingredients that aren't good for keto Mexican food. Other traditional ingredients to avoid if you want to keep your Mexican food keto-friendly are corn, hominy, both types of tortillas and most mole sauces. Fortunately, there are pretty good keto-friendly substitutes for all of these!
For example, I simply sub in cauliflower rice for hominy in my keto Mecican Pozole. If you're looking for rice, it's cauliflower to the rescue again!
This was the dish I developed for Live Cook Along Mondays on February 8th. It's so easy to make keto taco salad that I almost hesitate to make it into a recipe. However, I know there are plenty of people out there that don't cook as much as I do and need an exact plan to follow. It's also nice to use this recipe because you know if you're here, it's absolutely keto-friendly!
This keto taco salad calls for chicken, but you could absolutely sub in ground beef.
If you're looking for other delicious keto Mexican recipes, be sure to check out our Zero Carb Keto Carnivore Tortillas, Carne Asada, Keto Mexican Pozole and Keto Margarita. And if you're looking for more Mexican inspired keto recipes, be sure to check out our
Disclaimer: Links may contain affiliate links, which means we may get paid a commission at no additional cost to you if you purchase through this page. Read our full disclosure here.
How to Make Taco Salad Keto Friendly
There are few things to look out for when you're in the Mexican isle at the grocery store. If you want to make keto Mexican food, be sure to look at the labels per usual.
There are a lot of products in the Mexican isle that are great for keto, but there are also plenty that are full of carbs and other questionable ingredients like soybean oil, canola or corn oil and fillers. A great example of this is taco spice mix. Many of these have sugar in them. Although it may be a negligible amount, this is easy to avoid by making your own.
Here are the ingredients from a major US brand of taco seasoning: chili pepper, maltodextrin, salt, onion powder, spice, corn starch, sea salt (potassium magnesium chloride, salt). contains 2% or less of: vegetable oil (canola, high oleic soybean and/or sunflower oil), corn flour, silicon dioxide (anticaking agent), citric acid, sugar, natural flavor.
See what I mean? This product has a lot of bad ingredients added into what should be just spices. Maltodextrin as the second ingredient is particularly disturbing. It's used in so many things and it actually has a glycemic index HIGHER than table sugar. Glycemic index is the number associated with a food that tells you low likely it is to affect your blood sugar and by extension, your insulin response.
I've also written and talked about the oils you use in cooking and consume in packaged food. I'm planning a more comprehensive article on that in the future, but in the meantime, you can read a bit more about the types of fat you should use and why in this recipe.
Keto Mexican Food: Taco Seasoning
You can easily make your own Mexican spice blend by combining roughly equal parts of chili powder, cumin, paprika, garlic powder, onion powder, Mexican oregano, pepper and salt. This blend works well on chicken or beef.
Optional Keto Taco Salad Toppings
Keto Tortilla Chips
One of the things people hate to give up with their Mexican food are chips or the traditional taco bowl! I've found a couple of good substitutions that I'll share with you here. I'm fine with just the delicious salad, but sometimes it's nice to have that old crunch.
First is CutDaCarb, They're made fresh daily to order, which is why you can only get them at their website. They have free shipping and each footlong flatbread is nine net carbs and two weight watcher points. They're soy-free, sugar-free, dairy-free, nut-free and GMO-free. My only issue with these is that they're not gluten/wheat free. The full ingredient list is filtered water, whole wheat flour, unbleached flour, psyllium husk, yeast and salt.
I avoid all grains with keto even though my body doesn't seem particularly sensitive to gluten. As a way to keep this lifestyle sustainable though (over five years now), I allow myself this as an occasional treat. Made into chips like you'll see in the video at 33 minutes in, they're amazingly crisp and delicious. Use code 10off24 at checkout for 10 percent off a 24 pack.
Making a Keto Taco Bowl Shell
Since tortillas or taco shells are in a lot of keto Mexican recipes, I thought I'd give you a couple of options here. I love chips on the side but CutDaCarb waps can easily be made into a taco bowl as well. You can use these handy taco bowl forms or a regular oven-safe small bowl. Preheat your oven to 350, spray or rub both sides of the flatbread with a light coating of coconut oil, place and push the flatbread into the form or a bowl. Weight down to hold shape if needed. Bake for 5-7 minutes or until slightly golden and crisp.
You can also use a bowl as a template to cut the sheets into rounds to use as toastasda shells. Another great option and makes a nice presentation for Mexican night.
The other tortilla substitute I like is Almond Love With. These are made out of almond flour so they're gluten-free too! Overall the ingredients are pretty clean and they're three net carbs each. Some filler ingredients but it can be very difficult to make a commercial product without them and get the texture right when you're trying to duplicate the "real" thing. Ingredients include almond flour, filtered water, avocado oil, tapioca flour, arrowroot flour, pink Himalayan sea salt and xanthan gum.
Maybe the easiest way to substitute a taco shell is with cheese and you can use it in a lot of keto Mexican recipes. Go check out my video here to see how simple and easy a cheese taco shell is to make.
There are definitely other low-carb chips and tortillas out there, but for the most part, they're full of a lot of garbage!
Keto Taco Salad Toppings
I've listed several options in the recipe for keto Mexican toppings, but of course, feel free to add your own.
To me, no Mexican meal is complete without avocados or guacamole. For this weeknight recipe, I kept it super with simple mashed avocado. If you want to get fancy with all the seasonings too but still easy, go check out my guacamole video on my YouTube channel.
Another favorite for me is sour cream. However, I always use Greek yogurt instead for the extra protein. For me, it tastes basically the same and gets me closer to my daily protein goal.
I always sautee some onions and peppers to go on my taco salad but you can easily leave this off. They do add a few extra carbs but boy do they taste good and they're all from whole foods which works for me. The only way to know for sure if a certain food works for you is to use a blood glucose/ketone monitor to check your glucose and ketone levels after you eat a particular food.
Cheese is great on keto if it agrees with you and it's in a lot of keto Mexican recipes. Lots of anecdotal evidence about it being inflammatory but most of the research doesn't bear that out. It is easy to overeat because it's so delicious and definitely higher calorie so be careful with cheese if weight loss is a goal.
When I eat this dish, I don't see a big blood sugar rise or drop in ketones.
I have discounts with both Keto MoJo (15% off with link) and KetoCoach (HNG10 for 10%off) if testing interests you.
Live Keto Cook Along Mondays
The COVID pandemic and lockdowns inspired me to commit to a live keto cook along on Mondays. It's like a keto cooking show where you also get to ask questions as we cook together.
All you need to do is register using the form below to receive the shopping list on Friday. Then you just join in live on Facebook, Instagram or YouTube to cook with me at 6 pm eastern time. Or you can have your own keto cook along with the recording any time that's convenient for you.
Tune in on Mondays at 6 pm eastern time to make it with me in real-time or you can always look here for the link to the recording later.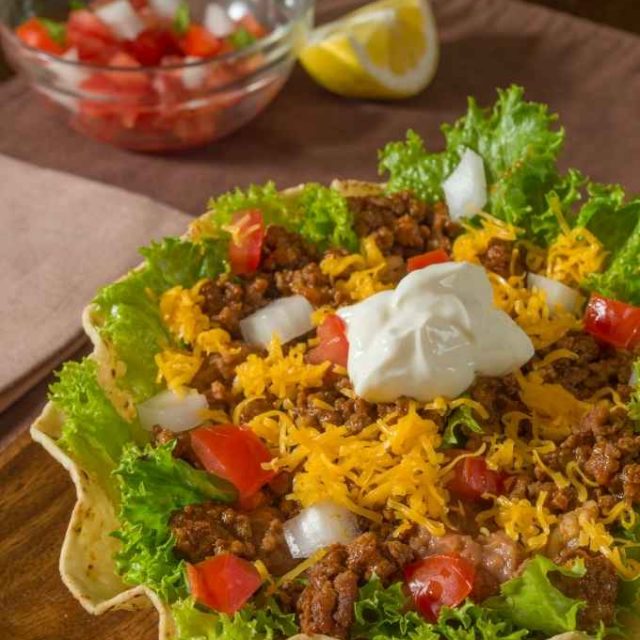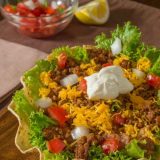 Print
Chicken Taco Salad - Keto Low Carb Recipe
Keto taco salad is a fantastic weeknight meal. It's keto Mexican food that's ready in under 30 minutes and still tastes delicious while being healthy too!
Ingredients
2

tablespoons

coconut oil,

or tallow or lard

1

pound

chicken thighs

,

boneless, skinless

1

cup

salsa

salt and pepper

,

to taste

3

cups

iceberg lettuce

,

chopped

1

medium

tomato

1

medium

avocado

,

mashed

chipotle in adobo

,

optional but adds so much flavor and spice
Optional Toppings
2

tablespoons

coconut oil

1

medium

red onion

1

medium

poblano pepper

,

can sub green, red, orange or yellow if preferred

½

cup

greek yogurt

,

or sour cream

1

cup

cojita cheese

,

or shredded Mexican blend

2

medium

radish

2

tablespoons

cilantro

,

chopped

1

medium

lime

1

sheet

cutdacarb flat bread
Instructions
Heat 2 tablespoons of cooking oil in pan or skillet that has a lid over medium heat.

Add chicken thighs and salsa.

Allow to cook uncovered for about 3 minutes or until chicken starts to brown.

Stir to coat the chicken thighs, reduce heat slightly and cover.

Chop all of your toppings.

If you're doing the onions and peppers, sautee these over medium heat until soft.

If you're making the taco bowl described in the article, preheat oven to 350 and bake until lightly golden and crisp.

If you're making the chips in this article, cut as shown in the video into triangles and cook about 15 seconds per side or until golden and crisp in your favorite cooking oil.

Assemble your salad as desired or assemble everything in your taco bowl.
Notes
Nutrition information does not include optional ingredients. All carbs are from whole food sources.
Nutrition
Calories:
842
kcal
Carbohydrates:
23
g
Protein:
42
g
Fat:
67
g
Fiber:
11
g
Did you make this recipe?
Be sure to tag @healnourishgrow on Instagram to be featured in our stories or our newsletter! We love it when you make our recipes and share with your friends.