December 14, 2020
Cilantro Lime Cauliflower Rice – Keto Low Carb Recipe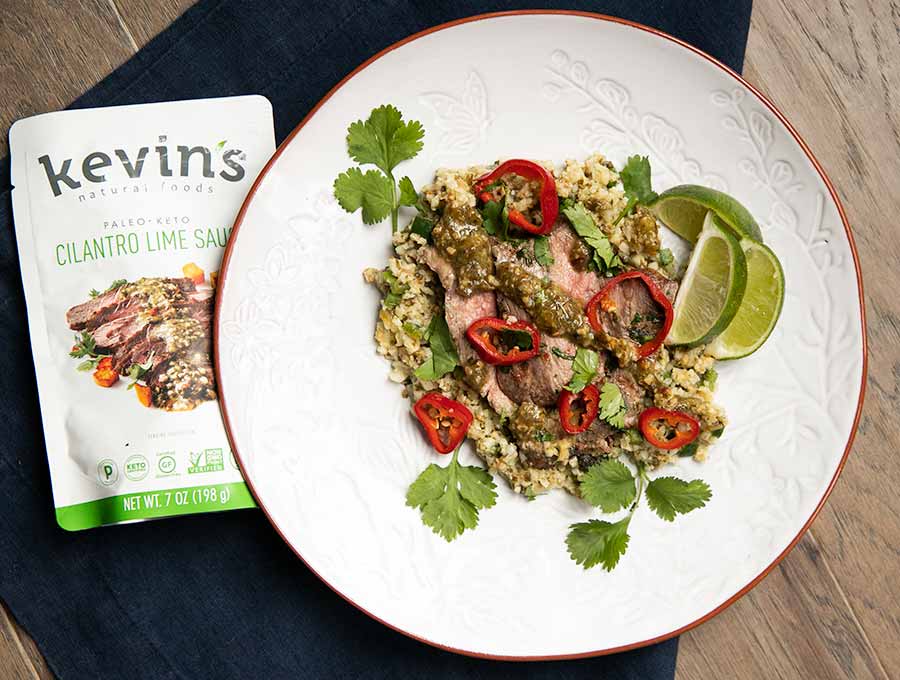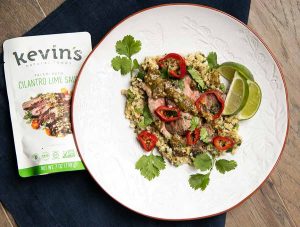 This recipe is my final entry for Kevin's Natural Foods recipe challenge. All of the recipes for the contest are keto, paleo, dairy-free and gluten-free. I used the cilantro lime sauce to make cauliflower rice to pair with delicious carne asada. Real cilantro rice has a ton of carbs! A cup of white rice has 45 carbohydrates, even half that at once might be enough to kick you out of ketosis. This keto cilantro lime rice version has about three net carbs per serving.
Cilantro lime cauliflower rice is perfect with a nice, seared flank steak. Combined with the bright flavor of the Kevin's cilantro lime sauce, this makes a delicious and easy meal.
I paired this recipe with a Dry Farm Wines French red. The heavier style paired perfectly with the meat. Be sure to check out my Dry Farm Wines review. Every bottle they sell has less than one gram of sugar in the entire bottle. I've tested my ketones several times before and after drinking Dry Farm Wines and if anything they go up slightly.
My other entries for this contest were a Pistachio Encrusted Cod with Thai Coconut Sauce and Mexican Pozole. Both turned out amazing and obviously, keto!
You can find out more about Kevin's Natural foods on their Facebook, Instagram and Pinterest pages.
Disclaimer: Links may contain affiliate links, which means we may get paid a commission at no additional cost to you if you purchase through this page. Read our full disclosure here.
Making Keto Cilantro Lime Rice
First, you'll need some riced cauliflower. Cauliflower is a popular substitute for rice in so many recipes. Cauliflower rice is easy, even if you don't have a food processor. Check out my guide to easily make cauliflower rice at home three different ways.
Making your own cauliflower rice at home is slightly cheaper than buying prepared and you can easily freeze it. The super-easy way though is to buy frozen cauliflower already riced. Either way you choose, it's great to have it in the freezer so you have a keto-friendly substitute any time you need it.
If you can remember the flavor of the cilantro lime rice at Chipotle, this is actually WAY better. However, I added poblano for some extra flavor and color which you won't find at Chipotle. The Kevin's sauce adds some additional fat as well that you won't find in a typical cilantro lime rice dish. You can easily leave the poblano out if you'd prefer a more traditional version of cauliflower rice.
Ingredients for Keto Cilantro Lime Rice
Just in case you can't find the Kevin's Chipotle Lime sauce, our chimichurri sauce mixed with a couple of tablespoons of lime juice is a great substitution. However, finding the sauce for cilantro lime cauliflower rice really isn't a problem since you can easily order from their website or on Amazon.
As for the carne asada, my favorite place to buy, healthy, grass-fed, grass-finished beef is US Wellness Meats. They have a great selection and often run sales and specials. Always buy the best meat you can afford as what the animals are fed can affect the Omega three to Omega six profile of the meat.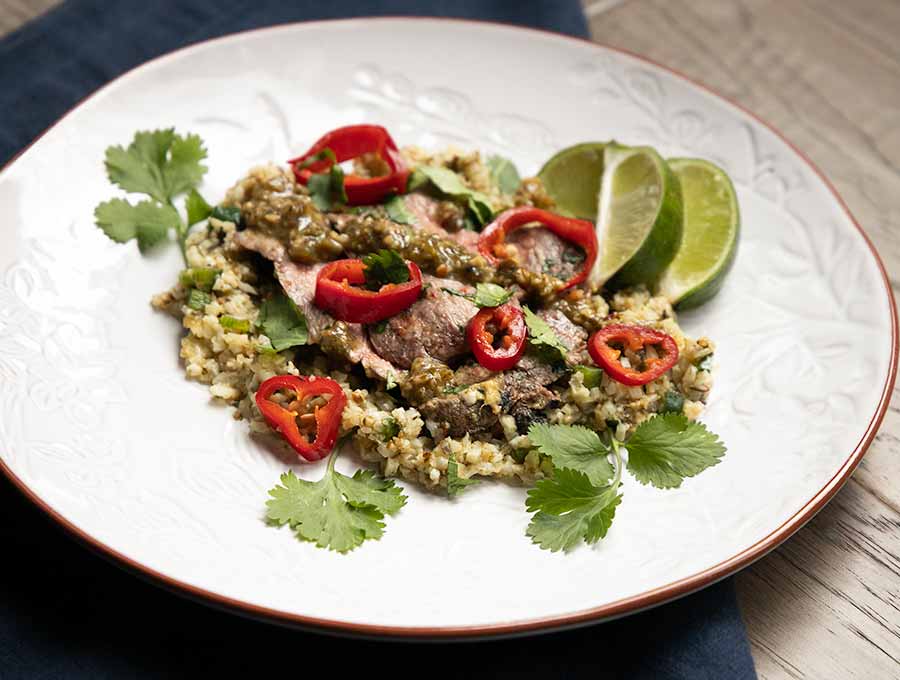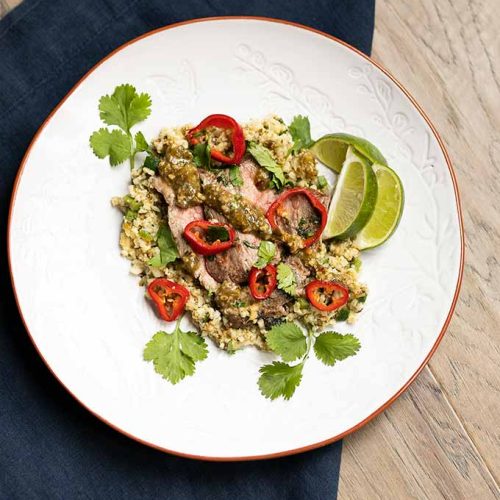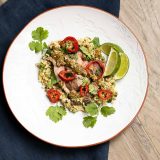 Print
Cilantro Lime Cauliflower Rice
Nutrition information is for the cauliflower rice portion only. You can see the nutrition information for the carne asada at that recipe link.
Ingredients
1

recipe

carne asada

1

tablespoon

olive oil

2

cups

cauliflower,

riced

¼

cup

poblano pepper

,

chopped, optional

¼

teaspoon

salt

¼

teaspoon

pepper

1

large

lime

,

cut into wedges

1

tablespoon

cilantro

,

chopped

cilantro leaves

,

garnish, optional

fresno peppers

,

garnish, optional
Instructions
Prepare the carne asada according to directions (linked in recipe.) Please note meat should marinate overnight or for at least 6 hours.

Heat olive oil in a skillet over medium heat.

Add poblano, cauliflower, salt and pepper, cook until the vegetables start to get tender.

Add Kevin's cilantro lime sauce and the juice from half the lime, stir to combine and cook for 2 more minutes.

Place about 1/2 cup of the cauliflower rice on a plate and top with 1/4 of the carne asada.

Drizzle a tablespoon of Kevin's cilantro lime sauce over the meat.

Garnish with fresh cilantro, lime wedges and peppers if desired.
Nutrition
Calories:
70
kcal
Carbohydrates:
5
g
Protein:
2
g
Fat:
5
g
Fiber:
2
g
Did you make this recipe?
Be sure to tag @healnourishgrow on Instagram to be featured in our stories or our newsletter! We love it when you make our recipes and share with your friends.