December 12, 2020
Pistachio Encrusted Cod With Thai Coconut Sauce – Keto Low Carb Recipe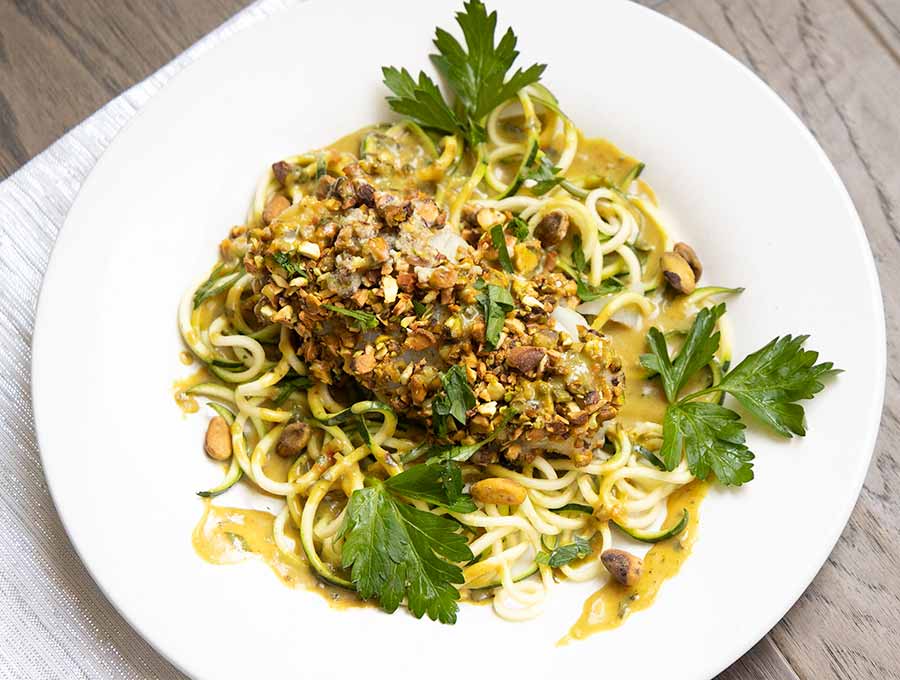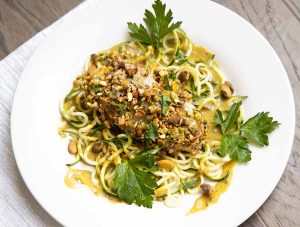 When I learned about the Kevin's Natural Foods recipe challenge of course I wanted to participate. The contest requested clean keto, paleo, dairy-free and gluten-free recipes. Inspired by the thai coconut flavors, I decided to create this pistachio encrusted cod recipe. The flavors go together perfectly. This keto fish recipe is quick and easy as well as delicious! It's perfect for a weeknight or fancier keto date night dinner.
This tasted especially great paired with a nice Dry Farm Wines sauvignon blanc. Be sure to check out my review of Dry Farm Wines, they have truly special wines that are all tested to be under one gram of sugar in the entire bottle.
This contest is a perfect fit for Heal Nourish Grow since keto is the primary focus here! My first challenge was to use their Thai Coconut sauce. While this sauce has more carbs per serving than I would personally prefer, it's totally within keto macros and tastes yummy too.
My other entries for this contest were Cilantro Lime Cauliflower Rice with Carne Asada, and Mexican Pozole. Both turned out amazing and obviously, keto!
You can find out more about Kevin's Natural foods on their Facebook, Instagram and Pinterest pages.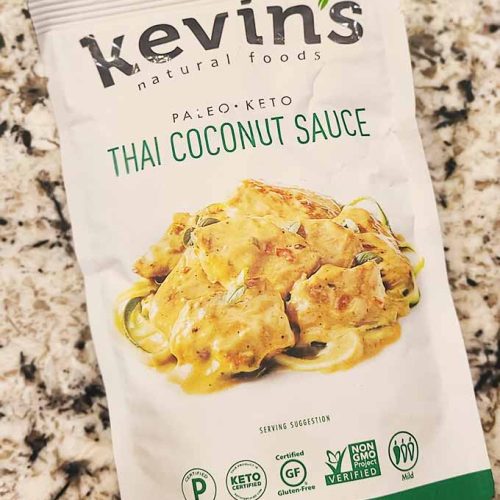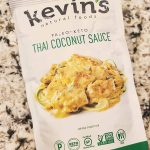 Flavors and Ingredient Considerations
The coconut thai flavor is perfect for seafood. Cod is readily available and it's also easy to find a wild-caught option. This keto fish recipe also includes another favorite ingredient of mine, pistachios. I've been leaning more towards carnivore after reading The Carnivore Code. However, I still allow myself the occasional vegetable or nut.
The easiest way to make the zucchini spirals used in this recipe is with a spiralizer. However, you could just as easily serve this over sliced zucchini or use a vegetable peeler to make zucchini strands.
Disclaimer: Links may contain affiliate links, which means we may get paid a commission at no additional cost to you if you purchase through this page. Read our full disclosure here.
If you wonder why the things we've been taught are healthy for so long might actually be toxic, I highly recommend you read the Carnivore Code. Dr. Saladino makes a lot of valid points and the book is very well researched. Even if you don't want to change your diet drastically the book has a lot of interesting information.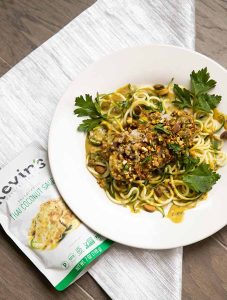 If you're looking for other keto fish recipes, be sure to check out my Smoked Trout Dip. This recipe is awesome for entertaining and provides something slightly unusual to typical party fare.
Are Pistachios Keto?
It's pretty common for people to wonder if pistachios are keto, especially when first starting to eat this way. Fortunately, pistachios are keto friendly and absolutely delicious! A one ounce serving of pistachios has 157 calories, 5.7 grams of protein, 7.7 grams of carbs, 12.8 grams of fat and 3 grams of fiber. So if you're wondering if pistachios are keto this serving would have 4.7 grams of net carbs. While I don't like calling specific foods "keto" it's commonly used as shorthand for whether a particular food can fit within keto macros.
Along with plenty of vitamins, minerals and potassium as well as being anti inflammatory, most people would consider pistachios would be a great addition to the keto diet. If you're looking for another great pistachio recipe, my Creamy Raw Zucchini and Avocado Chilled Soup is extra amazing when topped with pistachios.
Whether we should be eating nuts at all is a discussion for another day (antinutrients and chemical defense.)
Making a Great Keto Fish Recipe
Fish is a great choice for keto since it has healthy fats. It's also a great choice if weight loss is a goal since it tends to be lower calorie but still filling. Just in case you can't find the Kevin's Thai Coconut sauce, here is a good substitution. Combine eight ounces of coconut milk, two tablespoons chopped basil, one teaspoon of ground ginger and a tablespoon of lime juice. However, finding the sauce for this keto fish dish really isn't a problem since you can easily order from their website or on Amazon.
There are a few places that I love to buy wild-caught fish online: Fulton Fish Market, Vital Choice Seafood, Sizzlefish (10% off using my link) and US Wellness Meats (also amazing grass-fed beef). I've had great seafood and service from all of these stores.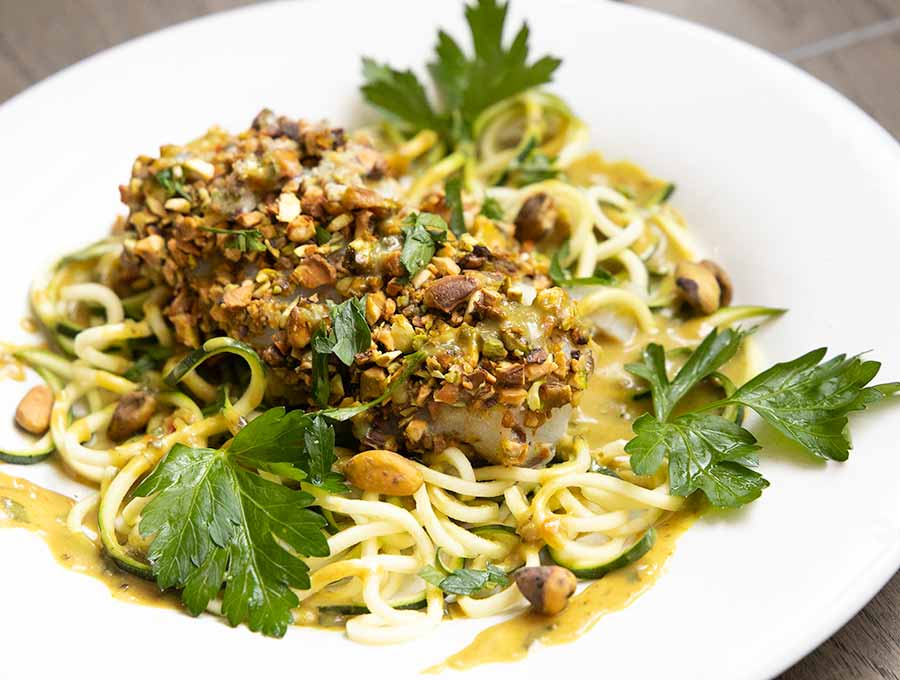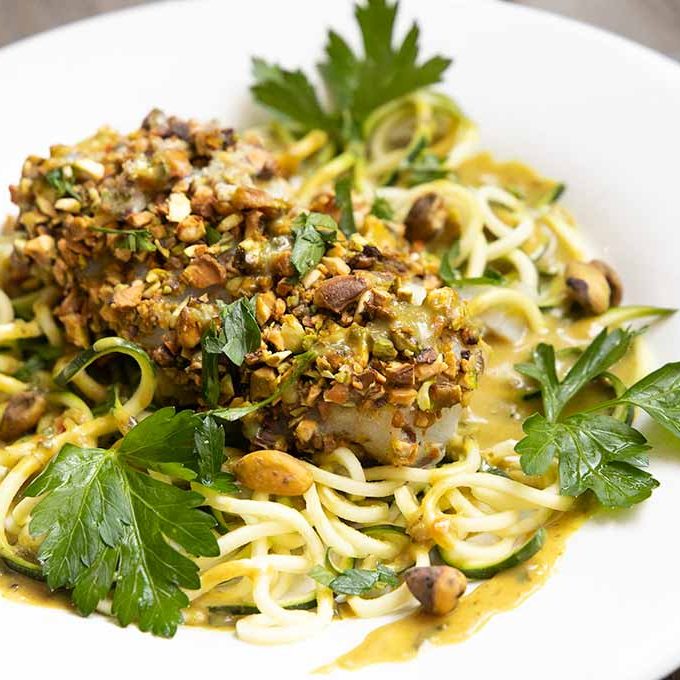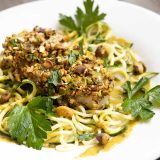 Print
Pistachio Encrusted Cod With Thai Coconut Sauce
This delicious dish was created for Kevin's Natural Foods recipe contest. The sauce is rich and delicious! If you'd like less carbs, reduce the amount of sauce used here.
Ingredients
2

large

eggs

,

beaten

¾

cup

pistachios

,

chopped

1

pound

cod loin

2

small

zucchini

,

noodles, room temperature

7

ounces

Kevin's Thai Coconut Sauce

¼

cup

water

3

tablespoons

parsley

,

chopped

1

teaspoon

salt

1

teaspoon

white pepper
Instructions
Preheat oven to 350 degrees convection or 375 conventional.

Chop pistachios or coarse grind in food processer.

Beat two eggs with salt and pepper.

Dip cod loins in egg mixture.

Coat cod loins in the pistachio, pressing into fish to coat.

Place fish in oven and cook until internal temperature reaches 145 degrees, about 30 minutes depending on thickness.

While the fish is cooking, make zucchini into noodles with a spiralizer (preferred) or thinly shaved with a vegetable peeler.

This recipe calls for raw zucchini noodles, but you can saute in butter for two to three minutes if you prefer warm/cooked zoodles.

Place a pile of zucchini on each plate.

Place pouch of sauce in a pan over medium heat.

Add half a cup of water, two tablespoons parsley, salt and pepper.

Stir until combined and let simmer for 5 minutes.

Cover zoodles with approximately 1/4 cup of sauce.

Place cooked fish over zoodles.

Add approximately 1/4 cup additional sauce over fish.

Garnish with remaining parsley and whole pistachios if desired.
Nutrition
Calories:
385
kcal
Carbohydrates:
16
g
Protein:
30
g
Fat:
23
g
Fiber:
3
g
Did you make this recipe?
Be sure to tag @healnourishgrow on Instagram to be featured in our stories or our newsletter! We love it when you make our recipes and share with your friends.