August 3, 2018
Smoked Trout Dip – Low Carb Keto Recipe
Smoked Trout Dip with the Oklahoma Joe's Longhorn Combo Smoker
This Smoked Trout Dip is the very first thing that came off of my new Oklahoma Joe's Longhorn Combo Smoker. And it's delicious!
After spending three hours putting the smoker together on a June Friday afternoon, it was ready in time for Father's Day weekend festivities. An impromptu party by the pool resulted in the gas grill part being christened with pizzas and grilled chicken. A few hours on Saturday morning went into seasoning the smoker.
Then finally it was time to smoke some trout! And Ribs! And wings! I may have gone a little overboard for the first time using it. But hey, once you've already got the smoker going and have to tend it for hours, smoking as many things as possible makes a lot of sense.
As a beginning smoker, there are a few key things to know. Watching youtube videos was extremely helpful as was finding some answers to other questions through google. There are a lot of beginners guides to smoking meat out there, but I may just write another one for my own learning. I love research and since I'd really like to get more into smoking meat, I plan to do a deep dive at some point.
Disclaimer: Links on this page may contain affiliate links, which means we may get paid a commission at no additional cost to you if you purchase through this page. Read our full disclosure here.
How to Make Smoked Trout Dip
Now for the Smoked Trout Dip recipe. This dish was inspired by my husband who grew up in Michigan where freshwater and fishing abounds. He requested smoked trout as one of the first things to put on the new smoker. More specifically, he wanted Smoked Trout Dip, which is often on the menu up in Michigan. This dish is low carb and keto friendly, but will also satisfy carb eaters.
It tasted so fresh and delicious on the cucumber slices and Peter reported it was awesome with regular crackers as well.
You definitely need smoked trout to make this dish, but if you don't have a smoker you can still enjoy this recipe by using canned smoked trout or fresh grilled trout with a little liquid smoke would be delicious as well.
Smoking the trout is the hardest part. After that, this keto smoked trout recipe is a breeze! Just mix everything together and serve with your favorite low carb cracker substitute.
About the Oklahoma Joe's Longhorn Combo Smoker
The smoker was relatively easy to put together, although very heavy when it came to standing it up about midway through. It would definitely be easier and go quicker if you assemble this smoker with two people. I've never owned a smoker before so I can't say how good/bad it is compared to others.
As a newbie to smoking meats, I've really had no issues with it. The fire is relatively easy to keep at the right temperature. I usually have to add wood about once an hour and sometimes open the top to let a little heat out when the new wood is first added. The flavor of the food that has been smoked has been delicious and my ribs had a great smoke ring.
The Oklahoma Joe's Longhorn Combo Smoker grill side it super easy to light with the starter button and it gets hot quickly. Very hot. It holds the heat so well that we have to keep the burners super low to keep it around 350 degrees for regular grilling.
Smoked Trout Dip Recipe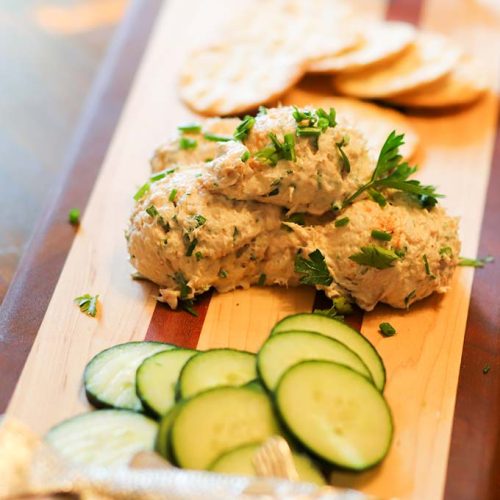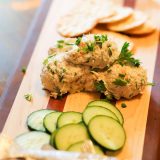 Print
Smoked Trout Dip - Keto Recipe
This smoked trout dip is low carb, keto and delicious! No smoker? Not problem you can use canned or liquid smoke instead!
Ingredients
2

cups

smoked trout

1

teaspoon

lemon zest

1

tablespoon

lemon juice

,

juice from half a large lemon

4

tablespoons

cream cheese

¼

cup

cream cheese

⅓

cup

sour cream

1

teaspoon

worcestershire sauce

¼

teaspoon

Emeril's Seasoning

¼

teaspoon

smoked paprika

1

teaspoon

horseradish

1.5

tablespoon

fresh chives

,

reserve 1/2 tablespoon for garnish

1.5

tablespoon

fresh parsley

,

reserve 1/2 tablespoon for garnish

salt,

to taste

pepper

,

to taste
Instructions
Smoke trout to taste on your smoker or use canned smoked trout.

Add all ingredients to a bowl and mix well.

Use a cookie scoop to serve if desired. Serve warm or cold.
Nutrition
Serving:
40
g
Calories:
107
kcal
Carbohydrates:
1
g
Protein:
7
g
Fat:
8
g
Did you make this recipe?
Be sure to tag @healnourishgrow on Instagram to be featured in our stories or our newsletter! We love it when you make our recipes and share with your friends.