June 12, 2018
Creamy Raw Zucchini and Avocado Chilled Soup – Keto Low Carb Recipe
If you have a summer garden, you're about to be under siege by the mighty zucchini! They can be prolific to say the least. One of the many challenges of the home gardener is figuring out yet another recipe in which to use them. I stumbled across this dish a few years ago have and made it many times prior to following the ketogenic diet. It's refreshing, easy and delicious! Enter a quick and simple zucchini and avocado chilled keto soup.
Raw Keto Zucchini and Avocado Chilled Soup
This zucchini and avocado soup was not a keto recipe in its original form. Although there is a lot of fiber in avocados and zucchini, the net carb count can add up quickly. The recipe changed quite a bit so that the macros now make it great keto soup recipe with just four net carbs per serving. It's still an amazing summer soup and if I can really remember that far back, even better than the original! I also added one of my new loves to this recipe, Trader Joe's Everything But the Bagel seasoning. It's a delicious topping on so many things.
You may also want to check out our Chilled Cucumber and Feta Soup for another delicious summer keto soup option.
Disclaimer: Links on this page may contain affiliate links, which means we may get paid a commission at no additional cost to you if you purchase through this page. Read our full disclosure here.
Turmeric is a Super Food
One of the many things I love about this soup is the use of turmeric. This amazing herb has many important health benefits. It may be most well known for it's anti-inflammatory properties. Although it takes larger quantities for the effect to be noticeable any amount you can consume will be beneficial. This keto soup recipe is a great place to use it. Since turmeric is mild this green soup easily disguises the flavor so more can be added without overwhelming the taste buds. It's also known for fighting cancer.
According to the American Cancer Society, the active ingredient in turmeric, curcumin, kills cancer cells in a petri dish and shrinks tumors in animal studies. Finding ways to get this antioxidant into your diet may also reduce cholesterol. With so many possible benefits, it's a great health tip to add this herb to your spice rack and find new ways to use it.
Turmeric in Ayurveda
Ayurvedic medicine has a long history of using turmeric. It's considered a heating spice and offers the taste qualities of bitter and astringent. It's generally balancing for all doshas but could aggravate pitta and vata in excess. It supports digestion, purifies the blood and boosts the immune system. With the modifications, we now have a keto recipe that is ayurvedic friendly as well.
On to the keto soup recipe! Serve with parmesan crisps if desired. I found some great private selection brand crisps at my local Kroger, but there are also several varieties on Amazon. Or you can just make them at home, they're super simple, especially if you have parchment paper or a silicone mat. Just put about a tablespoon of cheese in a mound and put it in a 400-degree oven until melted and starts to brown. Let them cool and you have your crisps.
Blending it all Together
I love using my Vitamix for recipes like this since it makes soup and sauces extra smooth and creamy, but a regular blender works as well. I remember back several years making this with a regular blender and thinking it was good and smooth, but after I got the Vitamix! I felt like it took this soup to another level. Regular blenders just can't get the same creaminess factor. My only regret is that I didn't buy one sooner, I had been wanting one for literally over 20 years. They're offering free shipping at the moment (that will depend on when you read this) but it's worth checking, Vitamix runs some good promotions all the time.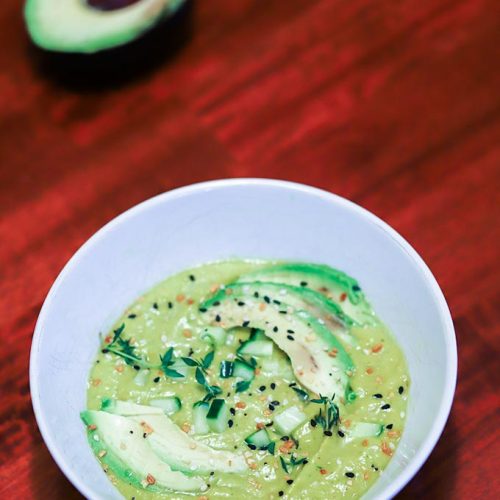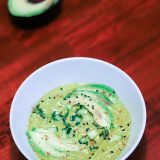 Print
Creamy Raw Zucchini and Avocado Chilled Soup
This raw soup incorporates the summer favorites of zucchini and cucumber while still keeping it low carb and keto.
Ingredients
4

tsp

thyme,

fresh

1

medium

avocado

,

additional for garnish if desired

½

medium

cucumber

,

additional for garnish if desred

½

medium

zucchini

½

cup

unsweetened coconut milk,

Thai Kitchen Organic

1

cup

celery

,

chopped

1

cup

water

3

tsp

ground turmeric

1

tbsp

lemon juice

2

cloves

garlic

,

chopped, to taste

¼

teaspoon

sea salt,

or to taste

¼

teaspoon

black pepper

,

or cayenne if you prefer

2

tsp

olive oil,

additional for garnish if desired

1

tsp

everything but the bagel seasoning,

for garnish if desired

¼

cup

chopped pistachios

,

for garnish, if desired
Instructions
In a VitaMix blender or food processor, blend all ingredients until creamy except garnish.

Serve soup in bowls and top with olive oil, everything but the bagel seasoning and fresh thyme as garnish if desired.
Nutrition
Serving:
1
cup
Calories:
150
kcal
Carbohydrates:
7
g
Protein:
1
g
Fat:
13
g
Fiber:
3
g
Did you make this recipe?
Be sure to tag @healnourishgrow on Instagram to be featured in our stories or our newsletter! We love it when you make our recipes and share with your friends.