June 10, 2018
Chilled Cucumber Feta Soup – Keto Low Carb Recipe
This keto chilled cucumber feta soup recipe was inspired by a delicious poolside meal on my honeymoon in Greece. The flavor can't be easily duplicated in the states. Their produce is so amazing and the greek yogurt is to die for! However, this keto soup recipe is still delicious given what we have to work with. It's great anytime but I especially like chilled keto soup in the summer for a lighter meal.
Is Soup Keto Friendly?
Fortunately, soup is pretty easy to make keto friendly. While there are plenty of keto soup recipes out there, you can make just about any soup keto friendly if you avoid some common soup ingredients. The worst typical soup ingredients for keto are pasta, rice and potatoes. Depending on what type of soup you'd like to make, these ingredients are pretty easily substituted.
Keto Pasta and Keto Rice Substitute
A great substitute for rice or pasta to make keto soup is shirataki noodles. Shirataki noodles are made of konjac plant fiber (glucomannan). There has been quite a bit of research on glucomannan related to weight loss. At the very least, it's a water-soluble fiber that is excellent at absorbing water so it should help you feel full. Some other noodle substitutes are made of yam fiber, oat fiber, other vegetable fibers or a combination. There are lots of brands, but most have only about one net carb per serving. My current favorite brand is Better than Noodles.
Disclaimer: Links on this page may contain affiliate links, which means we may get paid a commission at no additional cost to you if you purchase through this page. Read our full disclosure here
The shirataki noodle flavor is very neutral and you can easily substitute them anywhere you'd normally use pasta or rice. If you've never used them before, you may notice an interesting smell when you first open them. This is totally normal, and most people deal with this by rinsing them thoroughly under cool water for a couple of minutes. After rinsing, you may also want to toss them in something acidic such as lemon juice or apple cider vinegar for a couple of minutes then rinse again. This process will remove the odor from the shirataki noodles that some find offensive.
Keto Potato Substitute
Much depends on your personal carb tolerance and keto goals, but rutabaga and cauliflower can be great substitutes for potato in keto recipes. Or you might simply leave potatoes out without a substitution. A cup of cubed rutabaga has nin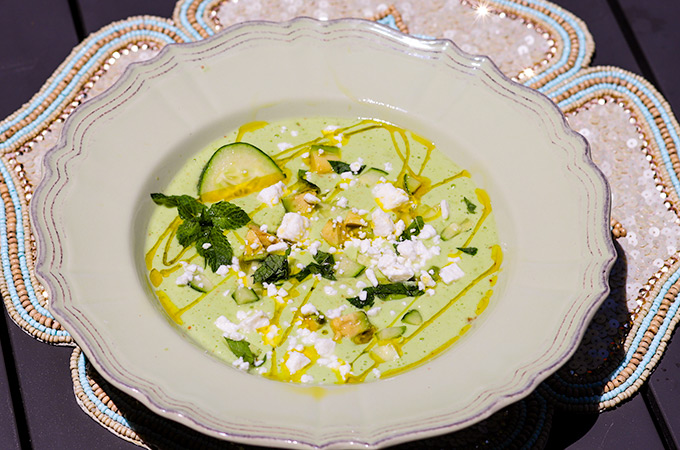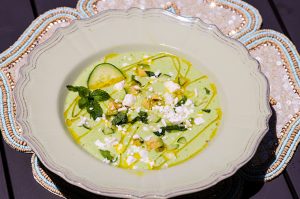 e net carbs. Spread out over an entire pot of soup that can easily fit in most people's macros. Cauliflower has about three net carbs in a cup, which fits even more easily fit into keto macros.
Chilled Cucumber Feta Keto Soup
Fortunately, this soup was already keto friendly. No pasta or potatoes to be seen! The only thing you need to watch for here is the yogurt as many brands in the United States have added sugar. Ideally, you're looking for the lowest carb count possible. And you're looking for full-fat yogurt, which can be harder to find in the states. Most yogurt sold here is low fat or no fat and full of sugar, a byproduct of the 1980s saturated fat fearmongering. If you'd like to read more about how saturated fat got demonized, click over to our Complete Beginner's Guide to the Ketogenic Diet.
Most unflavored Greek yogurt brands have about six carbs per cup. Nothing here tastes like Greek yogurt in Greece, but if you're lucky enough to find a sheep's milk yogurt it will be closer. Traditionally Greek yogurt was made from sheep's milk rather than cow. If you enjoy chilled soups, be sure to check out our Creamy Raw Zucchini and Avocado Chilled Soup as well.
Below is a photo of the inspiration for this chilled keto soup recipe…it's hard to beat the combo of some bubbles with chilled soup and a refreshing salad by the pool!
.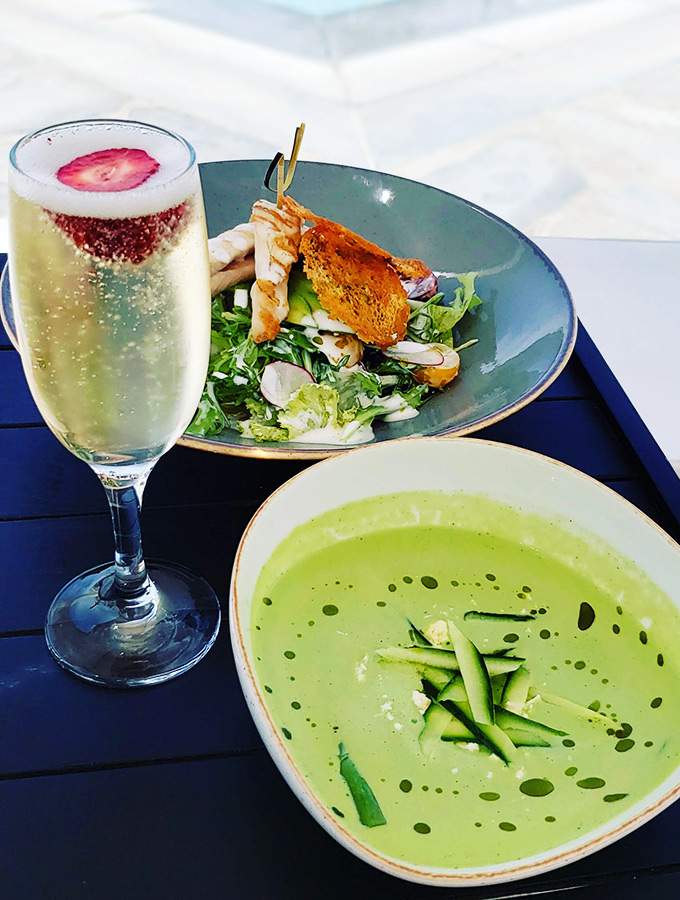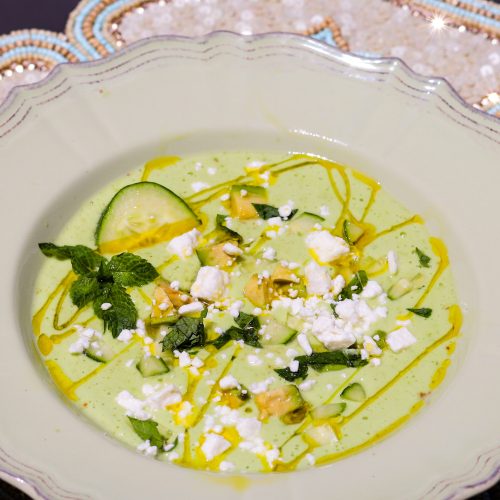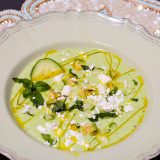 Print
Chilled Cucumber Feta Soup
Chilled Keto Cucumber Feta Soup
Ingredients
1

large

cucumber

,

english variety

½

cup

feta

,

crumbled, extra for garnish

½

cup

greek yogurt

½

cup

mint leaves

,

extra for garnish

½

medium

onion

1

clove

garlic

,

to taste

1

medium

lemon

,

zest and juice

½

medium

avocado

,

extra for garnish

½

cup

extra virgin olive oil

½

cup

water

¼

teaspoon

sea salt,

to taste

¼

teaspoon

white pepper

,

to taste
Instructions
In a Vitamix or blender, add all ingredients except for a quarter of the cucumber.

Reserve 1/4 cucumber, some chopped mint, the remainder of avocado and some feta for garnish.

Chill for at least 2 hours or overnight.

Garnish bowls with cucumber, mint, avocado and feta cheese.
Equipment
Notes
This recipe was inspired by a dish I had on my honeymoon in Greece. I was excited to develop this recipe when I got back!
Nutrition
Calories:
228
kcal
Carbohydrates:
4
g
Protein:
4
g
Fat:
22
g
Fiber:
1
g
Did you make this recipe?
Be sure to tag @healnourishgrow on Instagram to be featured in our stories or our newsletter! We love it when you make our recipes and share with your friends.