July 26, 2018
Simple Bacon Brussels Sprouts – Keto Low Carb Recipe
Brussels sprouts are keto friendly, coming in at 38 calories and 4.6 net carbs per cup. Simple Keto Bacon Brussels Sprouts are even more keto friendly since they have a dose of saturated fat, given by keto's darling "superfood," BACON.
Should I Eat Cruciferous Vegetables?
Brussels sprouts are also a cruciferous vegetable, known for creating lower cancer rates with high consumption in observational studies and lowering inflammation. On the flip side, cruciferous vegetables contain goitrogens, which may affect the uptake of iodine and thus the thyroid.
For most people, the benefits of cruciferous vegetables outweigh any concerns over goitrogens affecting the thyroid, However, depending on your goals, you may want to research eating this type of vegetable on a regular basis. If you have a particularly bad thyroid problem, goitrogens may warrant more research if these are foods you like to regularly include in your diet.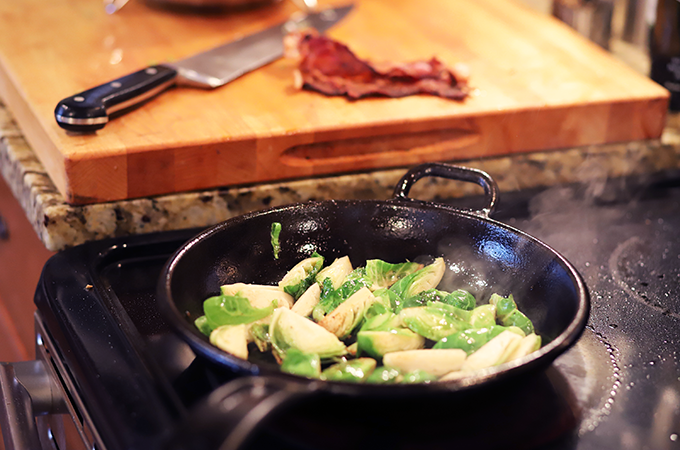 Keto Bacon Brussels Sprouts
This Keto Bacon Brussels Sprouts recipe was developed to serve only two people since our littles have no interest in anything green. Believe me, we've tried to make dishes as kid-friendly as possible, but perhaps their palates have been ruined by too much refined sugar? Sigh. I wish we could change the availability of processed foods in their lives.
Jamie Oliver says his school lunch campaign failed because eating healthy is still seen as a privilege of the middle class. The state of our food supply overall is a sad and frustrating situation, but that is a discussion for another day!
Anyway, these Simple Bacon Brussels Sprouts are easy to make more of if you have people that will actually eat them. They also reheat well since the brussels sprouts tend to stay firm even after refrigeration.
Pairing Suggestions
This side can be served with a number of things, but it's particularly good with a steak or the Creamy Lemon Chicken I made them with while developing the recipe.
Disclaimer: Links below may contain affiliate links, which means we may get paid a commission at no additional cost to you if you purchase through this page. Read our full disclosure here.
P.S. In case you don't already have one, consider this awesome little Lodge cast iron pan. I use it all the time, even for omelettes now that it's well seasoned!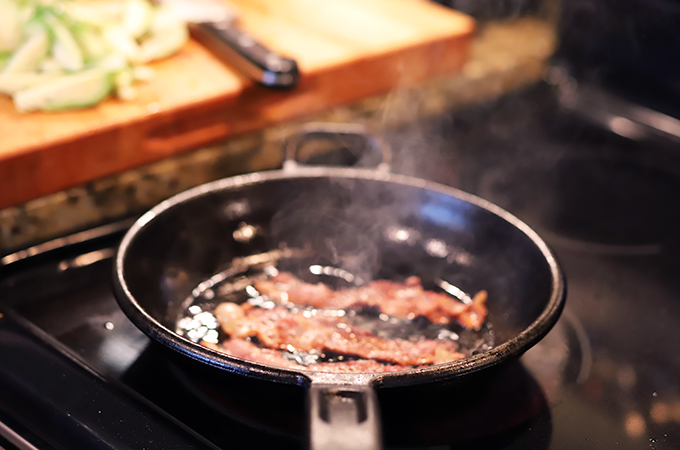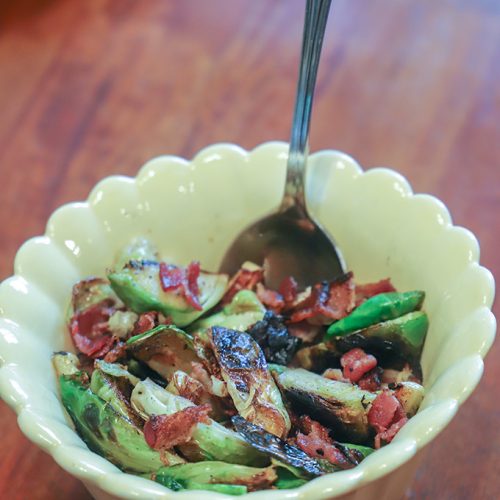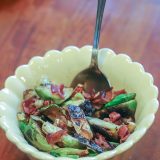 Print
Simple Keto Bacon Brussels Sprouts
This simple recipe for Keto Bacon Brussels Sprouts is one of the most simple and delicious sides you can create to go with any keto meal. It requires just five ingredients and is ready in about 25 minutes including prep.
Ingredients
3

slices

bacon

,

reserve grease

10

large

brussels sprouts

,

quartered

1

tsp

salt,

or to taste

1

tsp

pepper

,

or to taste

1

tbsp

bacon grease

,

or to taste
Instructions
Cook 3 slices of bacon over medium heat in large pan until crisp. Remove bacon from pan and retain rendered bacon fat. Remove pan from heat.

Wash and drain brussels sprouts.

Trim bottom of sprouts and remove any bad leaves. Cut into quarters lengthwise.

Dry sprouts and add to pan with the bacon fat. Note that any excess moisture could cause the fat to splatter so use caution when adding brussels sprouts to pan. Turn heat back to medium on the sprouts.

Toss sprouts in the bacon fat and add salt and pepper. Add additional bacon fat or other fat if desired.

Allow spouts to brown and caramelize, stirring infrequently. Cook until sprouts are tender, inserting a fork easily.

Chop cooled bacon into bits and add back into pan. Toss bacon with brussels sprouts and then serve.
Nutrition
Serving:
2
people
Calories:
205
kcal
Carbohydrates:
1
g
Protein:
4
g
Fat:
20
g
Fiber:
0
g
Did you make this recipe?
Be sure to tag @healnourishgrow on Instagram to be featured in our stories or our newsletter! We love it when you make our recipes and share with your friends.