August 23, 2018
Best Homemade Hot Buffalo Wing Sauce – Keto Low Carb Recipe
Wings. Smoked wings. Hot Buffalo Wing Sauce. Finding the best wings in Cincinnati. Now it's keto wing sauce over smoked wings. Buffalo wings have forever been one of my favorite foods in multiple forms! Fortunately, chicken wings are perfectly compatible with the keto diet. The key to low carb hot wings is to make sure they're not breaded. However, there are some buffalo sauces that are not keto-friendly even if you have an unbreaded wing. This recipe for keto wing sauce is not only delicious but has super clean ingredients that won't kick you out of ketosis! k
Keto Chicken Wings
Growing up in Louisiana and Texas means I've always had a taste for spicy foods and hot buffalo wings definitely deliver on that count. I've also taken the time to search out some of the best wings in Cincinnati over the years and will share that here as well. Having wing sauce out may not always be perfectly keto, but by asking a few questions you'll usually get something that has low or no sugar.
It wasn't until recently that I decided to make my own keto wing sauce. You can find buffalo sauce in the grocery without a lot of carbs fairly easily. By nature, most wing sauce focuses on being hot rather than sweet. What most prepared sauces do have though, is crappy oil in them and maybe still some sugar despite a carb count of zero. While you'd still end up with low carb hot wings, you'll be putting a lot of unnecessary, unhealthy ingredients in your body.
The same goes for store-bought dressings, a lot of crap oils in them! Make our homemade Creamy Keto Blue Cheese Dressing to go with this amazing wing sauce.
Thick Hot Wing Sauce Recipe
Because I get to control the sauce by making my own, this is a thick hot wing sauce recipe. I just prefer it that way and it stays on the wings much better. However, if you'd like it on the thinner side you can reduce or omit the xanthan gum. This hot wing sauce is delicious either way!
The Pitfalls of Store-Bought Hot Buffalo Wing Sauce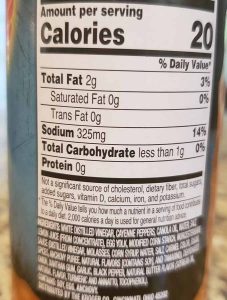 This photo on the right is a list of ingredients is from a bottle of buffalo wing sauce available at your local supermarket. The third ingredient is canola oil. I'll save an in-depth discussion on why you should avoid canola oil for a later date, but here are just a couple of reasons. It's made of corn; almost all corn in the United States is genetically modified (GMO), which also means it's grown with a bunch of Roundup and other chemicals. Canola is a heavily processed food.
Like all modern vegetable oils, canola oil goes through the process of caustic refining, bleaching and degumming–all of which involve high temperatures or chemicals of questionable safety. And because canola oil is high in omega-3 fatty acids, which easily become rancid and foul-smelling when subjected to oxygen and high temperatures, it must be deodorized. The standard deodorization process removes a large portion of the omega-3 fatty acids by turning them into trans fatty acids. Although the Canadian government lists the trans content of canola at a minimal 0.2 percent, research at the University of Florida at Gainesville, found trans levels as high as 4.6 percent in commercial liquid oil.24 The consumer has no clue about the presence of trans fatty acids in canola oil because they are not listed on the label.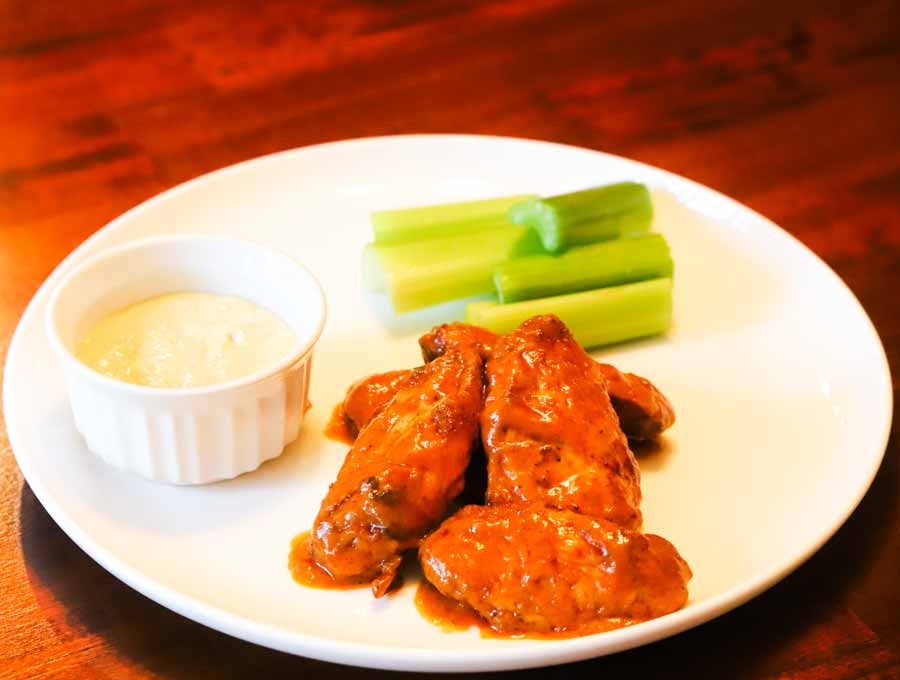 Also in this store-bought hot buffalo wing sauce is not one, not two, but three types of sugar: molasses, corn syrup, sugar. Be sure to download our handy sugar names list if you're not sure what constitutes sugar. There are over 60 names for sugar that can appear on ingredient lists, so it can be hard to keep track.
Disclaimer: Links below may contain affiliate links, which means we may get paid a commission at no additional cost to you if you purchase through this page. Read our full disclosure here.
Hot Buffalo Wing Sauce Carbs
Say you decide to go with a store-bought hot sauce anyway. How many carbs are actually in buffalo sauce? Buffalo sauce carbs vary by brand so check the labels. For example, check out the label for Sweet Baby Ray's. No carbs or sugar listed but a lot of other questionable ingredients.
On the other hand, this Primal Mild Buffalo sauce has a pretty clean list of ingredients but might not have enough kick for you. The New Primal is the best brand I've found so far for clean ingredients.
Other sauces may list sugar on the label but say no carbs. By law, manufacturers are allowed to say zero carbs if per serving amounts are under a half a gram.
Depending on how many servings you eat of something that says it's zero carb, it could start to add up. Be sure to look at the ingredient list for sugar and all of its different names even when the count says zero carbs. The bottom line is you can have low carb hot wings with store-bought or homemade wing sauce, it just depends on what ingredients you are willing to accept.
What's the Best Way to Make Buffalo Wings (버팔로 윙) and Keto Chicken Wings?
I'm sure there would be debate among wing enthusiasts about what is the best way to make buffalo wings. However, after trying many different preparations both in restaurants and at home, I've certainly settled on my favorite method. Now that I have a smoker (more information on the Oklahoma Joe Longhorn Combo here, but now I use a Weber Smoky Mountain) that's by far my preferred method. It's also the method the restaurants that make the best wings in Cincinnati use. In my humble opinion, if you really want the best keto chicken wings, smoked is the only way to go.
The smoked wings have a great flavor and I can easily char them on the attached grill to finish. Then I just toss them in this delicious homemade keto wing sauce and VOILA! Yummy wings.
If you don't have a smoker but would still like to impart some of that flavor, add a couple of drops of liquid smoke to the sauce. If you try that I would bake the wings first so they don't dry out, then finish on the grill for a minute or two each side to char.
I also really like using McColgan's Spicy Dry rub on my wings whether I smoke them or not. It's totally low carb hot wing friendly with absolutely no sugar and an awesome kick.
Best Hot Buffalo Wings in Cincinnati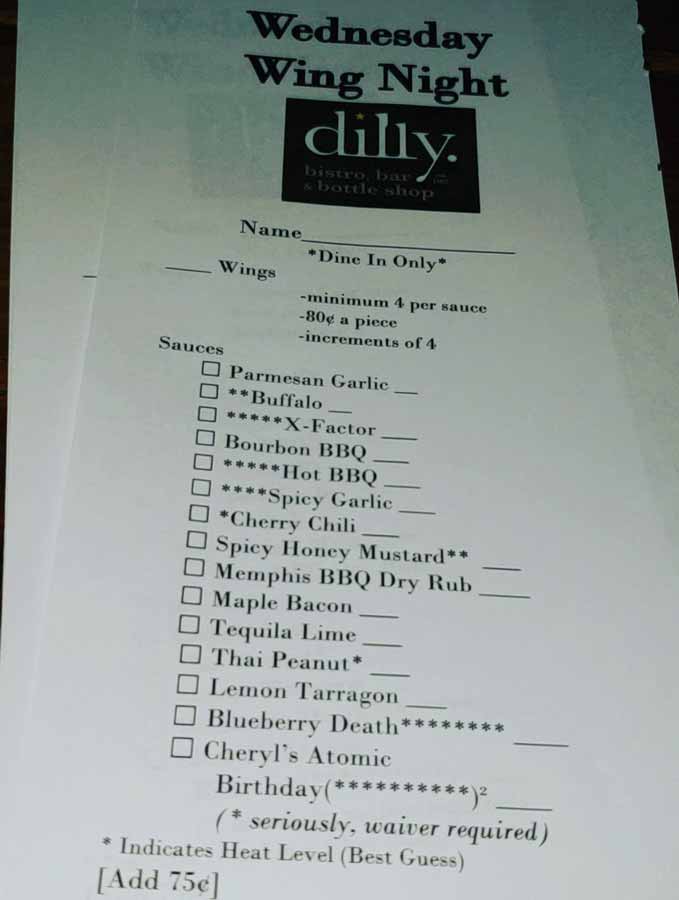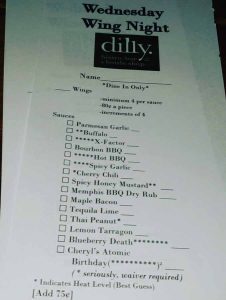 In case you happen to live in Cincinnati or ever decide to visit, here are a few of my favorite places for low carb hot wings. These are the places I think have the best wings in Cincinnati. If you have your own favorites, be sure to share with us in the comments. Even though I love to cook, sometimes it's just nice to get hot buffalo wings out.
1. Dilly Bistro
This place is so amazing that they even made a special sauce for my birthday! That may mean I go there a little too often, but it also means they're just plain awesome.
My friends know my affinity for spicy food so well that they let the owner know we were coming in for a little birthday celebration and planned to try to burn my face off with spice. Despite their best efforts at making a super hot buffalo wing sauce, I was unfazed. They were hot but not burn my face off hot. And still super delicious as usual.
On Wednesday nights, this Mariemont icon makes 10-15 different types of house-made wing sauce. The X-Factor is always spicy excellence, the Blueberry Death is a nice change of pace from the typical hot wing and my personal favorite is the creamy Macchu Pichu, not even particularly hot but a great mix of flavors.
They've been around since 1982, starting as a deli then converting to a full-service restaurant and wine shop 1996. The owner remodeled the space in 2017, using none other than our featured contributor Corey Rineair to help with the design. Bonus points for the choice of designer and for being able to pick any wine you want from the bottle shop to enjoy with dinner.
Dilly, by far, for me has the best wings in Cincinnati.
Runner's Up:
This downtown Cincinnati institution also smokes their wings. Every day, they have 11 different types of wings on the menu. My personal favorite is the XXX. However, as a courtesy to my husband who always goes with me to Nats, we usually go with plain old hot with at a side of the XXX sauce. Their keto chicken wings are so tender they fall off the bone.
3. O'Bryon's
I've been going to this place for over 20 years (YIKES) and despite having different owners, they've always had good wings. I don't think these are smoked, but they still do a great job with the sauces. The hot isn't too spicy but has a great flavor and I'm always sure to order a side of creamy habanero ranch to with them.
It certainly doesn't hurt that O'Bryon's is in my neighborhood; I can walk there in about 20 minutes. Bonus points to this business for being able to have a low-carb beer or three with my wings and not needing a Lyft or Uber.
The wings at Taft's Ale house are smoked, and while not particularly spicy they are very flavorful. We use to hit this place once in a while since it was right around the corner from yoga in the park. They also beer-brine the wing, which might explain the moistness and flavor.
Honorable Mention:
5. BW3
While their wings aren't my favorite now that I have so many other great options, I've had a long-time love for their Blazin' sauce. It's legit. They're also keto friendly chicken wings, as long as you stay away from the sweet sauces.
Best Wings in Cincinnati
Disagree with who has the best wings in Cincinnati? Let us know in the comments and we'll be happy to go check them out!
And finally, here's our Keto Wing Sauce recipe, serve with our homemade Creamy Keto Blue Cheese Dressing. Enjoy.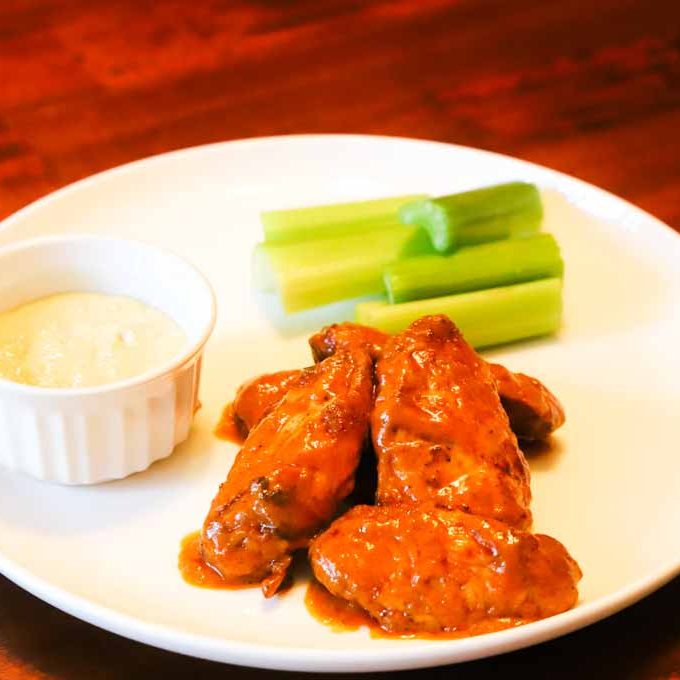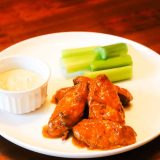 Print
Basic Hot Buffalo Wing Sauce
Delicious hot buffalo sauce from scratch! Easy and no unhealthy filler oils like the jar buffalo sauce you find in the store.
This recipe includes xanthan gum to make the sauce extra thick. If you prefer a more traditional, thinner wing sauce, just leave that out.
Instructions
Over medium heat in a large saucepan, add half of the butter and melt.

Add garlic and onion, saute for about 3 minutes.

Mix in jalapeno and saute for about 2 minutes.

Add the rest of remaining ingredients except the xanthan gum.

Cook sauce for about 15 minutes to allow the flavors to marry.

Transfer sauce to a blender or use and immersion blender until sauce is smooth.

Take a quarter cup of the sauce out and blend in xanthan gum until smooth.

Place all of the sauce including the xanthan gum mixuture back in the pan and cook over medium until sauce is thickened.

Toss cooked wings in the sauce and enjoy immediately or place wings back in the oven with sauce for about 5 minutes.
Notes
Caloric information is for the sauce only, doesn't include the wings. If you're like me, you might put this sauce on anything, not just wings!
Nutrition
Serving:
1
wing
Calories:
29
kcal
Carbohydrates:
0
g
Protein:
0
g
Fat:
3
g
Fiber:
0
g
Did you make this recipe?
Be sure to tag @healnourishgrow on Instagram to be featured in our stories or our newsletter! We love it when you make our recipes and share with your friends.