This tangy keto blue cheese dressing recipe is perfect with our delicious Hot Buffalo Wing Sauce! Be sure to check out our homemade keto wing sauce recipe to learn how to cook your wings for the best taste. We also reveal which restaurants in Cincinnati make the best tasting and keto friendly wings. You may be surprised by who REALLY serves the best wings in Cincinnati in 2019.
Why eat sauces and dressings with fillers, inflammatory oils, gluten and corn syrup when you can easily make your own at home? This recipe for fully homemade keto blue cheese dressing is both easy and delicious. There is an extra step in the recipe to emulsify the ingredients for homemade mayonnaise. I chose not to use prepared mayonnaise for this recipe, I find the taste of homemade mayo and lack of unnecessary ingredients are worth the extra effort.
However, you can certainly make this homemade keto blue cheese dressing with a prepared mayonnaise, but please read on to find out why it's important to choose high-quality sauces, dressings and condiments on your clean, whole foods keto diet.
Go to our keto pantry essentials for links to our favorite high quality, keto friendly items.
Disclaimer: Links below may contain affiliate links, which means we may get paid a commission at no additional cost to you if you purchase through this page. Read our full disclosure here.
Why Make Mayonnaise from Scratch?
To give you an idea about what's in your typical store-bought mayonnaise, let's take a look at Hellmann's Real Mayonnaise …does it crack anyone else up that "real" is in the name?!? Hellmann's is pretty much the most popular mayonnaise in the US. As you can see from the Amazon page, they like to advertise it as "made with real, simple ingredients like 100% certified cage-free eggs, oil and vinegar." Fair enough, since those ingredients are actually in the mayo.
However, the very first ingredient in Hellmann's is soybean oil. Soybean oil is often partially hydrogenated, genetically modified, full of phytosterols and contains a high amount of Omega 6.  Most Americans have an inflammatory Omega 6 to Omega 3 ratio. According to the NCBI,
Excessive amounts of omega-6 polyunsaturated fatty acids (PUFA) and a very high omega-6/omega-3 ratio, as is found in today's Western diets, promote the pathogenesis of many diseases, including cardiovascular disease, cancer, and inflammatory and autoimmune diseases, whereas increased levels of omega-3 PUFA (a low omega-6/omega-3 ratio) exert suppressive effects. In the secondary prevention of cardiovascular disease, a ratio of 4/1 was associated with a 70% decrease in total mortality.
Food manufacturers typically use soybean oil in processed foods because it's cheaper than healthier oils.
Making Good Dietary Fat Choices
I try to avoid soybean oil pretty religiously for the reasons mentioned above. Perhaps we'll dive into different types of oils and their detriments and benefits another time. The ketogenic diet is naturally anti-inflammatory but making sure you choose the right types of fats is important. Check our Complete Beginner's Guide to the Ketogenic Diet for more information on making the healthiest choices for your keto diet.
In the meantime, if you prefer to skip the step that makes the mayonnaise for the creamy keto blue cheese dressing, feel free to substitute about 1/3 cup of high-quality mayonnaise for the first six ingredients. I prefer Primal Kitchen Mayo made with avocado oil. I love that you can easily pronounce all of the ingredients and it is sugar, gluten and soy free! Primal Kitchen is always having some kind of great promotion or you can get their products with free shipping with Amazon Prime. You can also get 10 percent off of your order at by using our discount code at Primal Kitchen, HNG10.
Is All Blue Cheese Dressing Keto?
Most commercially made blue cheese dressings have two carbs or less per serving making it generally keto friendly. For the reasons listed above though, I'd rather just make it at home. Once you start really reading the labels for commercially prepared dressing, you may be surprised. There are a lot of filler ingredients and preservatives to make things shelf stable. And certainly some have added sugar and many have crappy vegetable oils. If you're really interested in a "clean" keto, whole foods keto diet, I'd stay away from those as much as possible. Especially if you tend to eat a lot of salad like I do!
For example, Ken's Steak House Chunky Blue Cheese brand that's shelf stable lists its first ingredient as soybean oil…awful for you for many reasons as previously discussed. Lighthouse brand is found in the refrigerated section so you might think it's better. Its first ingredient is canola oil, also awful.
So here we are thinking we're eating a healthy salad, but then topping it with inflammatory oils. You can find prepared dressings that have real ingredients like Primal Kitchen. Unfortunately, they do not have blue cheese as of this writing.
Homemade Keto Blue Cheese Dressing
Another important consideration for your keto blue cheese dressing is the cheese itself. Choosing organic cheese whenever possible limits your exposure to pesticides, hormones and genetically modified organisms (GMOs). Raw cheese is even better if you can find it. It delivers good bacteria for a healthier gut and is more flavorful so you may eat less. The best cheese may be raw grass-fed organic. Grass-fed cheese has a level of CLA (conjugated linoleic acid) that is two to three times higher than grain fed cows. CLA is a powerful antioxidant that according to research may protect against cancer, heart disease and diabetes.
If you find some great raw blue cheese for your keto dressing, let us know! I was able to find organic but not raw for this recipe. It was still delicious.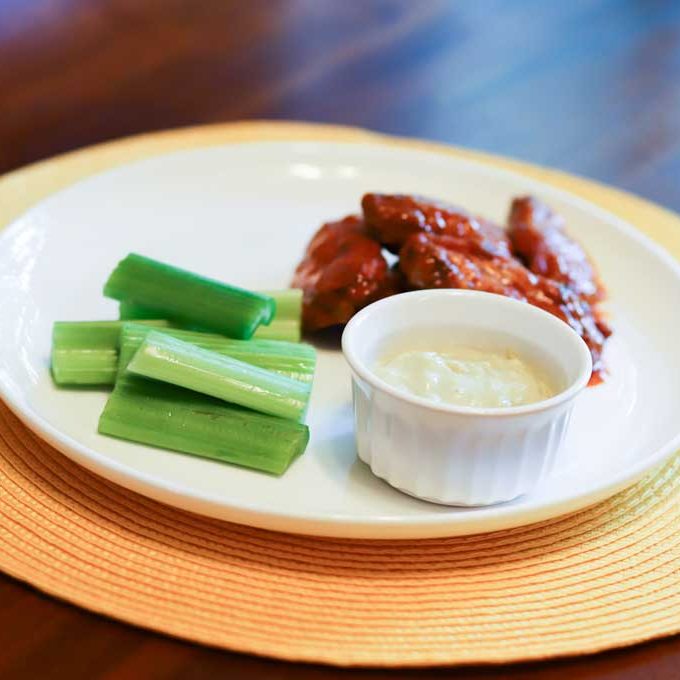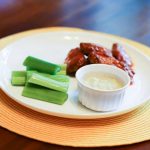 Print Recipe
Creamy Keto Blue Cheese Dressing
This Creamy Keto Blue Cheese dressing is made from scratch and is the perfect addition to our awesome Hot Buffalo Wing Sauce!
Instructions
Combine egg yolk, lemon juice, vinegar, mustard and salt in medium bowl. Whisk until bright yellow and completely blended, about 30 seconds.

Very slowly add the extra virgin olive oil to the egg mixture whisking constantly until thickened, about 5 minutes. Using an electric mixer makes this emulsion process easier.

Add remaining ingredients to the egg mixture and mix until smooth.

Serve with our tasty hot buffalo wings and celery or use it for your favorite salad.
Nutrition
Serving:
1
g
|
Calories:
173
kcal
|
Carbohydrates:
1
g
|
Protein:
3
g
|
Fat:
17
g
|
Saturated Fat:
6
g
|
Cholesterol:
53
mg
|
Sodium:
284
mg
|
Potassium:
44
mg
|
Sugar:
0
g
|
Vitamin A:
310
IU
|
Vitamin C:
1.2
mg
|
Calcium:
68
mg
|
Iron:
0.2
mg