This tangy keto blue cheese dressing recipe is perfect with our delicious Hot Buffalo Wing Sauce! Be sure to check out our keto wing sauce recipe to learn how to cook your wings for the best taste. We also reveal which restaurants in Cincinnati make the best tasting and keto friendly wings.
Why eat sauces and dressings with fillers, inflammatory oils, gluten and corn syrup when you can easily make your own at home? This recipe for keto blue cheese dressing is both easy and delicious. There is an extra step in the recipe to emulsify the ingredients for homemade mayonnaise. I chose not to use prepared mayonnaise for this recipe, but the taste and lack of unnecessary ingredients are worth the extra effort.
Disclaimer: Links below may contain affiliate links, which means we may get paid a commission at no additional cost to you if you purchase through this page. Read our full disclosure here.
Why Make Mayonnaise from Scratch?
To give you an idea about what's in your typical store-bought mayonnaise, let's take a look at Hellmann's Real Mayonnaise …does it crack anyone else up that "real" is in the name?!? Hellmann's is pretty much the most popular mayonnaise in the US. As you can see from the Amazon page, they like to advertise it as "made with real, simple ingredients like 100% certified cage-free eggs, oil and vinegar." Fair enough, since those ingredients are actually in the mayo.
However, the very first ingredient in Hellmann's is soybean oil. Soybean oil is often partially hydrogenated, genetically modified, full of phytosterols and contains a high amount of Omega 6.  Most Americans have an inflammatory Omega 6 to Omega 3 ratio. According to the NCBI,
Excessive amounts of omega-6 polyunsaturated fatty acids (PUFA) and a very high omega-6/omega-3 ratio, as is found in today's Western diets, promote the pathogenesis of many diseases, including cardiovascular disease, cancer, and inflammatory and autoimmune diseases, whereas increased levels of omega-3 PUFA (a low omega-6/omega-3 ratio) exert suppressive effects. In the secondary prevention of cardiovascular disease, a ratio of 4/1 was associated with a 70% decrease in total mortality.
Food manufacturers typically use soybean oil in processed foods because it's cheaper than healthier oils.
Making Good Dietary Fat Choices
I try to avoid soybean oil pretty religiously for the reasons mentioned above. Perhaps we'll dive into different types of oils and their detriments and benefits another time. The ketogenic diet is naturally anti-inflammatory but making sure you choose the right types of fats is important. Check our Complete Beginner's Guide to the Ketogenic Diet for more information on making the healthiest choices for your keto diet.
In the meantime, if you prefer to skip the step that makes the mayonnaise for the creamy keto blue cheese dressing, feel free to substitute about 1/3 cup high-quality mayonnaise for the first six ingredients. I prefer Primal Kitchen Mayo made with avocado oil. I love that you can easily pronounce all of the ingredients and it is sugar, gluten and soy free! Primal Kitchen has a promotion right now for its new sugar-free ketchup with a Whole30 starter kit. You can also get 10 percent off of your order by using our discount code, HNG10.
Creamy Keto Blue Cheese Dressing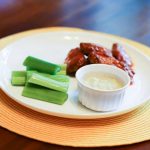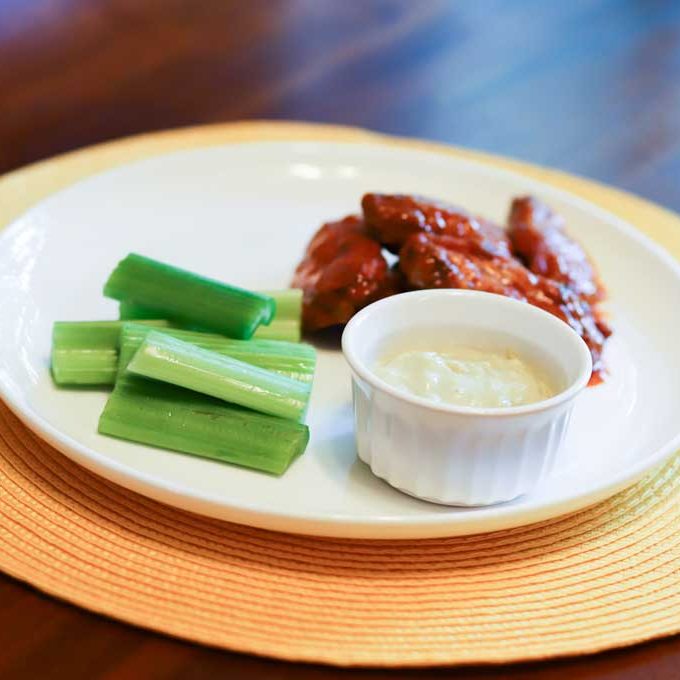 Creamy Keto Blue Cheese Dressing
Ingredients
1

large

egg yolk

1

tablespoon

lemon juice

1

teaspoon

white vinegar

1/4

teaspoon

mustard

1/4

teaspoon

salt

1/4

cup

extra virgin olive oil

2

ounce

blue cheese

6

tablespoon

cream cheese

softened

1

clove

garlic

3

dashes

Worcestershire sauce
Instructions
Combine egg yolk, lemon juice, vinegar, mustard and salt in medium bowl. Whisk until bright yellow and completely blended, about 30 seconds.

Very slowly add the extra virgin olive oil to the egg mixture whisking constantly until thickened, about 5 minutes. Using an electric mixer makes this emulsion process easier.

Add remaining ingredients to the egg mixture and mix until smooth.

Serve with our tasty hot buffalo wings and celery or use it for your favorite salad.
Nutrition Facts
Creamy Keto Blue Cheese Dressing
Amount Per Serving (1 g)
Calories 173
Calories from Fat 153
% Daily Value*
Total Fat 17g 26%
Cholesterol 53mg 18%
Sodium 284mg 12%
Potassium 44mg 1%
Total Carbohydrates 1g 0%
Protein 3g 6%
* Percent Daily Values are based on a 2000 calorie diet.