September 29, 2022
Keto Mayonnaise – Zero Carb Recipe
If you want an easy mayo recipe, this one definitely fits the bill! Not only is homemade mayonnaise much healthier for you, it's also very easy to make. This keto mayonnaise recipe has all the classic mayonnaise ingredients except for the crappy oils! If you're wondering if mayonnaise is ketogenic, the short answer is yes but read on for more tips about choosing the healthiest version without seed and vegetables oils.
This keto mayonnaise is a much healthier version since it uses monounsaturated fats like extra virgin olive oil or avocado oil. To get your homemade mayonnaise to taste as close to what you're use to in the grocery store, choose the lightest tasting oil you can find. You'll also notice in the photo below if you use a darker olive oil, the color of your keto keto mayonnaise may be slightly different than you're use to. To achieve the lightest color in your homemade mayonnaise, use avocado oil, which is virtually clear.
To make flavored keto mayonnaise, try an infused olive or avocado oil. I've used garlic and chili infused olive oils to make this recipe and both taste great!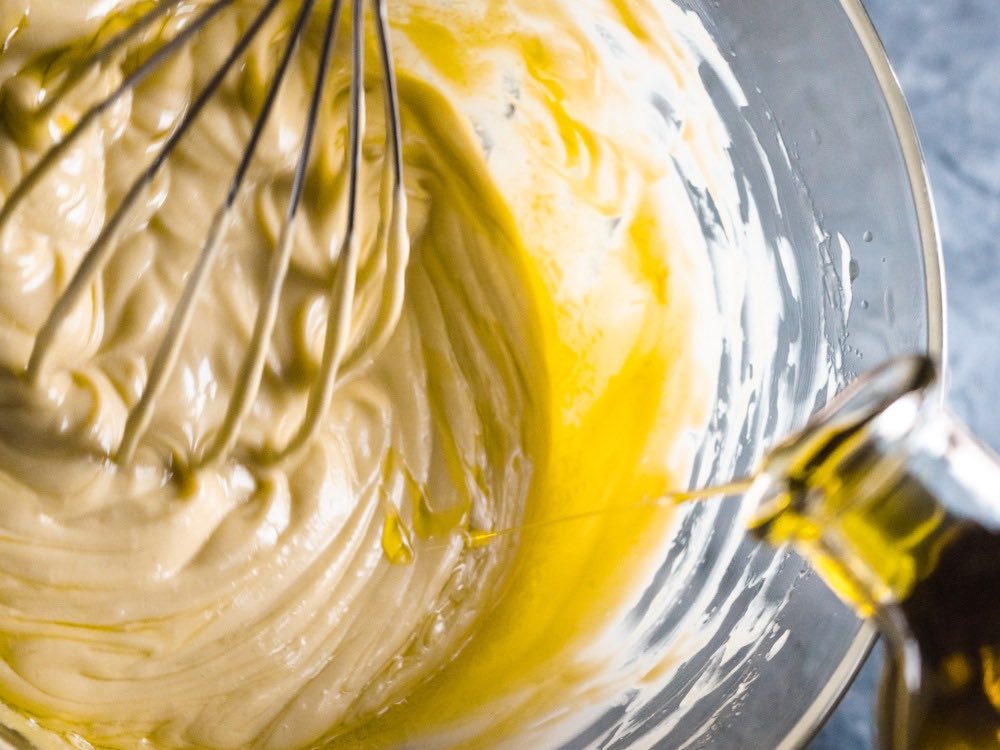 Why Make Mayonnaise from Scratch?
To give you an idea about what's in your typical store-bought mayonnaise, let's take a look at Hellmann's Real Mayonnaise …does it crack anyone else up that "real" is in the name?!? Hellmann's is pretty much the most popular mayonnaise in the US. As you can see from the Amazon page, they like to advertise it as "made with real, simple ingredients like 100% certified cage-free eggs, oil and vinegar." Fair enough, since those ingredients are actually in the mayo.
Disclaimer: Links may contain affiliate links, which means we may get paid a commission at no additional cost to you if you purchase through this page. Read our full disclosure here.
However, the very first ingredient in Hellmann's is soybean oil. Soybean oil is often partially hydrogenated, genetically modified, full of phytosterols and contains a high amount of Omega 6. Most Americans have an inflammatory Omega 6 to Omega 3 ratio. According to the NCBI,
Excessive amounts of omega-6 polyunsaturated fatty acids (PUFA) and a very high omega-6/omega-3 ratio, as is found in today's Western diets, promote the pathogenesis of many diseases, including cardiovascular disease, cancer, and inflammatory and autoimmune diseases, whereas increased levels of omega-3 PUFA (a low omega-6/omega-3 ratio) exert suppressive effects. In the secondary prevention of cardiovascular disease, a ratio of 4/1 was associated with a 70% decrease in total mortality.

https://www.ncbi.nlm.nih.gov/pubmed/12442909
Commercial mayonnaise preparations usually contain seed or vegetable oils (like soybean or corn) that are not optimal for health. Not only are most soybean and corn oils full of GMO vegetables, they're also very high in omega-6 fatty acids. So not only is this keto mayonniase much healhier for you, it's also easy to make.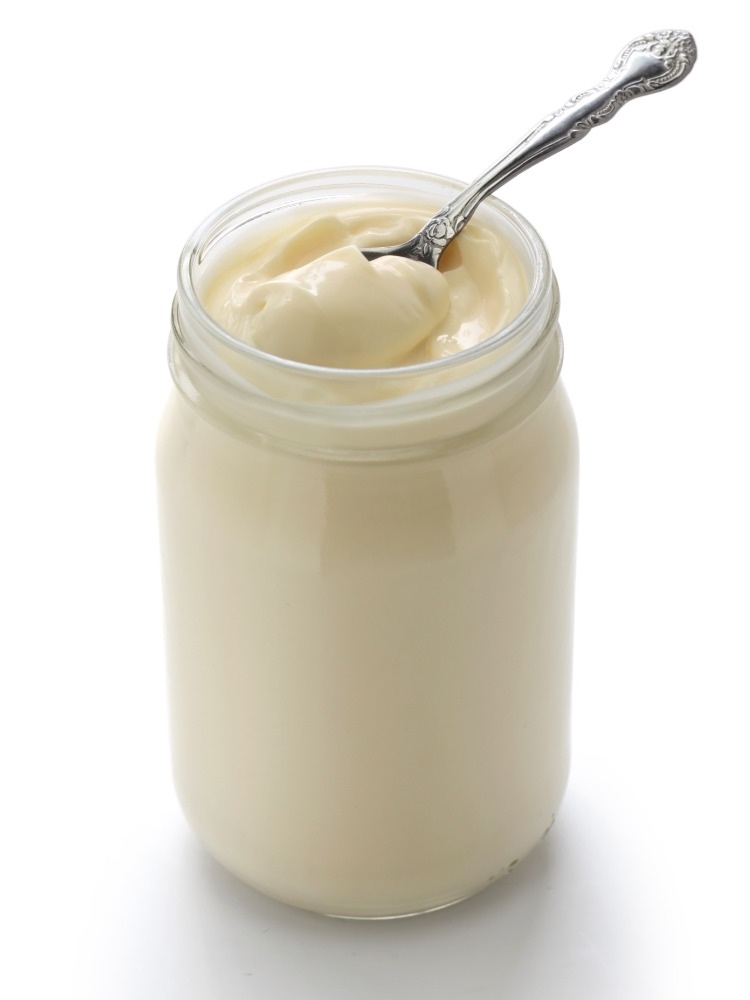 Food manufacturers typically use soybean oil, canola and other seed or vegetable oils in processed foods because they're cheaper than healthier oils like olive and avocado. Yet these highly processed seed oils are hypothesized to be causing much of the inflammation and metabolic dysfunction in our population.
Healthier Mayo Options
If you prefer to use commercially made mayonnaise, I like Primal Kitchen Mayo made with avocado oil. It has clean ingredients and is sugar, gluten and soy free! Primal Kitchen has lots of sales, or you can get their products with Amazon Prime. Get 10 percent off of your order at by using our discount code at Primal Kitchen, HNG10.
faq
Is Mayonnaise Ketogenic? Is Mayo Keto?
Mayonnaise is very ketogenic. It's virtually zero carb and generally doesn't have any additives you need to worry about when you're following a keto diet. However, if you're not making keto mayo from scratch, be sure to look for brands that use avocado or olive oil instead of seed or vegetable oils.
Can You Eat Mayonnaise on a Keto Diet?
Yes, you can eat mayonnaise on a keto diet. Negligible carbs come from the seasonings added, but it's just about as close to zero carb as you can get. However, if your goal with keto is weight loss, be sure to keep an eye on your mayonnaise intake as it does still have a significant number of calories.
How Many Carbs in Mayo?
As long as you're talking about a basic mayonnaise, it generally has zero carbs. If however, you're using some kind of flavored mayonnaise, definitely check the label. Some flavored mayonnaise use sugar and vegetables that can significantly impact the carb count.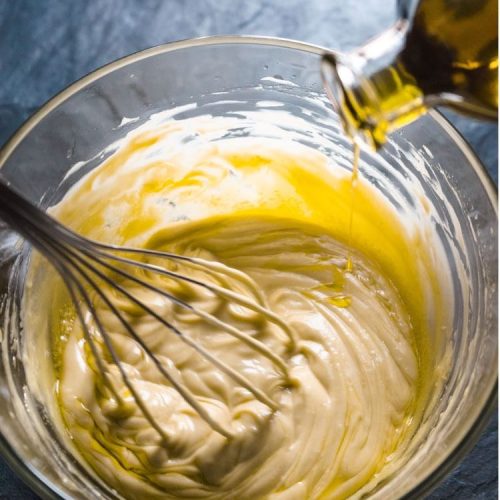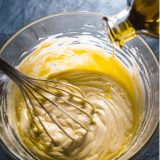 Print
Ingredients
1

large

egg yolk

,

room temperature

1

tablespoon

lemon juice

,

fresh

2

teaspoons

distilled white vinegar

¼

teaspoon

mustard powder

¼

teaspoon

salt

1

cup

extra-virgin olive oil,

or avocado oil
Instructions
In a small bowl, whisk together the room temperature egg yolk, lemon juice, vinegar, mustard, and salt. Whisk until frothy.

Whisking briskly and constantly, begin drizzling in the oil a few drops at a time. Once the mixture starts to emulsify and thicken, add the oil in a thin, slow and steady stream. Continue whisking and slowly adding the oil for 3 to 5 minutes, until all of it is incorporated and the mayonnaise has thickened.

Store in a glass container in the refrigerator for up to 4 days. You can use immediately, but it thickens with refrigeration.
Notes
While you can easily make keto mayonnaise by hand with a whisk or hand mixer, a stand mixer is useful so your hands are free to easily stream in the oil.
Nutrition
Serving:
16
tablespoons
Calories:
123
kcal
Carbohydrates:
0.1
g
Protein:
0.2
g
Fat:
14
g
Fiber:
0.01
g
Net Carbohydrates:
0
g
Did you make this recipe?
Be sure to tag @healnourishgrow on Instagram to be featured in our stories or our newsletter! We love it when you make our recipes and share with your friends.