November 27, 2020
Low Carb Keto Holiday Gift Guide Christmas 2020
Wondering what kind of keto gifts will be popular this 2020 holiday season? Last year we gave you some great ideas for keto Christmas and holiday gifts, and be sure to check out our keto gift guide for 2021. All of the lists include gifts that are perfect no matter what year it is. This holiday keto gift guide is totally appropriate for year-round gifts! Basically, if you want to support loved ones following the keto lifestyle and/or give your family some great ideas for gifts for you, this is your list.
Whether you choose to be keto or not, reducing sugar, focusing on whole foods and cooking at home more is always a good idea. This means all of these keto Christmas gifts are perfect for the non-keto people in your life as well!
Disclaimer: Links may contain affiliate links, which means we may get paid a commission at no additional cost to you if you purchase through this page. Read our full disclosure here.
7.

Air Fryer

No keto gift guide would be complete without an air fryer. The air fryer continues to be popular all over the foodie Instagram world. I started out with a basket style air fryer, but the capacity made it difficult to make larger items or big batches of buffalo wings.

The basket-style air fryers start around $60 while the oven style varies in price starting at about $120.

I purchased an oven style air fryer from GoWise to replace my basket fryer and I'm extremely happy with it! The company is based in the US and has several great models. The one I have even acts as a dehydrator as well so you can make your own keto-friendly jerky if you're into that.

However, if you're in the camp of go big or go home, you can now get an air fryer as large as 26 quarts!
6. Keto Gift Idea: Keto Snacks
People often wonder what they can have for snacks on keto. The longer you practice a keto lifestyle you'll find you're not as hungry between meals since your blood sugar is no longer all over the place. However, it's still nice to have keto-friendly snack options on hand so you don't go off the rails when you happen to get the munchies.
If you're a chocolate lover, you need ChocZero in your life. I've been enjoying this brand for a few years now and not only is it tasty, it doesn't raise my blood sugar. This year they added advent calendars and they always make new, seasonal goodies you can enjoy. No matter what time of year it is or what sales they're having, you can always use code HEALNOURISHGROW at checkout to receive an extra 10 percent off.
One of my favorite places for all kinds of keto snacks is Explorado Market. The Fat Fit Go chocolate nut butter they sell is dangerously good. So good you might have to buy yourself a snack lockbox to keep it out of easy reach. What's a snack lockbox you ask? Well, it's a handy little tool if you don't have self-control with certain food items. Set the timer for 24, 48 hours etc. and it won't open until then. They're also great for easily enforcing device time outs.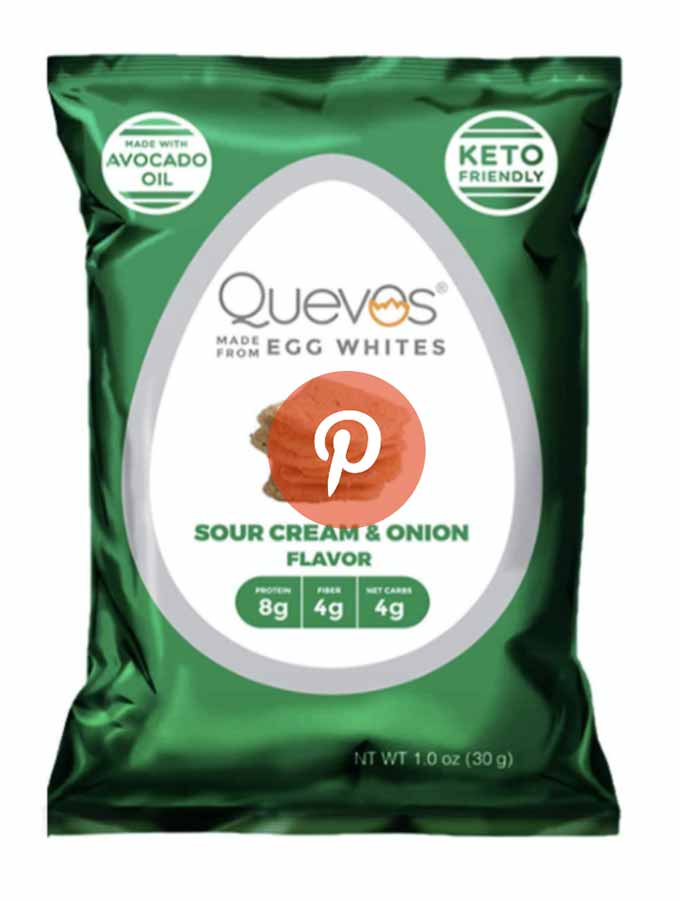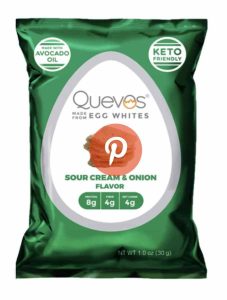 A bit of a detour there, but back to the snacks!
Explorado also sells baked goods including cookies, cupcakes and donuts. Or, buy their keto-friendly flours and sweeteners if you want to make your own keto baked goods.
The great news is, you can get 20 percent off of your order by using HEALNOURISHGROW20 at checkout. I love their company and have been using their products for a few years now.
For discounts on all kinds of other awesome keto products, be sure to check out this page.
Salty/Crunchy Keto Snacks
Pork King Good pork rinds are a perfect replacement for all of the crunchy, carby, salty snacks people crave. Their flavors are the best I've tried and I especially love their new stupid hot flavor. If you're not a hothead though, the salted butter and green onion flavors are also delicious. I usually just get the variety pack on Amazon so I can have them all.
Another great chip like keto substitute are Quevos. They're made from egg whites and quite tasty.
Personally, I'm not a huge jerky or meat stick fan BUT. If you are, People's Choice Jerky is one to consider. The jerky was ok…but like I said, I'm not a jerky fan. However, the beef sticks were legitimately tasty! Great to have around if you're still in a phase where you need healthy snacks or if you want a camping/hiking friendly snack.
5. Keto-Friendly Gift Boxes
There are certainly lots of gift boxes out there we could use for this keto gift guide and if you avoid food items, most would be keto-friendly. However, there are a few keto-specific boxes that I absolutely love.
My very favorite brand for this idea is Dry Farm Wines. I've been getting their boxes now for a couple of years. They were on the keto gift guide list last year too but they absolutely deserve to be! I've gifted Dry Farms many times and people always fall in love with it. You can give the gift that keeps on giving with a subscription or simple send a one time gift.
They always have great keto-friendly red and white wine along with some seasonal picks as well. For example, they have some rare orange wines right now in honor of Halloween. I already have mine on order and can't wait to try them.
An entire bottle of Dry Farm Wine has less than a gram of sugar and is tested to be free of the contaminants present in conventional wine.
Go read our full review on Dry Farm Wines. You'll get some education on wine in general and learn all about why they're such a clean brand. You can also get an extra bottle of wine for just a penny by purchasing through this link.
Food Subscriptions and Boxes
Next on the list of subscription boxes is Fulton Fish Market. They carry a wide variety of seafood and plenty of wild-caught options. You can also get 15 percent off and free shipping on your order of $150 or more by using code HNG15 at checkout. Sizzlefish is another great place for seafood and you can get 10% off through my link.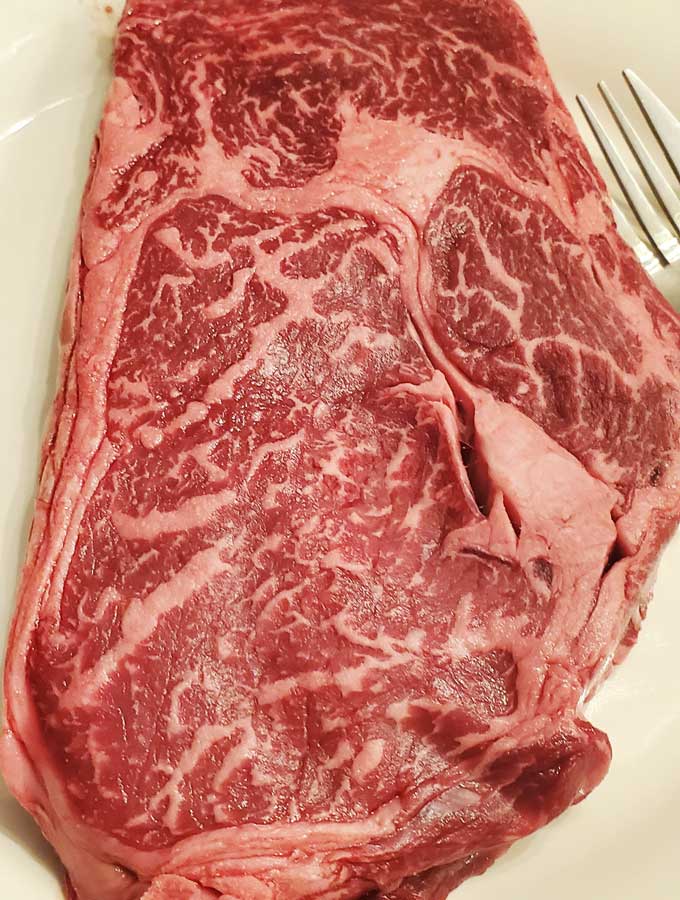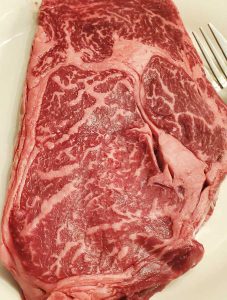 Next on the list for subscription boxes is Crowd Cow. This is a great holiday gift idea whether the person on your list is keto or not! And if you're not sure exactly what your friend wants to eat, they do gift cards too.
Their objective is to go outside of the U.S. commoditized meat system and bring high-quality, healthy craft beef and meats from farms and ranches around the world.
One of their rare specialties is Wagyu and olive Wagyu in particular. If you're looking for a very special keto Christmas gift, this definitely fits the bill! It's not cheap but oh so amazing and you do get $25 off your first order with our link.
Finally, I'd like to introduce you to US Wellness Meats. This is a new favorite since we've been trying to add more organ meats after reading The Carnivore Code, which incidentally, could be another good gift idea for health-conscious people on your list. I just got their beef liverwurst recently in an effort to get more organ meats in my diet. You can learn more about the importance of that by reading the book.
All of the beef at US Wellness Meats is grass-fed and finished. They also offer heritage pork, wild seafood and other sustainably raised meat.
4. Supplements
If you haven't seen my article on exogenous ketones yet, go check it out. What started as an experiment is now an obsession. I'm now on my 469th day of drinking exogenous ketones and there is only one brand I stand behind and recommend. This is a great gift for any health-conscious friend and the best news is that anyone can use them! You don't have to be eating keto to benefit from these, although you know I strongly believe everyone is healthier when following a low carb lifestyle.
Please read the full article to learn about all of the results, but the conclusion is that I experienced benefits from this supplement while already being on a strict keto diet. If you're not super strict with your carb intake or don't practice keto at all, you might notice the benefits even more.
There is a ton of research on exogenous ketones and plenty of health applications including neurological diseases, depression, appetite suppression among others.
Pop over to the article to learn more or click here for the drink ketones challenge 10-day pack at a special introductory price. This is the absolute best option for a gift since you can try a variety of flavors and get a plan and resources to kick off your new healthy lifestyle.
Even if we know they're some of the most nutrient dense and good for us foods, a lot of people just won't add organ meats to their diet. Fortunately, there is another way you can get these nutrients without actually having to eat them. Dr. Paul Saladino, author of The Carnivore Code mentioned above, started Heart and Soil. This company sells desiccated organs in pill form, a much easier way to get your organ meats if eating liver, kidney and heart just isn't your thing.
3. Keto Gift Idea: Ketone Meter
Like many keto tools and treats, ketone meters aren't necessary But unlike a lot of Christmas gift ideas, they are actually very useful. If you keep your total carbs at 20-30 a day your likely in ketosis. However, if you'd like to learn more about your personal carb tolerance or what specific foods do to your ketone levels, a blood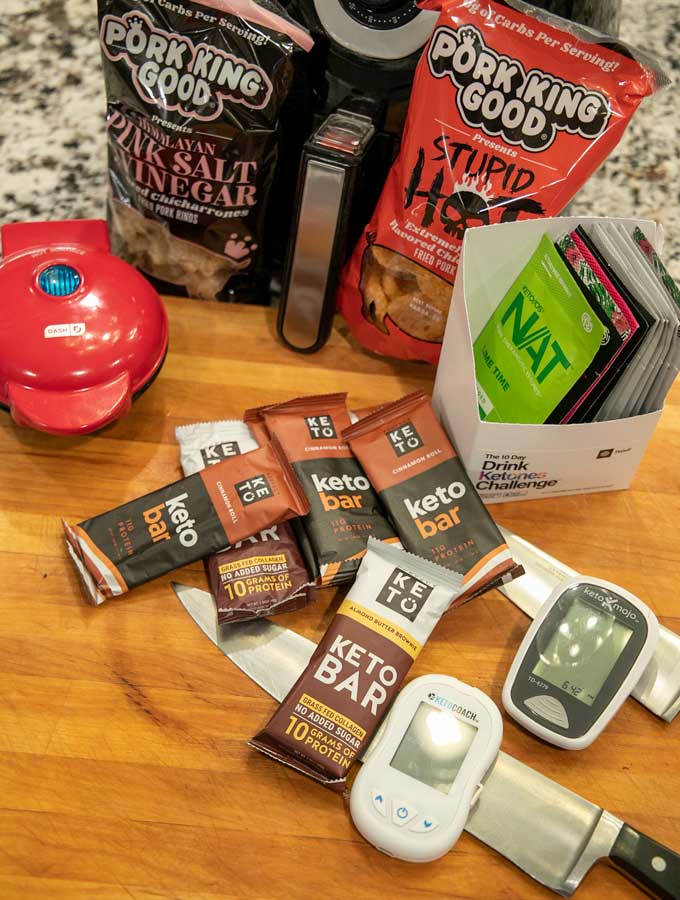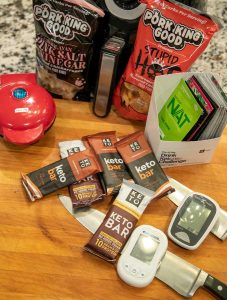 glucose meter is definitely the way to go.
The ultimate in glucose monitoring is a continuous glucose monitor. This handy little device monitors blood sugar 24/7 for two weeks at a time. It's great to see how certain foods, sleep and stress affect blood sugar outside of a traditional two-hour post-prandial window.
I've tried the Nutrisense service a few times now and have gotten some great insights! A prescription is needed to get the device, but the great thing is that Nutrisense takes care of all of that for you. Receive $20 off with code HNG20 at checkout.
You can also use it along with a glucose meter to test your GKI or therapeutic level of ketones vs glucose. The KetoMojo is a combined ketone and glucose meter while KetoCoach only tests ketones. The KetoMojo link automatically gives you 15 percent off a kit at checkout and use HNG10 at KetoCoach for 10 percent off.
KetoMojo recently came out with a big update that syncs with your phone and reduced the cost of their strips. If you own an old meter, you can even trade it in and get a big discount on the new one.
2. Workout Gear and Tools
Having great workout gear can be an inspiration to work out. If you look good you feel better! Fun workout gear might even make you more likely to work out and I know we could all use that little extra push.
A new brand that's on my radar lately is SweetFlexx. I just bought two pair to test out this winter. My initial impression is that they are comfortable and fit well. The technology of this brand is based on adding resistance to your leggings! According to their study, wearing their leggings for a day is the equivalent of 30 minutes in the gym. I haven't worn them enough yet to attest to that claim, but the idea certainly makes them more interesting. You can use code HEALNOURISHGROW at checkout for 15 percent off.
I recently heard an interview with the inventor of the X3 bar who claims it can get your stronger three times faster than weightlifting with just one simple tool. The science seems sound and the inventor definitely has strong opinions and strong biceps. I haven't tried this tool yet but it's definitely on my gift list for this year!
And the #1 Keto Gift Idea???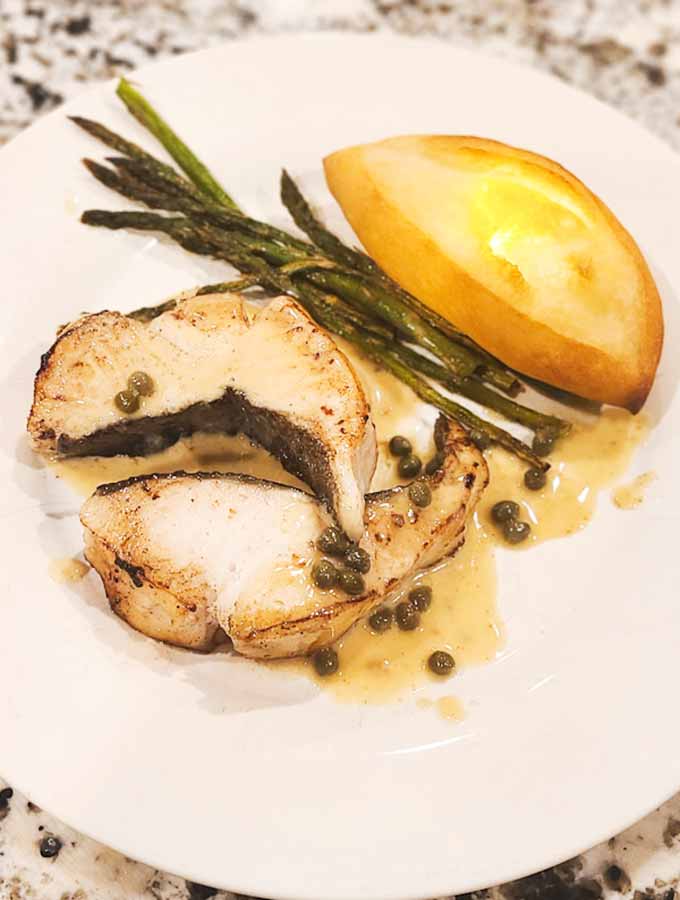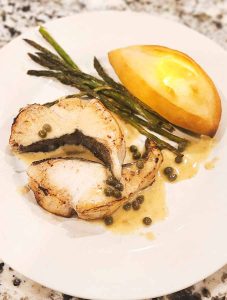 I'm choosing the Pampshade as my number one keto gift pick for 2020! So what in the world is a pampshade you ask? It's a beautiful piece of art, made out of something that was once edible. When my designer friend Corey shared this product with me, I couldn't get over the irony of how perfect this is for keto lovers.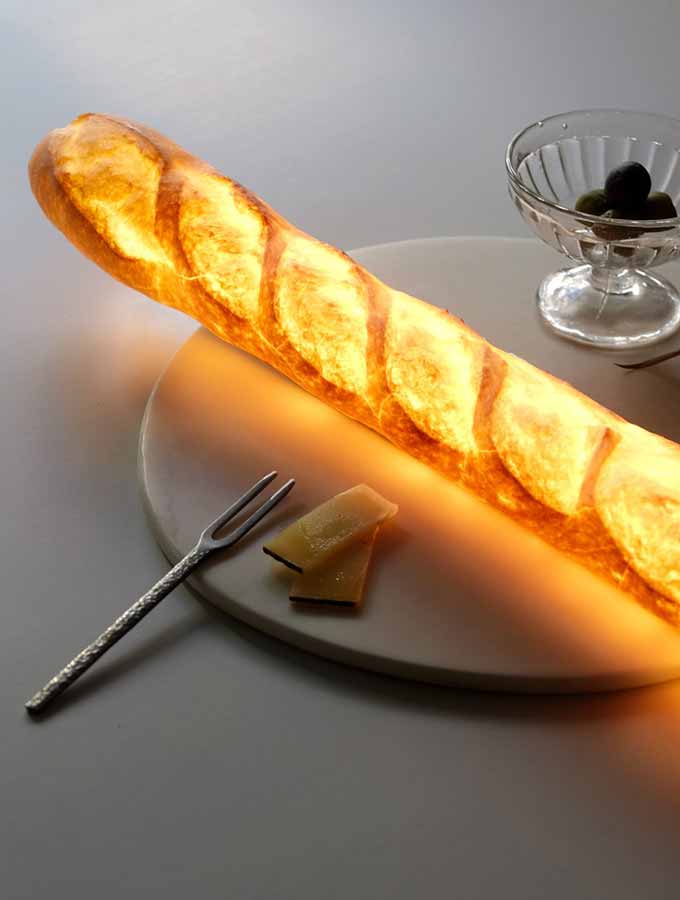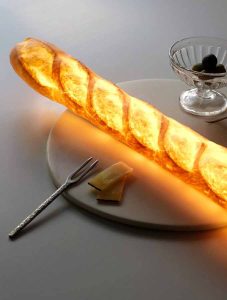 Now we can finally have our traditional, artisanal bread and NOT eat it too.
The pampshade is made out of real bread that is hollowed out, shellacked and has a light placed inside. It's easy to turn on and off just by placing on a counter or plate. I was so amused by the idea keto people having a remnant of their former life around as a piece of art that I couldn't help making this my number one pick for the 2020 keto gift guide.
Last year, my number one keto gift idea was the Chaffle Iron! I still love this tool and use it every week.
This adorable little $10 waffle iron absolutely exploded on Instagram when people got into the chaffle craze. Some of them are listed for $15 but the cute red one is $10. They even have them at my Target right now, prominently displayed right when you walk in. One of them had the cutest little gingerbread man imprint on the iron but I already have two of these so I restrained.
I made an experiment video right after I originally got mine.
The follow up on making the perfect keto chaffle bun was not nearly as popular a video but more precise measurements and instructions.
I still love this gift idea for anyone and you can include the following instructions on a gift card.
Plug in the waffle iron to heat. Beat one egg with a dash of salt. Lightly spray waffle iron with favorite spray oil. Add one tablespoon of your favorite shredded cheese to the iron. Add half of the egg mix or just enough to coat the iron and top with another tablespoon of cheese. Close iron and be patient. Crispy waffles take a little longer but the overall time is about 90 seconds or two minutes and 30 seconds for crispy chaffles. This recipe makes two chaffles and uses one egg and four tablespoons of shredded cheese total.
Chaffles are life-changing. You can use them as a bun or eat them like a regular waffle with sugar-free syrup or other toppings. Even though they are made with cheese and no flour, they taste remarkably like a real waffle I love using them as a bun and you can make a whole bunch at once and freeze them for yummy chaffle goodness anytime you want them.
Know any photographers? Here is another great gift guide that offers some nice ideas.