September 9, 2022
Vagabond Tour Settles in Big Sky Montana
If you have no idea what the heck is going on with this "vagabond tour" start by reading this. The short version is we're homeless by choice and renting in several places across the country while waiting for the housing market to settle. So far we've been to see some family in Michigan and Chicago, got our kids settled at Marquette and Cluver, and drove cross country through South Dakota where we visited Mount Rushmore, Badlands National Park and Deadwood. We're now settled in at Big Sky Montana VRBO fishing cabin on the Gallatin and are thoroughly enjoying figuring out things to do in Big Sky, Montana. So far we've been exploring the numerous hiking trails in Big Sky after work and on the weekends, finding grocery stores (because you know I still have to cook), while also enjoying some of the best restaurants and of course, fly fishing.
Big Sky Montana VRBO
This is a hot topic for us since we're currently homeless by choice and staying in VRBO and AirBnB around the country. Our current Big Sky Montana VRBO rental is a little fishing cabin right on the Gallatin. It's nothing fancy, but it's working just fine for us. We wish the internet were a little faster since we're both working out here, but aside from my uploads it's functioning well enough.
We've had no problems using VRBO and really like it for these longer term rentals, although we've used them for shorter stays as well. If you can't get out of town, they're a really nice option for a staycation! One nice thing about a longer rental though, is that there is generally a discount when you stay at least 30 days.
If you're looking for a Big Sky Montana VRBO that's luxurious, be sure to check out this one. It's absolutely amazing, perfect for a big crew and it's ski in, ski out!
Disclaimer: Links may contain affiliate links, which means we may get paid a commission at no additional cost to you if you purchase through this page. Read our full disclosure here.
Big Sky Montana Things to Do
Snowboard or Ski Lone Mountain
Since we're typically here in the winter, our favorite thing to do in Big Sky by far is snowboard. However, that's still a couple of months away, so we're enjoying summer and fall activities right now. If you come in the winter though, riding or skiing Lone Mountain is a must! I've been lucky enough to snowboard all over Europe, the US, Canada and even Australia, but Big Sky always has a special place in my heart.
I took up snowboarding at 40 (GASP) and learning at Big Sky was a pleasure. They have one of the best beginner areas I've seen and the teachers are great whether you're an adult learner or child. Both of our boys learned here and they always enjoyed ski school for the day.
But Lone Mountain at Big Sky isn't just for beginners, it's got something for everyone. The intermediate terrain is fantastic and the expert terrain is thrilling. One of my favorite spots for riding in the trees is near the Shedhorn lift. On a board it's pretty excruciating to get to it via Cow Flats (you can guess why) but if you access the area from the top of Lone Peak it's a breeze. Getting to Lone Peak will be even easier this year with the addition of the new Lone Peak tram.
Things to Do in Big Sky Montana Summer
Big Sky to Yellowstone
Perhaps one of the most popular summer activities for Big Sky Montana is to visit Yellowstone National Park. It's an easy and high speed limit drive on 191 from Big Sky to Yellowstone. You can reach the west entrance of the park in just under an hour. We've done this numerous times in the past and always love Yellowstone, as well as national parks in general. In addition to all of the amazing sights there, it's also a fantastic place to go fly fishing.
Big Sky Montana Fly Fishing
Speaking of fly fishing, Big Sky Montana is right in the middle of one of the most famous trout rivers, the Gallatin. It was featured in Robert Redford's movie, A River Runs Through It. If you want to go fly fishing on the Gallatin, Big Sky Montana is a great home base. You can do what we did and rent Big Sky Montana VRBO cabin right on the river for easy access or no matter where you stay, there are plenty of turn offs and access points all along 191 so you can easily find a spot to fly fish on the Gallatin from wherever you choose to stay.
There are also several lakes around and creeks flowing into the Gallatin that could provide good fly fishing. If you're into hiking and fishing, some of these options could be great for you. Be sure to check out Hellroaring and Lava Lake if you want to get in your exercise and fishing at the same time. Overall, fly fishing is one the the best things to to in the Big Sky Montana summer.
There are plenty of fly fishing outfitters and guides in the Big Sky area. While I can't attest to all of them since we've only taken the time to visit one so far, I thought Wild Trout Outfitters did a great job. They helped get my new pole set up when we first got here and gave some good advice on what bugs have been working on the Gallatin lately. They also offer wading and float trips, which we may still try to do before we leave.
Big Sky Montana Closest Airport
Getting to Big Sky Montana by plane is easy. The closest airport is Bozeman (BZN). We've mainly flown here on Delta and United from Cincinnati. Your best airline option will vary based on where you are flying from. Other airports that are close to Big Sky Montana include Jackson, WY, Billings, Mt and St. Helena, MT. When we've been trying to get out here using miles, these are all close enough to consider driving with the furthest being Jackson.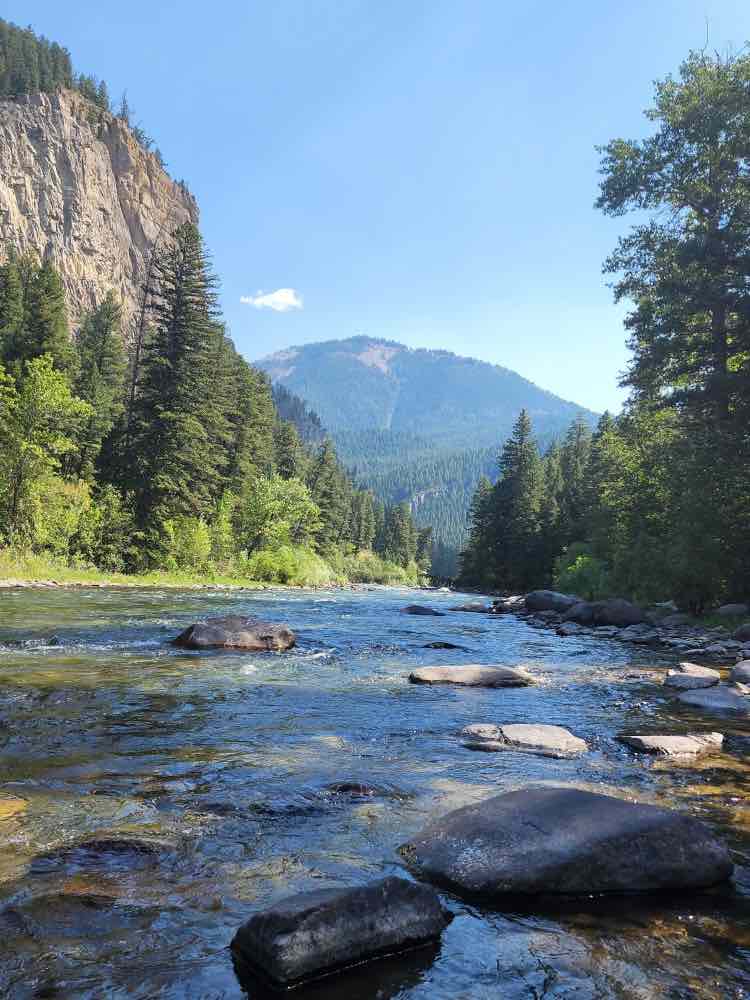 The drive from Bozeman to Big Sky is very scenic and takes just about an hour. You drive through the canyon along the Gallatin River to get to Big Sky. Once you get to the turn off, the town of Big Sky is just about two miles in with the resort being about an additional 15 minutes up the mountain.
Big Sky Montana Best Restaurants
There use to be a few more options for restaurants in Big Sky before the pandemic. Like many places, a few restaurants shut down in 2020-2021 but there are still several good ones left.
My top pick for the best restaurant in Big Sky right now is Horn and Cantle at the Lone Mountain Ranch. We've been there a few times over the years and always have an amazing meal. Their menu changes but everything is delicious and features local products.
Other best restaurants in Big Sky have been around a long time and are quite reliable. Buck's T4 on 191 is about 20 minutes from the mountain and 45 minutes from Yellowstone. They feature wild game and steaks as well as a skillet cookie that our boys were obsessed with. Wild Caddis at the Rainbow Ranch sits on the Gallatin and is also ranch to table.
I'd be remiss if I didn't add our latest discovery, Olive B's. It's been around for at least a few years, but we had never eaten there until last night. I had a Blue Cheese Creme Brulee that was absolutely life changing! I'm already planning to create a version for Heal Nourish Grow inspired by this dish, so be sure to sign up for the newsletter if that sounds good to you.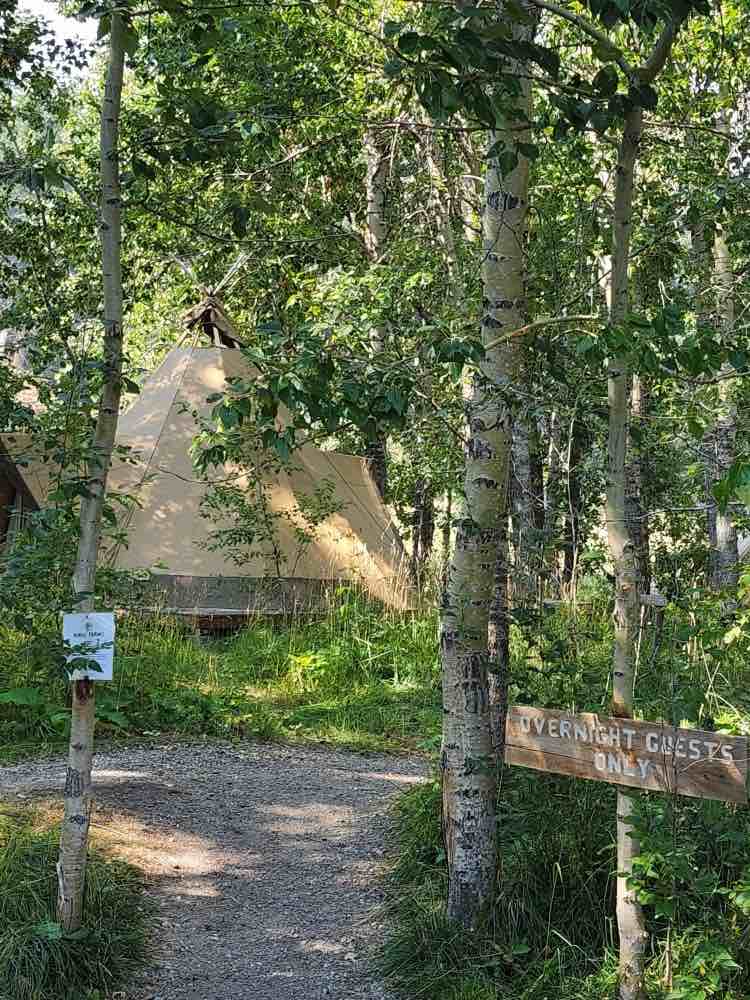 Another cool new find was Bodhi Farms field kitchen. It's a very small menu but the food was delicious. You can also stay there in teepees.
Blue Cheese Creme Brulee may sound strange, since we traditionally think of Creme Brulee as sweet, but this savory version knocked it out of the park with a hint of sweet crust. It was perfectly paired with lightly dressed arugula and a hint of sweetness from fresh pears.
While there aren't a ton of restaurants in Big Sky, the best restaurants here are exceptionally good!
Big Sky Montana Hiking
Hiking in Big Sky is maybe my favorite summer activity. So far we've done Hellroaring twice, Lava Lake (this was amazing), Ousel Falls, our old favorite Beehive Basin and the Reflector Loop. I like to use AllTrails to get the scoop on difficulty and length (links right to Big Sky Montana Hiking) as well as read what other people have to say about certain hikes.
The only negative about hiking in Big Sky is bears. Montana is home to about 10,000 black bears and 2,000 grizzlies. You should never hike in Big Sky without bear spray. Just this week two experienced outdoors man narrowly escaped a grizzly encounter. The main things are make some noise so you don't scare them and have your bear spray easily accessible. Learn more about bear safety and what to do in an encounter, go here.