August 29, 2022
Travel Blog USA: Chicago, Marquette, Culver and South Dakota
The vagabond tour for this travel blog USA series continued this week mainly in Illinois, but with several side trips along the way and some attractions in South Dakota. We of course had to stop in my husband's home town of Saginaw to see his mom before continuing on to stay with his brother in Chicago. We both love Chicago and it's been a few years since we've spent time there.
It was great to catch up with Peter's brother although we only go to see one of our nephews briefly. With everyone headed back to school the house was quite empty. They've lived in the Lincoln Park area for a while and it's a great neighborhood. There were plenty of restaurants to walk to within a mile and at night we would take an Uber for a few miles to enjoy the downtown area. We checked out a few new restaurants while we were there as well as visiting and old favorite rooftop bar at the Park Hyatt. We also took a sunset cruise on the Chicago river which gave us a great view of the Chicago skyline.
Kids at School
On Friday, we drove to Milwaukee to see our oldest at Marquette. If you know anything about how teenagers communicate, you'll understand why we didn't really get to see him for more than two minutes on Friday. However, we did get to check out the Third Ward area of Milwaukee while we were there, which was full of good bars and restaurants.
Travel Blog USA
Also on Friday, we drove back through Chicago and down to Culver to see our youngest in his second game as starting quarterback. Although they didn't win we were glad to see him play again before heading west. Fortunately, we can watch on YouTube while we're away. Then it was back to Chicago for the night for a total of about 6 hours driving on Friday just to end up back where we started.
Saturday morning began with a trip back up to Milwaukee so we could actually see the oldest before we started the "real" drive for the day. After a diner breakfast at a Marquette classic, we finally started the trek west. About seven hours later we were in Sioux Fall, SD. Neither of us have ever been in South Dakota before so now that can be checked off our list. It depends on how you track your states, but I keep my "states visited" list to ones I've actually spent a day in, so now I have about 12 left.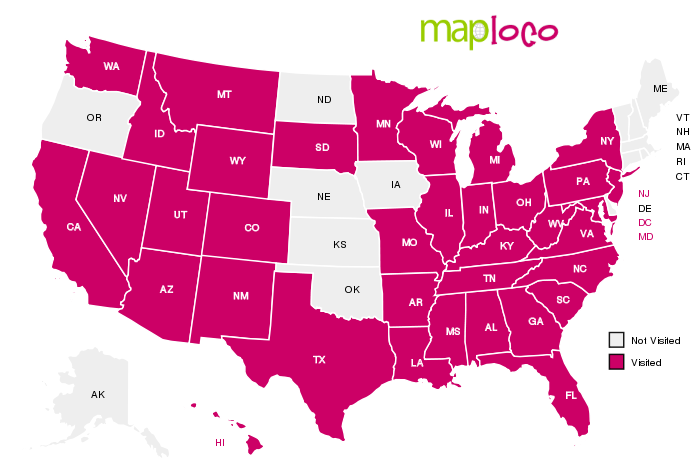 Create Your Own Visited States Map
Attractions in South Dakota
There were some interesting oddities to see along the way. We missed the Spam Museum, but did stop in Blue Earth to see the Jolly Green Giant. I don't ever remember seeing as many signs for roadside attractions as in South Dakota. No USA travel blog would be complete without seeing at least some roadside oddities! Once in Sioux Fall, we of course had to briefly go see its namesake before heading to the hotel. The Sioux River was looking a bit low so the falls weren't as full as you see in pictures.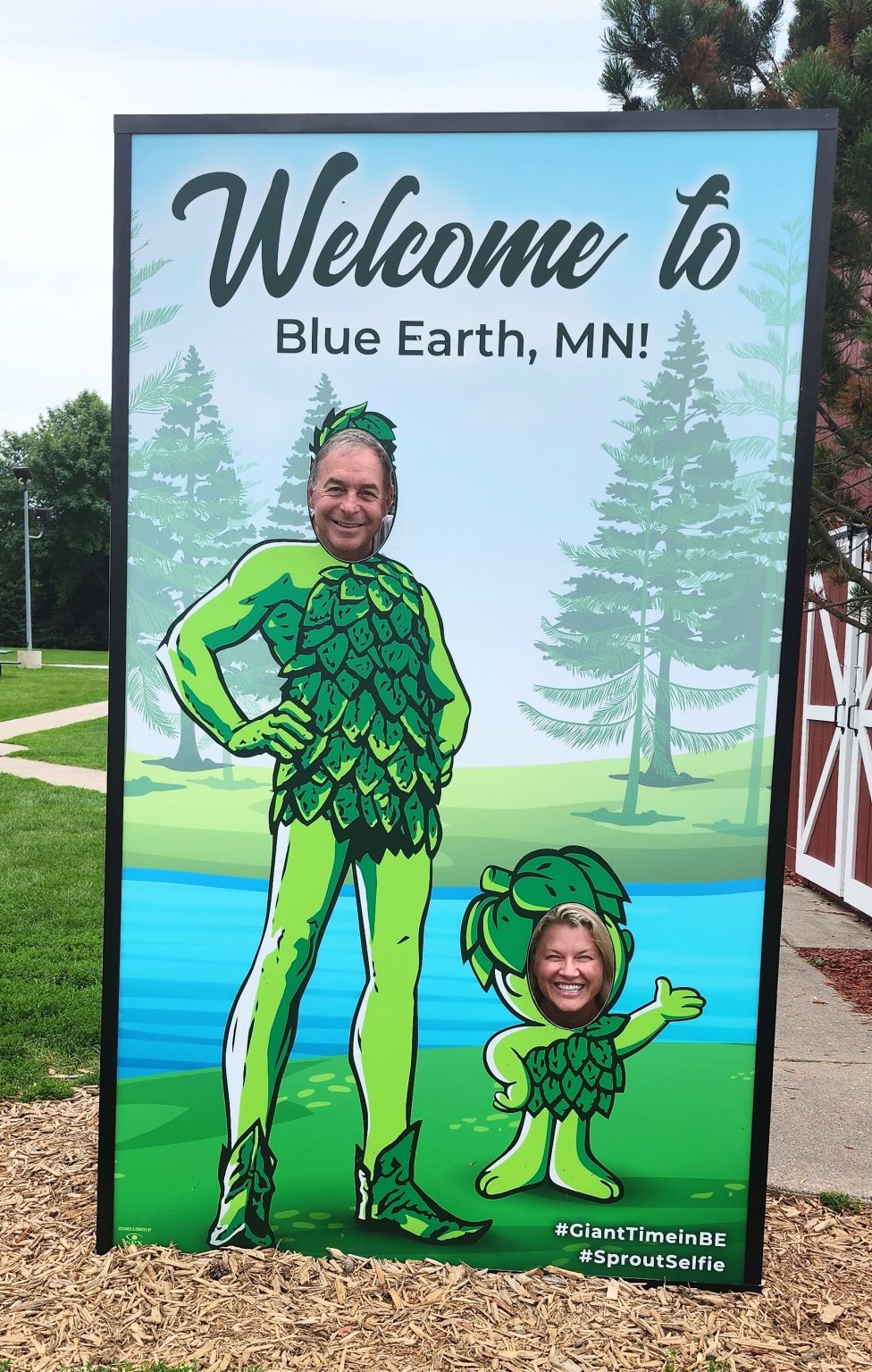 After a night in a hotel we got back on the road this morning. Somehow we missed the Corn Palace along the way. This would have been another silly roadside attraction to check off the list. We were quite focused on the main attractions today though which are Badlands National Park and Mount Rushmore. I'm quite obsessed with national parks.
Part of the way I entertain myself on the road is to look up facts about what we're about to visit. If you've ever wondered how the Badlands got its name, it was dubbed that by the Lakota who called it "mako sica" which translates to "bad lands." The terrain is rocky and dry which made it difficult for them to travel the land.
Mount Rushmore
Our second stop, Mount Rushmore, was completed in 1941 and has a tumultuous history. It located on land that the Lakota Sioux consider sacred. It was conceived as an idea to bring tourists to South Dakota.
Although we enjoyed seeing both of these, my favorite was definitely the Badlands. After a long day of driving we ended up in Deadwood, SD. This is an old west town where Wild Bill Hickok was killed on August 2, 1876. He was in in Nuttal & Mann's Saloon playing poker when Jack McCall shot him from behind. There's no killing on Sundays, so yesterday was just visiting some of the saloons and having dinner at Maverick's Steakhouse.
Today all the killing is back with three gunfights throughout the day, so you know where I'll be this afternoon. Gotta take in all the kitsch while you can! I'll definitely share more about that later.
Read about how and why the vagabond tour started and about the first leg of it here.