October 1, 2022
On the Road Again
The day we were flying back to Montana we looked at a house. I had gone the day before without Peter to check it out being 70 percent sure it wasn't going to work. But it was actually very cool, much better than expected and we went back together to check it out the next day right before we got on the plane. It turns out that one day delay probably cost us the house. At least we had a beautiful hike starting at Storm Castle Peak Trailhead to console us.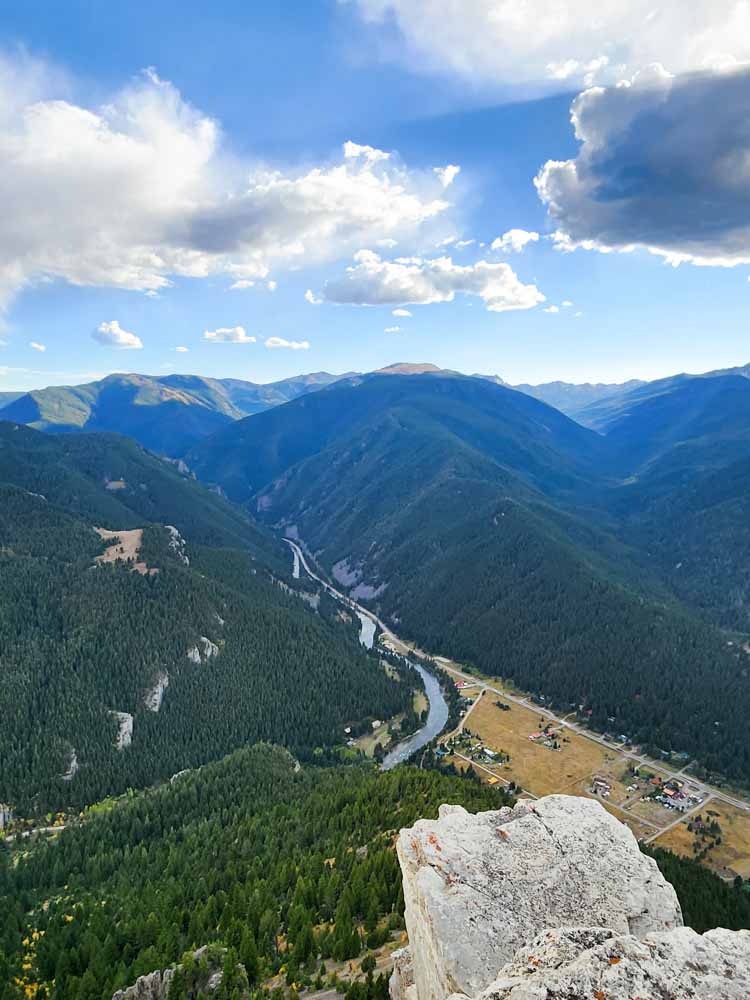 Do you ever to that? Question simple decisions after the fact? Had we put in an offer the first day I looked at it we would be moving back to Cincinnati, much to our surprise. It was really a once in a lifetime house and thinking about that now is definitely a bit frustrating. I know that sounds like an impossible statement, but when I share about it later you'll understand.
Right now I don't want to jinx things since we do have a signed backup offer in with the sellers. Although chances are slim, you never know what might happen. This particular house was already under contract once before and financing fell through. The offer they accepted contains an appraisal gap clause and they waived inspections so we just have to hope something unexpected happens in our favor.
So if you're someone prone to prayer or putting good juju out in the universe for others, please keep us in your thoughts that things work out as they should.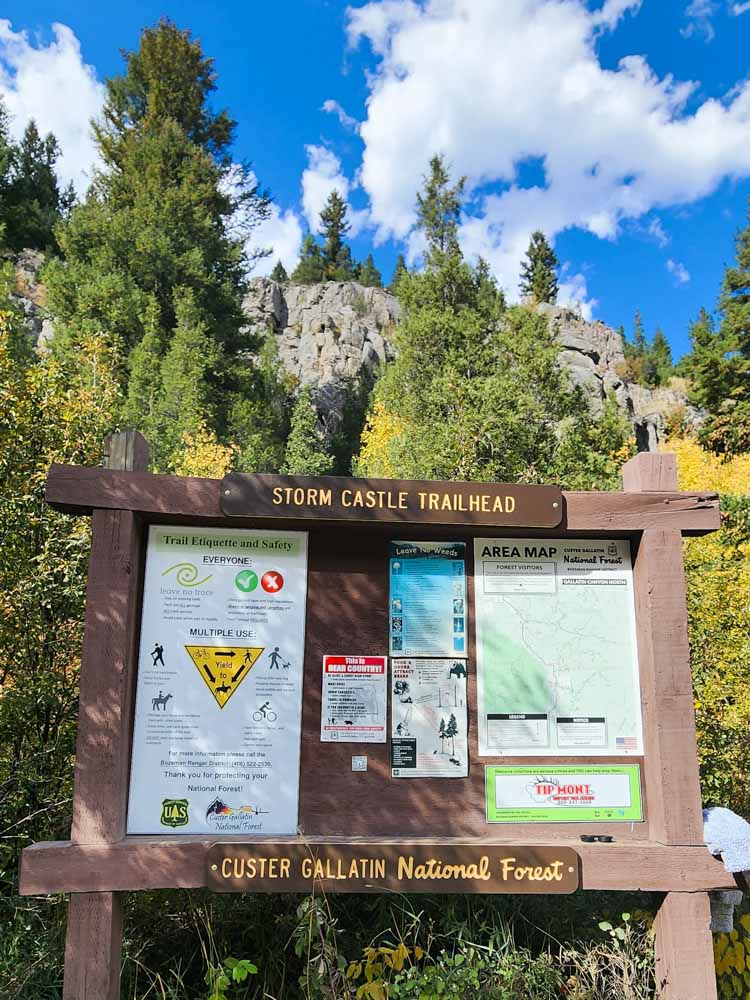 Once we found out we didn't get the house, our time back in Montana went back to much like it was before. Working during the day and hiking and cooking after work. We still didn't catch anything on the Gallatin but it sure is beautiful to look at. We also got back to one of our favorite restaurants, Horn and Cantle, one last time.
Storm Castle Peak Trailhead
Wednesday was our best hike yet. We took on Storm Castle Peak, which is the giant rock we look at from the deck of the cabin. After looking at it for nearly a month, it was past time to give this trek a try.
It's an almost 2,000 foot gain in just under two miles, so it's no wimpy hike! It was a little scary for me since most of the trail is right on the edge of the mountain. The Storm Castle Peak trailhead is easily found off of Gallatin Road on the way to Big Sky. Just go over the Gallatin River on Squaw Peak bridge then turn right on Storm Castle Road. You'll go past the helicopter pad and some beautiful views of the Gallatin River. Less than two miles after the turnoff you'll arrive at the trailhead parking on your left.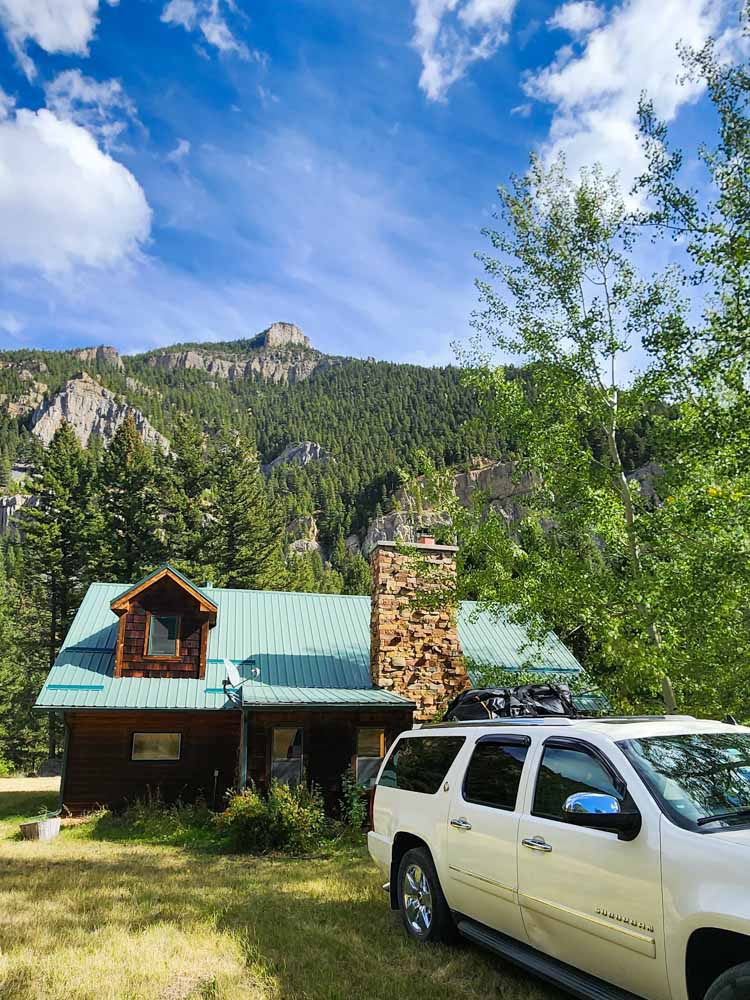 I'm scared of heights in a way that if seems like falling to my death is a possibility it will give me some anxiety. It amazes me that I'm mostly able to overcome this when I'm snowboarding.
Parts of this hike were on soft forest floor through the trees but parts were on the edge of very rocky terrain where a fall would absolutely cause a serious injury even if it didn't quite result in death.
I most definitely recommend hiking poles for the Storm Castle trail. It's very rocky and narrow in parts and they're especially helpful on the way down to keep from slipping.
I love my Koviti collapsible poles, they're very light and easy to put in your pack so you don't have to have them out all the time when you don't need them.
Travel essential
There is one item every traveler NEEDS. Some travelers don't even know they need it, but those are the people that need it most!
What is this forgotten essential of travel life? SPOILERS! Guess you'll just have to click the button to find out. 😉
The payoff was worth it though, as the views from the top were spectacular. I even have a little drone footage to share with you but I still need more practice. I kept getting the high altitude warning so it was making me pretty nervous.
Near the Storm Castle Peak trailhead you'll also find Storm Castle Creek, the Spire Rock Campground and the Rat Lake trailhead, which is just a little further down the road.