October 18, 2022
Vagabonds are Hiking Sedona, it Never Gets Old
In this week's Vagabond Tour update, I mostly just have hiking Sedona updates for you. Arizona is a fabulous state full of underappreciated, beautiful scenery. One of my favorite things to do here is spending time in nature, hiking my way through Sedona. To quote my sister in law, "I had no idea it's so beautiful there!"
Sedona is known for its breathtaking scenery and hiking trails. It's a perfect way to escape the hustle and bustle of the city. It's close enough to both Phoenix and Flagstaff for an easy day trip or weekend break.
Most photos (at least mine), really don't do the red rocks of Sedona justice. It's so stunning here that I'll even go out on a limb and say that I think it's more majestic than the grand canyon. What it lacks in size it makes up for in accessibility and variety.
While you can see Sedona in other ways like in a pink jeep, from a helicopter or on a mountain bike, I feel that hiking Sedona is the best way to experience it's unique scenery and energy.
Disclaimer: Links may contain affiliate links, which means we may get paid a commission at no additional cost to you if you purchase through this page. Read our full disclosure here.
Hiking Sedona Tips
Speaking of energy in Sedona, one of the most popular things about hiking Sedona is to search out and experience the vortexes here. More on that in a future post!
So far we've tried about 10 hikes since being here. I'll list these Sedona hikes in the order of our favorites. There have been so many good ones for different reasons, it really just depends on what you're looking for. AllTrails is a great place to start since they give you distance and elevation, which will give you some clue about the difficulty.
It all depends on your personal speed, but we've done all of the hikes on there in significantly less time than stated. That being said, most of the trails are rocky and some require scrambling, so that can definitely slow you down. I absolutely recommend a good pair of hiking boots with some ankle protection and I couldn't have made it injury free (so far, knock on wood) without my collapsible hiking poles. The ones I have are unavailable right now, but these are very similar and have awesome ratings.
One of the best tips I can give you is to invest in the America the Beautiful pass. Displaying this at trailheads saves you from paying a fee each time and also gets you into national parks for the whole year.
Best Hikes in Sedona
Cathedral Rock
A list of best hikes in sedona would be remiss not to include Chapel Rock. It's one of the most popular hikes here and also includes a vortex. This is a bit more of an adventurous hike, including some quick elevation gain and a hands required scramble to the top. It's well worth it though and the views are amazing.
This time in Arizona, we used a different trailhead than usual that worked out really well. Some of the most popular trailheads are closed to parking Thursday through Sunday and require taking the shuttle. Cathedral rock trailhead is one of these. We used the Baldwin trailhead and used Baldwin >Templeton >Cathedral route instead. The beginning of the path is really soft and lovely. It includes a section along Oak Creek and even a lesser known vortex along the way.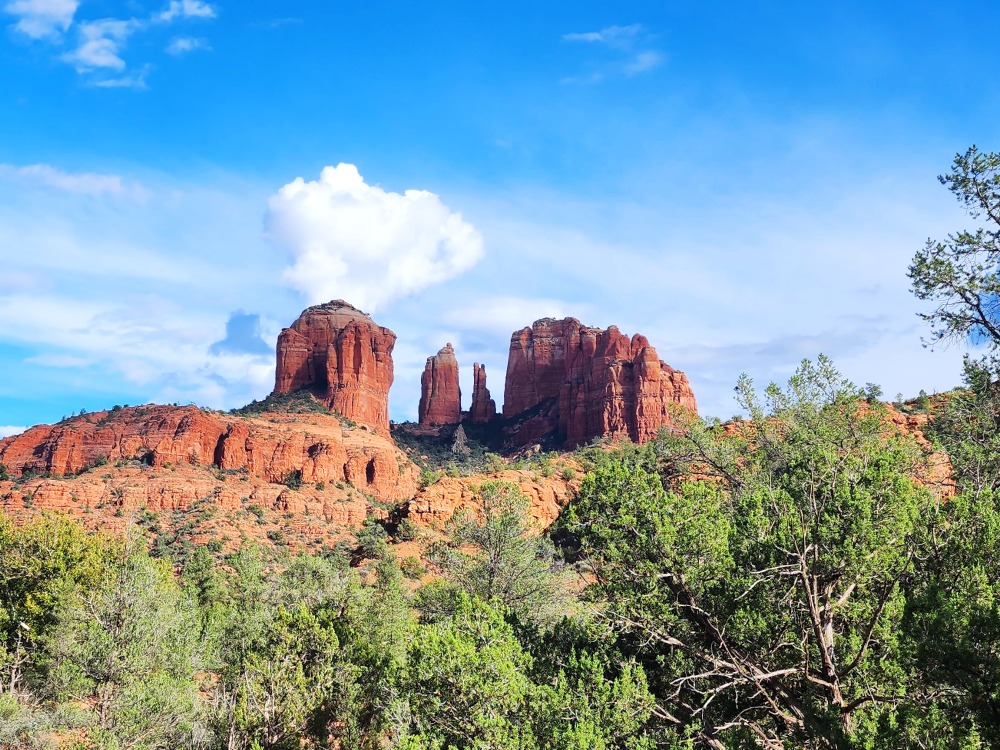 Travel essential
There is one item every traveler NEEDS. Some travelers don't even know they need it, but those are the people that need it most!
What is this forgotten essential of travel life? SPOILERS! Guess you'll just have to click the button to find out. 😉
Chapel Trail
Somehow in all the times I've been hiking in Sedona in the past, I never took the time to go see the Chapel. It's around beautiful scenery, has a vortex and a good amount of parking. We walked up the hill to the chapel first before going to the chapel trailhead just off one of the parking areas. From there, you have lots of options. We ended up going Chapel >Little Horse >Broken Arrow >High on the Hog >Hog Heaven >Hog Wash >Mystic, as mapped here.
While all of the Sedona hikes mentioned here are scenic, we really loved this one. It had a great mix of terrain and one section that was double black for bikes.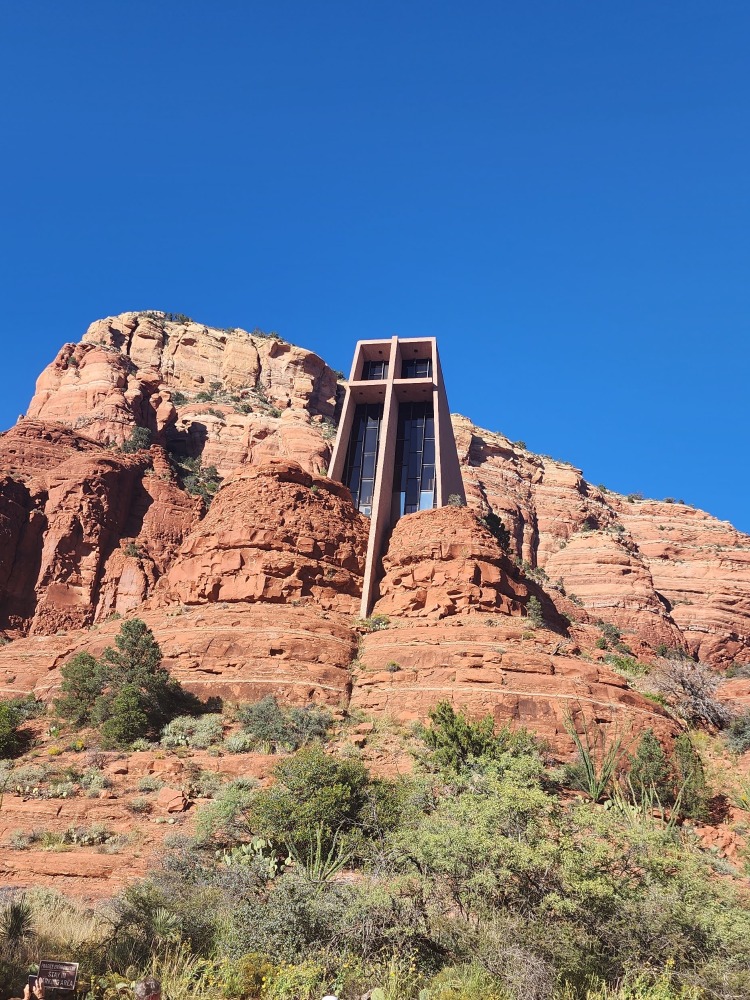 Brewer Trail
Our top pick may not be the same as some others would choose. We love this one due to the proximity to the house we're renting. Brewer trailhead can be found off of Brewer Road, close to the Palisades subdivision. It's just half a mile from the house and has no trailhead parking, so this works out great for us.
It is a great way to get to the airport mesa vortex. It also has a beautiful sunset view at the end and easily hooks up with the airport loop trail. Hiking in Sedona gives you an endless supply of beautiful views.
Our new ritual is champagne hike Fridays. We bring a bottle up with us and enjoy it perched in the perfect sunset viewing spot. There is enough time to get back down with just using a headlamp for a short amount of time at the end. We've done it a few times now with and without champagne, sometimes adding on the airport loop.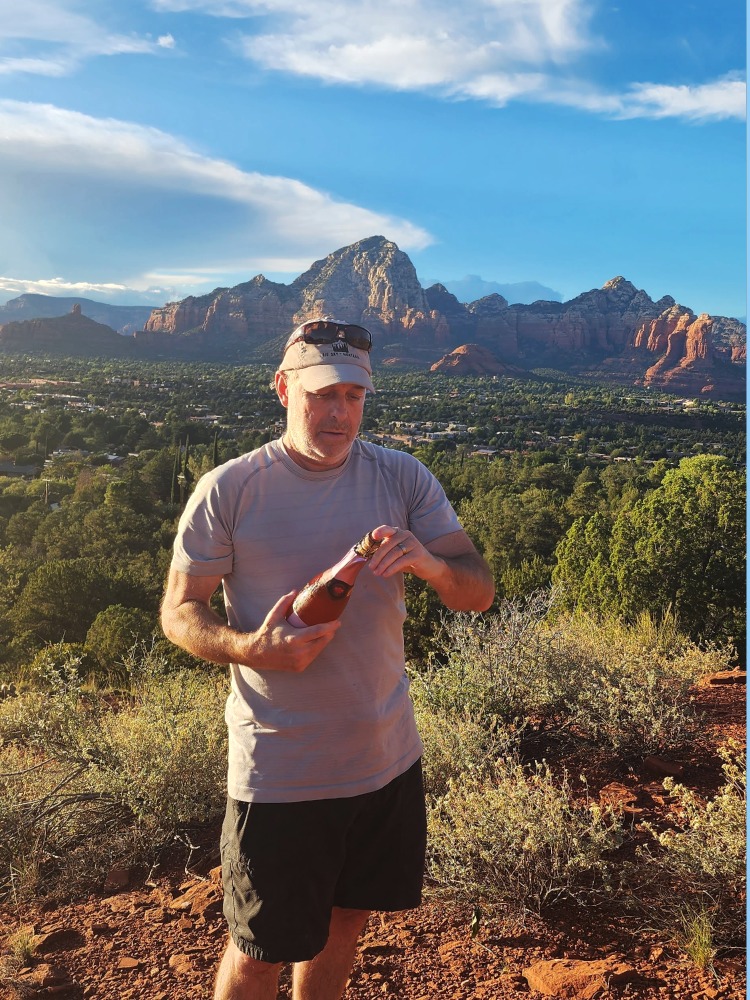 Seven Sacred Pools
This is another hike where we used a less popular route. We started by parking at Jim Thompson Trailhead and taking Cibola Pass >Jordan Trail >Soldiers Pass Trail. We really liked this one as there was great scenery throughout including passing right by the Devil's kitchen sinkhole. If you were to start at the Soldier Pass trailhead this would be a very short Sedona hike, appropriate for families.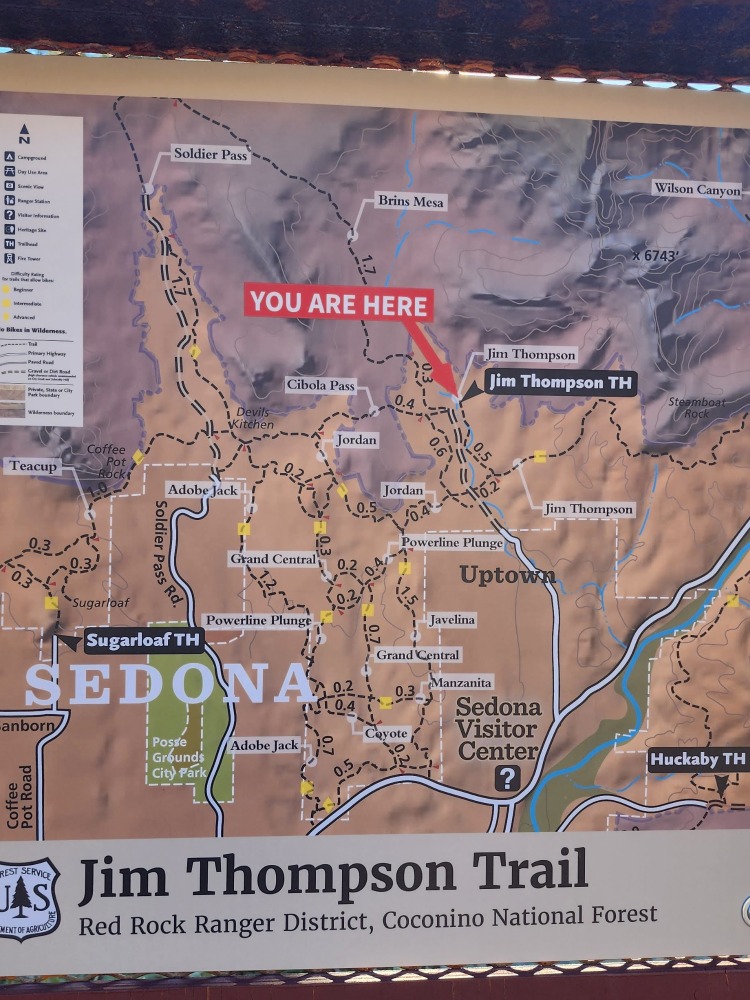 In general, all of the hikes in Sedona are beautiful. AllTrails is a great source of information, but one you pick a hike, be sure to seek out other adventurers online that have written about them. It's great to find insider tips and some "hidden" gems out there.
More to come on Sedona vortex sites and a favorite "hidden" off trail hike we loved, Keyhole Cave. Be sure to sign up for the newsletter so you don't miss them!