May 6, 2022
Best Keto Cocktails
If you've recently started the keto diet (and if you haven't, why not??? check out how to get started) you might be wondering if you can still enjoy a cocktail or two, stay in ketosis and still lose weight. While the short answer is yes, there are definitely some guidelines you'll want to follow while drinking alcohol on keto. I'm going to share some of the best keto cocktails below. Be sure to bookmark this page because I'll be updating it often!
Keto Cocktails Recipes
Check out my Cucumber Gin Sparkling Coconut Water Cocktail, Smoky Jalapeno Margarita, Sparkling Blueberry Tea Cocktail, Gluhwein, Spicy Bourbon Smash and the popular Coconut Lime Martini Mocktail, to which you can easily add rum. These are just a few of our keto cocktail recipes with more to come. You can find all of them here.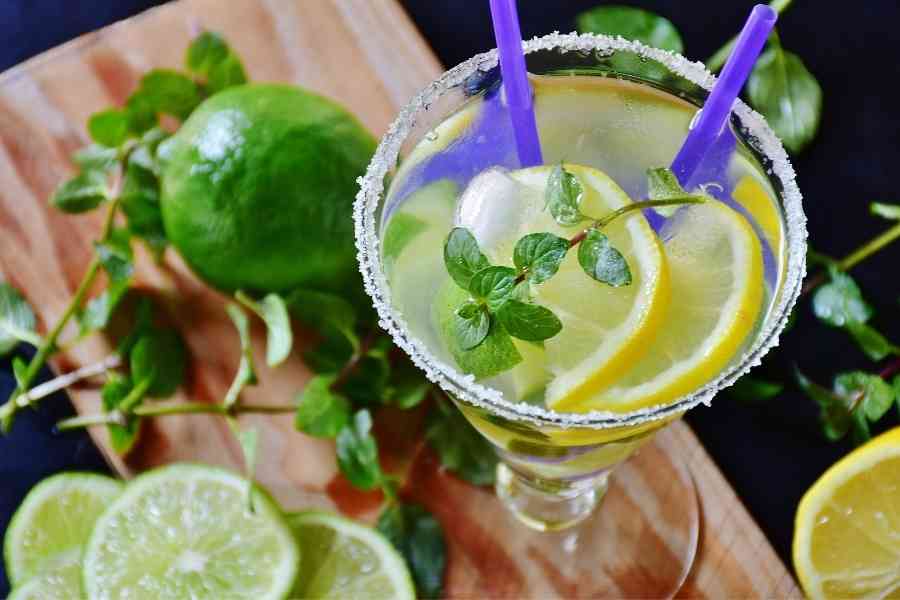 Best Keto Cocktails to Order at a Bar
Disclaimer: Links may contain affiliate links, which means we may get paid a commission at no additional cost to you if you purchase through this page. Read our full disclosure here.
It's been on my list forever to write an article on zero calorie sweeteners because there a lot of less desirable ones that affect your gut microbiome and can raise blood sugar and insulin as much as real sugar! Until I get to the more in depth version, know that your best choices are monk fruit, stevia and allulose. Erythritol and Xylitol can be ok as well, but I put those in a second tier.
Keto Drinks You Can Order at a Bar
So back to the best keto cocktails you can order at a bar. Plain soda water as a mixer is always good. Tonic water has sugar unless you can find a diet version and then the issue is the sweetener. Clear alcohols like vodka, gin, tequila and tequila don't contain sugar. Bourbon is supposedly sugar free, but I live in bourbon country and have tasted a lot of them! Some seem too sweet to be natural, so I suspect they add a little sugar after fermentation or leave some residual sugar. Unfortunately it's totally impossible to know since alcohol isn't required to have an ingredient label. However, I recently learned that it's the mash that gives bourbon its residual sweet flavor.
The best keto drinks you can order at a bar that are always zero carb or low carb: vodka soda, Truly, White Claw, Flying Embers (my personal favorite but can be hard to find in some bars), gin and diet tonic and rum and diet coke. While these types of drinks may not include the best sweeteners, they are near zero carb options.
What Cocktails are Keto Friendly?
Sometimes you can modify and existing cocktail to make it keto friendly. Often, just having them leave the simple sugar out of a recipe can make a fancy cocktail into a keto friendly cocktail. Just be aware that this may make your keto cocktail more tart. I sometimes carry a monk fruit or stevia liquid sweetener in my purse for just such an occasion. Better yet, carry your own homemade keto simple syrup in a purse friendly small dropper container.
Fruit juices are generally a no if they are in a higher quantity, but a splash or a piece of fruit can give some great flavor to a simple soda mixed drink.
One of my favorite ways to make a keto cocktail is with ketones. They're sugar free and help prevent hangovers as a bonus. I use lime time at least once a month to make a delicious, sugar free margarita. I've been known to bring these along to a bar as well…no shame in my sugar free cocktail game! I sell trial packs of these or you can go here to order whatever flavor you like. We just dropped some new cocktail flavors and I can't wait to enjoy the Banana Daiquiri one by the pool this summer.
Keto Mocktails
One of my favorite hacks to make drinks that are keto-friendly is to use an alcohol substitute.
I've been using Ritual Zero Proof since 2020 and I love their products. Their nonalcoholic spirits are the closest I've found to the real thing. Most are completely sugar-free as well as calorie-free and of course, alcohol-free. Get 20 percent off at checkout with code HNG20
Easy Keto Cocktails
Keto Wine
Some wines are definitely keto friendly. If you're drinking at home and want the best keto friendly wine, definitely go with Dry Farm Wines (extra bottle for a penny with my link).
I've been drinking their wines for years and absolutely love them. There is less than one gram of sugar in the entire bottle. Dry Farm Wines are tested to be free of other additives as well. If you want to learn more about why natural wine is better, be sure to check out my review and videos of Dry Farm Wines.
You can drink wine by itself of course, but wine can also be a great ingredient in keto cocktails! Try Gluhwein or the Sparkling Blueberry Tea Cocktail for a better idea of how wine can be used in this way.
If you're out, the best keto friendly, lowest sugar wines to order are generally Champagne, Sauvignon Blanc, Pinot Noir and Shiraz. These will vary in sugar content from one to five grams of carbs per glass. Avoid sweet wines like Riesling and Gewurztraminer. They may say Trocken on the label, which means sweet in German. These wines leave a lot of residual sugar which means more carbs. You can also make some great keto cocktails by looking for recipes that include wine as an ingredient or add plain soda to wine for a keto friendly spritzer.
Dessert wines and fortified wines have in more carbs. Avoid wines like Moscato, Ice Wine, Port, Madeira and Sherry. To get the driest wine possible, look for designations like Brut, Extra Brut, non dosage. Ask the sommelier at the restaurant for which wines are the driest. Wines from the Loire Valley region of France tend to be naturally low in sugar as are Austrian Wines.
Keto Beer
There are plenty of lower carb beer options on the market now that are labeled as such. Regular beer is not generally keto friendly. If you're not sure, ask the bartender to take a look at the label before buying. Marketers take advantage of the interest in low carb and now put that information on the label.
Keto Seltzer and Keto Kombucha
Seltzers have become very popular and are taking advantage of low carb marketing. For this reason, most of these types of drinks have started putting a nutrition label on the can so you'll know exactly what you're getting. My favorite company in this category is Flying Embers. I've also been a customer of theirs for a few years now and their drinks are one of my favorite ways to make a keto cocktail.
Flying Embers keto kombucha and seltzers have zero sugar as well as healthy probiotics and adaptogens. They can be harder to find in bars, but they're getting more common. If you're drinking at home, be sure to take advantage of their subscription program for discounts. You can drink them as is or use them as an ingredient in keto cocktails. Use my link to get 10 percent off of your order. I highly recommend you try them and be sure to let me know what you think!
Keto Liqueurs
Most liqueurs are full of sugar and best avoided most of the time if you'd like to stay in ketosis. However, if there is something you really love, I'm a proponent of just having a small amount on rare occasions. Base this decision on your goals of course, but I've definitely split a shot of Bailey's to add to my decaf coffee after dinner. Just a splash makes a nice treat!
Should You Drink Alcohol on Keto?
This is a great question that only you can answer. If your goal is maximum weight loss, it's probably best to avoid alcohol pretty strictly. Not only is it empty calories, it often lowers inhibitions leading to poor food choices. However, if having a glass of wine or two on occasion makes you feel festive and reduces stress, I'm all for it. Just know that your liver can't process anything else (fat) while there is alcohol in your body. So in that way, it may slow fat loss.
Speaking of fat loss, if you want a protocol that maximizes fat loss for 21 days, be sure to check out my book.