December 11, 2020
Gluhwein, Hot Mulled Wine – Keto Low Carb Recipe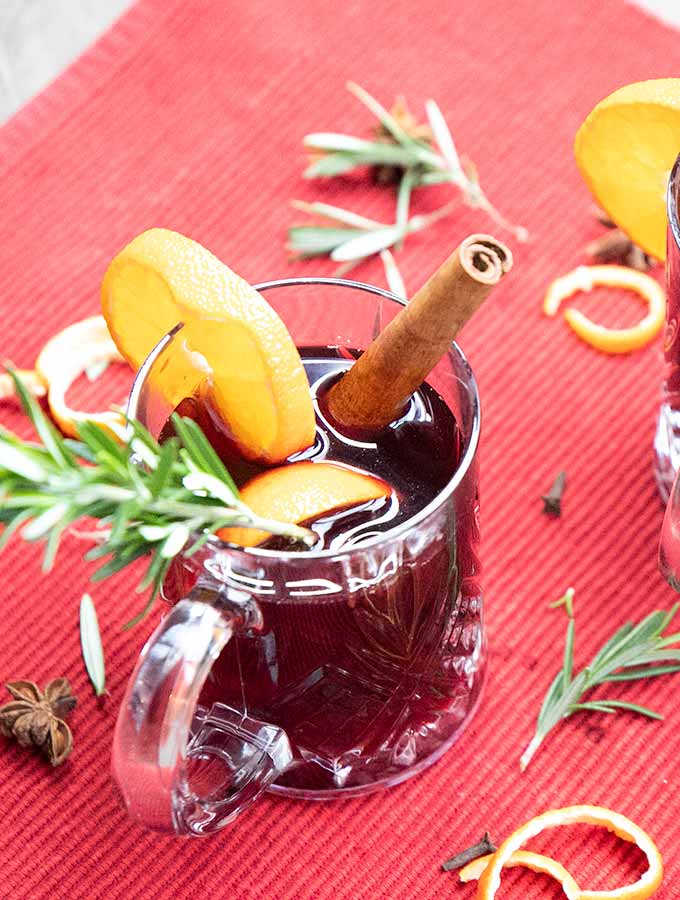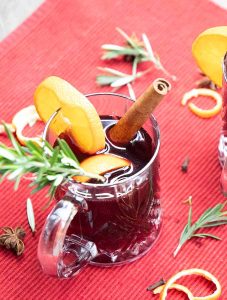 If you're looking for a warm and wonderful addition to your keto cocktails, you've found the perfect one! Keto glühwein (approximately pronounced glueh-vine, click the speaker icon to hear) aka low carb mulled wine is not only easy to make, but it's also absolutely delicious and can be made extremely low carb.
Although my heritage is German, it wasn't until I started snowboarding that I became aware of gluhwein. Of course, I knew I would eventually make a keto mulled wine version because I love it so much. Traditional gluhwein has added sugar and some fruit which makes it full of carbs.
Fortunately, this recipe is extremely easy to make keto. To make low carb mulled wine, just swap out the real sugar for an alternative sweetener. You're most of the way to making keto gluhwein!
Gluhwein is typically served in Europe in the winter, especially around Christmas. It's very popular at the lovely European Christmas markets as well as during apres-ski anytime. It makes an awesome keto Christmas cocktail in the United States as well no matter what your heritage.
For this recipe, I tried a new monk fruit sweetener from Loyal brands. I still need to write my article about keto sweeteners, but monk fruit is always a good choice and worked well for this recipe. I would generally stay away from erythritol on this one since people often notice a cooling sensation with it which would be totally at odds with a nice, warm beverage.
However, the blend of monk fruit and erythritol in the Loyal brand blend was perfect for this low carb mulled wine as the monk fruit takes away the cooling sensation.
Disclaimer: Links may contain affiliate links, which means we may get paid a commission at no additional cost to you if you purchase through this page. Read our full disclosure here.
Can I Drink Alcohol on Keto?
Alcohol can be part of your keto diet. Just know that whenever you drink alcohol, that is your body's first priority. For the time that it takes your liver to process the alcohol, you're no longer burning fat for fuel. Since your body considers alcohol a poison, it will burn that energy first.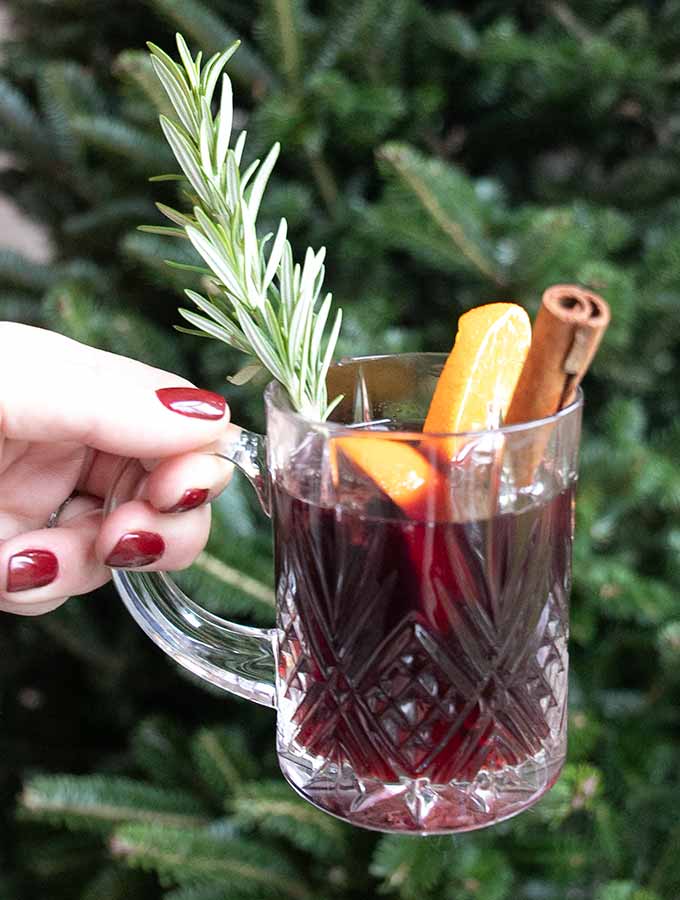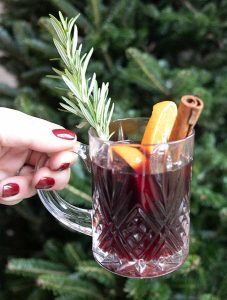 However, if you choose low or no sugar alcoholic beverages, you can drink alcohol and stay in ketosis.
My favorite beverage for this purpose is Dry Farm Wines. They test every wine to be under one gram of sugar in the ENTIRE BOTTLE, plus they test for lots of other things too! If you want to learn more about why their wines are the best and see how I drank half a bottle and stayed in ketosis, go check out my Dry Farm Wines review.
Keto Cocktail Recipe
The most important factor in what makes a cocktail keto-friendly is the lack of sugar. Most commercial cocktail mixers are oblivious to carbs so that's yet another great reason to make your own. They will at least list nutrition information so you can make an informed decision.
Since alcohol isn't required to list ingredients or nutrition information, it can be hard to know how much sugar is added. Anything that tastes sugary definitely is and you can bet it's got quite a bit. That's another reason I like Dry Farm Wines. No question about whether it's good for keto since they independently test the wines.
I have a few keto-friendly cocktail recipes here. If you have any adult beverages you'd like to know how to make keto, be sure to let me know. I'd love to expand this category in the future.
If you're wondering if mulled wine contains gluten you don't have to worry! This recipe for mulled wine and most other are indeed gluten free. All it has is wine, spices and a sugar alternative sweetener.
Making Keto Glühwein/ Gluhwein
So we've already determined that finding a nice, dry red wine and using an alternative sweetener is the key to making gluhwein keto. So what about the fruit? It's really just for garnish. The few orange slices you're adding to the keto syrup adds a negligible amount of carbs. What can add some significant carbs here is the addition of Grand Marnier, which is pretty traditional and definitely tastes good.
If you're trying to avoid all sugar, you'll want to leave the Grand Marnier out of your keto mulled wine. However, if you decide it's worth it, every half ounce will add about 3 carbs to each drink. Another alternative would be to use an orange extract some additional sweetener and vodka to replace the higher alcohol content of the liquor.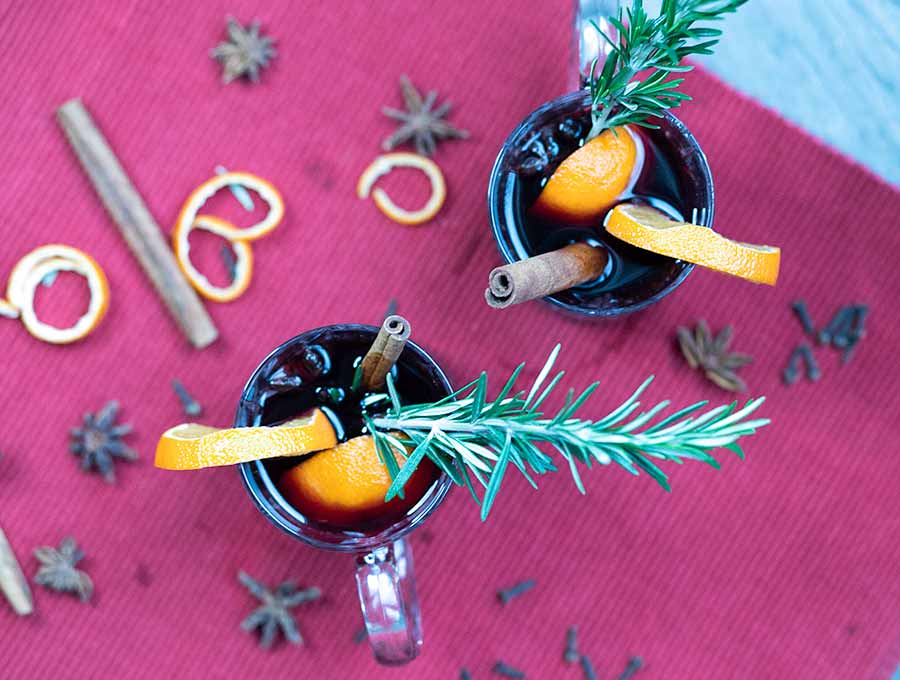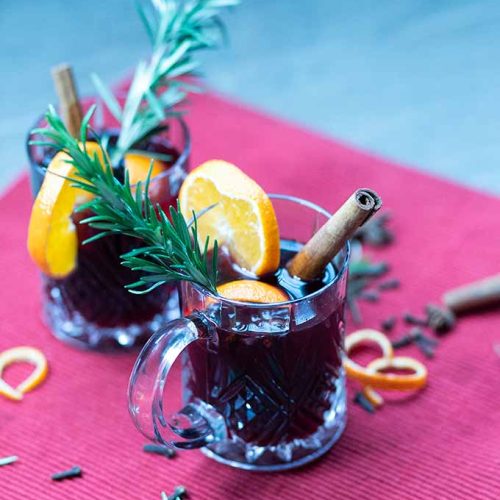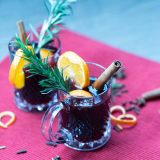 Print
Gluhwein, Hot Mulled Wine
This traditional European spiced mulled wine, "gluhwein" in German is lovely around Christmas or anytime you'd like a warm and delicous cocktail.
Ingredients
¾

cup

water

½

cup

monk fruit

,

or other keto-friendly alternative sweetener

1

teaspoon

whole cloves

2

cinnamon sticks

,

Ceylon

6

star anise

1

orange

,

sliced into rounds, optional

750

ml

dry red wine,

one bottle

Grand Marnier

,

optional, this adds carbs/sugar

10

drops

liquid stevia
Garnish (all optional)
4

cinnamon sticks

4

orange slices

orange peel curls

cranberries

rosemary sprigs
Instructions
If you will be making your gluhwein on the cooktop, use a large enough pot to eventually hold the wine. If you're using a crockpot, use a smaller saucepan for the first steps.

Add water and sweetener to a saucepan over medium heat and stir until dissolved.

Add all of the spices and orange, simmer for about five minutes to make a spiced syrup.

Combine syrup and wine on low in a crockpot or on the cooktop.

Gently simmer on low for 20 minutes. Don't let the mixture get too hot as this can cook off the alcohol.

Scoop into mugs to serve and garnish with orange slices, rosemary, orange curls and cranberries, if desired.
Video
Nutrition
Serving:
0.5
cup
Calories:
108
kcal
Carbohydrates:
1
g
Protein:
1
g
Fat:
1
g
Fiber:
1
g
Did you make this recipe?
Be sure to tag @healnourishgrow on Instagram to be featured in our stories or our newsletter! We love it when you make our recipes and share with your friends.