July 15, 2023
Tomato, Watermelon and Cucumber Keto Gazpacho – Low Carb Recipe
My tastebuds love a good chilled soup in the summer and what ingredient is more quintessentially summer than watermelon? You may not think of watermelon as being particularly keto-friendly, but it all depends on your personal goals, macros and the quantity you eat. Having seasonal whole foods, including fruit, as part of your keto diet makes adds variety. Ultimately, variety can make this lifestyle more sustainable. This chilled Tomato, Watermelon, and Cucumber Keto Gazpacho recipe is perfect for those hot days when you want something light and satisfying.

Bursting with juicy tomatoes, crisp cucumbers, and sweet watermelon, this flavorful soup is a feast for both your eyes and your palate. The presentation is really beautiful and makes a perfect light summer meal along with some grilled chicken or fish.

So grab your blender and let's dive into the world of keto gazpacho. It's a refreshing delightful dish that will keep you cool all summer long! Once you try this recipe, it'll become an instant favorite.
Speaking of instant favorites, if you could use a blender upgrade, Vitamix always has some great offers when you use my link! I've had mine for over 15 years now and it's one of the best kitchen investments I've made.
Disclaimer: Links may contain affiliate links, which means we may get paid a commission at no additional cost to you if you purchase through this page. Read our full disclosure here.
Ingredients for Keto Gazpacho
First, you'll need some ripe tomatoes, extra bonus points if you grew them or can find some fresh local tomatoes. Next up, grab a juicy watermelon to add some sweetness and extra hydration to your soup. Don't forget that cucumber! They'll give your gazpacho that crisp and cool factor.
You can easily reduce some of the carbs in this soup by reducing the watermelon and subbing in more cucumber for a keto gazpacho that's still really refreshing. The only issue I noticed with this is it makes the color of the gazpacho slightly less appealing but if that doesn't bother you, feel free to try this hack.

A few more essentials make this soup extra tasty. Fresh garlic, shallot and a little jalapeno give this keto gazpacho a little kick.

To bring all these incredible flavors together, you'll need high-quality extra virgin olive oil. It adds richness and depth to every spoonful along with making a nice garnish for the presentation.

Keto Gazpacho Instructions
Now that we have gathered all the fresh and juicy ingredients, it's time to whip up a delicious batch of Tomato, Watermelon, and Cucumber Gazpacho! This recipe is super easy, you don't have to precisely chop everything since most of it is going in the blender.
Other Low-Carb Soup Recipes
If you're a fan of low-carb soups, then you're in luck! We have many listed here, and a few of our summer favorites are below.

1. Creamy Raw Zucchini and Avocado Chilled Soup: I've been making this one for years, going all the way back to when I was vegetarian (GASP!) It's super easy, delightfully creaming and perfect for summer.

2. Chilled Cucumber Feta Soup: This is another cold summer favorite summer soup that was inspired by a dish eaten poolside on our honeymoon. The feta and cucumber pair perfectly and it's so refreshing!

3. Triple Meat Carnivore Chili: You may not think of chili as a summer dish, but I really love it any time and this is one fo the most popular recipes on our site. Really great for football weather or for feeding a crowd, but I often have it in the summer too for an easy, hearty meal.

So there you have it, some fantastic options if you want to explore more low carb soups beyond gazpacho! Remember that eating low carb doesn't mean sacrificing flavor or variety in your meals.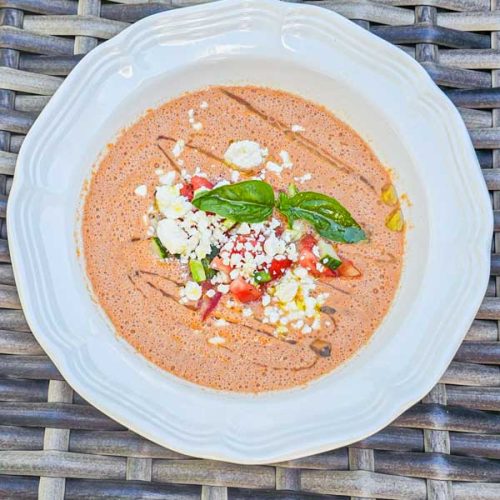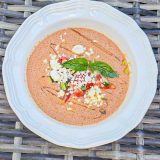 Print
Tomato, Watermelon and Cucumber Gazpacho – Low Carb Recipe
Ingredients
4

cups

cubed watermelon

,

set aside 1 cup

4

cups

diced tomatoes

,

set aside 1 cup

1 ½

cup

diced cucumber

,

set aside 1/2 cup

1

clove

garlic

1

large

shallot

½

cup

basil leaves

,

lightly packed, plus extra for garnish

2

teaspoons

sea salt

3

tablespoons

extra virgin olive oil,

plus extra for garnish

1

tablespoon

diced jalapeno

,

plus extra for garnish

6

tablespoons

feta cheese

,

for garnish

diced avocado

,

for garnish, optional
Instructions
Chop all the vegetables, setting aside a cup each of watermelon and tomato as well as a half cup of cucumber.

Place 3 cups of watermelon, 3 cups of tomatoes, 1 cup of cucumber, garlic, shallot, basil leaves, salt, pepper, olive oil and jalapeno in the blender and mix until completely pureed.

Chill soup for at least 6 hours or until cold, easiest to do it the day before and refrigerate overnight or in the morning so it's cold for an evening meal.

Pour the soup in to bowls and place the reserved mixture of tomatoes, watermelon and cucumber in the center.

Top the vegetable mound with a tablespoon of feta cheese, basil, jalapeno and avocado, if using. Lightly drizzle olive oil over the top.
Equipment
Notes
Each serving is approximately 6 ounces of the blended soup plus 1/6 of the extra chopped veggies.
Nutrition
Serving:
1
people
Calories:
128
kcal
Carbohydrates:
16
g
Protein:
2
g
Fat:
7
g
Fiber:
2
g
Net Carbohydrates:
14
g
Did you make this recipe?
Be sure to tag @healnourishgrow on Instagram to be featured in our stories or our newsletter! We love it when you make our recipes and share with your friends.