July 2, 2022
Chicken Piccata – Keto Low Carb Recipe
This recipe for keto chicken piccata or picatta, includes a couple of simple yet delicious substitutions to achieve a keto friendly version of this classic. It may even be the best chicken piccata recipe overall, keto or not! In a traditional chicken piccata recipe, chicken breasts are dredged in flour before pan frying. Eating a small amount of flour may allow you to still stay in ketosis. However, using zero carb substitutes is a better option. Plus, if you're gluten-free or grain-free for serious health reasons such as celiac, then wheat must be eliminated entirely.
The main flavors of chicken piccata, lemon and capers, make a delicious combination. I especially love this dish when paired with a sauvignon blanc or a light French muscadet from Dry Farm Wines. If you're new here you may not have heard about Dry Farm Wines before, but I've been drinking their wine for years.
You can see my videos about Dry Farm Wines and a full review here. Every Dry Farm Wines bottle is tested to be under one gram of sugar. They test for other contaminants as well. Their no sugar wine is basically zero carb as well as gluten free and delicious.
What is Piccata Chicken?
According to Wikipedia, piccata is an Italian word. In Italy, it is sometimes also spelled as picatta or even pichotta. The culinary use of the Italian term picatta means "to be pounded flat."
When used in reference to a way of preparing food, particularly meat or fish, it means "sliced, sautéed, and served in a sauce containing lemon, butter and spices." Piccata is also often spelled in the US using the Italian spelling of picatta.
I'm mentioning that here because keto chicken picatta with the Italian spelling is frequently searched. In fact, keto chicken piccata and keto chicken piccata are searched for almost equally.
Disclaimer: Links may contain affiliate links, which means we may get paid a commission at no additional cost to you if you purchase through this page. Read our full disclosure here.
Best Chicken Piccata Recipe
The best chicken piccata recipe will include all of the critical flavor elements. Crispy chicken, capers, butter and lemon are the flavors that define this classic dish. While some people like to serve their chicken piccata with pasta, we of course won't be doing that here. However, it's still really delicious paired with zucchini noodles or Natural Heaven hearts of palm noodles as an alternative to wheat pasta.
Keto Chicken Picatta/Keto Chicken Piccata
While you can absolutely pound your chicken for this recipe, it's quicker and easier to slice a large breast horizontally. If you prefer to pound the chicken breast, be sure to put the chicken between two sheets of plastic wrap to avoid spreading germs in your kitchen. It is also useful to keep a separate cutting board on hand for chicken. I like to use a plastic one for this purpose so I can sanitize it in the dishwasher.
One of my favorite parts of chicken piccata is the crispy crust on the chicken. The use of cheese and pork rinds produces a crispy, zero carb crust that makes this the best chicken piccata recipe. Even if you're not keto or low carb, I highly recommend you try it! One thing I would change here is the use of tallow. Although I love to use it for frying, the flavor profile of this recipe screams for butter.
The publishers really wanted a lot of dairy free options in this cookbook. That's why I chose tallow instead of the traditional butter flavor. As long as butter agrees with you, I recommend using it for this keto chicken picatta (piccata).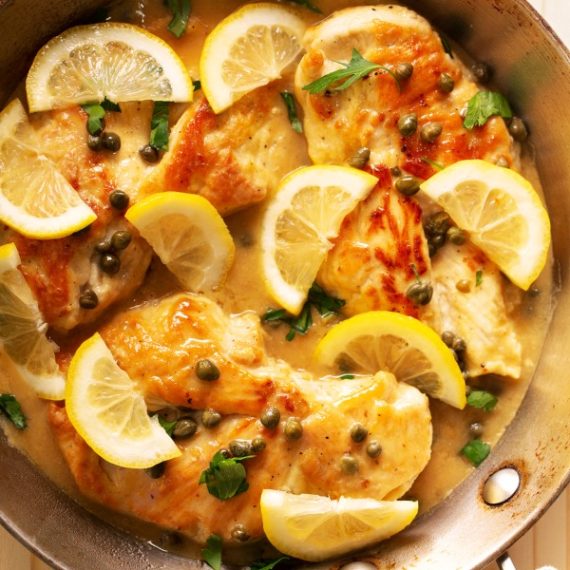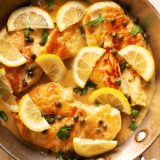 Print
Chicken piccata is usually dredged in flour, which is a no-no for your grain-free diet. Not to worry though, you can still enjoy this classic and achieve an excellent crust on chicken breasts or other meats by using a combination of Parmesan cheese and crushed pork rinds.
Ingredients
1

large egg

,

beaten

2

teaspoons

salt,

divided

2

teaspoons

freshly ground black pepper

,

divided

1

cup

finely grated Parmesan cheese

1

cup

crushed pork rinds

3

tablespoons

tallow,

or coconut oil

4

bonelness, skinless chicken breasts

,

1 1/2 to 2 pounds total, sliced horizontally in half to make cutlets

½

cup

chicken broth

1

large

lemons

,

juiced

2

tablespoons

capers,

rinsed 2 tablespoons unsalted butter

2

tablespoons

chopped fresh parsley
Instructions
Preheat the oven to 375°F.

In a shallow bowl large enough to hold a chicken breast, beat together the egg, 1 teaspoon of salt, and 1 teaspoon of pepper.

In a medium bowl, mix the Parmesan, pork rinds, remaining 1 teaspoon of salt, and 1 teaspoon of pepper. Pour the Parmesan/pork rind mixture onto a dinner plate.

In a large skillet, heat the tallow over medium heat until liquid.

Working in batches (whatever you can fit in your skillet without crowding), use a fork or tongs to dip each chicken breast into the egg mixture, then into the Parmesan/pork rind mixture until completely covered, pressing it onto the chicken.

Transfer the chicken breasts to the hot skillet and cook for about 4 minutes on each side, or until the cheese is golden brown and set aside while you cook a second batch.

Once all of the chicken is cooked, add as much of the chicken back to the pan as will fit and add the broth, lemon juice, and capers. Reduce heat to simmer.

Cook the chicken to an internal temperature of 160 degrees, about 15 more minutes.

Remove the chicken from the skillet and place on a plate.

Add the butter and parsley to the skillet, scraping the brown bits from the pan.

Pour the sauce over the chicken breasts and serve while hot.
Nutrition
Serving:
4
people
Calories:
371
kcal
Carbohydrates:
4
g
Protein:
38
g
Fat:
22
g
Fiber:
1
g
Did you make this recipe?
Be sure to tag @healnourishgrow on Instagram to be featured in our stories or our newsletter! We love it when you make our recipes and share with your friends.