June 17, 2023
Summer Salad With Strawberries, Avocados and Feta
Summer is the perfect time for refreshing and healthy salads, especially when it comes to combining sweet and savory ingredients. What better way to do that than with a delicious keto Summer Salad With Strawberries, Avocados, and Feta? This colorful dish not only looks beautiful on your plate but also provides an explosion of flavors in every bite. Plus, it's packed with antioxidants and nutrients that will keep you feeling energized all day long. Plenty of other summer salad ideas can come out of this recipe by making some simple substitutions or additions.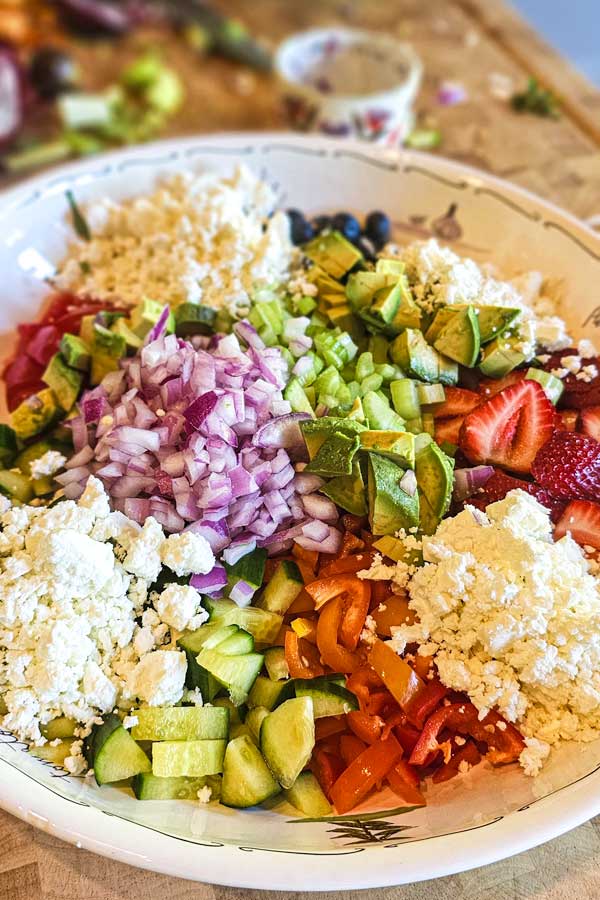 Let's dive into this easy-to-make salad recipe and discover how you can enjoy a taste of summer in every forkful.
Antioxidant Salad
Loaded with wholesome, nutrient-rich ingredients, this keto Summer Salad With Strawberries is the perfect antioxidant powerhouse. The strawberries are packed with vitamin C and antioxidants that can help boost your immune system while preventing inflammation. Meanwhile, avocados contain healthy fats and fiber that promote satiety and heart health.

The feta cheese adds protein to this salad while also providing a tangy flavor that complements the sweetness of the strawberries perfectly. Drizzled with heart healthy extra virgin olive oil rich in polyphenyols, this salad will not only satisfy your taste buds but also benefit your overall wellness.
Disclaimer: Links may contain affiliate links, which means we may get paid a commission at no additional cost to you if you purchase through this page. Read our full disclosure here.
Rainbow Salad
Have you heard the phrase "eat the rainbow" for good health? This summer salad with strawberries is a feast for the eyes and the tastebuds. As its name suggests, this salad is packed with vibrant colors from different fruits and vegetables that provide various nutrients to our body. The combination of these colorful ingredients creates a beautiful balance of flavors and textures. It also makes for an Instagram worthy photo when plated correctly.

Each ingredient in this colorful salad has health benefits. For instance, red bell peppers contain lycopene which helps reduce the risk of cancer while blueberries are rich in antioxidants that boost brain function and increase nitric oxide which promotes heart health. With so many nutritious ingredients all in one bowl, this salad is not only delicious but also a great way to fuel your body with essential vitamins and minerals!
Why this Salad is Perfect for Summer
Summer is the season for fresh produce and light meals. This salad combines the perfect summer ingredients to create a refreshing and satisfying dish. The sweetness of strawberries, the creaminess of avocados, the tanginess of feta cheese, and the crunchiness of clelery all come together in this delicious bowl.

Not only is this salad bursting with flavor, but it also provides a variety of health benefits. Strawberries are high in antioxidants and vitamin C while avocados are rich in healthy fats. Together they make a nutritious combination that will leave you feeling energized on hot summer days.
How to Make the Keto Summer Salad with Strawberries, Avocados and Feta
To make the summer salad with strawberries, avocados and feta, start by washing your fruits and vegetables.

I like to create this salad in small piles that make for a beautiful presentation. Place ingredients of differnet colors next to each other for high contrast and wait to toss the salad just before serving.
Variations of the Recipe
If you're feeling adventurous and want to switch things up, there are many variations of this summer salad recipe that you can try. One option is to swap out the strawberries for another type of berry such as raspberries or pitted cherries. This will give the salad a different flavor profile while still maintaining its antioxidant properties.

Another variation is to add nuts. Walnuts, pecans, pinenuts or almonds would make great addition and add a delicious crunch to the dish. Additionally, if you don't have feta cheese on hand, goat cheese or small mozzarella balls would work well in this recipe. Get creative with your ingredients and see what delicious combinations you can come up with for other summer salad ideas.
Summer Salad Pairing Suggestions

This summer salad with strawberries, avocados and feta is a perfect side dish for any meal. It pairs particualry well with chicken, shrimp or fish. It's also a fantastic as a side to our Marinated Flank Steak or just a simple grilled steak.
Another great summer salad ideas is to make this dish into a complte light dinner or great lunch by adding your favoite protein right to the top. I love this summer salad topped with pieces of grilled chicken.
Make Ahead and Storage Tips
If you're planning to make this summer salad ahead of time, it's best to store the ingredients separately in airtight containers. This will ensure that everything stays fresh and crisp until you're ready to assemble the salad.
Leftovers can be stored in an airtight container in the refrigerator for up to three days. However, we recommend consuming it within 24 hours for optimal freshness. If you choose to store it, be sure to stir in a squeeze of lime to keep the avocado looking fresh.
Summer Salad Ideas
Summer is the perfect time to enjoy fresh salads that are light, refreshing and packed with nutrients. With so many delicious fruits and vegetables in season during the summer months, there is no shortage of ingredients to choose from when it comes to creating a tasty salad.

Some popular summer salad ideas include watermelon feta salad, cucumber tomato salad, grilled peach and burrata salad, and strawberry spinach salad. One of my favorites is our Mediterranean Tuna Salad. The exact ingredients you choose will of course depend on your personal calorie and carb count goals.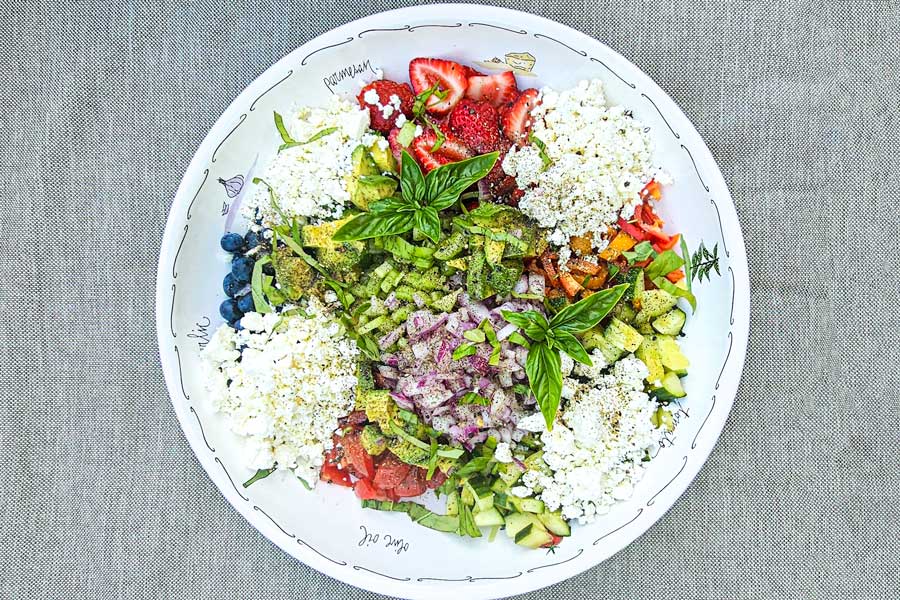 Keto Summer Salad
Speaking of macros, this dish has about nine net carbs per large serving. If you're worried about fitting this into your macros, the blueberries and avocado have the most carbs. As I've said in the past, carbs from whole foods vegetables and fruits don't affect my ketosis. However, your mileage may vary so you could eliminate the higher carb ingredients and still have a delicious salad or just eat a smaller portion. It really all depends on your personal goals and health status.
Don't be afraid to experiment with different dressings. A simple vinaigrette, blue cheeese, tzatziki or tangy citrus dressing can really bring out the flavors in your summer salads!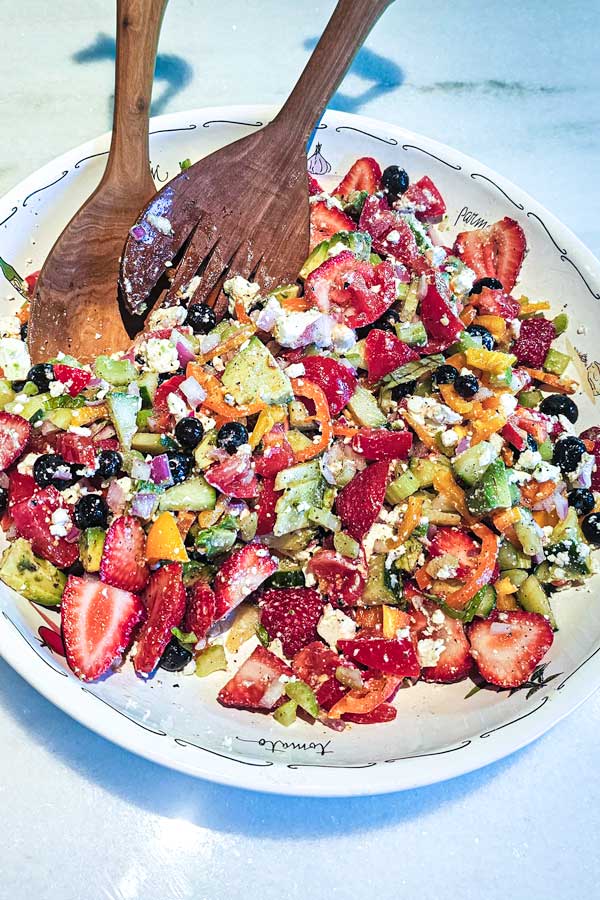 Other Summer Salad Recipes to Try
If you're looking to switch things up, there are many other summer salad recipes that you can try. A classic Greek salad with fresh cucumbers, tomatoes, red onions, and feta cheese is always a crowd-pleaser. Or for something more tropical with slightly higher carbs, try a mango and avocado salad with lime dressing.

For those who love seafood, a shrimp or crab salad with mixed greens and citrus vinaigrette is the perfect choice. The possibilities are endless when it comes to creating delicious summer salads!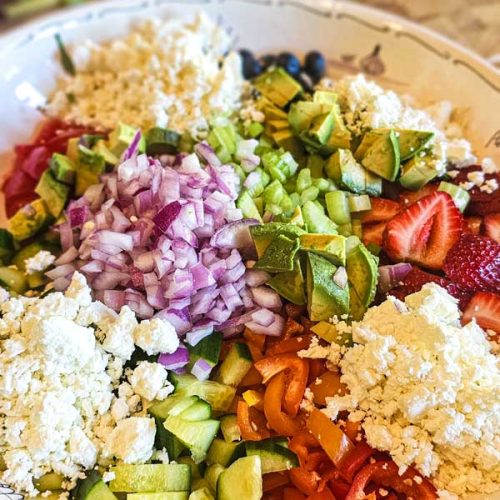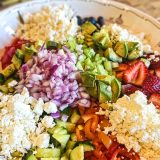 Print
Summer Salad With Strawberries, Avocados and Feta
Ingredients
1

cup

blueberries

1

cup

sliced strawberries

1

cup

chopped red pepper

1

cup

copped cucumber

1

cup

chopped tomato

½

cup

chopped celery

½

cup

chopped red onion

1

medium

diced avocado

½

teaspoon

Italian seasoning

salt and pepper

,

to taste

⅓

cup

extra virgin olive oil
Instructions
Slice, chop and dice all vegetables as stated in the ingredients.

Place ingredients into a large mixing or serving bowl. For best presentation, place into piles until ready to serve as shown in video.

Sprinkle in the Italian seasoning, salt and pepper and drizzle with olive oil.

Toss all ingredients together just before serving.
Equipment
Nutrition
Serving:
1
people
Calories:
204
kcal
Carbohydrates:
13
g
Protein:
2
g
Fat:
17
g
Fiber:
5
g
Net Carbohydrates:
9
g
Did you make this recipe?
Be sure to tag @healnourishgrow on Instagram to be featured in our stories or our newsletter! We love it when you make our recipes and share with your friends.