October 24, 2022
Keto Tzatziki Sauce – Low Carb Recipe
My love affair with tzatziki sauce goes way back, but was solidified on our honeymoon in Greece. I think I ate tzatziki sauce there nearly every meal or at the very least, every day! It's so delicious and for the most part, tzatziki sauce is naturally keto friendly. I started developing this easy recipe for tzatziki sauce almost immediately after we got home but it's taken me forever (obviously) to post it. If you're looking to make keto tzatziki sauce with the least carbs possible, please read on.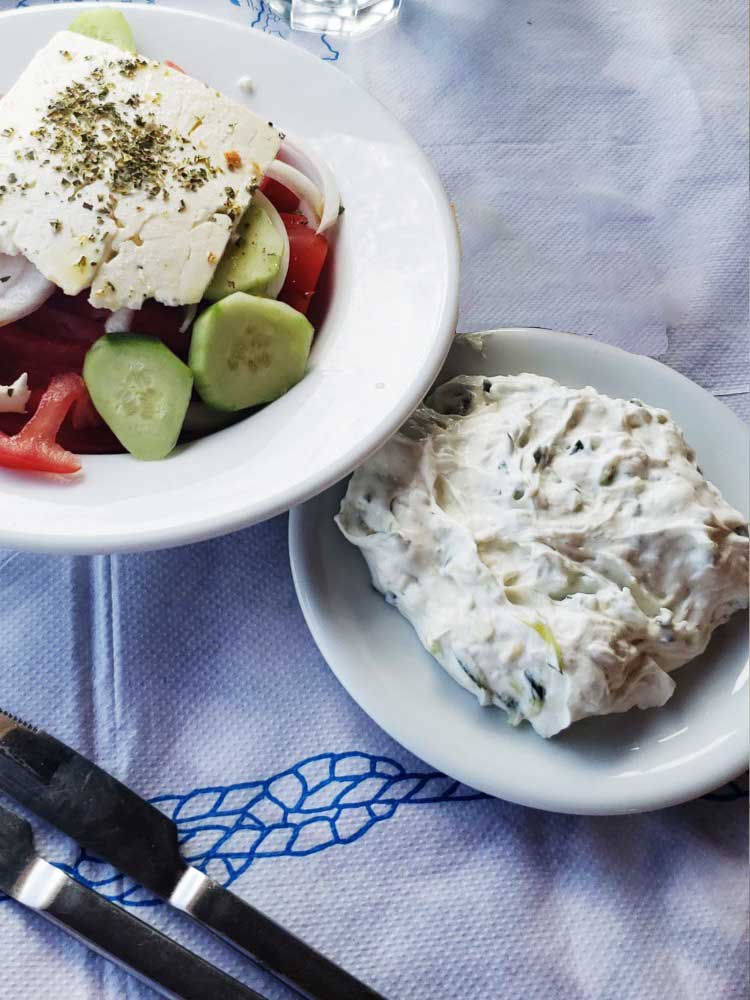 Keto Tzatziki Sauce
While tzatziki sauce is naturally keto friendly, there are a few things you can do to ensure your tzatziki sauce has the least carbs possible. Carbs in various yogurt brands vary widely. In addition to the naturally occurring sugars in milk, many brands add sugar or additives, even in plain yogurt.
Plain yogurt that isn't Greek will contain more carbs since it keeps whey and lactose intact. Also beware of "Greek style" yogurt, which may use fillers to achieve a thicker texture.
Since greek yogurt is strained, most of the liquid whey and lactose is removed which reduces carbs. The one I've found that's the most easily available in the US and lowest carb is the Fage brand. However, if you happen to have a specialty market or a Greek store locally, be sure to check those out for more authentic options. For this tzatziki sauce recipe though, finding the lowest carb yogurt you can will be sufficient.
faq
How Many Carbs in Tzatziki Sauce?
The amount of carbs in tzatziki sauce varies greatly, especially if you're purchasing it in the grocery store. Most have between three to five carbs in a two tablespoon serving depending on the brand and the exact ingredients.
Is Tzatziki Sauce Keto Friendly?
Most tzatziki sauce is keto friendly. However, always look at the label closely to avoid extra carbs coming from fillers or additives. If you're making it at home, you can control the carb count much better and make it as low carb as possible. This keto tzatziki sauce recipe ensures the lowest carb count possible with keeping all the authentic flavor.
Is Tzatziki Keto?
You know I always like to point out that ketosis is a metabolic state, not a food. People like to ask if a food is keto though, meaning is it keto friendly. In general, tzatziki is very keto friendly. Just be sure to read labels closely and monitor the serving size based on your goals.
Is Dill in Tzatziki?
To make authentic tzatziki sauce, you may want to leave out the dill. Although this is a very common herb in US versions of tzatziki, I really didn't see it being used in Greece. That said, it's your variation of tzatziki, so if you like dill, use it!
Is Lemon in Tzatziki?
Another ingredient to question in US versions of tzatziki is lemon. Although Greeks love their lemon, they typically use white vinegar or red wine vinegar in tzatziki. Personally I love lemon so I usually use it in place of vinegar.
Easy Tzatziki Sauce Recipe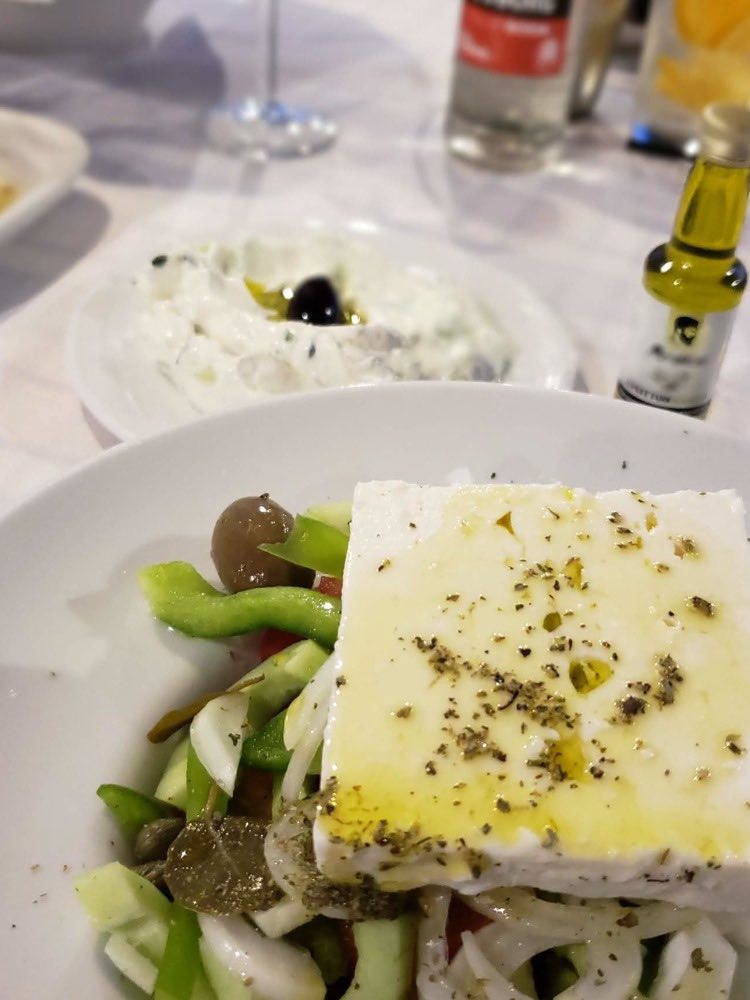 Most yogurt in Greece is made with sheep or goat's milk. In addition to everything tasting better on vacation, this is why tzatziki sauce made at home in the US doesn't quite capture the same flavor.
For this keto tzatziki sauce recipe, I've had pretty good success finding sheep's milk yogurt by Bellwether Farms in Whole Foods. This makes for a more authentic flavor but still not nearly as good as enjoying the authentic version while overlooking the Mediterranean from a Greek taverna.
For any tzatziki sauce recipe, the critical components are yogurt, cucumber, lemon juice, dill and garlic. Beyond that, you can get creative with the amounts that best suit your taste buds. For those of you more sensitive to garlic, you may want to start with just one clove. It's so easy because all you do is add the few ingredients to a bowl, stir and chill!
Authentic Tzatziki Sauce Recipe
As noted in the FAQ box above, traditional tzatziki is pretty basic with yogurt, cucumbers, vinegar and garlic. Anything else you add may be outside what some consider "traditional." I didn't really see any dill or lemon being used in this dish when I was in Greece, but there is no question that dill and lemon are delicious in this dish. It's also not really called "sauce" in Greece either, although that is what we are use to it being called in the states.
This sauce is a great addition to our Mediterranean meal prep bowl.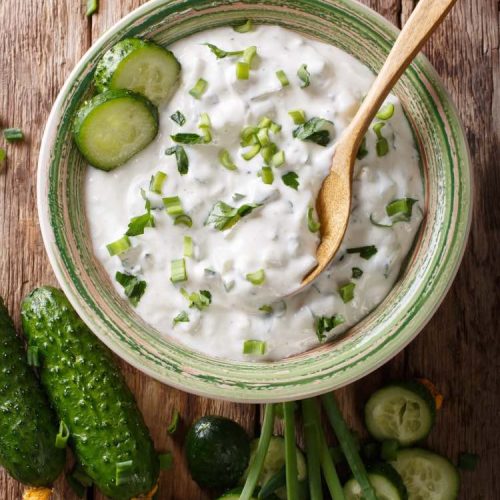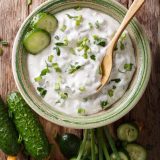 Print
Ingredients
⅔

cup

finely grated English cucumber

1 ½

cups

Greek yogurt

½

tablespoon

vinegar

1

tablespoon

extra-virgin olive oil

3

cloves

garlic

,

minced, or to taste

¼

teaspoon

white pepper

¼

teaspoon

sea salt

1

tablespoon

chopped dill

,

optional

1

tablespoon

chopped mint

,

optional

1

tablespoon

lemon juice

,

optional
Instructions
Grate cucumber and place in cheese cloth or a clean paper towel to squeeze out excess liquid.

In a medium mixing bowl, combine cucumber. Greek yogurt, lemon juice, olive oil, garlic, pepper, salt, dill and mint.

Serve immediately or refrigerate for at least 1 hour before serving.
Nutrition
Serving:
1
serving
Calories:
28
kcal
Carbohydrates:
1
g
Protein:
3
g
Fat:
1
g
Fiber:
0.1
g
Net Carbohydrates:
1
g
Did you make this recipe?
Be sure to tag @healnourishgrow on Instagram to be featured in our stories or our newsletter! We love it when you make our recipes and share with your friends.