September 26, 2022
Keto Cream of Mushroom Soup – Low Carb Recipe
Making this classic dish from scratch allows you to make cream of mushroom soup keto-friendly. As a kid growing up in the 70s, this canned soup was a staple in our house. As an adult, I don't really like the flavor of canned cream of mushroom soup and the ingredients and carb count just don't work for me. Fortunately, keto cream of mushroom soup recipe is easy to make and tastes so much better than canned. You'll also learn some tips on how to puree soup without making a mess.
Not only is this homemade cream of mushroom soup much more delicious than the ubiquitous canned version, it's also healthier! If you read the ingredients of almost any canned version of this soup, there are sure to be questionable ingredients. Even organic or healthier versions typically have thickeners that are not keto-friendly. In addition, most are made with milk rather than cream, adding to the carb count.
Carbs in Keto Cream of Mushroom Soup
When you make this soup at home, you're using clean ingredients and all of the carb count comes from whole food vegetables. Everyone's version of a low carb diet will vary, but personally I don't sweat carbs from low starch vegetables.
Disclaimer: Links may contain affiliate links, which means we may get paid a commission at no additional cost to you if you purchase through this page. Read our full disclosure here.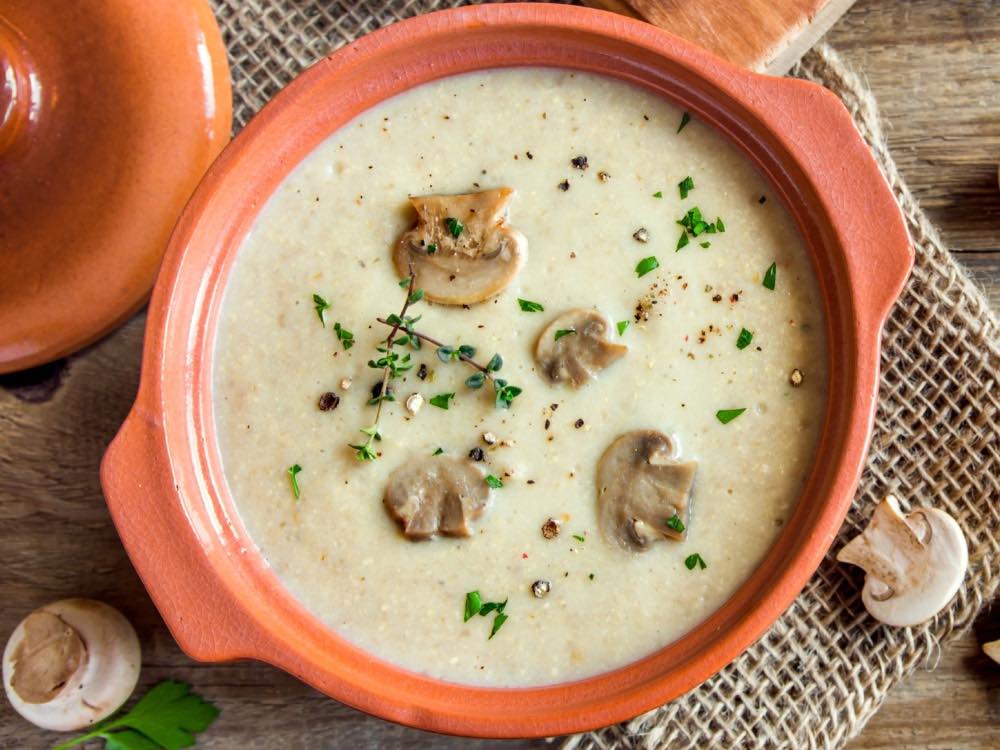 Although there are many homemade cream of mushroom soup recipes, they have one thing in common. They're better than canned!
Is Cream of Mushroom Soup Keto?
In general, cream of mushroom soup is not keto. While you know I like to avoid calling foods "keto" or "not keto," (ketosis is a metabolic state, not a food) traditional cream of mushroom soup is not keto friendly. Just a half cup of the most popular brand contains eight grams of carbohydrates.
Not only do most canned cream of mushroom soups have thickeners containing an amount of carbs that could kick you out of ketosis, many of them also have vegetable oils and other questionable ingredients.
Some common ingredients in canned cream of mushroom soup include cornstarch, MSG, canola and/or soybean oil and wheat flour. Even "cleaner" brands may contain thickeners that increase the carb count.
As always, if you're using a prepared food product, read the label carefully. Hidden carbs are everywhere, especially in the over 60 different names for sugar.
Download our handy sugar names guide to store on your phone to have on hand while shopping.
Keto cream of mushroom soup can be enjoyed as a soup of course, but you can also use it in other recipes just like you would canned. Try adding it to our Simple Bacon Brussels Sprouts for a nice variation, Keto Green Bean Casserole (coming soon, just in time for Thanksgiving) or as a base for Creamy Pork Chops.
Recipe tips
An immersion blender is well worth the investment. They're relatively inexpensive and often come with other attachments like whisks and frothers. However, if you only have a traditional blender on hand, that works perfectly well for this recipe too.
How to Puree Soup in a Blender
How to puree soup in a blender may seem obvious, but there is one big consideration to make sure you do it safely. It may seem like nothing could possibly go wrong with this process and if you're making a cold soup like Chilled Cucumber Feta Soup or Creamy Raw Zucchini and Avocado Chilled Soup, you're probably right.
However, if you're going to put hot soup in a blender or Vitamix to puree, you must use caution! Ask me how I know, lol. When I was a less experienced cook, I put some hot soup in a blender to puree and was surprised by the explosion and mess! Fortunately, it's really easy to avoid this disaster.
Steps to Puree Soup in a Blender
This is the most important tip, only fill your blender halfway with hot liquid.
Process your hot soup in several batches if necessary.
Remove the stopper from the top of the blender and cover with a clean towel instead.
Place your hand over the clean towel when blending the soup.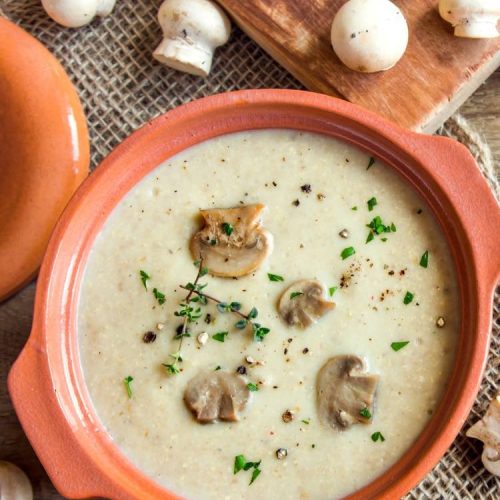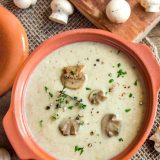 Print
Keto Cream of Mushroom Soup – Low Carb Recipe
Ingredients
3

tablespoons

butter

,

divided

16

ounces

mushrooms

,

sliced

2

cloves

garlic

,

minced

¼

cup

onion

,

chopped

1 ½

cups

heavy cream

½

cup

chicken broth

½

teaspoon

salt

¼

teaspoon

white pepper

,

to preserve soup color

3

teaspoon

chopped thyme

,

fresh, plus extra for garnish

parsley

,

optional, for garnish
Instructions
In a large skillet over medium heat, melt 2 tablespoons of butter.

Stir in mushrooms and cook for 10 to 15 minutes or until most of their moisture has been released and reduced.

Remove a third of the mushrooms from the pan.

Add the rest of the butter, garlic and onion to the pan and saute for about 2 minutes.

Pour in the heavy cream and stir to mix thoroughly.

Use an immersion blender to puree the soup. Alternatively, you can pour the soup into a traditional blender, see note above.

Return the puree to the pan and add in reserved mushrooms and the chicken broth.

Stir in salt, pepper and fresh thyme.

Allow the soup to simmer for about 20 minutes or until it has thickened.

Serve hot and garnish with parsley leaves and thyme sprigs, if desired.
Notes
For even thicker soup, blend in a 1/4 teaspoon cream of tartar or xanthan gum when you puree the soup. If you love mushrooms, don't be afraid to saute extra and add them in at the end.
Nutrition
Calories:
282
kcal
Carbohydrates:
7
g
Protein:
4
g
Fat:
28
g
Fiber:
2
g
Net Carbohydrates:
4
g
Did you make this recipe?
Be sure to tag @healnourishgrow on Instagram to be featured in our stories or our newsletter! We love it when you make our recipes and share with your friends.