September 29, 2022
Keto Green Bean Casserole – Low Carb Recipe
This keto green bean casserole recipe is based on the Thanksgiving classic made with cream of mushroom soup, French's onion straws and of course, green beans. There are other Thanksgiving green bean recipes, but this is the one that many expect to be on the table.
According to Campbell's website, the original recipe was written by the Campbell test kitchen manager Dorcas Reilly in 1955. This green bean recipe has since become a staple at Thanksgiving. While I was never a fan, my husband absolutely expects this to be on our Thanksgiving menu.
French's original crispy fried onions are used in the original recipe. A small amount of these could be used and still fit within keto macros. However, they still have wheat which is full of gluten and dextrose, which is just another name for sugar. You can download our handy reference list of over 60 names for sugar here.
Disclaimer: Links may contain affiliate links, which means we may get paid a commission at no additional cost to you if you purchase through this page. Read our full disclosure here.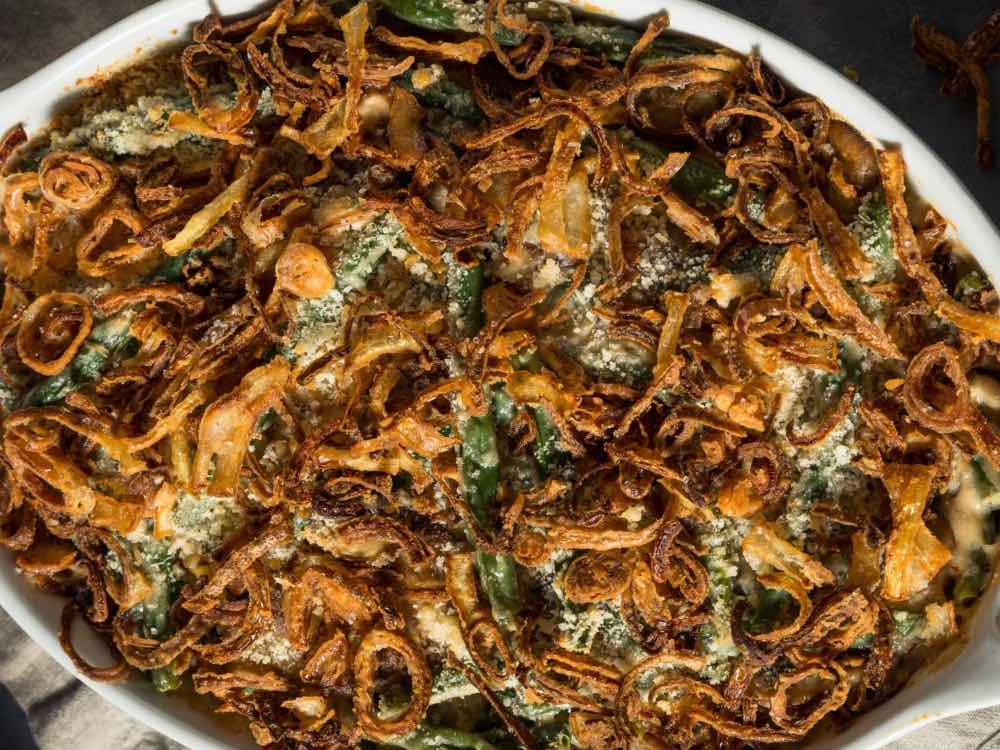 Keto Green Bean Recipe
The other main ingredient in this dish, canned cream of mushroom soup, also has some issues with being keto friendly. Read more about why most cream of mushroom soup doesn't work for keto in our Keto Cream of Mushroom Soup recipe. For this keto green bean recipe, you'll need to make some changes from the original. Fortunately it's easy enough to make substitutions for the original carby ingredients with healthier, homemade, keto-friendly options.
faq
Are Green Beans Keto?
If you're wondering if green beans are keto, the short answer is yes. Green beans have very keto-friendly macros and are low calorie too. This makes green beans great for dieting.
A cup of green beans has just 28 calories, 5.5 grams of carbs and 2.5 grams of fiber, which means there are just 3 net carbs in the whole cup.
Look for a green bean recipe that doesn't use other carb filled ingredients to ensure your dish stays keto.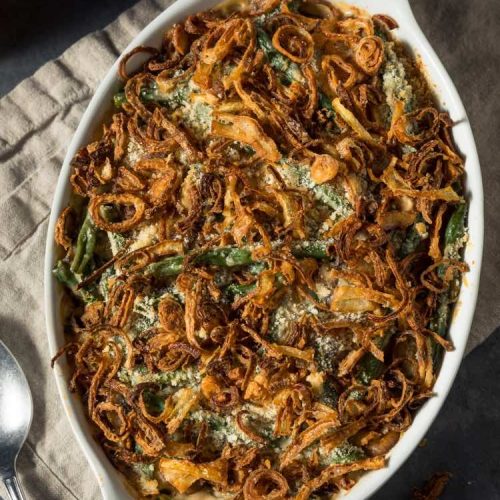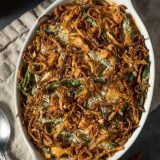 Print
Keto Green Bean Casserole
Ingredients
Onion Topping
1

large

egg

,

beaten

½

teaspoon

salt

1

medium

onions

,

thinly sliced

2

teaspoons

cream of tartar

4

tablespoons

pork rind panko

,

or finely crushed pork rinds

4

tablespoon

parmesan cheese

,

finely grated

spray coconut oil

,

or lightly coat
Instructions
Preheat oven or air fryer to 475°F.

In a medium bowl, beat the egg and salt together until smooth.

Place the onions in the egg mixture and stir gently to coat the onions and separate into rings.

In a separate medium bowl, mix together the cream of tartar, pork rind panko and parmesan cheese.

Using a fork, remove onions from egg mixture, letting excess drip off before placing the onions into the panko mixture. Repeat until all onions are added and toss gently to coat.

Spray or lightly coat a baking sheet with coconut oil.

Shake excess coating from onions and place in a single layer on the baking sheet.

Cook until lightly browned and tender, about 30 minutes, tossing the onions once about halfway through.

Remove onions from the oven and set aside to cool.

Reduce oven heat to 400°F.

Prepare the green beans while the onions are cooking. Bring a large stockpot of water to a boil

While the onions are cooking, prepare the beans. Bring a gallon of water and 2 tablespoons of salt to a boil in an 8-quart saucepan. Add the beans and blanch for 5 minutes. Drain in a colander and immediately plunge the beans into a large bowl of ice water to stop the cooking. Drain and set aside.

Lightly coat a 1 to 1 1/2 quart casserole dish with coconut oil or butter.

In a large bowl, mix together the green beans, cream of mushroom soup and a quarter of the crispy onions. Place the mixture into the casserole dish and top with the rest of the onions.

Place the beans into the oven and bake until bubbly, about 15 minutes.
Notes
Carbs in this recipe are from the green beans and onions. If you'd like to reduce carbs even more, consider a smaller serving of green beans. However, I find carbs from low carb, whole food vegetables don't generally affect ketosis.
Nutrition
Serving:
1
serving
Calories:
119
kcal
Carbohydrates:
7
g
Protein:
7
g
Fat:
4
g
Fiber:
2
g
Net Carbohydrates:
5
g
Did you make this recipe?
Be sure to tag @healnourishgrow on Instagram to be featured in our stories or our newsletter! We love it when you make our recipes and share with your friends.