July 3, 2023
Gluten Free Tabbouleh (Tabouli) – Keto Low Carb Recipe
If you're a fan of Middle Eastern cuisine but need to avoid gluten and excess carbs, this keto tabbouleh recipe is for you. Tabbouleh is a delicious and refreshing salad that often features bulgur wheat. However, I created a gluten-free, keto-friendly version of tabbouleh (tabouli) that swaps out wheat for cauliflower.
What is Tabbouleh?
Tabbouleh is a traditional Middle Eastern salad that hails from Lebanon and Syria. It's a vibrant and refreshing dish made with fresh herbs, vegetables, and grain. The star ingredient of tabbouleh is typically bulgur wheat, but in this gluten-free version, we use a substitute that is equally delicious.
What sets tabbouleh apart is its bright flavors and the combination of parsley, mint, tomatoes, cucumbers, lemon juice, olive oil, and seasonings. These ingredients come together to create a zesty salad that bursts with freshness in every bite. Tabbouleh can be enjoyed as a side dish or even as a light main course on warm summer days. Now that you have an idea of what tabbouleh is all about let's dive into the differences between gluten-free tabbouleh vs traditional tabbouleh (tabouli).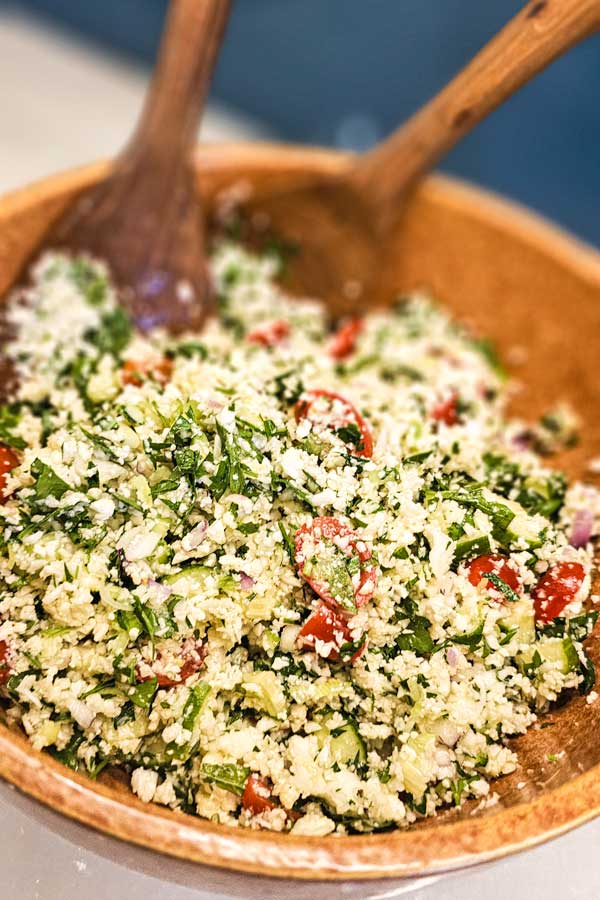 Gluten-Free Keto Tabbouleh vs. Traditional Tabbouleh
The primary distinction between gluten-free tabbouleh and traditional lies in the choice of grain as a main ingredient. Traditional tabbouleh is often made with bulgur wheat, which contains gluten. On the other hand, this version of gluten-free tabbouleh replaces bulgur wheat with cauliflower, which keeps this dish low carb and keto friendly as well.
Other gluten free recipes for tabbouleh may use alternative grains such as quinoa or millet, but you know we're all about keeping it low carb here! The substitution in this recipe makes it suitable for individuals with celiac disease and those following a gluten-free or keto diet. So whether you're avoiding gluten due to dietary restrictions or simply prefer a grain-free option, there's a version of Tabbouleh that suits your needs!
Disclaimer: Links may contain affiliate links, which means we may get paid a commission at no additional cost to you if you purchase through this page. Read our full disclosure here.
Key Ingredients
One of the key ingredients in this variation of tabbouleh is cauliflower, which serves as a nutritious alternative to bulgur wheat. Another important ingredient is fresh parsley, which gives tabbouleh its vibrant green color and distinct flavor. Parsley is not only packed with vitamins and minerals but also acts as a natural detoxifier for the body.
In addition to cauliflower and parsley, other essential ingredients include ripe tomatoes, crisp cucumbers, tangy lemon juice, extra virgin olive oil, and fragrant mint leaves. These ingredients bring a refreshing taste to the dish while adding their own health benefits. The combination of these key ingredients creates a harmonious blend of flavors that make gluten-free tabbouleh an irresistible choice for those seeking a flavorful and healthy salad option.
How to Make Gluten Free Tabbouleh
Making gluten-free tabbouleh is easy! Here's a simple step-by-step guide to help you create this delicious and refreshing dish.
First, gather your ingredients. I prefer raw riced cauliflower in this recipe, but you may also wish to steam or microwave it for a short time to make it slightly less crunchy. Then chop all the vegetables finely. The parsley should be the star of the show! Mix everything together in a large bowl and add lemon juice, olive oil, salt and pepper to taste. Give it a good toss until well combined.
Serve your homemade gluten-free tabbouleh as a side dish with grilled chicken or fish for a complete meal. It's also great on its own as a light lunch option or stuffed into lettuce wraps or keto tortillas for an easy snack.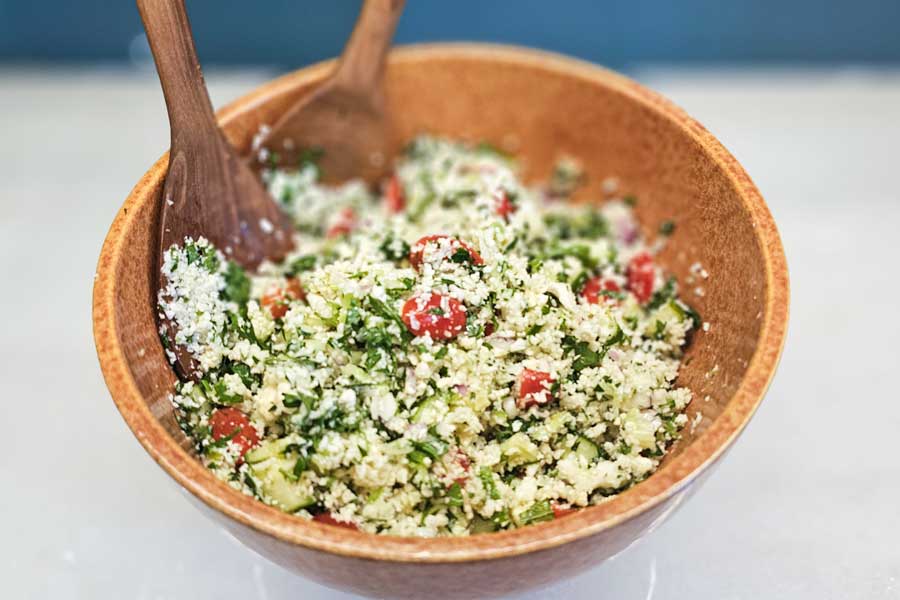 Tips for Success
1. Use Fresh Ingredients. The key to a delicious gluten-free keto tabbouleh is using fresh ingredients. Opt for crisp, vibrant vegetables and fragrant herbs to enhance the flavors of the salad. This will ensure that each bite is bursting with freshness.

2. Let It Marinate. After combining all the ingredients together, let your gluten-free tabbouleh sit in the refrigerator for at least 30 minutes before serving. This allows time for all the flavors to meld together and intensify.

Remember these tips while making gluten free tabbouleh so you can create a refreshing dish that's packed with flavor!
Gluten Free Keto Tabbouleh (Tabouli) Variations and Substitutions
Looking to put your own spin on gluten-free keto tabbouleh? There are endless possibilities for customizing this refreshing salad to suit your taste buds. Get creative with the ingredients and make it uniquely yours.

One way to switch things up is by adding different veggies or herbs. Try incorporating bell peppers or roasted sweet potatoes (if they fit your macros) for a twist. You can also experiment with other fresh herbs like cilantro or dill to add an extra burst of flavor. Don't be afraid to mix and match until you find the perfect combination.

Remember that there's no right or wrong way when it comes to variations and substitutions in gluten-free tabbouleh, it's all about personal preference.
Protein Additions for the Salad
When it comes to adding protein to your gluten-free tabbouleh salad, the possibilities are endless! You can easily customize this refreshing dish by incorporating your favorite protein sources. One option is to include grilled chicken or fish for a lean and flavorful addition.
faq
Is Tabbouleh Safe For People With Celiac Disease?
Traditional tabbouleh is not usually safe for those with celiac since it usually contains wheat. However, this recipe is absolutely celiac-safe! Gluten-free tabbouleh is made without wheat or any other gluten-containing grains, making it completely safe for individuals with celiac disease or gluten intolerance.
Can I make ahead and store gluten-free tabbouleh?
Certainly! Once prepared, you can store your gluten-free tabbouleh in an airtight container in the refrigerator for up to three days. Just be sure to give it a good stir before serving it again.
Is Tabbouleh Gluten Free?
Traditional tabbouleh often contains bulgar wheat or other grains that contain gluten. So no, most variations of traditional tabbouleh are not gluten-free.
Is Tabbouleh Keto?
As we always say, "no food is keto", ketosis is a metabolic state and not a food. You could probably eat a small amount of traditional tabbouleh and stay in ketosis depending on the ingredients. However, most tabbouleh does contain grain which tends to be high carb.
How Many Carbs in Tabbouleh?
Bulgar wheat has 17 grams of carbohydrates in a half cup. Since this grain often makes up the bulk of traditional tabbouleh recipes, you'd be consuming quite a bit of carbs with most tabbouleh.
Remember, if you have any specific concerns or additional questions about this delicious dish, don't hesitate to reach out. We're here to help you enjoy every bite of your homemade gluten-free tabbouleh!
Storage and Serving Suggestions
When it comes to storing gluten-free tabbouleh, it's important to keep it fresh and flavorful for as long as possible. After making the salad, transfer any leftovers into an airtight container and refrigerate. This will help maintain its vibrant colors and prevent the herbs from wilting. Gluten-free tabbouleh can be stored in the refrigerator for up to three days.
Additional Salad Recipes
If you've enjoyed this gluten-free tabbouleh recipe and are looking to expand your salad repertoire, try out these delicious options. We've got you covered on a variety of delicious summer salad options.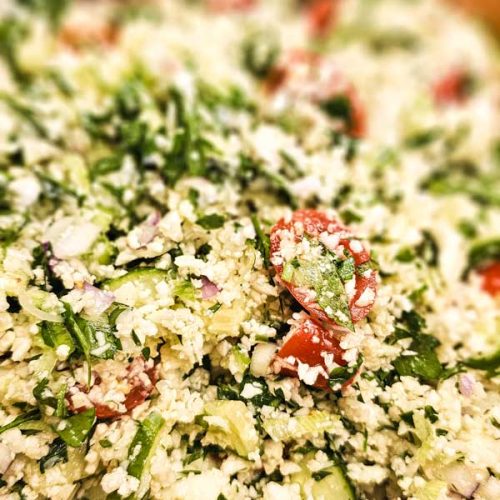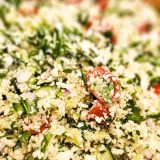 Print
Ingredients
6

cups

riced cauliflower

3

cups

finely chopped fresh flat-leaf parsley

½

cup

chopped green onions

,

whites and part of green

¼

cup

chopped red onion

¼

cup

chopped mint

1

cup

chopped english cucumber

1

cups

small grape tomatoes

,

halved

2

large

lemons

,

juiced

1

clove

garlic

,

minced

¾

cup

extra-virgin olive oil

¼

teaspoon

sea salt

⅛

teaspoon

ground black pepper
Instructions
In a large mixing bowl, place the cauliflower, parsley, onions, mint, cucumber, tomatoes and garlic.

Pour the lemon juice and olive oil over all the ingredients and add salt and pepper.

Toss to thoroughly combine and adjust seasoning as necessary.
Equipment
Nutrition
Serving:
1
people
Calories:
189
kcal
Carbohydrates:
10
g
Protein:
3
g
Fat:
17
g
Fiber:
4
g
Net Carbohydrates:
6
g
Did you make this recipe?
Be sure to tag @healnourishgrow on Instagram to be featured in our stories or our newsletter! We love it when you make our recipes and share with your friends.