June 22, 2023
Roasted Asparagus Salad with Tomatoes and Mozzarella
Looking for a healthy and delicious way to add some excitement to your salads? Look no further than this roasted asparagus salad with tomatoes and mozzarella! Asparagus is not only packed with vitamins and minerals but also has a unique flavor that pairs perfectly with the sweetness of cherry tomatoes and the creaminess of fresh mozzarella. Roasting the asparagus brings out its natural nuttiness, making it an irresistible addition to any salad.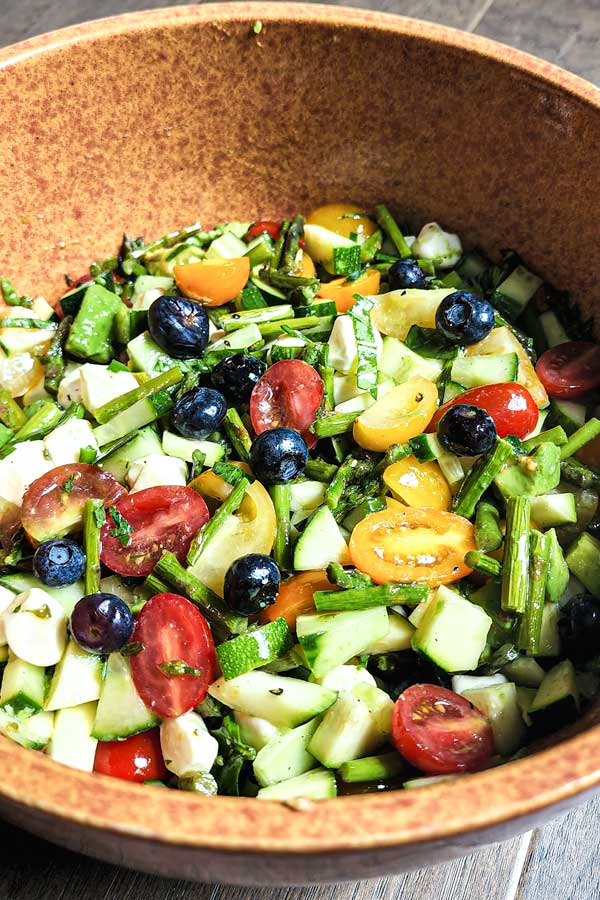 This roasted asparagus salad is not only easy to make but also a delicious way to add some variety to your salad routine. Packed with nutrients and bursting with flavor, this recipe is perfect for any season and can be adapted to suit your taste preferences.
Ingredients Needed for Roasted Asparagus Salad
To make this delicious roasted asparagus salad, you'll need fresh asparagus spears, cherry tomatoes, mozzarella cheese balls and olive oil as the main ingredients. These flavors come together to create a flavorful and satisfying dish that's perfect for any occasion.
Disclaimer: Links may contain affiliate links, which means we may get paid a commission at no additional cost to you if you purchase through this page. Read our full disclosure here.
Tips for Selecting and Preparing Asparagus
When choosing asparagus, look for firm, straight stalks with tightly closed tips. Avoid asparagus that is limp or wilted. To prepare, simply rinse in cold water and snap off the woody ends by bending each stalk until it breaks naturally. Additionally, you can peel the bottoms of thicker spears with a vegetable peeler to remove the tough outer layer.
Roasting the Asparagus
Roasting the asparagus is easy and brings out its natural sweetness, making a perfect complement to the berries. Roasted asparagus salad is a great way to enjoy summer's most popular vegetables.
Simple to make and delish you need roasted asparagus in your rotation! I've been preparing asparagus like this for years and people always comment on how delicious it is. They're generally surprised when I share how simple it is to make amazing asparagus.
Simply preheat your oven to 375°F and toss the asparagus right in your roasting pan with high-quality extra virgin olive oil, salt, and pepper. Based on a 2018 study, olive oil is one of the most stable oils when heated. Heating oils can oxidize them and create toxic compounds that impact health negatively.
Even so, I like to keep the temperature slightly lower to match the smoke point. Roast for about 10-15 minutes until tender and slightly browned. I like my roasted asparagus slightly firm so I poke a fork in the asparagus after several minutes of cooking to determine doneness.
How to Make Roasted Asparagus Salad with Tomatoes and Mozzarella
Toss the roasted asparagus with the other ingredients. I like to top it with fresh basil for an extra pop of flavor and use whole leaves for garnish.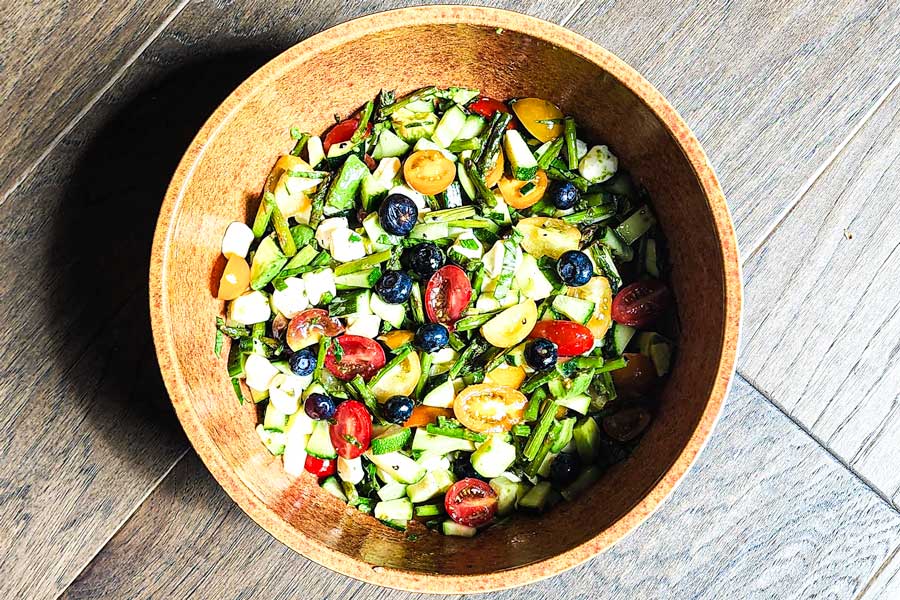 Serving Suggestions and Other Cheese Options
For a complete meal, serve the roasted asparagus salad with grilled chicken or fish. As an alternative to mozzarella cheese, try adding feta or goat cheese for a tangy flavor. Customize the salad by topping it off with your favorite dressing and enjoy!
Variations of Roasted Asparagus Salad to Try
There are endless ways to customize this roasted asparagus salad. Try adding grilled chicken or shrimp on top for a heartier meal, swap mozzarella for feta or goat cheese, or add some sliced avocado. Experiment with different dressings too; balsamic vinaigrette, lemon garlic dressing, and honey mustard are all delicious options. Get creative and make it your own!
How to Store and Make Ahead Tips
Roasted asparagus salad can be stored in an airtight container in the refrigerator for up to three days. To make ahead, roast the asparagus and prepare the other ingredients, but do not mix them together until ready to serve. This way, you can have a fresh and delicious salad anytime without compromising its quality.
Asparagus Nutrition
Roasted asparagus salad with tomatoes and mozzarella is a healthy and nutritious option, packed full of vitamins and minerals. Asparagus is an excellent source of fiber, folate, vitamin C, E, K, antioxidants while tomatoes are rich in lycopene. Mozzarella cheese provides protein and calcium.
Other Asparagus Recipes
If you're a fan of asparagus, there are plenty of other delicious ways to enjoy this seasonal vegetable. Here are some more recipes for you to try:
Asparagus and Mushroom Frittata – Perfect for breakfast or brunch, use our frittata recipe to make this delicious variation. Roast your asparagus and mushrooms and add to your frittata before baking.
Prosciutto Wrapped Asparagus with Cheese – This appetizer or side dish recipe is always a hit! Tender-crisp bundles of fresh asparagus are wrapped in prosciutto and topped with asiago cheese.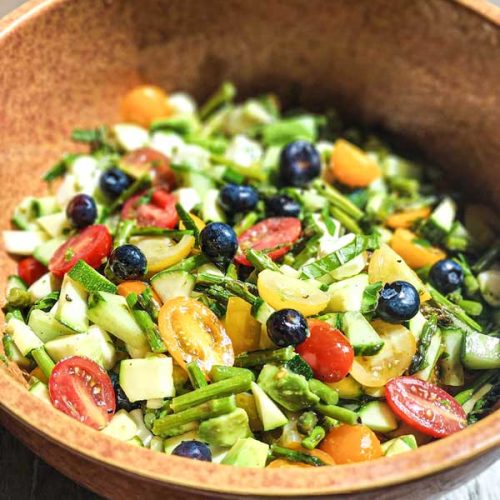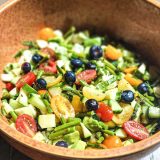 Print
Roasted Asparagus Salad with Tomatoes and Mozzarella
Ingredients
1

pound

asparagus

,

cut into 1" pieces and roasted

½

teaspoon

garlic salt

¼

cup

extra virgin olive oil

1

cup

chopped zucchini

1

cup

chopped cucumber

10

ounces

grape tomatoes

,

halved

1

medium

diced avocado

½

cup

blueberries

8

ounces

mozzarella

,

pearls or diced

1

tablespoon

lemon juice

2

tablespoons

chopped fresh basil

,

plus extra for garnish

salt and pepper

,

to taste
Instructions
Place the chopped asparagus in roasting pan, add garlic salt plus a tablespoon of extra virgin olive oil and shake to coat.

Roast asparagus for about 10 minutes or until they are desired doneness by testing with a fork.

Pour the asparagus with liquid into a large mixing bowl.

Place the zucchini, cucumber, tomatoes, avocado, blueberries, mozzarella, lemon juice and basil in with the asparagus.

Drizzle the remaining extra virgin olive oil over the asparagus mixture and toss to coat thoroughly.

Start with about 1/4 teaspoon each of salt and pepper, mix in then adjust to taste.
Equipment
Nutrition
Serving:
1
people
Calories:
213
kcal
Carbohydrates:
9
g
Protein:
9
g
Fat:
17
g
Fiber:
4
g
Net Carbohydrates:
5
g
Did you make this recipe?
Be sure to tag @healnourishgrow on Instagram to be featured in our stories or our newsletter! We love it when you make our recipes and share with your friends.