May 10, 2023
Easy Frittata, The Only Frittata Recipe You'll Ever Need!
If you're looking for easy frittata recipes, you've come to the right place! Once you have this recipe and method, you'll be able to create a keto frittata recipe or an egg white frittata of your own in minutes with whatever ingredients you like.
The best part is, that making a frittata in the oven just requires a few easily found ingredients. Since frittatas are egg-based, they're naturally keto-friendly. As long as you stay away from adding any potatoes, just about any variation of this easy frittata recipe will fit in your keto macros. Making your frittata with just egg whites is a great way to get extra protein without the extra calories of the yolk if you're working on weight loss.
Easy Keto Frittata Recipes
So what makes for an easy frittata recipe? In my mind, that means easily found ingredients and the ability to make the dish quickly. This keto frittata recipe fits both of those requirements. The best part is, once you learn this method, you can make your own frittata almost any time you'd like! Personally, I have the basics to make this easy frittata in the oven any time I get the urge.
What makes a keto frittata so easy is that all it requires is mixing up the ingredients and then baking. No crust to make like with a quiche (although this recipe is delicious) and no flipping or folding like with an omelet.
Disclaimer: Links may contain affiliate links, which means we may get paid a commission at no additional cost to you if you purchase through this page. Read our full disclosure here.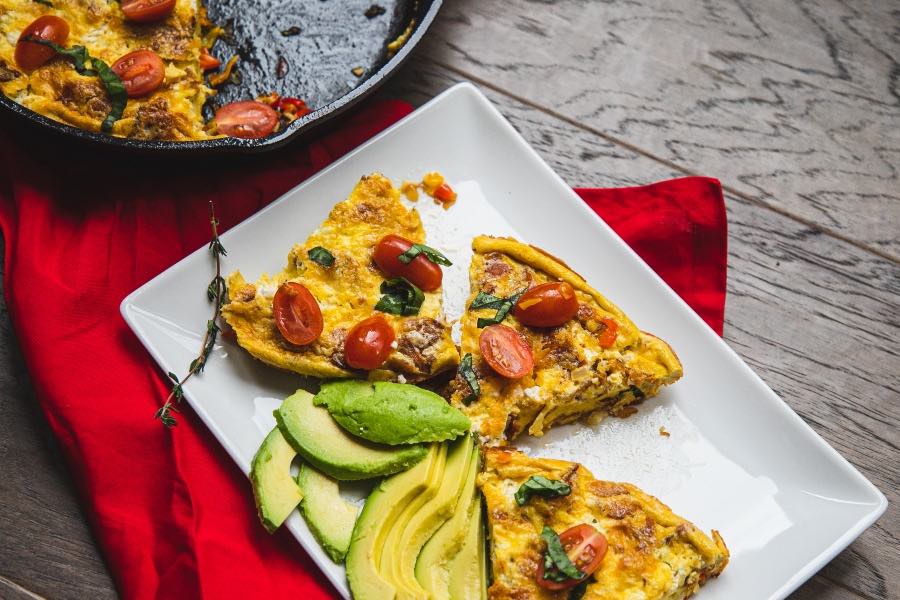 How to Make a Keto Frittata Recipe Technique
The secret to a great frittata is in the ratio of eggs to dairy. Using dairy in your frittata recipe turns what would be just another omelet into a light and fluffy egg cake. The secret to the perfect easy frittata every time is the amount of dairy you'll need to use.
For every six eggs, you'll want to use a quarter cup of a full-fat liquid dairy such as heavy cream or whole milk. Milk is less keto-friendly, but will usually still fit your macros since it's a small amount spread over the whole dish.
So then for a larger keto frittata, you'll need a dozen eggs you use and a half-cup of liquid dairy. Want to go smaller than six or 12? Don't bother. The beauty of a frittata is that it serves a crowd and is easily reheated. If you use too much dairy the eggs will be too loose. But don't use too little either, dairy is what makes a fluffy, dreamy frittata!
As for the cheese, use up to 1/2 cup in the mix for every six eggs and feel free to add more to the top!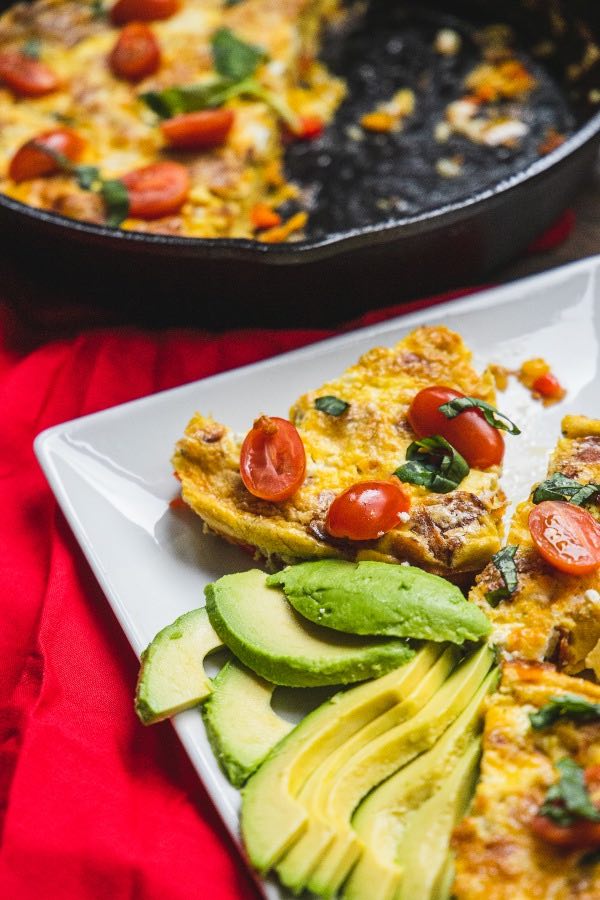 How to Add Additional Ingredients to a Keto Frittata
This is one of the most fun parts of learning to make a keto frittata. Once you have the eggs and dairy down, you can use any keto-friendly ingredients you like. Just make sure you cook any meat or vegetables you're adding to the frittata first.
For a six-egg keto frittata about a cup of meat and vegetables works well. For a 12-egg frittata, you can go up to about two cups. There really isn't a hard and fast rule on this part, it mostly depends how much egg you like in comparison to the other ingredients.
How to Make a Frittata in the Oven
Making a frittata in the oven is really the only way to go. While you could try to cook it slowly on the cooktop, the oven provides much more even heat all around which is a much more reliable way to cook a frittata. I like to use the convection setting on my oven to promote more even cooking, but the conventional setting also works fine.
Be sure not to overcook the frittata. When it's finished cooking the consistency should be custard-like…mostly set but the center may slightly jiggle. It will continue to solidify once you take it out. Check on it often. Cooking time varies due to the depth of the eggs in whatever size skillet you use.
Be careful not to just look at the top of your frittata. You may be tempted to think it's finished with the top is golden brown. While this looks pretty, it usually means the inside will be overcooked. If you really like this look, put it under the broiler for a couple of minutes after it's been in the oven for a while. If you happen to overcook it a bit don't stress out too much. It will likely still taste great, even though it will have a more dense consistency.
Keto Frittata Recipe, Egg White Variation
Since so many people search for frittata recipes with egg white, it's worth noting that you can use this same method for your egg white frittata. Two egg whites are equivalent to one whole egg so you just need to substitute accordingly.
To make an egg white version of this frittata, simply use 12 egg whites in place of the 12 whole eggs.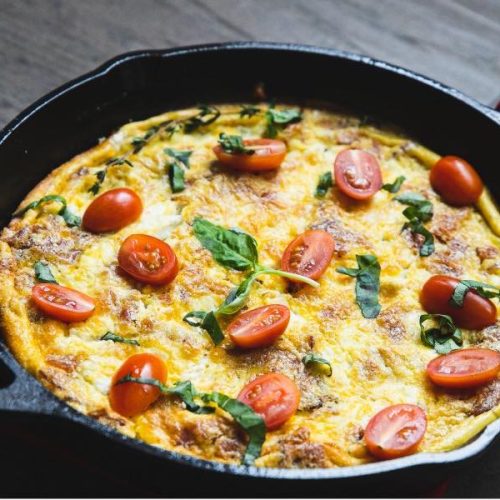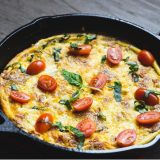 Print
Bacon and Goat Cheese Frittata
Ingredients
8

ounces

bacon

,

cooked crispy, reserve fat

3

tablespoons

bacon fat

¼

cup

onion

,

chopped

2

cloves

garlic

¼

cup

red bell pepper

,

chopped

¼

cup

orange or green bell pepper

6

eggs

¼

greek yogurt

¼

cup

heavy cream

½

cup

white cheddar

,

shredded

¼

teaspoon

salt

¼

teaspoon

white pepper

¼

teaspoon

thyme

4

ounces

goat cheese

,

herbed and crumbled
Garnish
10

cherry

tomatoes

,

optional

2

tablespoons

basil

,

chopped, optional

1

large

avocado

,

optional
Instructions
Cook your bacon until desired doneness, chop into pieces and reserve bacon fat.

Use the bacon fat to saute the onion, garlic and peppers until tender, spread evenly in the bottom of the skillet and remove from heat.

In a large mixing bowl, whisk together the eggs until smooth.

Pour the heavy cream into the eggs and add the yogurt, whisk until smooth.

Sprinkle the cheddar cheese, salt, pepper and thyme into the egg mixture and whisk to mix.

Evenly place the bacon in the skillet on top of the pepper and onion mixture.

Pour the egg mixture into the skillet, rubbing the pan with extra reserved bacon fat if needed.

Sprinkle the crumbled goat cheese over the top.

Bake the frittata in the oven for about 20 to 30 minutes (depending on depth of eggs in skillet) or until the frittata is mostly set with a slight jiggle in the center.

Serve immediately but also reheats well!
Equipment
Nutrition
Serving:
1
people
Calories:
472
kcal
Carbohydrates:
3
g
Protein:
18
g
Fat:
42
g
Fiber:
3
g
Net Carbohydrates:
2
g
Did you make this recipe?
Be sure to tag @healnourishgrow on Instagram to be featured in our stories or our newsletter! We love it when you make our recipes and share with your friends.