June 16, 2023
Prosciutto Wrapped Asparagus with Cheese
Are you looking for a delicious and healthy appetizer or side dish that's perfect for keto? Look no further than prosciutto-wrapped asparagus with cheese! This dish is not only easy to make, but it also packs a nutritious punch. Asparagus is loaded with vitamins and minerals while prosciutto adds a savory touch. Plus asparagus is very keto friendly with about one net carb per serving.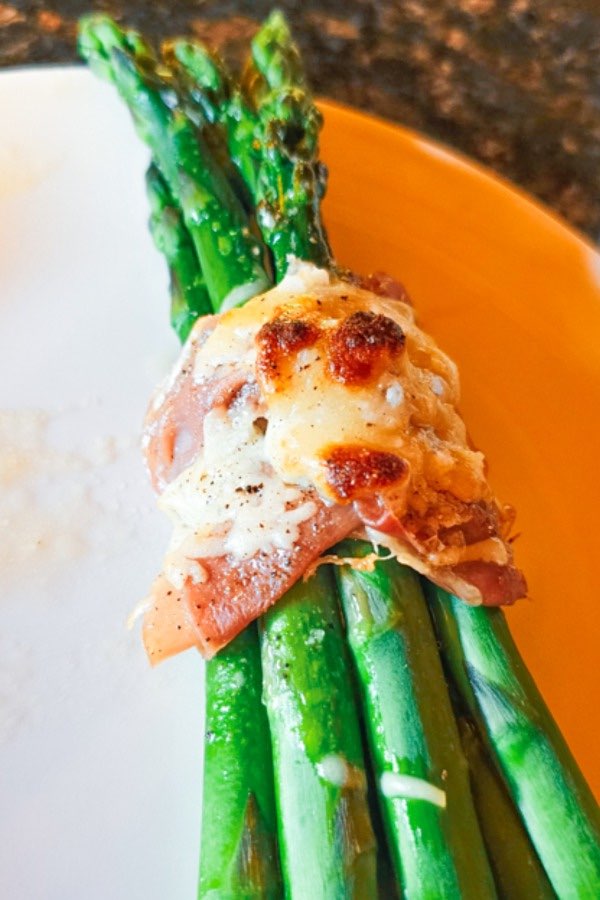 And let's not forget the added bonus of melted cheese on top. Get ready to impress your guests (or just treat yourself) with this tasty recipe.
We were back in Cincinnati recently for work and had the chance to visit with so many of our friends. One night, we had a grill-out dinner where my bestie made this delicious side dish that we ended up eating as an appetizer. It was so simple and fresh tasting, I couldn't wait to share it with you!
What is Prosciutto?
Prosciutto is a type of dry-cured ham that originated in Italy. It's made from the hind legs of pigs, which are salted and then air-dried to cure for several months to develop their distinct flavor. Prosciutto has a rich, salty taste and a tender texture that makes it perfect for wrapping around other foods.
There are two main types of prosciutto: prosciutto di Parma and prosciutto di San Daniele. Both varieties have protected designation of origin (PDO) status under European Union law, meaning they can only be produced in specific regions using traditional methods.
Disclaimer: Links may contain affiliate links, which means we may get paid a commission at no additional cost to you if you purchase through this page. Read our full disclosure here.
Asparagus Nutrition
Asparagus is low in calories but high in fiber, vitamins A and C, folate, and potassium. It also contains antioxidants that help protect your cells from damage caused by harmful free radicals.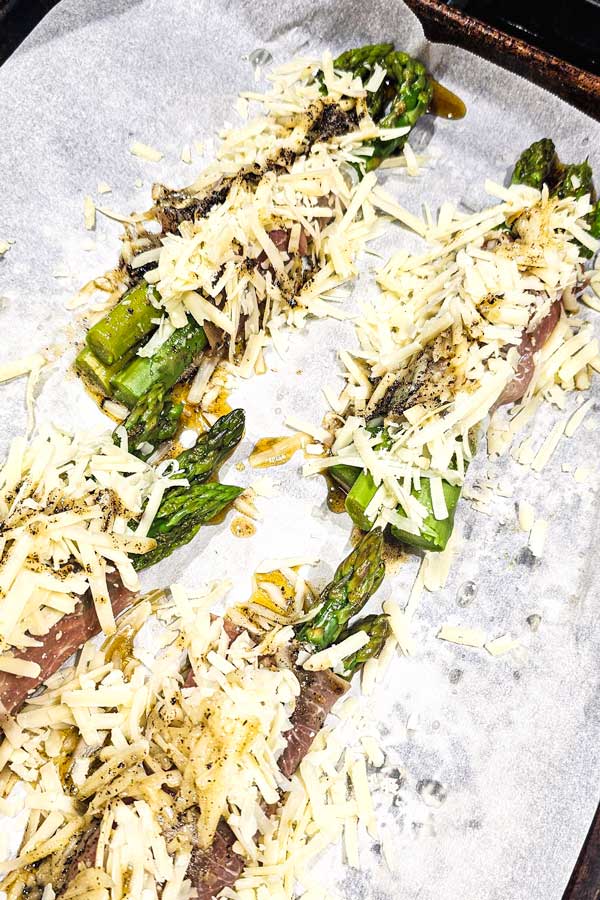 Additionally, asparagus is rich in prebiotic fibers that can support digestive health by promoting the growth of beneficial bacteria in your gut. Due to its impressive nutritional profile, asparagus is an excellent addition to any diet – including keto diets – for those looking to increase their daily nutrient intake.
Asparagus is naturally high in fiber and low in carbohydrates. For every 100 grams of asparagus, there are only 20 calories, four grams of carbs and two grams of fiber.
How to Make Prosciutto Wrapped Asparagus with Cheese
To make this delicious keto asparagus appetizer, you'll need fresh asparagus spears, prosciutto slices, and cheese of your choice. I'm sticking with asiago to make the whole dish Italian-inspired. Asiago is generally more moist than parmesan, making it easier to melt. Choose a fresher, less-aged variety for better melting. If you don't care about all Italian ingredients, gruyere or a nice brie would be great for this keto asparagus recipe.
Preparing the Asparagus
To prepare the asparagus, start by washing and trimming the stalks. Snap off the woody ends of each spear. They will easily break at a natural point when you bend them.
Next, you'll need to blanche the asparagus. All blanching is at its most basic, is boiling. If you want more details, Wikipedia has a great description. It only takes a couple of minutes and makes your asparagus extra green.
Wrapping the Asparagus with Prosciutto
To make prosciutto-wrapped asparagus with cheese, you will need to wrap the asparagus spears with slices of prosciutto (duh). Separate the prosciutto first then lay a few pieces out on your baking sheet. Divide your asparagus into piles of a few stalks each. Then lay the asparagus bundle on top of the prosciutto and wrap it around as many times as it will go.
Why You'll Love Prosciutto Wrapped Asparagus with Cheese
Prosciutto Wrapped Asparagus with Cheese is a delicious and healthy appetizer or side dish that will impress your guests. The combination of the salty prosciutto, tender asparagus, and creamy cheese creates an explosion of flavors in your mouth.
It's so easy to make and is finished in under 30 minutes. Plus, it looks beautiful on a serving platter!
Keto Asparagus Serving Suggestions
Prosciutto-wrapped asparagus with cheese is a versatile and delicious dish that can be served in many ways. Here are some suggestions:
Serve it as an appetizer or snack.
Pair it with a salad for a light lunch or dinner.
Make it the star of your main course by serving it alongside roasted chicken, steak, or fish.
Don't mind adding some carbs? Serve the prosciutto-wrapped asparagus on top of creamy polenta or risotto. Or use cauliflower rice to keep it low-carb!
With its tantalizing flavors and health benefits, this dish is sure to become one of your favorite go-to recipes. So give it a try today and let us know what you think!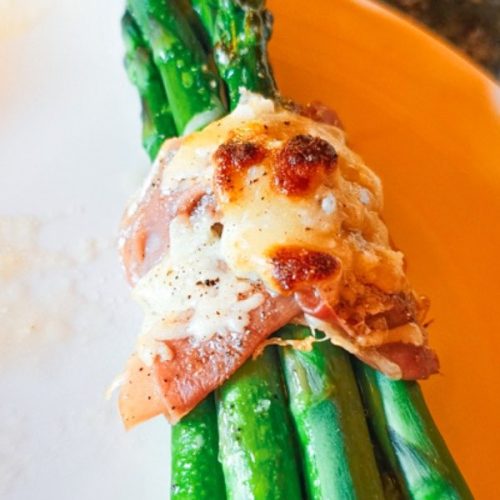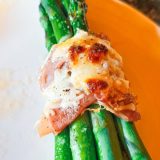 Print
Prosciutto Wrapped Asparagus with Cheese
Ingredients
1

teaspoon

salt,

for boiling water

2

pounds

asparagus

,

fresh

4

tablespoons

butter

1

teaspoons

Italian seasoning

6

ounces

prosciutto

salt and pepper

,

to taste

½

cup

asiago cheese

,

fresh, not aged
Instructions
Wash the asparagus and bend the asparagus until it breaks in the perfect spot. If you prefer them to be even, use that first asparaus as a guide to cut them all the same length.

Bring water to a boil and add salt.

Blanch the asparagus in boiling water for about 2 minutes or until they turn bright green.

While the asparagus is boiling, melt the butter. Add Italian seasoning and stir to combine. Set aside

Immediately transfer them to an ice bath to stop cooking.

To make the asparagus bundles, separate the prosciutto first then lay a few pieces out on your baking sheet, using parchment paper makes for easy cleanup.

Divide your asparagus into eight piles of a few stalks each. Then lay the asparagus bundle on top of the prosciutto and wrap it around as many times as it will go.

Repeat for all bundles, adding them to the baking sheet.

Drizzle the herbed butter over each bundle.

Sprinkle salt and pepper over each bundle.

Sprinkle the grated cheese over each bundle.

Bake in the oven at 400°F for about 10 minutes or until the cheese is melted and bubbly.

Transfer to a serving platter and pour any butter from the baking sheet back over the top of the bundles.
Nutrition
Serving:
1
people
Calories:
206
kcal
Carbohydrates:
3
g
Protein:
7
g
Fat:
19
g
Fiber:
1
g
Net Carbohydrates:
2
g
Did you make this recipe?
Be sure to tag @healnourishgrow on Instagram to be featured in our stories or our newsletter! We love it when you make our recipes and share with your friends.