October 10, 2022
Keto Mashed Cauliflower – Low Carb Recipe
This keto mashed cauliflower is made just like mashed potatoes and is perfect for Thanksgiving or any time you'd like a mashed potato substitute. I served these last Thanksgiving instead of real mashed potatoes and the kids didn't even notice the difference. All mashed potatoes really are is a delivery system for the rich flavors of butter and cream anyway, so why not have the taste you're looking for without all the carbs.
If your kids are more discerning and can sniff out something healthy from a mile away, try using half potatoes/half cauliflower for those picky eaters. It's still a lower carb dish and whole foods based when made with potatoes.
Keto Mashed Cauliflower
One of the most important considerations for keto mashed cauliflower is the creaminess factor. Many people don't like lumpy mashed potatoes and they won't like lumpy mashed cauliflower either.
Disclaimer: Links may contain affiliate links, which means we may get paid a commission at no additional cost to you if you purchase through this page. Read our full disclosure here.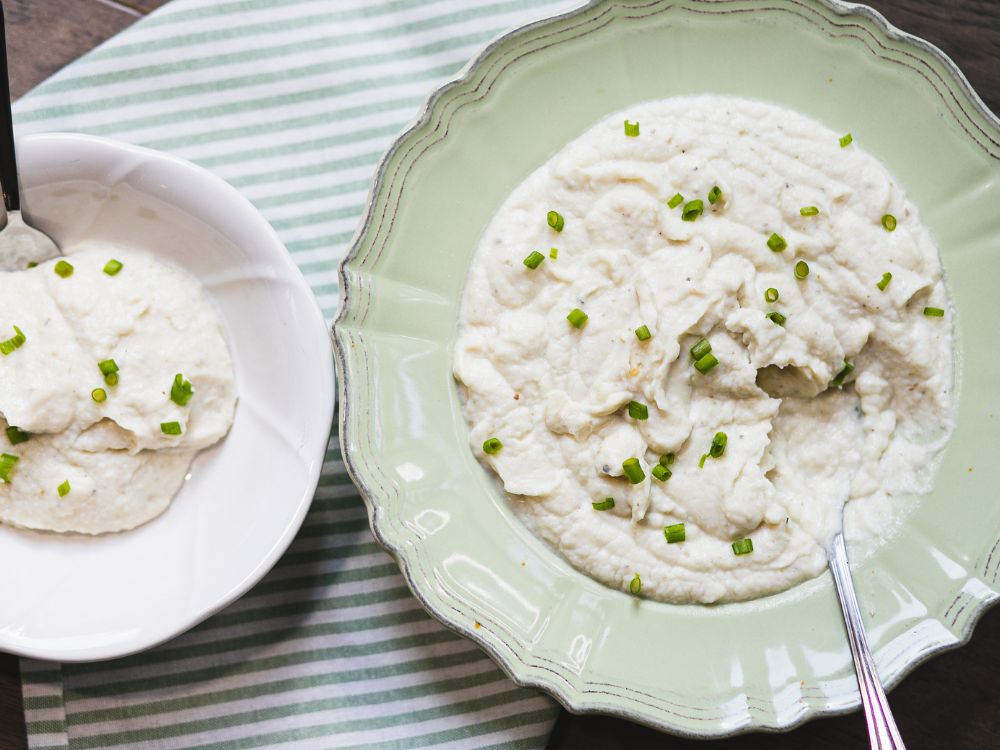 The easiest ways to ensure smooth mashed cauliflower are to make sure the cauliflower is cooked to a very tender texture and to mash the cauliflower until it's very smooth. To ensure the smoothest keto mashed cauliflower, I recommend a food processor over a wire masher. Although both will work, the wire masher takes a lot more elbow grease to create really smooth keto "mashed potatoes."
The other important thing about these keto "mashed potatoes" is to use a good amount of butter and cream. While you can make this dish less caloric by reducing each of those ingredients, you'll enjoy this mashed cauliflower a lot more and have it taste more like real potatoes when you don't skip on these classic potato accompaniments.
faq
Can You Eat Mashed Potatoes on Keto?
People always wonder if you can eat mashed potatoes on keto. The answer may surprise you…ketosis is a metabolic state, not a food. Theoretically you can eat almost anything and stay in ketosis. What really matters is the quantity.
Potatoes have about 92 calories and 21 grams of carbs per 100 grams of potato. A hundred grams is about the size of half a medium potato. Since more people need to stay under 20 carbs a day to stay in ketosis, you would only be able to eat a couple of bites of mashed potato before going over your carb limit.
If your goal is to stay in ketosis, potatoes are not very keto-friendly.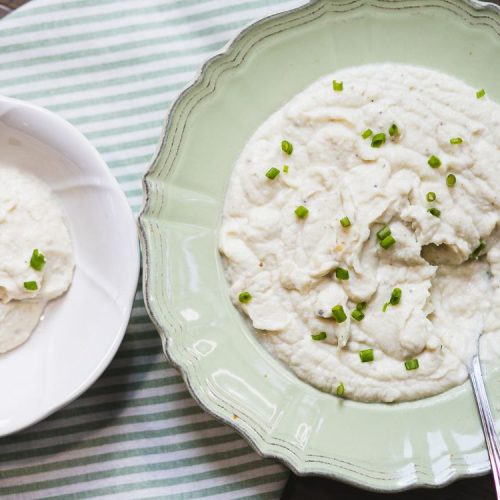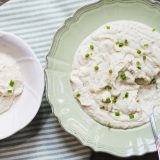 Print
Keto Mashed Cauliflower – Low Carb Recipe
Ingredients
1

head

cauliflower

,

1½ to 2 pounds

2

tablespoons

butter

2

tablespoons

heavy cream

1

teaspoon

salt

1

teaspoon

ground white pepper

½

teaspoon

garlic powder

2

tablespoons

chopped fresh chives
Instructions
Break and cut the cauliflower into florets and steam or microwave until fork tender.

In a large mixing bowl, combine the cooked cauliflower, butter, heavy cream, salt, pepper, garlic powder and half of the chives.

Using a potato masher, fork, or food processor, blend until smooth.

Serve warm and garnish with the remaining chives.
Notes
You can easily use frozen cauliflower or frozen riced cauliflower in place of fresh cauliflower, but be sure to drain any additional water after cooking.
Nutrition
Serving:
6
servings
Calories:
77
kcal
Carbohydrates:
5
g
Protein:
2
g
Fat:
6
g
Fiber:
2
g
Net Carbohydrates:
3
g
Did you make this recipe?
Be sure to tag @healnourishgrow on Instagram to be featured in our stories or our newsletter! We love it when you make our recipes and share with your friends.