August 26, 2022
Leg Of Lamb – Authentic Greek, Keto Low Carb Recipe
When I say this is an authentic recipe for leg of lamb Greek style, I'm not kidding! This delicious variation on a leg of lamb recipe comes from my friend Konstantinos, who learned it from his grandmother. He grew up in Greece and said this is one of his favorite local dishes. We had many conversations about food last time I saw him and he generously shared this recipe with me. Of course, since it is a by grandma leg of lamb roast, there were originally no amounts. He just shared the method and the most important part, how to place the garlic in the lamb.
To make this leg of lamb roast easy to replicate, I've refined it over time and kept track of the exact ingredients so you can successfully execute this dish and have it taste just as yummy as when Tino's grandma makes it. The best part is, this is also one of the best keto lamb recipes you'll find! This recipe is naturally low in carbs with just a few coming from the garlic, herbs and lemon juice. Since the lemon juice isn't really absorbed by the meat, the carb count is negligible.
Hi girl! How are you? I have been cooking a lot recently. I have people to feed and of course keep my Richie happy 🙂 I would like to share with you my favourite lamb recipe. It is very simple, as greek as it gets but yummy. I promise.

Konstantinos
If you're looking for other Greek inspired recipes, be sure to check out Chilled Cucumber and Feta Soup, which would be a great starter course for this meal. You may also like our Spicy Mediterranean Swordfish. If you're looking for a great place to buy lamb, you know I'm a huge fan of US Wellness Meats for all my grass fed and finished meat needs.
Disclaimer: Links may contain affiliate links, which means we may get paid a commission at no additional cost to you if you purchase through this page. Read our full disclosure here.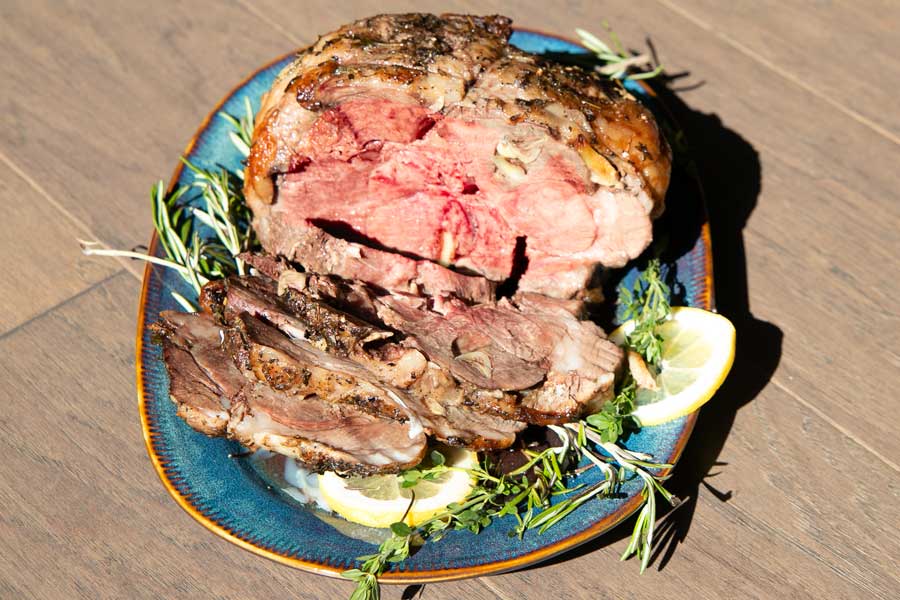 Leg of Lamb Recipe
Tino recommended potatoes to go with this dish. Although that would make it more authentic, you know we don't eat potatoes around here since they're full of carbs. If you do like potatoes though, the method he shared use to be my favorite back when I was a vegetarian (GASP) and ate potatoes regularly. He called this the "poor Greek" method and didn't mention olive oil at all.
Choose one large potato per person, wash the potatoes towel dry them. I use to rub mine with olive oil and sea salt then wrap them in foil, but if you're going "poor Greek" you just wrap them in foil. Put them in the oven with the lamb for about an hour and just poke with a fork to know when they're ready. Cut them in half, add butter and some of the lamb juices before serving.
Leg of Lamb Recipe Greek
What makes a leg of lamb roast Greek? Well in this case it's because it came straight from a Greek grandmother 🙂 However, when looking for greek leg of lamb recipes, it's all about the ingredients. Greek people love their lemon, so that's an important component. Greek lamb recipes may also include other local ingredients like olives, pine nuts or tomato sauce.
Leg of Lamb Side Dishes
Although that method makes a delicious potato, most of you are here for the low carb options! I like the traditional keto potato substitute here, cauliflower. Make a simple mash with herbed goat cheese or keep it riced. You could also serve keto "potato pancakes" with this leg of lamb recipe.
Cooking Lamb Temp / Cooking Lamb Temperature
Most chefs will tell you that their preferred cooked temperature for lamb is medium rare. To cook lamb medium rare, make sure you get an internal temperature reading of 125℉. Then you'll let the lamb rest for a few minutes where it will keep cooking to the final medium rare temperature of 135℉.
No matter what the final temperature is you'd like your lamb, or any meat for that matter, you'll take it off the heat or out of the oven 10 degrees cooler than you want your final temperature. For medium lamb you'll take it out at 150℉ and let it rest to 160℉ and for well done take it out at 160℉ and rest to 170℉.
Here are cooking lamb temperatures with a range:
Rare Lamb: 125°F (about 15 minutes per pound)
Medium-Rare Lamb: 130°F to 135°F (about 20 minutes per pound)
Medium Lamb: 135°F to 140°F (about 25 minutes per pound)
Well-Done Lamb: 155°F to 165°F (about 30 minutes per pound)
Lamb Cooking Tips
Should You Bring Lamb to Room Temperature Before Cooking?
It may be tempting to skip this step, but your lamb will taste a lot better if you bring it to room temperature before cooking. Room temperature meat will cook more evenly and it will be more tender. You can safely leave lamb on the counter to bring to room temperature for two hours.
Resting Time for Lamb
Resting time for lamb is just as important as other meat, maybe even more so! Allowing the cooked lamb to rest allows the meat fibers to relax and reabsorb the juices produced during cooking. Cutting any meat too soon after cooking allows the juices to spill out, resulting in a more dry taste.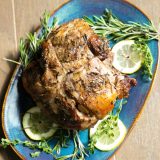 Print
Leg Of Lamb – Authentic Greek, Keto Low Carb Recipe
Ingredients
2

pounds

leg of lamb,

or lamb shank

2

large

lemons

,

juiced

4

cloves

garlic

,

thinly sliced

2

teaspoon

salt

2

teaspoons

cracked pepper

2

tablespoons

oregano,

chopped, fresh or half amount of dried

2

tablespoons

thyme,

chopped, fresh or half amount of dried

½

cup

water

2

tablespoons

Greek extra virgin olive oil

rosemary sprigs

,

optional garnish
Instructions
If you're using a boneless leg of lamb, you may need to use kitchen twine to tie the roast.

Make small but deep incisions in the lamb and "hide" as we say in Greece the garlic slices in them. I always think of my grandma emphasising the word "hide"…the garlic must be a surprise in your bite and you should not be able to see it. ~Tino

Rub the lamb shank or leg with salt, pepper, oregano, thyme and olive oil.

Place the lamb in a large roasting pan and pour the lemon juice over the top.

Let it marinate for at least 2 hours or in the refrigerator overnight.

Take the lamb out of the refrigerator and bring to room temperature before cooking.

Place the lamb in the oven, covered and cook for about 20 minutes. When you can hear the oil sizzling, add the water and lower the temp to 350℉.

Cook for about 2 hours or until the lamb reaches an internal temperature of 125℉ for medium rare.

Remove lamb from the oven, place the roast on a serving platter and let rest for at least 10 minutes while it continues to cook, until the internal temperature reaches 135℉.

Slice and serve immediately, garnish with rosemary sprigs if desired.
Notes
Carbs in this recipe come from the lemon, which will not be absorbed much by the meat.
Nutrition
Serving:
4
people
Calories:
213
kcal
Carbohydrates:
6
g
Protein:
31
g
Fat:
7
g
Fiber:
3
g
Net Carbohydrates:
5
g
Did you make this recipe?
Be sure to tag @healnourishgrow on Instagram to be featured in our stories or our newsletter! We love it when you make our recipes and share with your friends.