December 14, 2018
Keto Latke "Potato" Pancake – Low Carb Cauliflower Recipe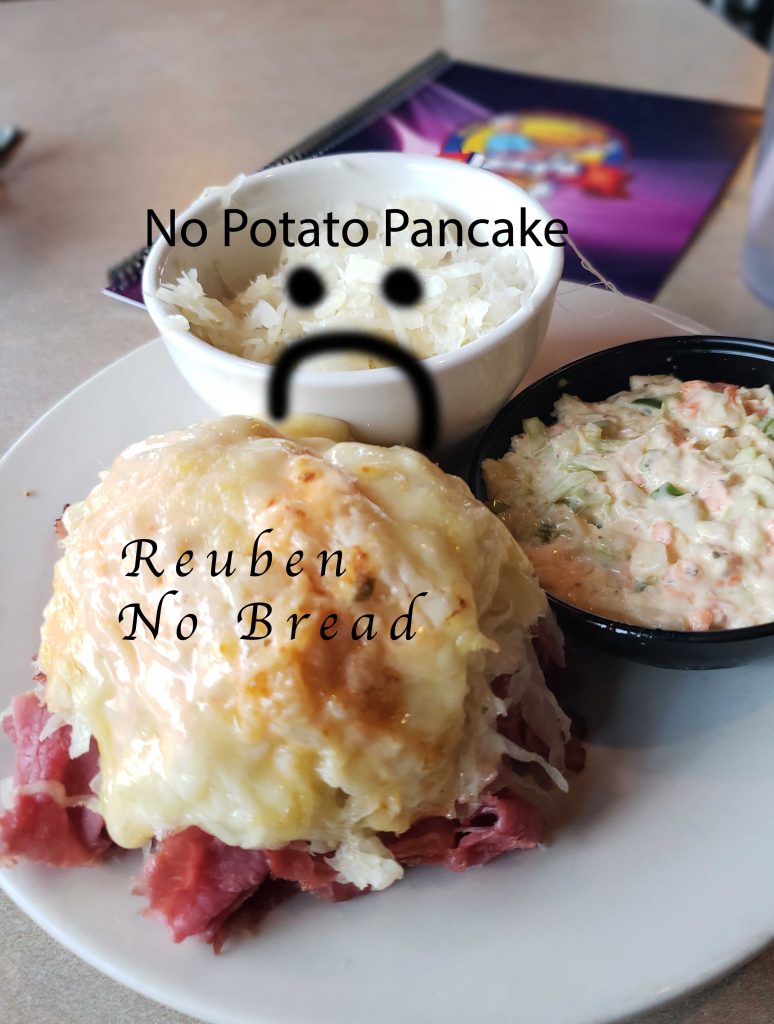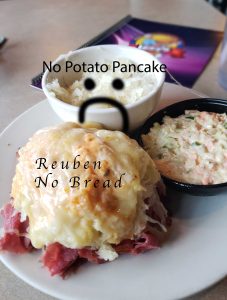 I recently ended up in a local chain called Izzy's ordering a breadless reuben. The reuben was ok, but I realized the reason I really liked this restaurant in the past was for its famous potato pancake/latke. When you're following the keto diet and keto lifestyle, potatoes aren't really an option. One small potato has 30 grams of carbohydrate, more carbs than you should eat in a day to remain in ketosis.
I began to think about developing a keto latke recipe (since we're in the holiday season) or keto potato pancake using the ever popular keto potato substitute, cauliflower. Since keto "potato" pancakes, holiday keto latkes and keto cauliflower fritters are really all the same recipe, you can enjoy them as a great keto side dish any time of year, not just for Hanukkah.
Or you can eat them as a whole vegetarian keto dinner like I did last night after doing my final recipe test.
Thinking about this keto recipe for latkes made me wonder if there is a history behind latkes as a popular holiday dish. Not only is there a history of latkes, but there is an entire encyclopedia of Jewish food that explains the history behind certain dishes.
Disclaimer: Links below may contain affiliate links, which means we may get paid a commission at no additional cost to you if you purchase through this page. Read our full disclosure here.
History of Latkes During Hanukkah
According to The Encyclopedia of Jewish Food by Gil Marks, there was a Rabbi in Italy that included pancakes in a poem about Hanukkah and in a list of ideal feast foods. Dairy foods are also associated with Hanukkah. Sicilian Jews introduced ricotta cheese pancakes to northern Italian Jews. Potato pancakes were introduced to Jewish tradition later.
Potatoes were a plentiful crop in Europe in the mid-1800s so they were cheap and easy to come by. Somewhere during this timeframe, a brilliant Jew decided to start making latkes from potatoes instead of cheese or even combining the two.
While this keto latke recipe uses cauliflower in place of the more traditional potato, it does still include dairy making it a perfect blend of keto food and Hanukkah tradition. Or just a generally tasty keto side dish you can enjoy anytime!
How to Make Keto Latke
The most obvious thing here in making a keto latke is the need to get rid of potatoes, which has way too many carbs. Cauliflower is a popular substitute for potatoes for those following a low carb, keto lifestyle.
While a small potato (170g) has 30 grams of carbs and 3.5 grams of fiber, an entire small head of cauliflower (265g) has just 13g of carbohydrate and 5 grams of fiber. Small potato net carbs 26, head of cauliflower 8 net carbs. Clear winner: CAULIFLOWER.
The next thing to consider when making keto cauliflower fritters is the flour. Although most recipes only call for a tablespoon or two of flour, that would still add around 11 grams per tablespoon. Carbs add up quickly, plus you should really consider avoiding all wheat anyway since it's highly processed an basically devoid of any remaining nutrients. Coconut flour is a great substitute here since it absorbs moisture.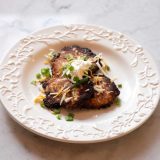 Print
Keto Latke "Potato" Pancake - Low Carb Cauliflower Recipe
Whether you call them keto "potato" pancakes, cauliflower fritters or latkes, they're still keto friendly and delicious!
Ingredients
Latke Mixture
3

cup

cauliflower

,

riced

.25

cup

onion

,

chopped

.25

cup

green onion

,

chopped

1.25

cups

cheddar cheese

,

shredded

1

large

egg

,

beaten

2

tablespoons

coconut flour

pepper

,

to taste

salt,

to taste
Frying
Garnish
sour cream

green onion

,

chopped

cheese

,

shredded
Instructions
Boil water in a large pot or steamer.

Place cauliflower in a strainer or in the steamer. Steam for about 5 minutes or until cauliflower is soft.

Use a spatula and paper towel to press the water out of the cauliflower. You could also use cheesecloth for this. Get the cauliflower as dry as possible.

Combine cauliflower, green and white onion and cheese while cauliflower is still warm. Stir to combine.

Add beaten egg to the mixture and stir.

Finally add coconut flour, salt and pepper. The mixture should press together well. If your mixture is too wet, add a bit more coconut flour.

Using a quarter cup measure, scoop out latke mixture and press into cup. Empty any extra moisture that might come out when pressing.

Empty mixture into hand and press into flat pancakes. Make sure you work the mixture so that it is pressed together tightly.

Latkes will be about 3 inches in diameter.

Let the latkes rest 10 minutes before cooking.

While latkes are resting, melt 1/2 cup to a cup of coconut oil depending on the size of your pan. Oil should be a quarter inch or more deep.

Oil should be hot enough that it just starts to smoke. If you're unfamiliar with appropriate frying temperature, place a tiny latke into the oil first to test. It should sizzle and create bubbles.

Gently lower the latkes one at a time into the oil.

Cook approximately 90 seconds per side. You'll know it's time to flip the latke when they shink slightly and edges are brown.

Remove the latkes from the oil and place on a paper towel to absorb the excess oil.

Top latkes with green onion, sour cream and a pinch of shredded cheese if desired. Enjoy immediately while hot.
Notes
Nutrition information does not include any oil absorbed in the frying. Enjoy!
Nutrition
Calories:
100
kcal
Carbohydrates:
3
g
Protein:
6
g
Fat:
6
g
Fiber:
1
g
Did you make this recipe?
Be sure to tag @healnourishgrow on Instagram to be featured in our stories or our newsletter! We love it when you make our recipes and share with your friends.