November 12, 2021
Spicy Mediterranean Swordfish with Tomatoes, Olives and Capers – Keto Low Carb Recipe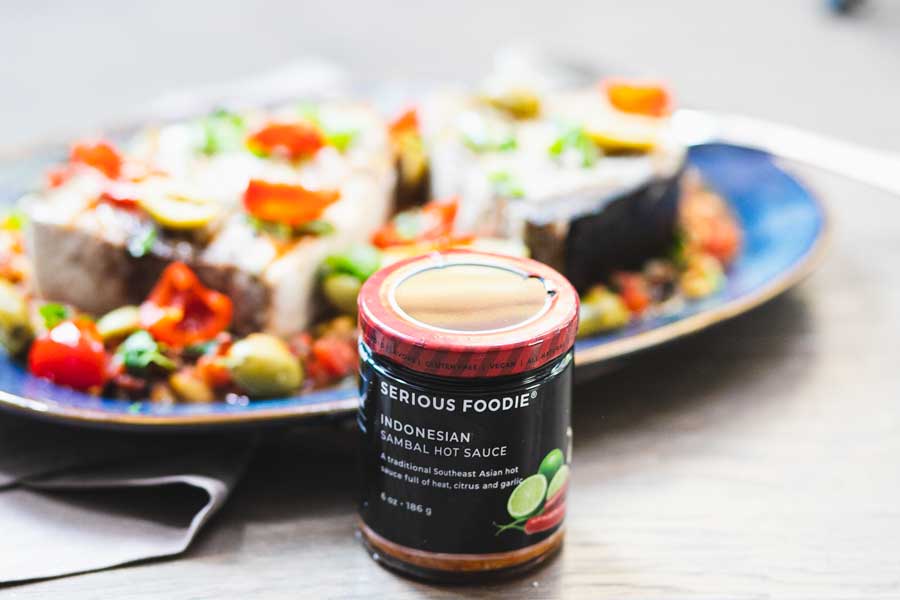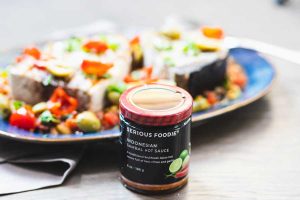 We had this Mediterranean swordfish last week and the flavors were incredible. After doing some research I was inspired to make an Indonesian Italian fusion dish using the Serious Foodie Indonesian sauce. Fish dishes are prevalent in the Mediterranean and of course, you know I'm going to keep it low carb over here! This keto swordfish recipe for Calabrian Pesce Spada alla Ghiotta aka Spicy Swordfish with Tomatoes, Olives and Capers is similar to a traditional version, but without the higher-carb ingredients like raisins or crostini.
I'm so glad this recipe contest forced me to get even more creative than usual. This spicy swordfish recipe is going to rock your world! No seriously, hubs claimed it's one of my best in a while.
Mediterranean Swordfish from the Calabria Region
This recipe for spicy swordfish or Calabrian Pesce Spada alla Ghiotta is a dish from the Italian region of Calabria. There are many variations that have a varying amount of carbs. So many Italian dishes have tomatoes and onions which are absolutely delicious. However, if you're trying to keep your carb count in the 20 to 50 grams a day range, these types of ingredients add up.
You still have to watch the carb count even when ingredients are from a keto-friendly, whole foods source. This is where it can be useful to test your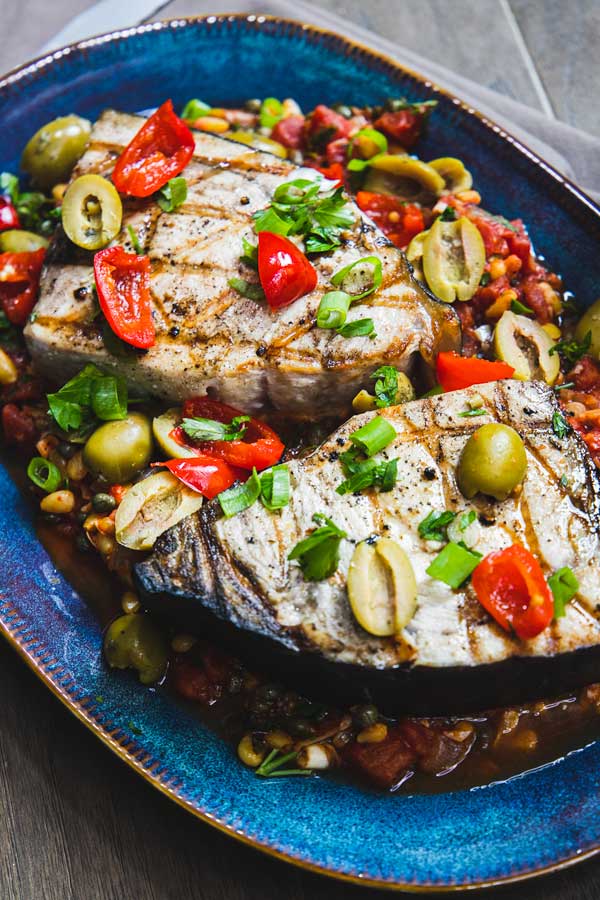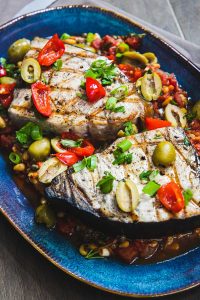 personal carb tolerance with a meter like Keto Mojo. My body tolerates more carbs, typically as long as they're from whole food sources. As long as the vegetable isn't overly starchy like potatoes, I do fine with them.
I used lots of ingredients that are common in Mediterranean cooking as well as a few that aren't. Pinenuts always add a great crunch. Along with olives and capers, this makes a great flavor combination. Peppers are more common in Indonesian cooking so I wanted to include some here.
I don't know if Italian Indonesian fusion is a thing, but I'm calling it one now! I had to go with what was on hand, peppadew peppers but if you can find Sambal (like the peppers used in the sauce) or cable pepper those would make great additions to this dish.
Disclaimer: Links may contain affiliate links, which means we may get paid a commission at no additional cost to you if you purchase through this page. Read our full disclosure here.
Mediterranean Keto Swordfish Recipe
If you happen to know you can tolerate a few extra carbs, go ahead and use the whole 14 ounces can of diced roasted tomatoes. Swordfish is very sturdy and holds up well to grilling. The grill marks are great for presentation.
However, if it's too cold where you are or you just prefer to use your cooktop to sear the fish, that works just as well. Swordfish is very keto-friendly and a great source of protein. An eight-ounce swordfish steak provides 390 calories, no carbs, 53 grams of protein and 18 grams of fat. However, it can have high mercury levels so best to keep consumption to once a week or less.
For this keto swordfish recipe, I also had to adjust the ingredient amounts somewhat to adjust to a two-serving dish. However, I'd recommend making a double batch of this sauce and freezing some to use for later. It would be delicious with any mild white fish and if you adjust the sauce amount to smaller servings, you can easily adjust the macros of this dish to be even lower carb and less calories.
Be sure to check out Serious Foodie dry rubs and sauces wherever you hang out most online: website, Facebook, Instagram or Twitter. As always, be sure to look at the ingredients first and pick products that are in alignment with your dietary goals.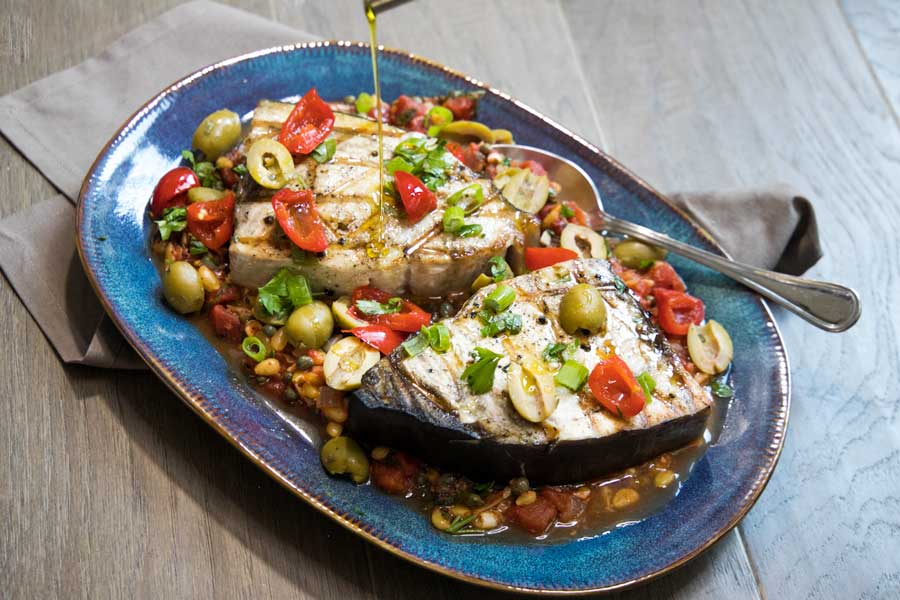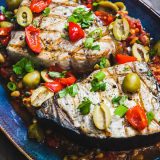 Print
Spicy Swordfish with Tomatoes, Olives and Capers - Keto Low Carb Recipe
This keto swordfish recipe has so many incredible flavors you'll never miss the carbs!
Ingredients
2

tablespoons

olive oil

⅓

cup

onion

,

chopped

4

cloves

garlic

⅓

cup

pine nuts

¼

cup

capers,

rinsed

6

ounces

diced tomatoes

2

stalks

green onion

,

whites chopped, rings of dark green chopped

4

tablespoons

parsley

,

plus extra for garnish

2

tablespoons

chile paste

,

such as serious foodie brand sambal hot sauce

1

pound

swordfish

,

2 8oz steaks

pepper

2 ½

ounces

green olives

,

halved, about 2/3 cup

4

small

red piquillo peppers
Instructions
Heat a large skillet over medium high heat.

Once hot, add the oil, onion and garlic.

Sautee until onions start to turn translucent, about 3 minutes.

Add pinenuts and capers, cook for about 1 minute to toast the pinenuts, stirring constantly.

Add tomatoes, salt and pepper and white part of the green onions and stir.

Turn down heat and simmer for about 15 minutes.

Heat another pan over high heat.

Add salt and pepper to both sides of the swordfish.

Add a splash of oil and the fish or cook on the grill.

Sear for about 4-5 minutes or until fish is golden.

Carefully transfer the fish to the tomato sauce with seared side facing up.

Cover the pan with lid or foil and allow fish to steam for an addional 10 minutes or until internal temperature is 135.

Turn off the heat and remove the cover, allow fish to rest/gently cook another 3 minutes.

Plate and garnish with olives, parsley, tops of green onions and peppers.
Nutrition
Serving:
2
people
Calories:
721
kcal
Carbohydrates:
16
g
Protein:
51
g
Fat:
50
g
Fiber:
5
g
Did you make this recipe?
Be sure to tag @healnourishgrow on Instagram to be featured in our stories or our newsletter! We love it when you make our recipes and share with your friends.