November 7, 2021
How to Easily Brine a Turkey – Keto Low Carb Brine and Rub Recipes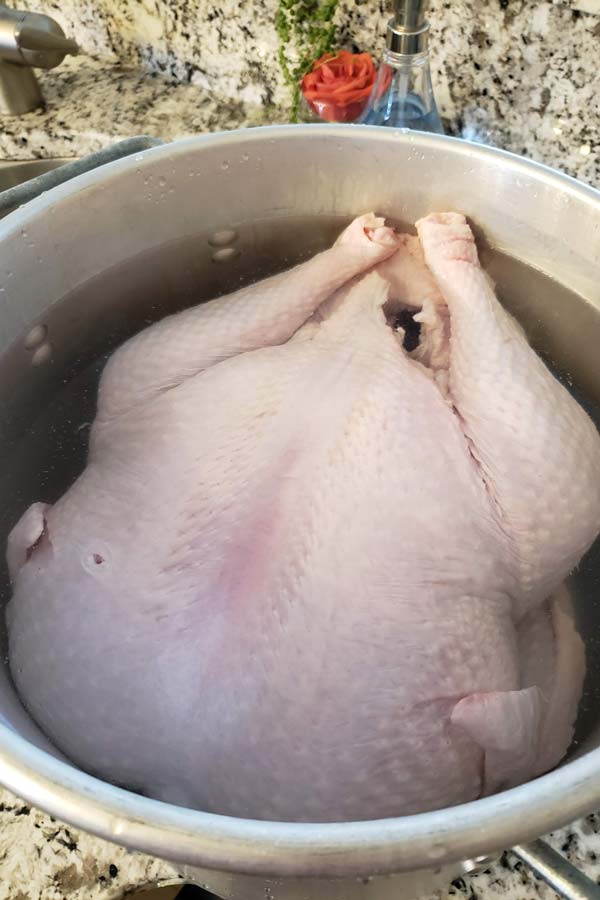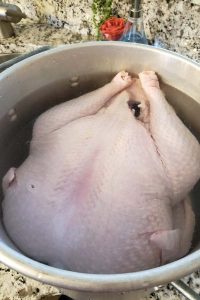 If you're wondering how to easily brine a turkey, you've come to the right place. This will be the fourth year in a row that I've smoked our Thanksgiving turkey. I've learned a lot over the years and one of the most critical components to a successfully smoked turkey is the brining process. Brining is one of the most important things you can do to ensure a juicy turkey, but is especially imperative if you're going to smoke your Thanksgiving turkey. You know since you're coming here, we'll be focused on a keto turkey brine. Some brines may contain sugar, but it's really not necessary. You can use this keto turkey brine whether you want to cook your turkey in the oven, on a charcoal smoker or on a pellet grill.
Keto turkey brine is really not all that different from traditional turkey brine. Added sugar in brine isn't required to have it work well. It's amazing what a good brine can do! Not only does it help you cook a juicy turkey, it also takes away some of the poultry flavor.
Fortunately, brining a turkey is fairly easy. The most difficult part is finding a large enough container to hold the turkey and the keto turkey brine mix.
I'm have access to a wonderful local farm with pastured turkeys. However, there are a couple of sources online for healthier meat that I love as well. Butcher Box (you always get some kind of free meat with your subscription by using my link) and US Wellness Meats (15 percent off every other week).
What is Turkey Brine?
Turkey brine is short for the process of brining a turkey. What is turkey brine made of? They are many combinations and mixes you can use, but really all that's required is salt and water. Brining a turkey or brining any poultry brings salt into the skin and muscle meat, which helps retain water as the turkey is cooked. This is even more critical when smoking a turkey since it's a longer cook time. Brining a turkey is easy and results in a juicier, more flavorful turkey.
How to Easily Brine a Turkey
You'll need to find a pot large enough to hold your turkey plus allow for it to be completely covered by water. If you already have a turkey fryer, that pot should work nicely. Or you can easily purchase an extra-large stockpot separately. It all depends on the size of your turkey, but a pot in the 35 to 45-quart range should hold most medium to large-sized turkeys.
Make sure you start with a fresh turkey or a frozen turkey that has been fully thawed. If your turkey is frozen you'll need to factor in the time it takes to defrost in your cooking lead time. A frozen turkey can take a couple of days to defrost in the refrigerator so make sure you start that process early!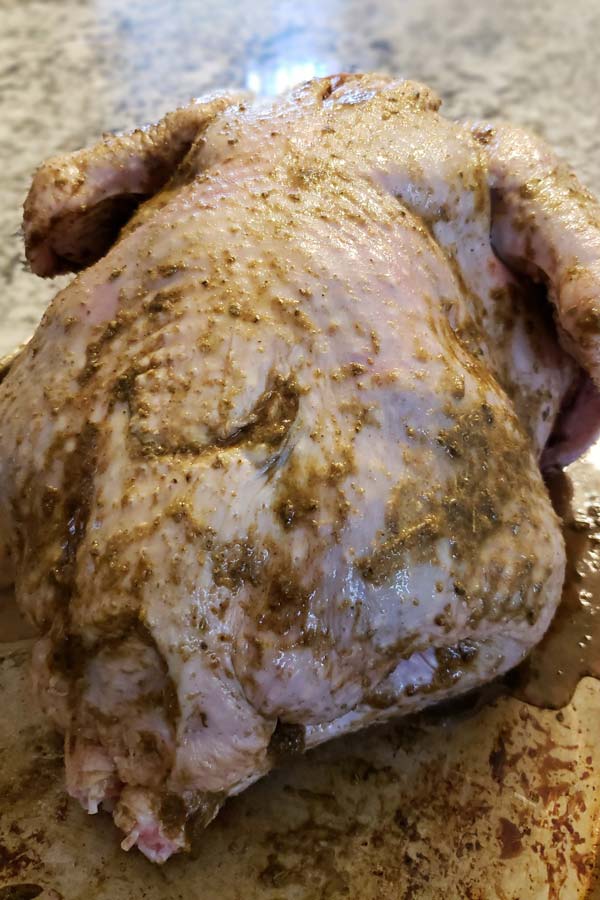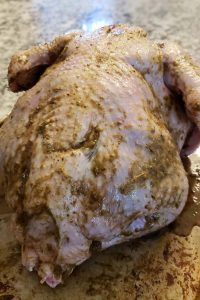 Next, you'll need to clear some refrigerator space. Although some people brine their turkey in a cooler, it's difficult to keep the proper safe temperature of 33 to 40 degrees Fahrenheit.
If you just don't have the refrigerator space and can add ice to the cooler over 24 hours it should be ok, just know that temperatures above 40 degrees encourages pathogen growth that could make you sick. An electric-powered portable car cooler would be excellent for this purpose.
If you just have a traditional cooler, use a thermometer to make sure the brine mixture stays under 40 degrees. I use my trusty smoker thermometer for this purpose, that way I can keep the cooler closed and still be alerted if the temperature creeps above 40. You may also want to use a dedicated cooler for this purpose to avoid cross-contamination.
Disclaimer: Links may contain affiliate links, which means we may get paid a commission at no additional cost to you if you purchase through this page. Read our full disclosure here.
How Long Should I Brine a Turkey?
How long you brine your turkey is really up to you, but for a nice juicy turkey, there are some minimums. For turkeys 15 pounds or less, you'll want to brine for at least 12 hours. For a larger turkey, 18 to a maximum of 24 is fine. Brining your turkey for too long can cause it to be overly salty and take on a spongy texture. The happy medium for all-size turkeys is about 15 hours. Long enough to accomplish a juicy turkey but short enough that you don't risk it being spongy.
How to Brine a Turkey for Roasting
The answer to how to brine a turkey for roasting is the same as above. Whether you're brining a turkey to roast, bake or smoke, the length of time you brine the turkey is the same. It's more about the size of your turkey and the desired outcome of juicy turkey than it is about changing the method. However, if you're going to smoke a turkey I find taking the time to brine it is more critical than other methods. The low heat and length of time required to smoke a turkey whether with a pellet grill or with charcoal will dry your turkey out pretty easily if you haven't brined it.
Keto Turkey Brine and How to Brine a Smoked Turkey
The most basic turkey brine for smoking recipe is just salt and water. However, you may wish to add extra flavor and interest to your brine by adding a few extra, keto-friendly ingredients. Good choices for this keto turkey brine are rosemary sprigs, peppercorns, cloves, juniper berries, allspice berries, orange peels, lemon peels, cloves, etc.
Keto Turkey Brine
If you want to keep your turkey brine perfectly keto, all you need to do it ditch the sugar. It's not really necessary since the salt draws in the water. Plus you can save up any extra carbs for all the other yummy Thanksgiving dishes like corn bread, stuffing, cranberry sauce, pumpkin pie and pecan cheesecake bars!
How to Smoke a Turkey
The brine for a smoked turkey is the same as any other. Smoked turkey brine and turkey brine in general only includes two critical ingredients, water and salt. What you add to the saltwater is really up to you and your taste buds. For a smoked turkey, I like to do a rub in addition to the brine. Traditional turkey spices are great for this purpose. I use a homemade version that's super easy to make.
Keto Turkey Rub
To make a turkey rub keto, all you really need to do is avoid adding any sugar. Beyond that, you can feel free to add any of your favorite spices that go well with poultry. I like to use equal parts of rosemary, sage, thyme, garlic salt, paprika and black pepper.
Once your turkey has been brined, pat the turkey with paper towels to remove excess water. Then, let it rest in the refrigerator for about an hour on a towel to soak up any excess water. Then, bring out the turkey and rub with olive oil. The olive oil helps hold the spices and will give the turkey a more crisp skin. After you coat the turkey in olive oil, rub on the spice mixture until it's as evenly covered as possible.
Now you're ready to smoke, roast or bake your turkey. Check out the keto turkey rub recipe below. That amount of spices works for a turkey up to 20 pounds.
How to Smoke a Turkey
The first time I smoked a turkey for Thanksgiving I was pretty nervous. I knew it was going to take quite a while and I was nervous that it would get too dried out. This is where brining your smoked turkey really comes in handy. Using the keto turkey brine will allow you to save some carbs for other Thanksgiving dishes like Keto Cranberry Sauce!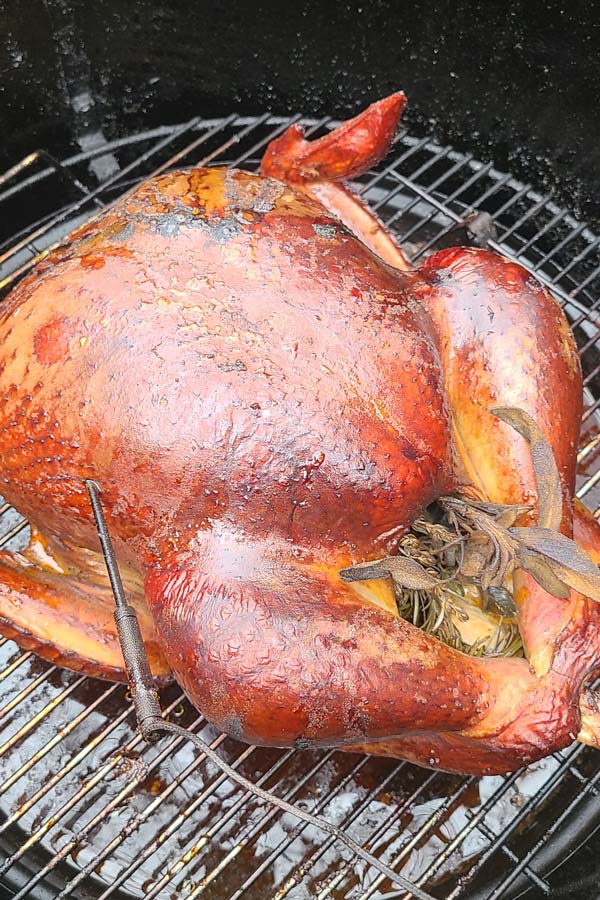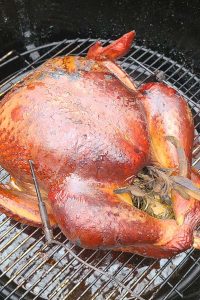 Ideally, you'll want to smoke turkeys that weigh 15 pounds or less. Plus you can always smoke two or three smaller turkeys at the same time! With a larger turkey you risk your turkey sitting in the food safety danger zone between 40-140 °F for too long and you can really risk the bacteria spoiling your turkey. If you want to smoke a larger turkey, consider using higher heat or smoking for four hours then moving it to the oven.
Set up your smoker the same as any other time you're looking for a longer smoke of 8 to 12 hours. Apple, pecan, cherry, hickory or maple woods are especially yummy with poultry. If you're wondering how to smoke a turkey on a pellet grill, charcoal smoker or electric smoker, it's all the same! Be sure to keep your water tray filled throughout the smoke to help keep the turkey moist.
After I've brined and rubbed the turkey, I also like to place some flavor and aromatics in the cavity. A roughly chopped onion, fresh sage and lemon slices are what I like to use. You may also want to chop up an apple to put in the cavity. Although apples have a lot of sugar it's not really transferred to the meat. It's there more for the aroma than the flavor.
I use a Weber Smoky Mountain 22″ smoker and I've been very happy with it. There are certainly plenty of other good smokers to choose from, but that's whole different and long conversation!
How Long to Smoke a Turkey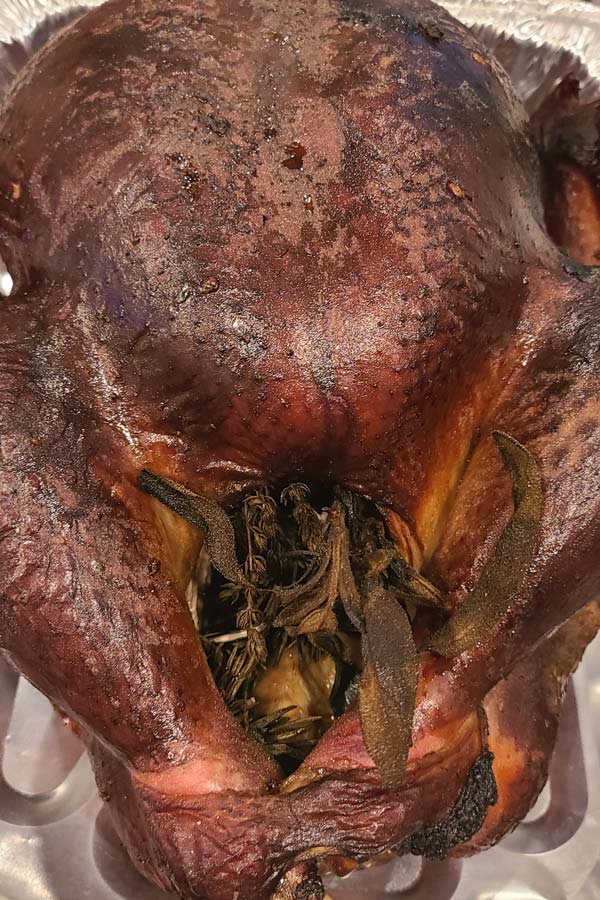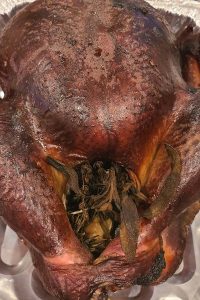 For a fully smoked turkey cooking at 225 degrees it will take about 30-40 minutes per pound to have the turkey reach your target internal temperature of 150 degrees. The USDA's recommended temperature is 165°F, but the turkey will be juicier if you take it off sooner. While it's resting for 15 minutes the turkey will finish coming up to temperature. I like to set my alarm at 145°F so I don't miss the target. The longer your turkey smokes, the more you risk drying it out.
You may also choose to smoke the turkey for several hours then finish it in the oven. Smoking the turkey for four to five hours is plenty of time to allow the turkey to take on the smoked flavor. You can then bring it in, cover it and finish in the oven. This allows you to get the best of both worlds! The tasty flavor of the smoked turkey and the ease, shorter time and keeping the turkey juicy benefits of the oven.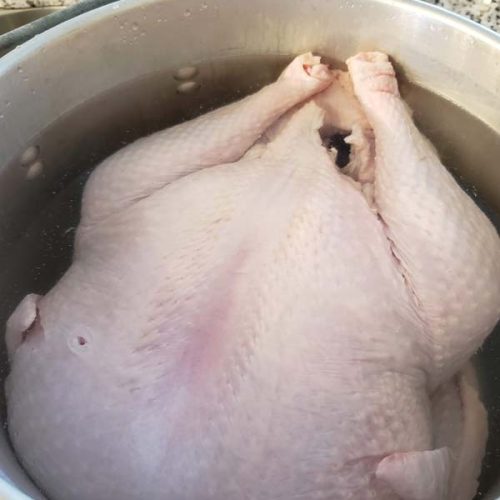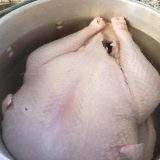 Print
Brining a turkey prior to cooking will impart flavor and keep the bird moist!
Ingredients
4

quarts

cold water

,

or amount to cover turkey fully

1

cup

kosher salt

,

or 3/4 cup table salt

ice cubes

Aromatic options

,

rosemary sprigs, bay leaf, peppercorns, cloves, juniper berries, allspice berries, orange peels, lemon peels, etc.

1

whole turkey
Instructions
Heat one quart of water to boiling.

Dissolve salt in the hot water.

Add ice cubes to the hot water to bring the temperature down or put salt water solution in the refrigerator over night.

Add 3 more quarts of water and aromatics to the saltwater solution.

In a large stockpot, add the raw, thawed turkey then pour the water mixture over it.

Add extra water if needed to cover the tutrkey completely.

Allow the turkey to brine for at least 12 hours and up to 24 based on size.
Equipment
Nutrition
Serving:
1
people
Calories:
0
kcal
Carbohydrates:
0
g
Protein:
0
g
Fat:
0
g
Fiber:
0
g
Net Carbohydrates:
0
g
Did you make this recipe?
Be sure to tag @healnourishgrow on Instagram to be featured in our stories or our newsletter! We love it when you make our recipes and share with your friends.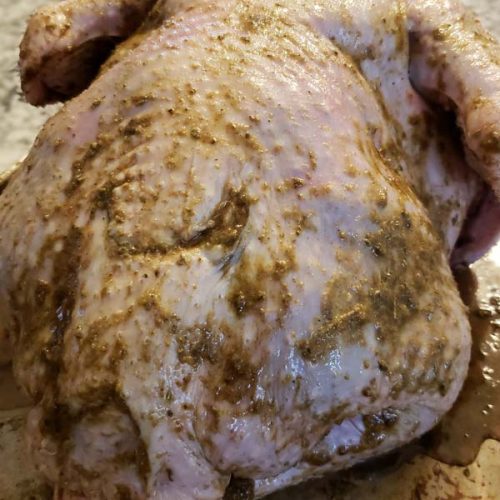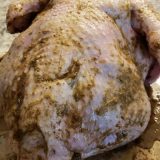 Print
This rub gives great flavor to your turkey!
Ingredients
2

teaspoon

cracked black pepper

2

teaspoon

smoked paprika

2

teaspoons

dried rosemary

2

teaspoons

dried thyme

2

teaspoon

dried sage

2

teaspoons

garlic salt

2

tablespoons

olive oil
Instructions
Mix all of the spices together.

You can either oil the turkey directly then add the spices, or mix the oil in with the spices then rub.

Smoke or bake your turkey.
Nutrition
Calories:
13
kcal
Carbohydrates:
0.2
g
Protein:
0.04
g
Fat:
1
g
Fiber:
0.1
g
Net Carbohydrates:
0.1
g
Did you make this recipe?
Be sure to tag @healnourishgrow on Instagram to be featured in our stories or our newsletter! We love it when you make our recipes and share with your friends.