October 13, 2022
Keto Cornbread – Low Carb Recipe
Growing up in the south, there was often cornbread on the table. This staple side dish is traditionally made with cornmeal. Corn is not very keto friendly. It is also avoided on a grain free diet (we'll answer "is corn a grain?" below.) Keto cornbread almost seems like an impossibility when you consider the carb count in cornmeal. Most cornbread recipes have about 40 grams of carbs per serving. This is over the amount most people should eat in a day if your goal is staying in ketosis. This keto cornbread recipe only has four net carbs per serving and you can reduce that to three if you leave out the optional real corn kernels.
Keto Cornbread Considerations
Making this keto cornbread recipe requires a couple of simple substitutions. The most important one is to replace the cornmeal with a low carb option. As in most keto versions of bread, we'll be using almond flour for this purpose. To more closely mimic the texture of cornmeal, look for an almond flour that doesn't say "fine" or grind your own.
You'll also need a keto friendly sweetener to mimic the sweetness of the corn. You know my favorite choice is allulose! However, you could also use monk fruit, stevia or your other favorite keto friendly sweetener.
Disclaimer: Links may contain affiliate links, which means we may get paid a commission at no additional cost to you if you purchase through this page. Read our full disclosure here.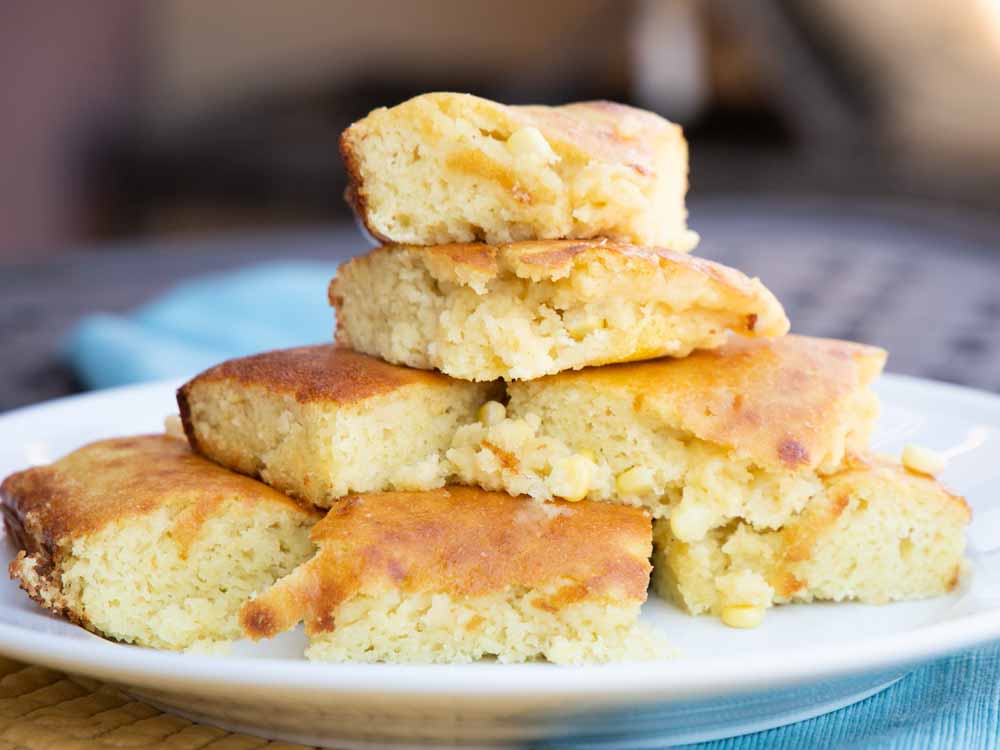 Finally, you'll need sugar free corn flavoring. You won't be able to find this in your local grocery but multiple brands are easily available online. You may also consider adding a couple of drops of yellow food coloring to your batter if you'd like to more closely mimic the color of cornmeal.
Keto baking is always interesting. Substitutions for wheat flour will generally taste a little different than what you're use to and the resulting product is more dense. This works well for cornbread though since it's already a more dense texture using corn meal rather than wheat flour.
Keto Cornbread Recipe
Once we have the substitutions down, the other consideration is in what type of baking pan you should use. In the south, cornbread is often cooked in cast iron, which makes a great presentation. You can also cook this keto cornbread in a muffin tin or a simple square casserole dish.
Any of these options work well but will affect the cooking time. If you use an alternative to the 8 x 8 baking pan, keep a close eye on your keto cornbread so you don't overcook it. If you're unsure about what size pan to use as a substitute, there is a great baking pan conversion chart here.
faq
Is Corn a Grain?
This is a somewhat confusing question because corn can be considered both a grain and a vegetable. Corn IS classified as a grain when it's harvested at full maturity and the kernels are dried out. A grain is defined as a food source kernel that contains the three complete parts; the germ, the endosperm and the bran.
When corn is harvested when it is soft and the kernels are full of liquid, it is considered a starchy vegetable.
Those on a grain-free diet for health reasons will need to avoid corn in the grain form although they may experiment with eating fresh corn if it fits other health goals.
Most corn is GMO and contains 41 carbs in a cup of kernels. Depending on your health goals, you may consider avoiding corn.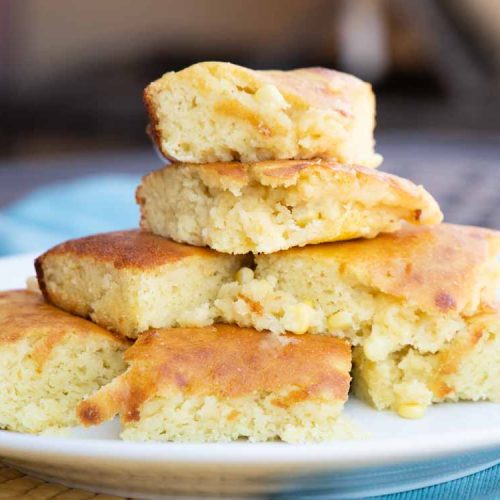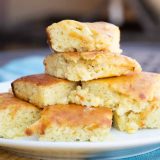 Print
Keto Cornbread – Low Carb Recipe
Ingredients
2

cups

almond flour

2

teaspoons

baking powder

¼

cup

allulose,

or monk fruit

⅓

cup

butter

,

melted, plus extra for baking dish

½

teaspoon

salt

4

large

eggs

⅓

cup

water

2

tablespoons

corn flavoring

⅓

cup

corn kernels

,

optional, adds 1 carb per serving
Instructions
In a medium mixing bowl, combine the almond flour, baking powder and allulose and stir to combine.

Add in the butter, salt, eggs, whisking eggs in the bowl.

Pour in the water and stir to combine all ingredients thoroughly.

Pour in the corn flavoring and stir.

If using, add the corn kernels and stir.

Pour the batter in to a greased 8" square baking pan.

Bake for 20 minutes or until bread is golden brown and a toothpick inserted in the center comes out clean.

Remove from the oven and allow the bread to cool in the pan for 10 minutes before cutting.
Nutrition
Serving:
1
piece
Calories:
238
kcal
Carbohydrates:
7
g
Protein:
8
g
Fat:
21
g
Fiber:
3
g
Net Carbohydrates:
4
g
Did you make this recipe?
Be sure to tag @healnourishgrow on Instagram to be featured in our stories or our newsletter! We love it when you make our recipes and share with your friends.