November 25, 2021
Cranberry Sauce – Keto Low Carb Recipe
Keto Thanksgiving recipes are important if you want to stay on track during the holidays. Keto cranberry sauce is an absolute necessity for a keto Thanksgiving. This is a keto recipe that so easy and delicious that you can't tell the difference between this version and sugary traditional cranberry sauce.
As a kid, I always wanted the jelly version of cranberry sauce but of course it's full of sugar. Now that my taste buds are more mature I really prefer a fresh version. I would make this keto cranberry sauce even if I was eating more carbs.
Keto Thanksgiving Recipes
If you're looking for other keto friendly recipes for Thanksgiving, be sure to check out our keto turkey brine and rub, keto pumpkin pie and keto pumpkin spice rum cake with pecan cream cheese glaze. Keto stuffing is coming soon and you might also want to check out our podcast episode about how to avoid holiday weight gain.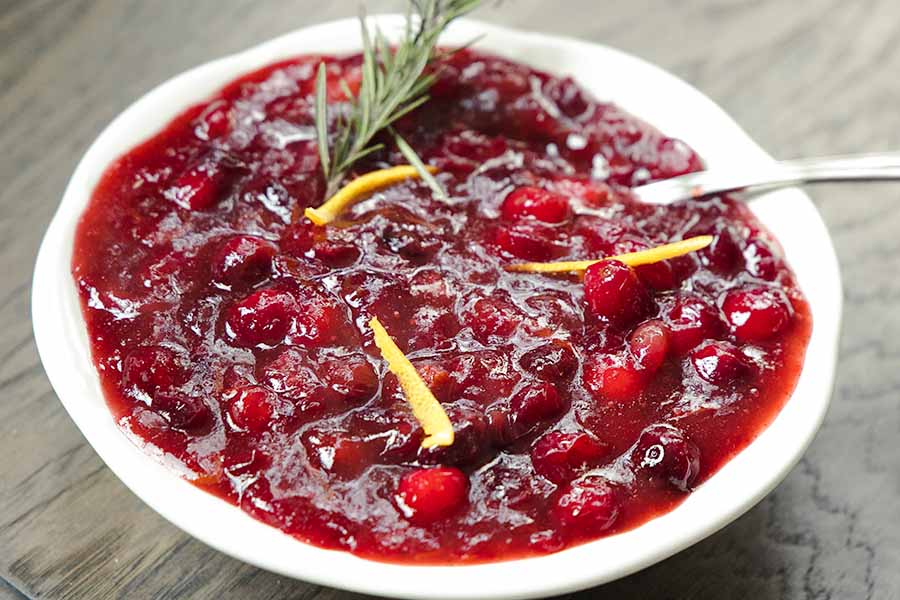 How to Make a Keto Cranberry Sauce
The main thing necessary to make keto cranberry sauce is a good sugar substitute. Until the day I finally write about sweeteners so I can link to it copiously, a short explanation will have to suffice.
Not all sugar alternatives are good. Many are very chemically and some raise glucose and insulin as much or more than real sugar. For the very best keto friendly sweetener, I recommend allulose. It's my top choice for an alternative to sugar and you can get 20 percent off at that link with code HNG20.
Allulose is a rare sugar sugar originally identified in wheat. It's a simple sugar that is absorbed by the body, but not metabolized. It's nearly calorie free and some studies have shown it actually takes extra glucose with it out of the body as it's metabolized. 1 For that reason, it's my top pick.
If you don't have allulose you can use your favorite sweetener instead. Erythritol would be a good choice for this sugar free cranberry sauce recipe if the cooling mouth sensation doesn't bother you.
Disclaimer: Links may contain affiliate links, which means we may get paid a commission at no additional cost to you if you purchase through this page. Read our full disclosure here.
Keto Cranberry Sauce Spices
Over the years, I've made this keto cranberry sauce in a number of ways. In the most simple version, you just add water, cranberry and some keto friendly allulose and cook until the berries start to breakdown. However, I've found I prefer adding some spices and a bit of xanthan gum to give the cranberry sauce a thicker body and richer taste.
You can leave out the spices if you'd like but if you're a fan of fall spices or pumpkin spice type flavor I would add these. I also love the addition of orange zest. It gives a bit of orange flavor that goes so well with cranberry sauce without all the carbs.
You can easily leave out the xanthan gum, but I find it gives the cranberry sauce a thicker and more jelly like consistency. If corn starch doesn't bother you that would be a good substitute. Just be careful to start with a small amount and see how it affects the thickness before you add the whole teaspoon.
A little of the gum or cornstarch goes a long way in thickening this keto cranberry sauce so make sure to measure carefully and start with just adding half the amount.
Are Cranberries Keto Friendly or Does Cranberry Sauce Have Carbs?
Cranberries can easily fit into keto macros, especially if you're allowing yourself slightly more carbs for Thanksgiving or on other holidays. A cup of cranberries has 12 carbs, 5 grams of fiber and 46 calories. In a whole cup of cranberries you'd have 7 net carbs.
When you're spreading this out over a couple of servings you can see that you can easily enjoy cranberry sauce on keto as long as you skip the real sugar. Most traditional cranberry sauce does have carbs since it's sweetened with real sugar. If you use an alternative sweetener in your cranberry sauce recipe it will be keto-friendly and still delicious!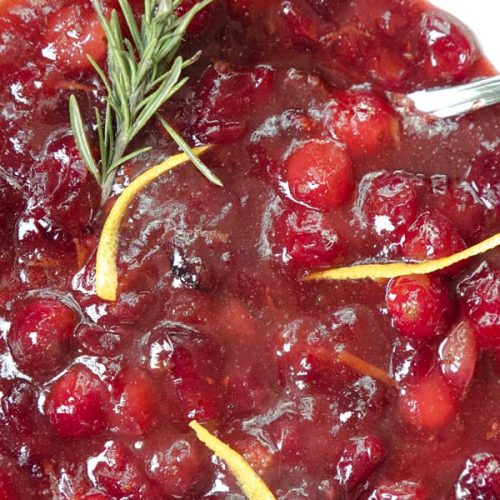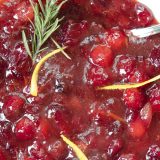 Print
This classic holiday favorite is just as delicious as the traditional version but without all the sugar. It can easily be made a day or two ahead and can be served warm or cold per your preference.
Ingredients
¾

cup

water

½

tablespoon

ground clove

,

optional

½

teaspoon

cinnamon,

optional

1

teaspoon

xanthan gum,

optional

12

ounces

cranberries

½

cup

water

¾

cup

allulose

1

tablespoon

orange zest

,

optional
Instructions
In a saucepan large enough to hold the cranberries, heat the water until it just starts to boil.

Turn down heat and add clove, cinnamon and the xanthan gum, whisking quickly.

As the mixture starts to thicken and in the cranberries and stir to coat.

Add the additional water and allulose, stir to combine.

Cook over medium heat for about 20 minutes or until sauce is thickened and berries start to break down.

Add in the orange zest and cook for 5 more minutes.

Serve immediately while warm or chill and serve cold.
Video
Nutrition
Serving:
1
serving
Calories:
18
kcal
Carbohydrates:
5
g
Protein:
0.2
g
Fat:
0.1
g
Fiber:
2
g
Net Carbohydrates:
3
g
Did you make this recipe?
Be sure to tag @healnourishgrow on Instagram to be featured in our stories or our newsletter! We love it when you make our recipes and share with your friends.