August 4, 2023
Keto (Carnivore) Chicken Nuggets – Low Carb Recipe
Looking for some delicious, keto-friendly finger foods to satisfy your cravings? We have a fun new recipe for you! Homemade keto carnivore chicken nuggets that are low in carbs, high in flavor and have none of the garbage ingredients found in commercially made chicken nuggets. Whether you're hosting a game night or simply want to upgrade your snack game, these keto chicken nuggets will definitely hit the spot. Plus, we'll even share some mouthwatering dipping sauce options to take your snacking experience to the next level. So get ready to indulge guilt-free with these irresistible bites of crispy goodness.
Are Chicken Nuggets Keto?

When it comes to determining if chicken nuggets are keto-friendly, it's important to consider a few key factors. Traditional chicken nuggets that you find at fast-food restaurants or in the frozen food aisle are typically breaded and fried, making them high in carbs and not suitable for a keto diet. In addition, they're often fried in crappy seed oils, making them bad for your health on multiple levels. The breading also means most chicken nuggets aren't good for a carnivore diet either.
The good news is with this recipe, you make either keto chicken nuggets or carnivore chicken nuggets! Depending on what version of carnivore you practice, these may fit as written or you may want to leave out the seasonings if you're doing a more strict version of carnivore.

These keto-approved chicken nuggets are so easy to make at home. The secret lies in swapping out the carb-laden breading with a low-carb alternative. Here, we're using crushed pork rinds and parmesan. These substitutes provide that coveted crispy texture while keeping those pesky carbs at bay.

By making your own homemade keto chicken nuggets, you have full control over the ingredients and can ensure they fit seamlessly into your low-carb lifestyle. So go ahead and enjoy these guilt-free bites without compromising on taste.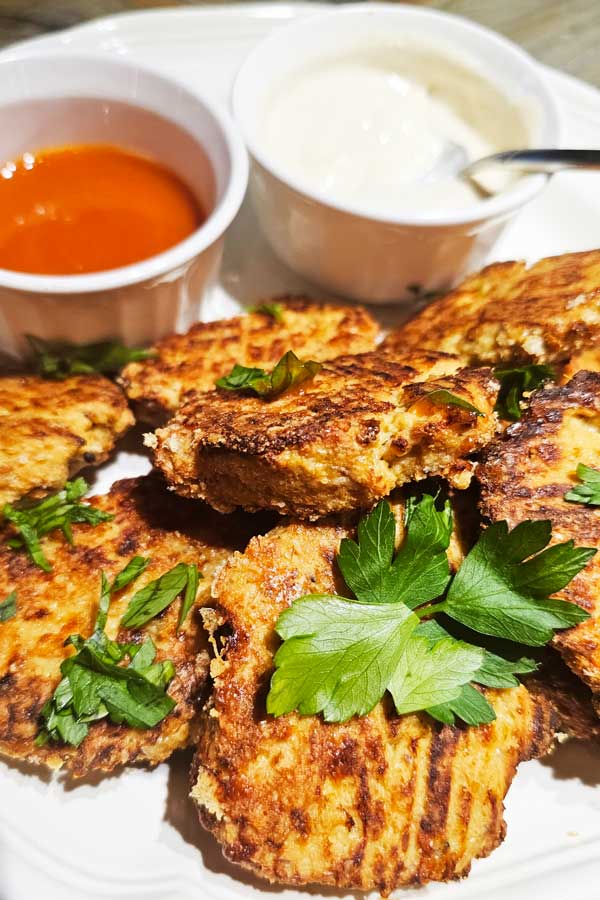 Disclaimer: Links may contain affiliate links, which means we may get paid a commission at no additional cost to you if you purchase through this page. Read our full disclosure here.
How To Make Keto Carnivore Chicken Nuggets
Making your own keto chicken nuggets at home is easier than you might think. Plus, you have the added benefit of knowing exactly what ingredients are going into your snack.

I've called for chicken breasts here, but you can just as easily use thighs or a combination. You can also used canned chicken or use the meat from a rotisserie chicken cooked at the grocery. You'll need a blender or food processor to prepare the chicken. I made these in the oven but if you have an air fryer, that's a great option too for extra crispy nuggets.

Once they're out of the oven and cooled slightly, it's time to enjoy! These homemade keto chicken nuggets are perfect as a snack on their own but can also be paired with a delicious dipping sauce for some added flavor.

Remember that making keto-friendly finger foods like chicken nuggets allows you to satisfy those snack cravings while staying on track with your low-carb lifestyle. So go ahead and upgrade your snacking game by whipping up these homemade nuggets.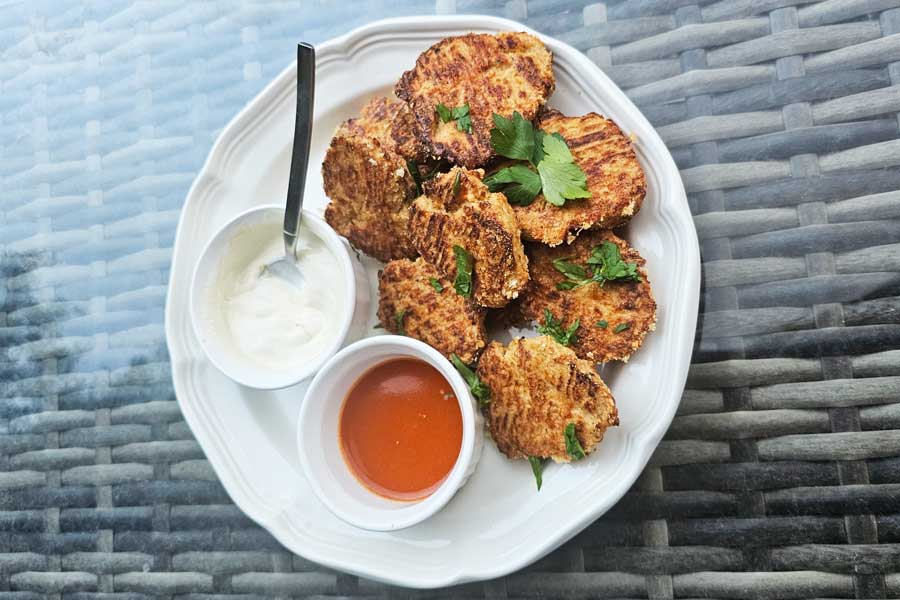 Dipping Sauce Options

When it comes to enjoying these keto chicken nuggets, the dipping sauce is just as important as the nuggets themselves. There are a few commercially made sauces and condiments with clean, keto-friendly ingredients. My favorite brands are Primal Kitchen (use HNG10 at checkout to save 10 percent) and Noble Made.

1. Blue Cheese Dressing: Creamy and flavorful, blue cheese dressing is a classic choice for dipping chicken nuggets. Make it at home or see if you can find one that doesn't have soy or canola in it. Let me know if you find one because I haven't had much success!

2. Buffalo Sauce: If you're craving some heat with your chicken nuggets, buffalo sauce is an excellent choice. Made from hot sauce and melted butter, it adds a spicy kick without any added sugars.

3. Avocado Crema: Make this easy sauce by blending ripe avocados with lime juice, garlic powder, salt, and pepper. This creamy dip pairs perfectly with crispy chicken nuggets.

4. Garlic Aioli: A tangy garlic aioli can elevate your snacking experience to another level. Combine mayonnaise with minced garlic cloves and lemon juice for a zesty dipping sauce that complements the flavors of the chicken.

5. Spicy Mustard: If you enjoy mustard but want something with more flavor than plain yellow mustard offers, opt for spicy mustard instead. With its bold taste and slight heat undertones, this condiment adds depth to every bite.

Remember to choose dips that fit within your daily carb limit, there are lots of sneaky carbs in sauces! Always check labels or make homemade versions using keto-friendly ingredients to ensure they align with your nutritional goals.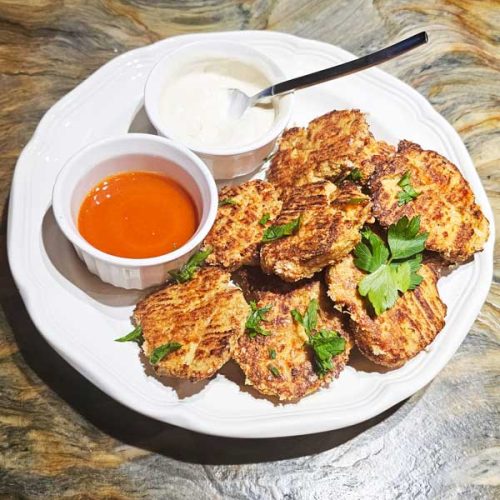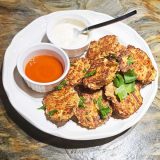 Print
Keto Chicken Nuggets – Low Carb Recipe
Ingredients
Nuggets
1

pound

cooked chicken breasts

,

ground with blender or food processor

1

large

egg

⅓

cup

grated parmesan cheese

¼

cup

shredded mozzarella

½

teaspoon

garlic powder

,

onion powder + paprika

1

teaspoon

smoked paprika

1

teaspoon

salt
Coating
¼

cup

grated parmesan cheese

¼

cup

pork rind crumbs
Instructions
In a large mixing bowl, combine chicken, egg, parmesan, mozzarella, garlic paprika and salt.

Line a baking sheet with parchment paper.

Using a 3 tablespoon cookie scoop, portion out the chicken mixture and mold into a circular shape with your hands, flattening slightly then place on baking sheet. Repeat with the rest of the chicken mixture.
For the Coating
In a shallow bowl, mix together the pork rinds and parmesan.

Dip each one of the chicken nuggets into the coating and pat gently to get the coating to adhere.

Bake the chicken nuggets for for 15 minutes, flip and bake for 15 minutes more or until evenly brown and hot all the way through.

Remove the nuggets from the oven and let cool for 5 minutes.

Serve with your favorite sauce such as our buffalo or blue cheese!
Nutrition
Serving:
3
nuggets
Calories:
302
kcal
Carbohydrates:
3
g
Protein:
37
g
Fat:
15
g
Fiber:
0.2
g
Net Carbohydrates:
2
g
Did you make this recipe?
Be sure to tag @healnourishgrow on Instagram to be featured in our stories or our newsletter! We love it when you make our recipes and share with your friends.