August 3, 2023
Keto Pina Colada Mocktail or Cocktail
Welcome to a tropical, sugar-free, paradise of flavor! If you're a fan of refreshing and indulgent beverages, then get ready to embark on a delicious journey with our mouthwatering Keto Pina Colada mocktail or cocktail recipe. This delightful concoction is not only packed with all the traditional flavors you love, but it's also low-carb and keto-friendly, making it the perfect guilt-free treat for those following a ketogenic lifestyle.

Whether you're lounging by the pool or simply craving a taste of summer, this drink will transport your taste buds to an island getaway. Grab your blender and let's dive into the world of creamy coconut and juicy pineapple.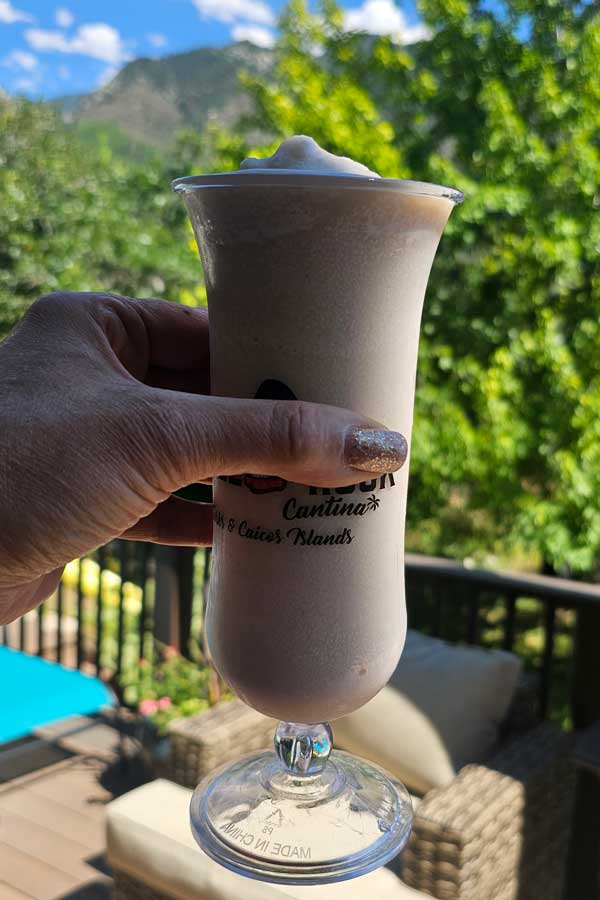 What Does a Keto Pina Colada Taste Like?
What does a pina colada taste like? Well, imagine the perfect blend of creamy coconut, tangy pineapple, and a hint of sweetness. It's like taking a sip of paradise in every refreshing gulp.

A traditional Pina Colada contains pineapple, which is a fairly high-carb fruit. In this keto pina colada recipe, we use pineapple flavor drops to replace the fruit.
Disclaimer: Links may contain affiliate links, which means we may get paid a commission at no additional cost to you if you purchase through this page. Read our full disclosure here.
What is a Pina Colada?
Pina Colada is a tropical cocktail that instantly transports you to sandy beaches and swaying palm trees. The name itself gives you a clue about what it means. "Pina" means pineapple in Spanish, while "colada" refers to strained or pureed fruit. So a traditional Pina Colada is a refreshing blend of pineapple juice, coconut cream and rum.

The combination of these three ingredients creates a sweet and creamy drink with hints of tropical flavors. The pineapple provides sweetness, while the coconut adds richness and creaminess to balance it out. And let's not forget about the rum! It adds a subtle kick that takes this cocktail to another level. Together these ingredients create an irresistible concoction.
kitchen essential
There is one item every kitchen NEEDS. Some people don't even know they need it, but those are the people that need it most! It will also help you immensely if you're working on weight loss.
What is this forgotten essential of the well-stocked kitchen? SPOILERS! Guess you'll just have to click the button to find out. 😉
Why This is the Best Pina Colada Recipe
When it comes to pina coladas, you want the best of the best. And that's exactly what this recipe delivers. With just a few simple ingredients and a blender, you can whip up a creamy and refreshing keto-friendly pina colada in no time.
Since you're skipping the sugar and fruit and using keto-friendly ingredients like unsweetened coconut milk and an alternative sweetener, you can indulge without worrying about derailing your low-carb lifestyle. You'll still get the delicious pina colada taste without the extra calories!
How To Make A Virgin Pina Colada Mocktail
If you're craving the tropical flavors of a pina colada but want to skip the alcohol, a virgin pina colada is the perfect solution. Plus, it's incredibly easy to make at home!

To whip up your own virgin pina colada, start by gathering your ingredients but instead of real rum, I like to use Ritual rum for all the flavor without the alcohol.
I've been using Ritual Zero Proof since 2020 and I love their products. Their nonalcoholic spirits are the closest I've found to the real thing. Most are completely sugar-free as well as calorie-free and of course, alcohol-free. Get 20 percent off at checkout with code HNG20
Whether you're avoiding alcohol or just prefer non-alcoholic beverages, this virgin pina colada recipe will transport you to a sunny beach in no time! Enjoy its tropical goodness any day of the week without worrying about any unwanted side effects.
What to Serve with a Keto Pina Colada

Now that you have the perfect keto pina colada recipe in hand, it's time to think about what to serve alongside this tropical delight. The refreshing flavors of pineapple and coconut pair well with a variety of dishes, making it easy to create an entire meal around your keto Pina Coladas.

For starters, consider serving a delicious appetizer like coconut shrimp. This compliments the flavors of your drink while adding a touch of savory goodness.

If you're looking for a light dinner, why not try a fresh salad topped with chicken or fish? A salad with strawberries and shredded coconut would be a delightful accompaniment to your drink and still make the meal keto-friendly. Alternatively, you can opt for a crisp green salad topped with grilled shrimp and drizzled with a zesty lime dressing.

Remember, when choosing what to serve alongside your pina colada drink, aim for dishes that enhance and complement its tropical flavors. This way, every bite will transport you straight to paradise!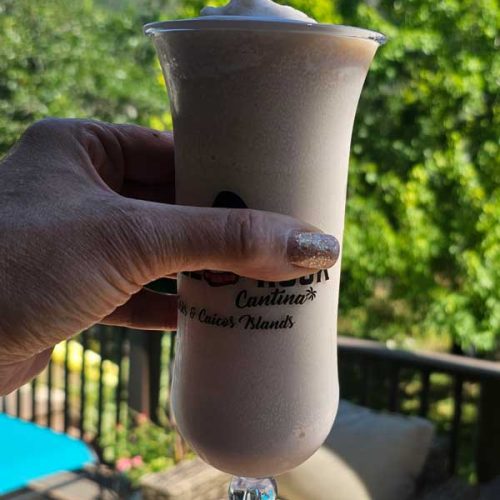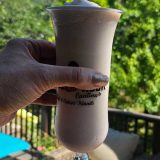 Print
Keto Pina Colada Mocktail or Cocktail
Ingredients
⅓

cup

coconut cream

4

drops

coconut flavor

,

ooo flavors, may need more of different type

15

drops

pineapple flavor

,

ooo flavors, may need more of different type

¼

teaspoon

keto simple syrup,

or stevia drops

2

ounces

rum or Ritual Zero Proof Rum,

white preferred for asthetics

1

`cup

ice

slice of lime

,

optional, for garnizh

strawberry or piece of pineapple

,

optional, for garnish
Instructions
Coconut cream tends to separate in the can so I like to blend it together before using.

After cream is blended, remove from blender and pour in 1/3 cup coconut cream and all of the other ingredients.

Blend until smooth, taste for flavor and sweetness and adjsut as necessary.

Pour in a fun pina colada glass and serve immediately.
Notes
Using Ritual Zero Proof instead of real rum reduces the calories of each serving by 70.
Nutrition
Serving:
1
people
Calories:
203
kcal
Carbohydrates:
3
g
Protein:
1
g
Fat:
14
g
Fiber:
1
g
Net Carbohydrates:
2
g
Did you make this recipe?
Be sure to tag @healnourishgrow on Instagram to be featured in our stories or our newsletter! We love it when you make our recipes and share with your friends.