June 26, 2023
Keto Cobb Salad – Five Variations of a Low Carb Classic
A cobb salad is naturally keto-friendly. However, there are ways to make a cobb salad even more delicious than the traditional version. Not only can you make a keto cobb salad that's packed with protein, healthy fats, and fiber, but it's also incredibly easy to make. Plus, with five delicious variations on the traditional recipe, you'll never get bored of this salad staple.
What is a Keto Cobb Salad?
A keto cobb salad is a low-carb salad that consists of several ingredients commonly found in the classic cobb salad. It's perfect for those following a ketogenic diet or anyone looking to eat healthier without sacrificing flavor.

This delicious salad typically includes lettuce, hard-boiled eggs, bacon bits, avocado, tomato and chicken breast. The combination of these ingredients creates the perfect balance of protein and healthy fats while keeping carbs to those found in whole-food vegetables.

Additionally, the ingredients in a keto cobb salad are rich in healthy fats, which can help reduce inflammation in the body. Since this salad is high in protein and low in carbs, it helps keep you full for longer.
Disclaimer: Links may contain affiliate links, which means we may get paid a commission at no additional cost to you if you purchase through this page. Read our full disclosure here.
Traditional vs Variations of Keto Cobb Salad
A classic cobb salad is naturally keto-friendly. The original recipe includes bacon, hard-boiled eggs, avocado, and chicken on top of a bed of greens. However, there are countless variations to this classic recipe that can add new flavors and excitement to your meal.

From spicy shrimp to pork or even taco-seasoned ground beef, each variation brings its own unique taste to the table. Experimenting with different ingredients and dressings can also help keep your meals interesting while staying within the guidelines of the keto diet. Try out different versions and find one that suits your taste buds!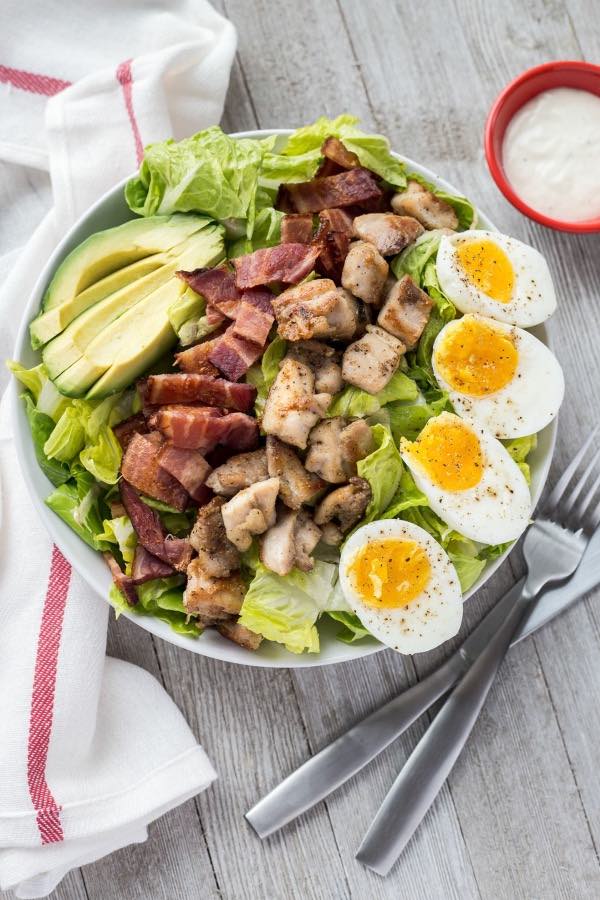 Low-Carb Dressing Options for Keto Cobb Salad
Dressing can make or break a salad. One of the things to watch out for though is that most dressings you find in the grocery store are made with seed or vegetable oils like soy, corn or canola. There is emerging evidence that use use of seed oils may be causing excess inflammation and fat storage.
The best solution is to make your own dressing or use a high-quality olive oil or avocado oil. If you're buying commercially prepared dressings, always check the ingredients for these inflammatory oils and hidden carbs. My favorite commercially prepared brand that's clean and easy to find in most grocery stores is Primal Kitchen. You can use HNG10 to get 10 percent off at checkout.

One option is to go with a simple classic vinaigrette made with just olive oil and vinegar. Another popular choice is ranch dressing, which pairs perfectly with bacon and avocado in the cobb salad. You could make your own creamy dressing using ingredients like sour cream, mayo, and herbs for added flavor. Do you want me to create an exact recipe like this for you? Message me and let me know! My personal favorite for this dressing is blue cheese and it's even better when you make it at home.
With so many low-carb dressing options available, you won't have to sacrifice taste for your health on the keto diet!
Five Tasty Variations for the Keto Cobb Salad Recipe
To make this salad even more flavorful and nutritious, you can add other low-carb veggies like cucumber, radish or bell peppers. Don't forget to season it with salt and pepper before serving.
Adding some variety to your classic keto cobb salad recipe can make a world of difference in terms of taste and flavor. Here are five tasty variations that will take your cobb salad to the next level. You can either subsitute the chicken with any of these protein suggestions or simply add it to the salad for an extra high protein variation.

First up is the Keto Spicy Shrimp Cobb Salad, which brings together the heat of spicy shrimp with cool, crisp veggies for a perfect balance in every bite. For those who love buffalo chicken, try out the Keto Buffalo Chicken Cobb Salad. It's sure to satisfy any craving while keeping you on track with your keto diet goals.
Keto Spicy Shrimp Cobb Salad
This variation of the classic Keto Cobb Salad recipe adds a spicy kick with juicy and succulent shrimp. It's perfect for seafood lovers who are looking for low-carb meals that don't compromise on taste.

The combination of the crisp vegetables, creamy avocado and the bold flavors of cajun seasoning make this salad a delicious and satisfying meal option. Plus, it's packed with protein to keep you feeling full all day long!
Simply season your shrimp with cajun seasoning and cook in a skillet to prepare the shrimp for your salad.
Keto Buffalo Chicken Cobb Salad
This variation of the classic Keto Cobb Salad will surely spice things up. The buffalo chicken adds a tangy and spicy flavor to this already delicious dish.

To make this salad, you'll just need to cook your chicken breast in your favorite keto friendly buffalo sauce. I like to make my own, but Primal Kitchen makes a good buffalo sauce if you want to keep it easy.
Keto Chili Verde Pork Cobb Salad
This variation of the classic keto cobb salad recipe is perfect for those who love a smoky and savory flavor. The chili verde pork adds a delicious twist to this dish, making it even more satisfying. A sour cream based dressing is perfect for this varation on a keto cobb salad.
Keto Cobb Salad with Avocado Dressing
One of the tastiest variations of the classic keto cobb salad recipe is adding a creamy avocado dressing. To make this variation, you will use all the same ingredients as the traditional recipe but switch out the avocados for this dressing.

You can whip up an easy avocado dressing using fresh avocados, olive oil, lime juice, and salt and pepper. Combine the ingredients in a blender or food processor and pour over your salad. I like to toss it all together before eating.
Keto Cobb Salad with Taco Seasoned Ground Beef
For another spicy variation on the keto cobb salad, try taco seasoned grund beef.
The combination of juicy ground beef seasoned with taco seasoning, crisp lettuce greens, creamy avocado, hard-boiled eggs, and sharp cheddar cheese creates an explosion of flavors that will leave you feeling satisfied and energized for hours. You may want to use your favorite keto-frinedly salsa and sour cream as your dessing for this one.
Tips for Preparing and Storing Keto Cobb Salad
Salads aren't great for meal prep unless you store the ingredients separately in airtight containers until you're ready to assemble. Nobody likes a soggy salad! You can easily make the chicken, bacon and hard boiled eggs ahead of time. As long as you wait to put the salad together before you're ready to eat it, you can have most of your ingredients prepped ahead of time.
Customizing the Nutrition Content
You can easily customize the macros for this keto cobb salad to contain less caloires by eliminating the cheese, reducing the dressing and reducing the chicken and/or eggs. If you're looking to up the protein or calories even more, adding more protein is a great option that supports body composition while keeping the carb count low.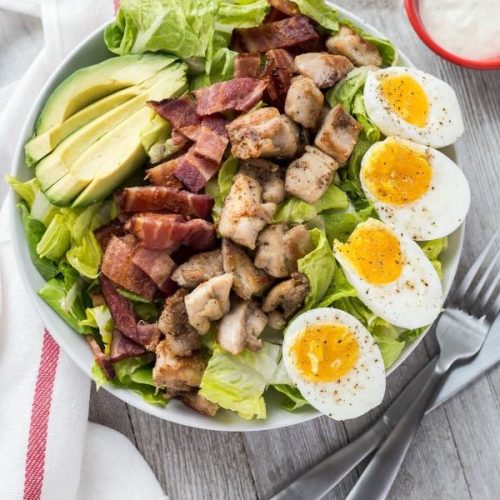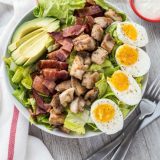 Print
Keto Cobb Salad – Low Carb Recipe
Ingredients
3

cups

chopped romaine lettuce

6

small

cherry tomato

,

halved

2

large

eggs

,

hard boiled, sliced

½

medium

avocado

,

diced or sliced

2

slices

bacon

,

cooked and chopped

4

ounces

chicken breast

,

grilled and sliced

2

tablespoons

blue cheese dressing

1

tablespoon

blue cheese crumbles

1

tablespoon

chopped red onion
Instructions
Wash lettuce and cut into bite sized pieces.

Arrange all remaining ingredietns into piles on top of the lettuce to make a pleasing presentation.
Nutrition
Serving:
1
salad
Calories:
713
kcal
Carbohydrates:
20
g
Protein:
50
g
Fat:
49
g
Fiber:
10
g
Net Carbohydrates:
9
g
Did you make this recipe?
Be sure to tag @healnourishgrow on Instagram to be featured in our stories or our newsletter! We love it when you make our recipes and share with your friends.