May 30, 2023
Verde Pork Chili – Keto Low Carb Recipe
My favorite chili recipes are made in the crock pot. There's nothing like coming home at the end of the day to a dinner that's already made. This Verde Pork Chili has a unique blend of spices and peppers that gives the chili its unique signature flavor. Its also a very easy chili verde pork recipe that can cook unattended all day while you're at work.
I decided I absolutely must create this recipe after enjoying the signature verde pork chili omelet all winter at the Silver Fork. We would stop there after early morning snowboarding days for breakfast/brunch and I became absolutely obsessed with this omelet. When we stayed on the mountain longer, brunch would be long gone and I knew I had to figure out how to make this at home so I can have it whenever I like. Luckily I could still convince them to give me the verde pork chili in a bowl which is delicious in its own right.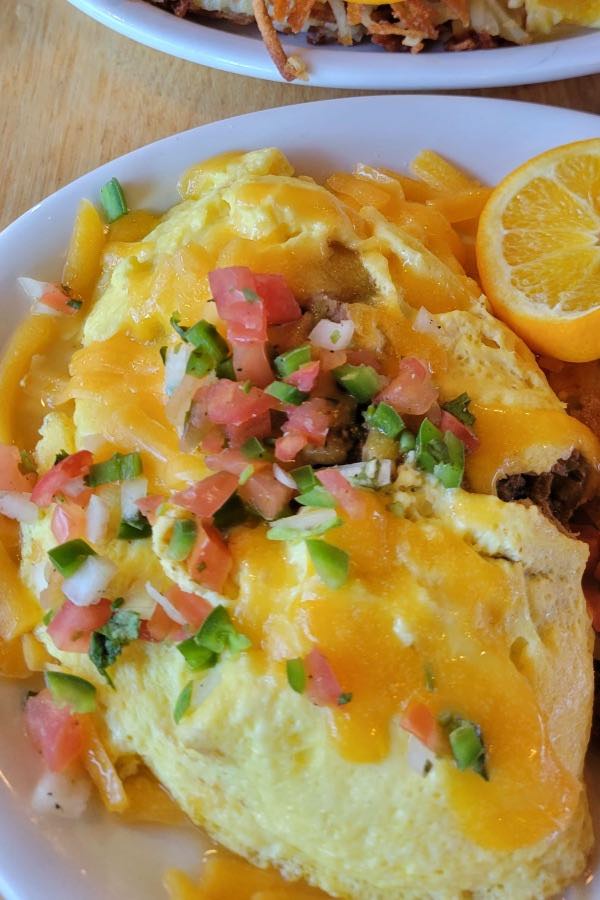 Which brings me to how you can use this recipe. While it's delicious as a chili on its own, I saw it used in the southwest as a burger topping, omelet filling and of course, in tacos!
Disclaimer: Links may contain affiliate links, which means we may get paid a commission at no additional cost to you if you purchase through this page. Read our full disclosure here.
Verde Pork Chili Origin
While the green chili plant has origins with the Aztecs and Mexico, it has also become very popular in the United States. In fact, there is quite a rivalry between New Mexico and Colorado for their versions of green chili. The former is well-known for its Hatch chilis and has a festival to celebrate every year. Colorado makes a Pueblo chili version, each claiming to be the hottest.
I purposely left Hatch chilis out of this recipe since they can be hard to find unless it's the right time of year (August-September.) However, if you do find some, I highly recommend adding them to your homemade salsa verde. Simply add a couple to your roasting pan or use Hatch chilis in place of the Poblano. They're absolutely delicious and the star ingredient in our Southwestern Green Chile Soup.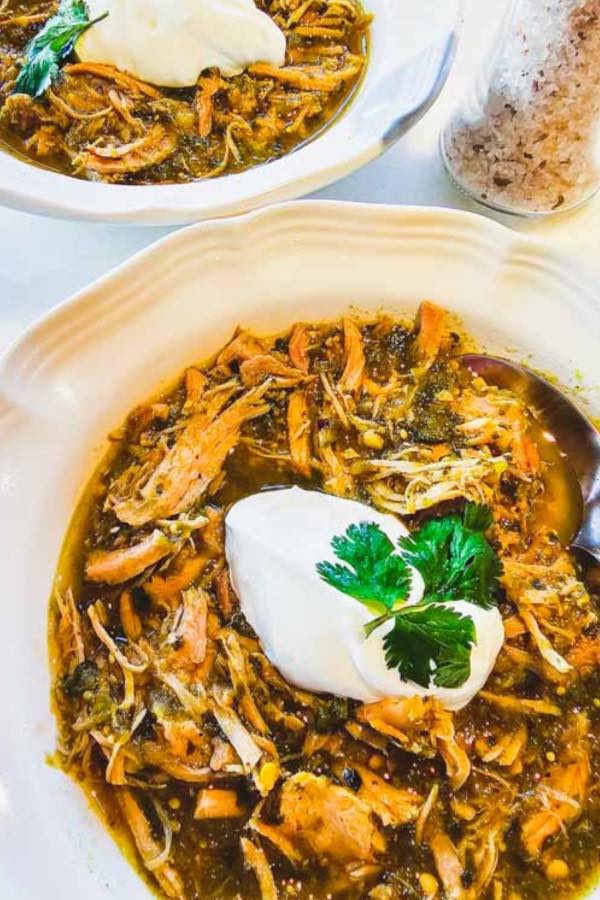 Another critical component of this chili verde is the tomatillo. These plants were domesticated by the Aztecs and used by them for thousands of years before Mexico was a country.
faq
Is it Chili Verde or Salsa
Chili Verde vs. Salsa Verde
Chile is a plant and chili is a dish, which can make this confusing!
Chili verde means "green chili" in spanish and refers to the spicy fruit of the pepper plant.
On the other hand, green chili is a dish that can be described as a spicy stew. There are many variations on this dish. While pork is used a lot in Mexico, (like in this verde pork chili) you can also find chicken or beef variations of green chili.
Here is the confusing part. Salsa verde (green sauce) is used in the chili verde dish. Salsa verde is typically made from tomatillos, onions, jalapenos, chili peppers, lime, cilantro and garlic, although many variations exist.
The tomatillos are key because they create a great herbaceous base and flavor. Roasting them adds extra flavor and a slight sweetness.
Easy Chili Verde Pork Recipe
There are two things that make this easy chili verde pork recipe super simple. The use of a sheet pan to roast the vegetables for the Homemade Salsa Verde and the use of a crockpot for the chili.
This chili recipe freezes well and is great for meal prep. I love the taste of homemade salsa verde and it's easy enough to make. However, if you're really crunched for time you could use a few jars of premade tomatillo salsa verde.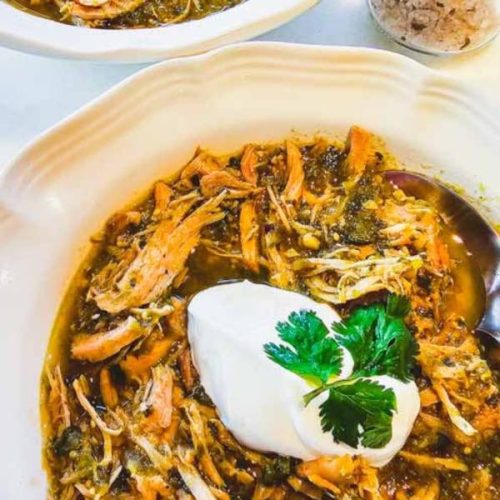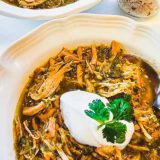 Print
Verde Pork Chili – Easy in the Crockpot
Ingredients
1

recipe

salsa verde

1

tablespoon

lard or butter

3-4

pounds

pork butt or shoulder

2

cups

chicken broth

,

reserve 1/4 cup

cilantro leaves

,

optional, garnish

sour cream

,

optional, garnish
Instructions
Prepare the salsa verde. While it's in the oven, prepare the pork as described below.

In a large skillet over medium heat, melt the lard.

Cut the pork into bite sized cubes. If your pork is frozen, skip this step and the next.

Brown pork on all sides then place in the crock pot on high. If your pork is frozen just put it directly into the crock pot.

Pour 1 3/4 cups chicken broth and the salsa verde over the pork and put the lid on.

Cook on high for about 6 hours or on low for 9. If I'm around, I may but up the pork about halfway through to make it easier to shred later.

If you placed your pork into the crockpot whole, shred the pork with meat claws or forks before serving.

Garnish with cilantro leaves and sour cream, if desired.
Nutrition
Serving:
1
people
Calories:
241
kcal
Carbohydrates:
0.3
g
Protein:
38
g
Fat:
8
g
Net Carbohydrates:
0.3
g
Did you make this recipe?
Be sure to tag @healnourishgrow on Instagram to be featured in our stories or our newsletter! We love it when you make our recipes and share with your friends.